Abstract
The paper presents a semi-supervised weather classification method based on 850-hPa isobaric level maps. A preprocessing step is employed, where isolines of geopotential height are extracted from weather map images via an image processing procedure. Α feature extraction stage follows where two techniques are applied. The first technique implements phase space reconstruction, and yields multidimensional delay distributions. The second technique is based on chain code representation of signals, from which histogram features are derived. Similarity measures are used to compare multidimensional data and the k-means algorithm is applied in the final stage. The method is applied over the area of Greece, and the resulting catalogues are compared to a subjective classification for this area. Numerical experiments with datasets derived from the European Meteorological Bulletin archives exhibit an up to 91 % accurate agreement with the subjective weather patterns.
Access options
Buy single article
Instant access to the full article PDF.
USD 39.95
Price excludes VAT (USA)
Tax calculation will be finalised during checkout.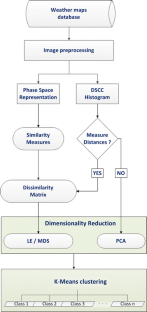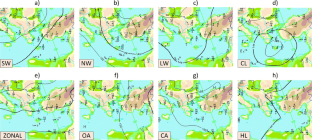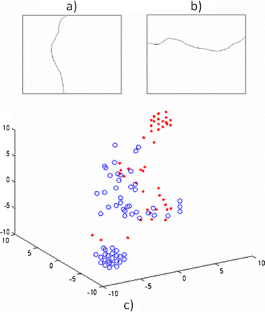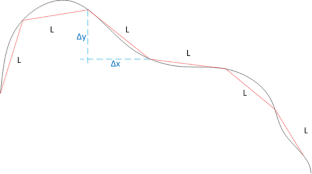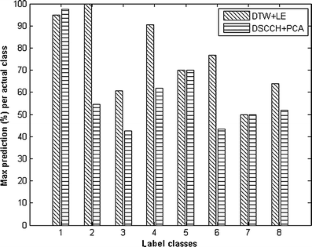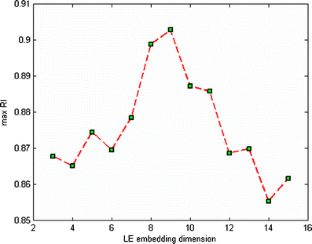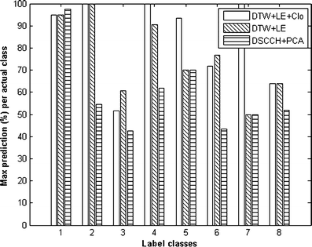 References
Abrabanel HDI (1996) Analysis of observed chaotic data. Springer-Verlag, New York

Alpert P, Osetinsky I, Ziv B, Shafir H (2004) Semi-objective classification for daily synoptic systems: application to the eastern Mediterranean climate change. Int J Climatol 24:1001–1011

Beck C, Philipp A (2010) Evaluation and comparison of circulation type classifications for the European domain. Phys Chem Earth 35:374–387

Belkin M, Niyogi P (2001) Laplacian Eigenmaps and spectral techniques for embedding and clustering. Advances in Neural Information Processing Systems MIT Press 14: 585–591

Bellman RE (1957) Dynamic programming. Princeton University Press, Princeton

Bribiesca E (2000) A chain code for representing 3D curves. Pattern Recogn 33(5):755–765

Chan HL, Fang SC, Chao PK, Wang CL, Wei JD (2009) Phase–space reconstruction of electrocardiogram for heartbeat clustering. IFMBE Proc 25(4):1234–1237

Cox TF, Cox MAA (1994) Multidimensional scaling. Chapman & Hall, London

Dehghan M, Faez K, Ahmadi M, Shridhar M (2001) Handwritten Farsi (Arabic) word recognition: a holistic approach using discrete HMM. Pattern Recogn 34(5):1057–1065

Fang SC, Chan HL (2009) Human identification by quantifying similarity and dissimilarity in electrocardiogram phase space. Pattern Recogn 42:1824–1831

Fotopoulou F, Laskaris N, Economou G, Fotopoulos S (2011a) Improvement in leaf image retrieval using the Multidimensional Embedding Sequence Similarity (MESS) method. Pattern Anal Appl (4 December 2011): 1–12. doi:10.1007/s10044-011-0254-6

Fotopoulou F, Theodorakopoulos I, Economou G (2011b) Fusion in phase space for shape retrieval. Proc EUSIPCO 2011:936–940

Freeman H (1961) On the encoding of arbitrary geometric configurations. IRE Trans Electron Comput EC-10:260–268

Friedman JH, Rafsky LC (1979) Multivariate generalizations of the Wald–Wolfowitz and Smirnov two-sample tests. Ann Stat 7(4):697–717

Helmis CG, Moussiopoulos N, Flocas HA, Sahm P, Assimakopoulos VD, Naneris C, Maheras P (2003) Estimation of transboundary air pollution on the basis of synoptic scale weather types. Int J Climatol 23(4):405–416

Huang PW, Dai SK, Lin PL (1999) Planar shape recognition by directional flow-change method. Pattern Recogn Lett 20(2):163–170

Huth R, Beck C, Philipp A, Demuzere M, Ustrnul Z, Cahynová M, Kyselý J, Tveito OE (2008) Classifications of atmospheric circulation patterns: recent advances and applications. Ann N Y Acad Sci 1146:105–152

Iivarinen J, Visa A (1996) Shape recognition of irregular objects. Proc SPIE 2904:25–32

Ionescu A, Candau Y, Mayer E, Colda I (2000) Analytical determination and classification of pollutant concentration fields using air pollution monitoring network data: methodology and application in the Paris area, during episodes with peak nitrogen dioxide levels. Environ Model Softw 15(6):565–573

Jolliffe IT (1986) Principal component analysis. Springer-Verlag, New York, p 487

Kassomenos P, Flocas HA, Lykoudis S, Petrakis M (1998) Analysis of mesoscale patterns in relation to synoptic conditions over an urban Mediterranean basin. Theor Appl Climatol 59:215–229

Kholmatov A, Yanikoglu B (2005) Identity authentication using improved online signature verification method. Pattern Recogn Lett 26(15):2400–2408

Kim Oanh NT, Chutimon P, Ekbordin W, Supat W (2005) Meteorological pattern classification and application for forecasting air pollution episode potential in a mountain-valley area. Atmos Environ 39(7):1211–1225

Kim G, Govindaraju V (1997) A lexicon driven approach to handwritten word recognition for real-time applications. IEEE Trans Pattern Anal 19(4):366–379

Laskaris N, Zafeiriou S, Garefa L (2009) Use of random time-intervals (RTIs) generation for biometric verification. Pattern Recogn 42(11):2787–2796

MacQueen JB (1967) Some methods for clustering and analysis of multivariate observations. Proc. 5th Berkeley Symp Mathematical Statistics and Probability 1: 281–297

Maheras P, Patrikas I, Karacostas T, Anagnostopoulou C (2000) Automatic classification of circulation types in Greece: methodology, description, frequency, variability and trend analysis. Theor Appl Climatol 67:205–223

Makra L, Juhász M, Mika J, Bartzokas A, Béczi R, Sümeghy Z (2006) An objective classification system of air mass types for Szeged, Hungary, with special attention to plant pollen levels. Int J Biometeorol 50:403–421

Moussiopoulos N, Helmis CG, Flocas HA, Louka P, Assimakopoulos VD, Naneris C, Sahm P (2004) A modelling method for estimating transboundary air pollution in southeastern Europe. Environ Model Softw 19(6):549–558

Philipp A, Bartholy J, Beck C, Erpicum M, Esteban P et al (2010) COST733CAT — a database of weather and circulation type classifications. Phys Chem Earth 35:360–373

Rand WM (1971) Objective criteria for the evaluation of clustering methods. J Amer Stat Assoc 66(336):846–850

Romero R, Sumner G, Ramis C, Genovés A (1999) A classification of the atmospheric circulation patterns producing significant daily rainfall in the Spanish Mediterranean area. Int J Climatol 19:765–785

Sánchez-Cruz H, Bribiesca E, Rodríguez-Dagnino RM (2007) Efficiency of chain codes to represent binary objects. Pattern Recogn 40(6):1660–1674

Sivakumar B (2002) A phase space reconstruction approach to prediction of suspended sediment concentration in rivers. J Hydrol 258(1–4):149–162

Takens F (1981) Detecting strange attractors in turbulence. In: Rand DA, Young LS (eds) Dynamic systems and turbulence. Lecture notes in mathematics 898. Springer, Berlin, pp 366–381

Theoharatos CH, Laskaris N, Economou G, Fotopoulos S (2004) A similarity measure for color image retrieval and indexing based on the multivariate two sample problem. Proc EUSIPCO 2004:2307–2310

Theoharatos CH, Laskaris N, Economou G, Fotopoulos S (2005) A generic scheme for color image retrieval based on the multivariate Wald–Wolfowitz test. IEEE Trans Knowl Data Eng 17(6):808–819

Woyciechowska J, Ustrnul Z (2011) Fuzzy logic circulation types based on the Osuchowska–Klein classification system created for Poland. Theor Appl Climatol 104:543–549. doi:10.1007/s00704-010-0366-8

Yarnal B (1984) A procedure for the classification of synoptic weather maps from gridded atmospheric pressure data. Comput Geosci 10(4):397–410

Yarnal B (1993) Synoptic climatology in environmental analysis. Belhaven Press, London

Zagouras A, Argiriou AA, Flocas HA, Economou G, Fotopoulos S (2009) A machine vision based method for atmospheric circulation clustering. Proc. IEEE DSP 2009:496–500
Acknowledgments
Funding by the University of Patras Research Committee under the Basic Research Program 2009–2012 'K. Karatheodori', project No. C907, is gratefully acknowledged. The database of the processed images of weather maps is available at http://www.atmosphere-upatras.gr/
About this article
Cite this article
Zagouras, A., Argiriou, A.A., Economou, G. et al. Weather maps classification over Greek domain based on isobaric line patterns. Theor Appl Climatol 114, 691–704 (2013). https://doi.org/10.1007/s00704-013-0870-8
Received:

Accepted:

Published:

Issue Date:

DOI: https://doi.org/10.1007/s00704-013-0870-8
Keywords