Abstract
Daily precipitation records of 267 European rain gauges are considered to obtain dry spell length (DSL) series along the second half of the twentieth century. A dry spell consists of consecutive days with daily rain amount below a given threshold, R 0. Four DSL series are obtained for R 0 values equal to 0.1, 1.0, 5.0, and 10.0 mm/day, and their empirical distributions are properly fitted to different statistical models: Pearson type III (PE3), Weibull (WEI), generalised Pareto, (GPA) and lognormal distributions. The parameters of every model are estimated by L-moments, and the goodness of fit is assessed by quantifying discrepancies between empirical and theoretical distributions in the L-skewness–kurtosis diagrams. The most common best-fitting model is PE3, especially for 0.1 and 1.0 mm/day. Nevertheless, a few stations in southern Europe are better modelled by the WEI distribution. For 5.0 and 10.0 mm/day, the spatial distribution of the best-fitting model is more heterogeneous than for the lowest thresholds. While PE3 is still the preferred model for Western Europe, some DSL series are better fitted to WEI or GPA models. Maps of DSL average and standard deviation and expected lengths for return periods of 2, 5, 10, 25, and 50 years show some common features. Whereas for thresholds of 0.1 and 1.0 mm/day, a N–S gradient is detected, especially in Mediterranean areas; for 5.0 and 10.0 mm/day, a NW–SE gradient is observed in the Iberian Peninsula and a SW–NE gradient in the Scandinavian Peninsula. Then, the vicinity to Atlantic and Arctic Oceans and the Mediterranean Sea, as well as orographic features, are more determining factors than the latitude in patterns associated with the highest R 0 thresholds. Finally, a regional frequency analysis based on a clustering algorithm is attempted for the four thresholds R 0, with the PE3 model as the parent distribution for the largest clusters.
Access options
Buy single article
Instant access to the full article PDF.
US$ 39.95
Tax calculation will be finalised during checkout.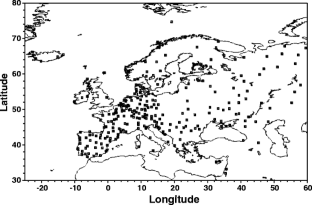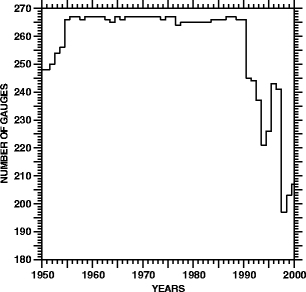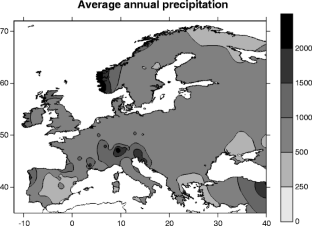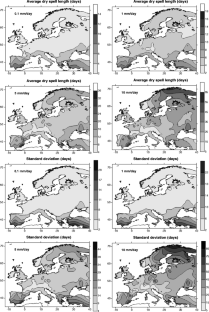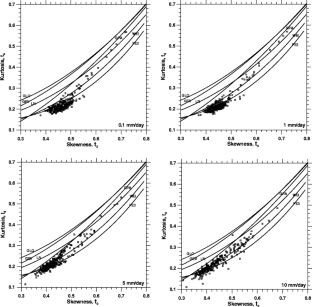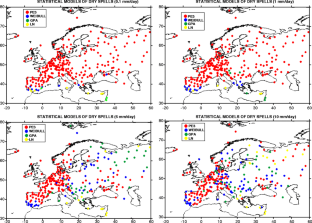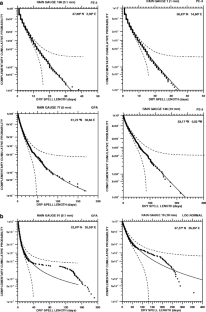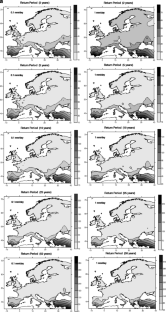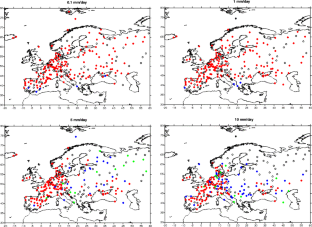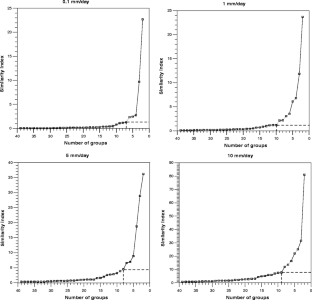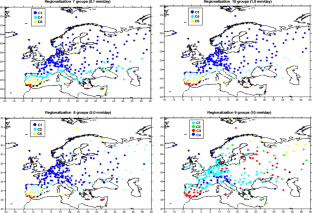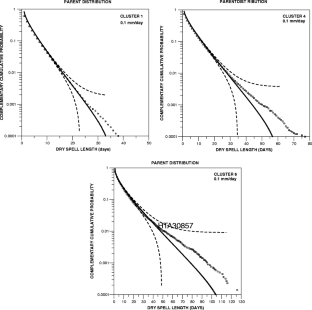 References
Ahrens CD (1994) Meteorology today. West Publishing Company, St. Paul, 592 pp

Anagnostopoulou C, Maheras P, Karacostas T, Vafiadis M (2003) Spatial and temporal analysis of dry spells in Greece. Theor Appl Climatol 74:77–91

Beguería S (2005) Uncertainties in partial duration series modelling of extremes related to the choice of the threshold value. J Hydrol 303:215–230

Benjamin JR, Cornell CA (1970) Probability, statistics and decision for civil engineers. McGraw-Hill, New York

Berger A, Goossens C (1983) Persistence of wet and dry spells at Uccle (Belgium). J Clim 3:21–24

Burgueño A, Martínez MD, Serra C, Lana X (2010) Statistical distributions of daily rainfall regimes in Europe along the period 1951–2000. Theor Appl Climatol 102:213–226

Cindrić K, Pasarić Z, Gajić-Čapka M (2010) Spatial and temporal analysis of dry spells in Croatia. Theor Appl Climatol 102:171–184

Coles S (2001) An introduction to statistical modelling of extreme events. Springer series in statistics, Springer, Germany

Conesa C, Martín-Vide J (1993) Analyse par la chaîne de Markov de la sécheresse dans le sud-est de l'Espagne. Sécheresse 4(2):123–129

Davis RE, Kalkstein LS (1990) Development of an automatic spatial synoptic climatological classification. Int J Climatol 10:769–794

Dobi-Wantuck I, Mika J, Szeidl L (2000) Modelling wet and dry spells with mixture distributions. Met Atmos Phys 73:245–256

Douguédroit A (1980) La sécheresse estivale dans la région Provence – Alpes – Côtes d'Azur. Méditerranée 2–3:13–22

Douguédroit A (1987) The variation of dry spells in Marseilles from 1865 to 1984. J Climatol 7:541–551

Douguédroit, A. (1991) Drought in the French Mediterranean area (1864–1990). In: Fifth conference on climate variations (14–18 October 1991, Colorado, USA), 181–184

Essenwanger OM (2001) Classification of climates, world survey of climatology 1c, general climatology. Elsevier, Amsterdam, 102 pp

Galloy E, Martin S, Le Breton A (1982) Analyse de séquences de jours secs consécutifs. Application à 31 postes du réseau météorologique français. La Météorologie 28:5–24

Giorgi F, Lionello P (2008) Climate change projections for the Mediterranean region. Glob Planet Chang 63:90–104

Gómez Navarro, M. (1996) Calcul par les chaînes de Markov des probabilités de durée des séquences sèches et pluvieuses à l'Espagne. Publications de l'Association Internationale de Climatologie (AIC) no. 9, 203–209

Helldén U, Tottrup C (2008) Regional desertification: a global synthesis. Glob Planet Chang 64:169–176

Hertig E, Jacobeit J (2008) Assessments of Mediterranean precipitation changes for the 21st century using statistical downscaling techniques. Int J Climatol 28:1025–1045

Hosking JRM, Wallis JR (1997) Regional frequency analysis. An approach based on L-moments. Cambridge University Press, Cambridge

IPCC (2007) In: Solomon S, Qin D, Manning M, Chen Z, Marquis M, Averyt KB, Tignor M, Miller HL (eds) Climate change 2007: the physical science basis, Contribution of Working Group I to the Fourth Assessment Report of the Intergovernmental Panel on Climate Change. Cambridge University Press, UK, p 996

Kalkstein LS, Tan G, Skindlov JA (1987) An evaluation of three clustering procedures for use in synoptic climatological classification. J Clim Appl Meteorol 26:717–730

Klein Tank AMG, Wijngaard JB, Können GP, Böhm R, Demarée G, Gocheva A, Mileta M, Pashiardis S, Hejkrlik L, Kern-Hansen C, Heino R, Bessemoulin P, Müller-Westermeier G, Tzanakou M, Szalai S, Pálsdóttir T, Fitzgerald D, Rubin S, Capaldo M, Maugeri M, Leitass A, Bukantis A, Aberfeld R, Van Engelen AFV, Forland E, Mietus M, Coelho F, Mares C, Razuvaev V, Nieplova E, Cegnar T, Antonio López J, Dahlström B, Moberg A, Kirchhofer W, Ceylan A, Pachaliuk O, Alexander LV, Petrovic P (2002) Daily dataset of 20th century surface air temperature and precipitation series for the European Climate Assessment. Int J Climatol 22:1441–1453

Klok EJ, Klein Tank AMG (2009) Updated and extended European dataset of daily climate observations. Int J Climatol 29:1182–1191

Kottek M, Grieser J, Beck C, Rudolf B, Rubel F (2006) World map of the Köppen-Geiger climate classification updated. Meteorol Z 15:259–263. doi:10.1127/0941-2948/2006/0130

Kundzewicz Z, Radziejewski M, Pińskwar I (2006) Precipitation extremes in the changing climate of Europe. Clim Res 31:51–58

Lana X, Fernández Mills G (1994) Minimum sample size for synoptic weather type classification: application to winter period data recorded on the Catalan coast (NE Spain). Int J Climatol 14:1051–1060

Lana X, Burgueño A (1998a) Daily dry-wet behaviour in Catalonia (NE Spain) from the viewpoint of first and second order Markov chains. Int J Climatol 18:793–815

Lana X, Burgueño A (1998b) Probabilities of repeated long dry episodes based on the Poisson distribution. An example for Catalonia (NE Spain) Theor. Appl Climatol 60:111–120

Lana X, Serra C, Burgueño A (2001) Patterns of monthly rainfall shortage and excess in terms of the standardised precipitation index for Catalonia (NE Spain). Int J Climatol 21:1669–1691

Lana X, Burgueño A, Martínez MD, Serra C (2006) Statistical distributions and sampling strategies for the analysis of extreme dry spells in Catalonia (NE Spain). J Hydrol 324:94–114

Lana X, Martínez MD, Burgueño A, Serra C (2008a) Return period maps of dry spells for Catalonia (northeastern Spain) based on the Weibull distribution. Hydrol Sci J 53(1):48–64

Lana X, Martínez MD, Burgueño A, Serra C, Martín-Vide J, Gomez L (2008b) Spatial and temporal patterns of dry spell lengths in the Iberian Peninsula for the second half of the twentieth century. Theor Appl Climatol 91:99–116

Lehner B, Dölh P, Alcamo J, Henrichs T, Kaspar F (2006) Estimating the impact of global change on flood and drought risks in Europe: a continental integrated analysis. Clim Chang 75:273–299

Lemeshko BY, Postokalov SN (2001) Application of the non parametric goodness-of-fit test in testing composite hypothesis. Optoelectron Instrum Data Process 2:76–88

Martín-Vide J, Gómez L (1999) Regionalization of peninsular Spain based on the length of dry spells. Int J Climatol 19:537–555

Perzyna G (1994) Spatial and temporal characteristics of maximum dry spells in Southern Norway. Int J Climatol 14:895–909

Serra C, Burgueño A, Martínez MD, Lana X (2006) Trends in dry spells across Catalonia (NE Spain) during the second half of the 20th century. Theor Appl Climatol 85:165–183

Tallaksen LM, Madesn H, Hisdal H (2004) Frequency analysis. In: Hydrological drought. processes and estimation methods for streamflow and groundwater. In: Tallaksen LM, Van Lanen HAJ (eds) Developments in Water Science, 48th edn. Elsevier, Amsterdam

Vicente-Serrano SM, Beguería S (2003) Estimating extreme dry-spell risk in the middle Ebro Valley (northeastern Spain): a comparative analysis of partial duration series with a Pareto distribution and annual maxima series with a Gumbel distribution. Int J Climatol 23:1103–1118

Vicente-Serrano SM (2006a) Spatial and temporal analysis of droughts in the Iberian Peninsula (1910–2000). Hydrol Sci J 51(1):83–97

Vicente-Serrano SM (2006b) Differences in spatial patterns of drought on different time scales: an analysis of the Iberian Peninsula. Water Resour Manag 20:37–60

Weibull W (1951) A statistical distribution function of wide applicability. J Appl Mech 18:293–297

Wijngaard JB, Klein Tank AMG, Konnen GP (2003) Homogeneity of 20th century European daily temperature and precipitation series. Int J Climatol 23:679–692
Acknowledgments
The authors are indebted to the ECA&D and to the Agencia Estatal de Meteorologia (Spanish Ministry of the Environment) for kindly providing the pluviometric data series.
About this article
Cite this article
Serra, C., Martínez, M., Lana, X. et al. European dry spell length distributions, years 1951–2000. Theor Appl Climatol 114, 531–551 (2013). https://doi.org/10.1007/s00704-013-0857-5
Received:

Accepted:

Published:

Issue Date:
Keywords
Return Period

Iberian Peninsula

Rain Gauge

Generalise Extreme Value

Parent Distribution