Abstract
The development of winter storm- and summer thunderstorm-related loss events within the next decades in Germany was investigated with regard to change in frequency and intensity caused by climate changes. As a first step, observed meteorological data were connected with insurance data on a statistical basis. A regional climate model was then used to estimate future climate development. Using the statistical relations between meteorological and insurance data, the development of climate-driven damages was calculated. Results show that an increase of loss events can be expected within the next decades. These results show loss ratios shifting from higher return periods to smaller ones. In progressive decades, all these loss events become regionally more differentiated.
Access options
Buy single article
Instant access to the full article PDF.
USD 39.95
Price includes VAT (USA)
Tax calculation will be finalised during checkout.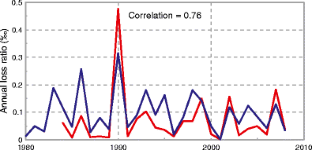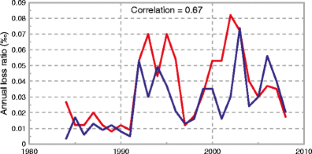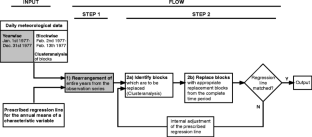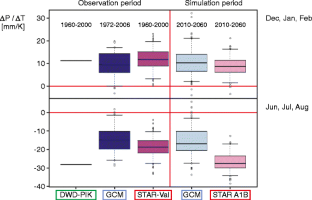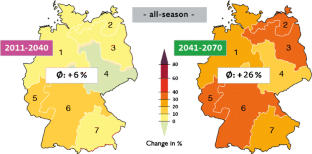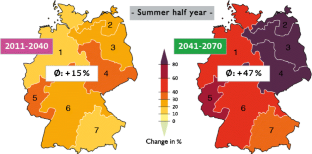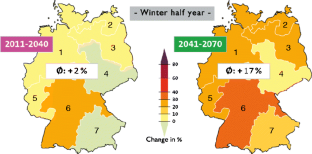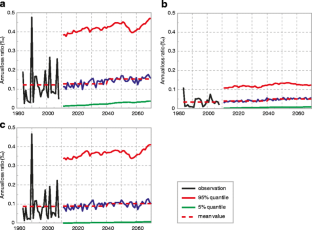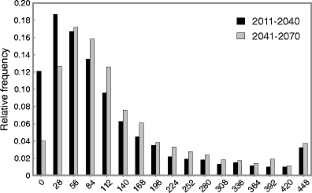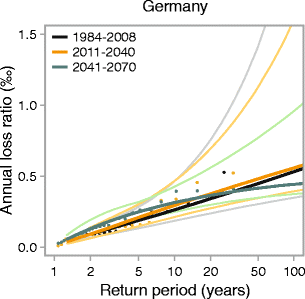 References
Born K, Ludwig P, Pinto JG (2012) Wind gust estimation for mid-European winter storms: towards a probabilistic view. Tellus A 64:17471. doi:10.3402/tellusa.v64i0.17471

Botzen WJW, Bouwer LM, van den Berg JCJM (2010) Climate change and hailstorm damage: empirical evidence implications for agriculture and insurance. Resour Energy Econ 32(3):341–362

Chernick MR (1999) Bootstrap methods, a practitioner's guide. Wiley series in probability and statistics, Chichester: Wiley

Donat MG, Leckebusch GC, Wild S, Ulbrich U (2011a) Future changes in European winter storm losses and extreme wind speeds detected from GCM and RCM multi-model simulations. Nat Hazards Earth Syst Sci 11:1351–1370

Donat MG, Pardowitz T, Leckebusch GC, Ulbrich U, Burghoff O (2011b) High-resolution refinement of a storm loss model and estimation of return periods of loss-intensive storms over Germany. Nat Hazards Earth Syst Sci 11:2821–2833

GDV - Gesamtverband der Deutschen Versicherungswirtschaft (2011) Auswirkungen des Klimawandels auf die deutsche Versicherungswirtschaft - Gesamtabschlussbericht - Teilbericht Sturm, Berlin

Kücken M, Gerstengarbe F-W, Orlowsky B (2009) A combination of cluster analysis and kappa statistic for the evaluation of climate model results. J Appl Meteorol 48:1757–1765

Orlowsky B, Gerstengarbe F-W, Werner PC (2008) A resampling scheme for regional climate simulations and its performance compared to a dynamical RCM. Theor Appl Climatol 92(3–4):209–223. doi:10.1007/s00704-007-0352-y

Orlowsky B, Bothe O, Fraedrich K, Gerstengarbe F-W, Zhu X (2010) Future climates from bias bootstrapped weather analogues: an application to the Yangtze river basin. J Climate 23:3509–3524

Pareto V (1964) Cours d'Économie Politique. Nouvelle édition par G-H Bousquet et G Busino, Geneve: Librairie Droz

Quenouille MH (1956) Notes on bias in estimation. Biometrika 43:353–360

Solomon S, Qin D, Manning M, Chen Z, Marquis M, Averyt KB, Tignor M, Miller HL (eds) (2007) Contribution of Working Group I to the fourth assessment report of the Intergovernmental Panel on Climate Change, 2007. Cambridge University Press, Cambridge

Tukey JW (1958) Bias and confidence in not quite large samples. Ann Math Statist 29(2):pp 614

Uppala SM, Kållberg PW, Simmons AJ, Andrae U, Da Costa BV, Fiorino M, Gibson JK, Haseler J, Hernandez A, Kelly GA, Li X, Onogi K, Saarinen S, Sokka N, Allan RP, Andersson E, Arpe K, Balmaseda MA, Beljaars ACM, Van De Berg L, Bidlot J, Bormann N, Caires S, Chevallier F, Dethof A, Dragosavac M, Fisher M, Fuentes M, Hagemann S, Hólm E, Hoskins BJ, Isaksen L, Janssen PAEM, Jenne R, Mcnally AP, Mahfouf J-F, Morcrette J-J, Rayner NA, Saunders RW, Simon P, Sterl A, Trenberth KE, Untch A, Vasiljevic D, Viterbo P, Woollen J (2005) The ERA-40 re-analysis. Q J R Meteorol Soc 131(612):2961–3012

Werner PC, Gerstengarbe F-W (1997) Proposal for the development of climate scenarios. Climate Res 8(3):171–182
About this article
Cite this article
Gerstengarbe, FW., Werner, P.C., Österle, H. et al. Winter storm- and summer thunderstorm-related loss events with regard to climate change in Germany. Theor Appl Climatol 114, 715–724 (2013). https://doi.org/10.1007/s00704-013-0843-y
Received:

Accepted:

Published:

Issue Date:
Keywords
Return Period

Regional Climate Model

Simulation Period

Loss Ratio

Winter Storm