Abstract
This paper aimed to investigate the potential of using spectral and textural features in the Meteosat Second Generation—Spinning Enhanced Visible and Infrared Imager (MSG–SEVIRI) data for developing techniques capable of classifying convective and stratiform rain areas in the satellite image. Two different classification methods were introduced that use the brightness temperature (BT) T 10.8 and brightness temperature differences T 10.8–T 12.1, T 8.7–T 10.8, T 6.2–T 10.8, T 6.2–T 7.3, T 13.4–T 10.8, T 8.7–T 12.1, and T 9.7–T 13.4 as spectral parameters, along with textural parameters derived from the thermal infrared MSG–SEVIRI channel to discriminate between convective and stratiform rainy clouds. The first is an algorithm based on the probability of convective rainfall (PCR) for each pixel of the MSG satellite data and the second is an artificial neural network multilayer perceptron (MLP) model that relies on the correlation of satellite data with convective and stratiform rain. Both schemes were trained using as reference convective/stratiform classification data from 88 stations in Greece for 20 rainy days with high convective activity and evaluated against an independent dataset of gauge data for six rainy days. Two PCR and two MLP algorithms were constructed based on the previous results: the PCR1 and MLP1 algorithms that use only spectral measures and the PCR2 and MLP2 algorithms based on both spectral and textural measures. It was found that the introduction of textural parameters as additional information to a technique (PCR2 and MLP2 ) works in improving the delineation between convective and stratiform rainy pixels compared to the techniques based only on spectral information (PCR1 and MLP1). The comparison of the two schemes revealed a clear outperformance of the MLP techniques over the PCR techniques. Best skill is provided by MLP2 (POD = 74.5 %, FAR = 44.3 %, POFD = 22.5 %, CSI = 0.47, ETS = 0.31, bias = 1.34) followed by MLP1 and the two PCR techniques. All algorithms overestimate the convective rain occurrences observed by the rain gauge network. These findings showed that the combined use of spectral and textural features in the MSG–SEVIRI imagery can be beneficial for the classification of convective and stratiform precipitating clouds.
Access options
Buy single article
Instant access to the full article PDF.
US$ 39.95
Tax calculation will be finalised during checkout.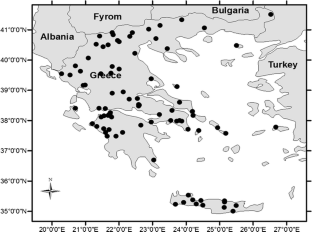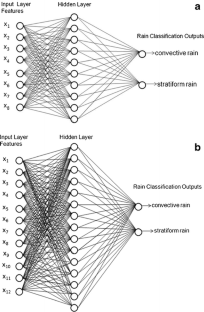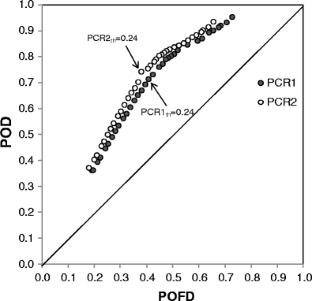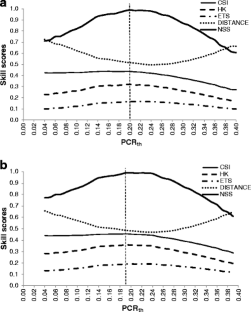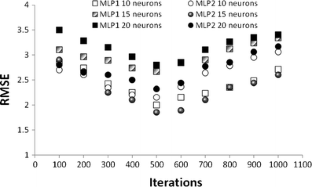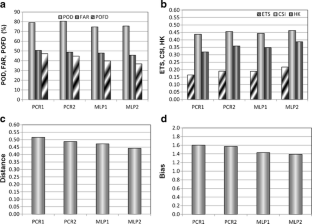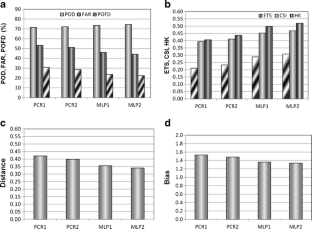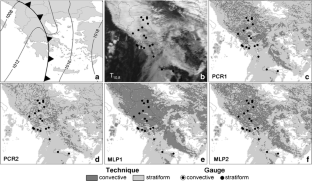 References
Ackerman SA, Moeller CC, Strabala KI, Gerber HE, Gumley LE, Menzel WP, Tsay SC (1998) Retrieval of effective microphysical properties of clouds: a wave cloud case study. Geophys Res Lett 25:1121–1124

Adler RF, Negri AJ (1988) A satellite infrared technique to estimate tropical convective and stratiform rainfall. J Appl Meteor 27:30–51

Ameur Z, Ameur S, Adane A, Sauvageot H, Bara K (2004) Cloud classification using the textural features of Meteosat images. Int J Remote Sens 25:4491–4503

Anagnostou EN, Kummerow C (1997) Stratiform and convective classification of rainfall using SSM/I 85-GHz brightness temperature observations. J Atmos Ocean Techn 14:570–575

Arkin PA, Meisner BN (1987) The relationship between large-scale convective rainfall and cold cloud over the western hemisphere during 1982–84. Mon Wea Rev 115:51–74

Baraldi A, Parmiggiani F (1999) An Investigation of the textural characteristics associated with gray level cooccurence matrix statistical parameters. IEEE Trans Geosci Remote Sens 33:293–304

Baum BA, Soulen PF, Strabala KI, King MD, Ackerman SA, Menzel WP, Yang P (2000) Remote sensing of cloud properties using MODIS airborne simulator imagery during SUCCESS: 2. Cloud thermodynamic phase. J Geophys Res 105(11):781–11, 792

Baum BA, Arduini RF, Wielicki BA, Minnis P, Tsay SC (1994) Multilevel cloud retrieval using multispectral HIRS and AVHRR data: nighttime oceanic analysis. J Geophys Res-Atmos 99:5499–5514

Baum BA, Platnick S (2006) Introduction to MODIS cloud products. In: Qu JJ, Gao W, Kafatos M, Murphy RE, Salomonson VV (eds) Earth science satellite remote sensing: science and instruments. Springer, New York

Bellon A, Lovejoy S, Austin GL (1980) Combining satellite and radar data for the short-range forecasting of precipitation. Mon Wea Rev 108:1554–1556

Cattani E, Torricella F, Laviola S, Levizzani V (2009) On the statistical relationship between cloud optical and microphysical characteristics and rainfall intensity for convective storms over the Mediterranean. Nat Hazards Earth Syst Sci 9:2135–2142

Chen DW, Sengupta SK, Welch RM (1989) Cloud field classification based upon high spatial resolution textural features. Part 2. Simplified vector approaches. J Geophys Res 94:14749–14765

Cheng M, Brown R, Collier CG (1993) Delineation of precipitation areas by correlation of Meteosat visible and infrared data in the region of the United Kingdom. J Appl Meteor 32:884–898

Clausi D, Zhao Y (2003) Grey level co-occurrence integrated algorithm (GLCIA): a superior computational method to rapidly determine co-occurrence probability texture features. Comp Geosc 29:8337–8850

Dwinnell W (1998) Modeling methodology 2: model input selection. PCAI 12(1): 23–26

Ebert EE, Manton MJ (1998) Performance of satellite rainfall estimation algorithms during TOGA COARE. J Atmos Sci 55:1538–1557

Feidas H, Giannakos A (2010) Identifying precipitating clouds in Greece using multispectral infrared Meteosat Second Generation satellite data. Theor Appl Climatol. doi:10.1007/s00704-010-0316-5

Feidas H, Giannakos A (2012) Classifying convective and stratiform rain using multispectral infrared Meteosat Second Generation satellite data. Theor Appl Climatol 108(3):613–630

Fritz S, Laszlo I (1993) Detection of water vapor in the stratosphere over very high clouds in the tropics. J Geophys Res 98(D12):22959–22967

Galushkin AI (2007) Neural networks theory. Springer, Berlin, pp 368–375, ISBN 978-3-540-48124-9

Giannakos A, Feidas H (2011) Detection of rainy clouds based on their spectral and textural features on Meteosat multispectral infrared data. 2011 Eumetsat Meteorological Satellite Conference, Oslo, Norway, 5–9 September 2011

Haklander AJ, Van Delden A (2003) Thunderstorm predictors and their forecast skill for the Netherlands. Atmos Res 67-68:273–279

Haralick RM (1979) Statistical and structural approaches to texture. Proc IEEE 67(5):786–804

Haralick RM, Shanmugan K, Dinstein I (1973) Texture features for image classification. IEEE Trans Syst Man Cybern 3(6):611–621

Haykin S (1993) Neural networks: a comprehensive foundation. Prentice-Hall, Upper Saddle River, pp 218–226

Hong Y, Hsu K, Sorooshian S, Gao X (2004) Precipitation estimation from remotely sensed imagery using an artificial neural network cloud classification system. J Appl Meteor 43:1834–1852

Hong Y, Kummerow CD, Olson WS (1999) Separation of convective and stratiform precipitation using microwave brightness temperature. J Appl Meteor 38:1195–1213

Houze RA, Jr (1993) Cloud dynamics. International geophysics series, vol 3. Academic Press, San Diego, CA

Houze RL (1997) Stratiform precipitation in regions of convection: a meteorological paradox. Bull Amer Meteor Soc 78:2179–2196

Hsu K, Gao X, Sorooshian S, Gupta HV (1997) Precipitation estimation from remotely sensed imagery using an artificial neural network. J Appl Meteor 36:1176–1190

Hsu K, Gupta HV, Sorooshian S (1995) Artificial neural network modelling of the rainfall runoff process. Water Resour Res 31(10):2517–2530

Huang HL, Yang P, Wei HL, Baum BA, Hu YX, Antonelli P, Ackerman SA (2004) Inference of ice cloud properties from high spectral resolution infrared observations. IEEE T Geosci Remote 42:842–853

Inoue T (1985) On the temperature and effective emissivity determination of semi-transparent cirrus clouds by bi-spectral measurements in the 10-mm window region. J Meteor Soc Japan 63:88–99

Inoue T (1987a) A cloud type classification with NOAA-7 split-window measurements. J Geophys Res 92:3991–4000

Inoue T (1987b) An instantaneous delineation of convective rainfall areas using split window data of NOAA-7 AVHRR. J Meteor Soc Japan 65:469–481

Inoue T (1997) Day-to-night cloudiness change of cloud types inferred from split window measurements aboard NOAA polar-orbiting satellites. J Meteor Soc Japan 75:59–66

Inoue T, Wu X, Bessho K (2001) Life cycle of convective activity in terms of cloud type observed by split window. 11th Conference on Satellite Meteorology and Oceanography, Madison, WI, USA

Kaur R, Ganju A (2008) Cloud classification in NOAA AVHRR imageries using spectral and textural features. J Indian Soc Remote Sens 36:167–174

Krebs W, Mannstein H, Bugliaro L, Mayer B (2007) A new day and night time meteosat second generation cirrus detection algorithm mecida. J Atmospheric Chemistry and Physics 7:10933–10969

Krose B, van der Smagt P (1996) An introduction to neural networks. University of Amsterdam, pp. 44–45

Kurino T (1997) A rainfall estimation with the GMS-5 infrared split-window and water vapour measurements. Meteorol Center Tech 33:91–101, Note Japan Meteorol Agency

Kühnlein M, Thies B, Nauß T, Bendix J (2010) Rainfall-rate assignment using MSG SEVIRI data—a promising approach to spaceborne rainfall-rate retrieval for midlatitudes. J Appl Meteor Climatol 49:1477–1495

Kwon E, Sohn B, Schmetz J, Wats P (2010) Intercomparison of height assignment methods for opaque clouds over the tropics. J Atmos Sci 46(1):11–19

Lalibertea AS, Rango A (2008) Correlation of object-based texture measures at multiple scales in sub-decimeter resolution aerial photography. ISPRS Archives – Volume XXXVIII-4/C1

Lamei N, Hutchison KD, Crawford MM (1994) Cloud-type discrimination via multispectral textural analysis. Opt Eng 33:1303–1313

Laviola S, Levizzani V (2011) The 183-WSL fast rain rate retrieval algorithm. Part I. Retrieval design. Atmos Res 99(3-4):443–461

Levizzani V (2003) Satellite rainfall estimates: new perspectives for meteorology and climate from the EURAINSAT project. Ann Geophys 46(2):363–372

Levizzani V, Schmetz J, Lutz HJ, Kerkmann J, Alberoni PP, Cervino M (2001) Precipitation estimations from geostationary orbit and prospects for Meteosat Second Generation. Meteorol Appl 8:23–41

Lutz H-J, Inoue T, Schmetz J (2003) NOTES AND CORRESPONDENCE Comparison of a split-window and a multi-spectral cloud classification for MODIS observations. J Meteor Society of Japan 81(3):623–631

Mason IB (1982) A model for the assessment of weather forecasts. Aust Meteor Mag 30:291–303

Mecikalski JR, Bedka KM (2006) Forecasting convective initiation by monitoring the evolution of moving cumulus in daytime GOES imagery. Mon Wea Rev 134:49–68

Mecikalski JR, Bedka KM, Mackenzie WM, Simon JP (2007) Convective Initiation and Lightning Prediction: The potential of the MTG-FC imagery mission, Atmospheric Science Department, University of Alabama in Huntsville, Cooperative Institute for Meteorological Satellite Studies University of Wisconsin-Madison Meteorological Satellite Conference, Amsterdam, The Netherlands, 24–28

Nauss T, Kokhanovsky AA (2006) Discriminating raining from non-raining clouds at mid-latitudes using multispectral satellite data. J Atmos Chem Phys 6:5031–5036

Reynolds DW, Vonder Haar TH (1977) A bispectral method of cloud parameter determination. Mon Wea Rev 105:446–457

Ricciardelli E, Romano F, Cuomo V (2008) Physical and statistical approaches for cloud identification using meteosat second generation-spinning enhanced visible and infrared imager data. Remote Sens Environ 112:241–2760

Rossow WB, Schiffer RA (1991) ISCCP cloud data products. Bull Amer Meteor Soc 72:2–20

Santurette P, Georgiev CG (2007) Water vapour imagery analysis in 7.3/6.2 μm for diagnosing thermo-dynamic context of intense convection. AMS-EUMETSAT

Shenk WE, Holub RJ, Neff RA (1976) A multispectral cloud type identification method using Nimbus-3 MRIR measurements. Mon Wea Rev 104:284–291

Shou Y, Li S, Shou S, Zhao Z (2006) Application of a cloud-texture analysis scheme to the cloud cluster structure recognition and rainfall estimation in a mesoscale rainstorm process. Adv Atmos Sc 23(5):767–774

Simpson J, Adler RF, North G (1998) A proposed Tropical Rainfall Measurement Mission (TRMM) satellite. Bull Am Meteorol Soc 69:278–295

Stanski HR, Wilson L, Burrows W (1989) Survey of common verification methods in meteorology, World Weather Watch Technical Report No. 8, WMO, Geneva, WMO/TD No. 358, 1989

Strabala KI, Ackerman SA, Menzel WP (1994) Cloud properties inferred from 8–12 micron data. J Appl Meteor 33(2):212–229

Swets JA (1973) The relative operating characteristic in psychology. Science 182:990–1000

Thies B, Nauss T, Bendix J (2008c) A new technique for detecting precipitation at mid-latitudes during daytime using Meteosat Second Generation SEVIRI. 2008 EUMETSAT Meteorological Satellite Conference, Darmstadt, Germany

Thies B, Nauss Τ, Bendix J (2008b) Precipitation process and rainfall intensity differentiation using Meteosat second generation spinning enhanced visible and infrared imager data. Geophys Res 113:D23206. doi:10.1029/2008JD010464

Thies B, Nauss Τ, Bendix J (2008c) Discriminating raining from non-raining cloud areas at mid-latitudes using meteosat second generation SEVIRI night-time data. Meteorol Appl 15:219–230

Tian B, Shaikh MA, Mahmood RA-S, Vonder Haar TH, Reinke DL (1999) A study of cloud classification with neural networks using spectral and textural features. IEEE Transactions on Neural Networks 10(1):138–151

Tjemkes SA, van de Berg L, Schmetz J (1997) Warm water vapour pixels over high clouds as observed by METEOSAT. Beitr PhysAtmosph 70:15–21

Torricella F, Cattani E, Levizzani V (2008) Rain area delineation by means of multispectral cloud characterization from satellite. Adv Geosci 17:43–47

Tremblay A (2005) The stratiform and convective components of surface precipitation. J Atmos Sci 62:1513–1528

Uddstrom MJ, Gray W (1996) Satellite cloud classification and rain rate estimation using multispectral radiances and measures of spatial texture. J Appl Meteor 35:839–858

Uddstrom MJ, Gray WR, Murphy R, Oien NA, Murray T (1999) A bayesian cloud mask for sea surface temperature retrieval. J Atmos Oceanic Technol 16:117–132

Van Hees RM, Lelieveld J, Collins WD (1999) Detecting tropical convection using AVHRR satellite data. J Geophys Res 104(D8):9213–9228

Vincente GA (1994) Hourly retrieval of precipitation rate from the combination of passive microwave and infrared satellite measurements. Ph.D. dissertation, University of Wisconsin, Madison, p 127 pp

Welch RM, Sengupta SK, Chen DW (1988) Cloud field classification based upon high spatial resolution textural features, gray level co-occurrence matrix approach. J Geophys Res 93(12):663–681

World Weather Research Program/Working Group on Numerical Experimentation Joint Working Group on Verification (WWRP/WGNE) (2010) Forecast verification—issues, methods and FAQ. http://www.cawcr.gov.au/projects/verification/. Accessed 12 May 2011

Zhang H (2003) Digital image pattern recognition and practice in Visual C++. Posts Telecom. Press, Beijing, In Chinese
Acknowledgments
This research has been co-financed by the European Union (European Social Fund—ESF) and Greek national funds through the Operational Program "Education and Lifelong Learning" of the National Strategic Reference Framework (NSRF)—Research Funding Program: Heracleitus II. Investing in knowledge society through the European Social Fund. The authors also wish to thank the National Observatory of Athens for providing the precipitation data.
About this article
Cite this article
Giannakos, A., Feidas, H. Classification of convective and stratiform rain based on the spectral and textural features of Meteosat Second Generation infrared data. Theor Appl Climatol 113, 495–510 (2013). https://doi.org/10.1007/s00704-012-0802-z
Received:

Accepted:

Published:

Issue Date:
Keywords
Brightness Temperature

Rain Rate

Equitable Threat Score

Rain Gauge Data

Convective Rain