Abstract
This work examines the characteristics of the urban heat island (UHI) in a medium-sized city in northern Spain (Bilbao) using 5-year climate data (2005–2009) and the results of three specific measurement campaigns (2009–2010). Urban climate variables are not only compared with those in rural sites but also local climatic differences occurring inside the city are analysed. The findings presented in this paper show the influence of complex topography and sea/land breeze in the urban climate. Spatial characteristics and temporal evolution of UHI is presented. Hourly maximum temperature anomaly (ΔT u–r, max) occurs just after sunrise and an urban cold island (UCI) is developed after midday. Along the year, mean UHI intensity is highest in autumn and the UCI effect increases in spring and summer in relation with sea breeze cooling potential. Diurnal and seasonal variation of air flow patterns appear to influence significantly on UHI intensity.
Access options
Buy single article
Instant access to the full article PDF.
US$ 39.95
Tax calculation will be finalised during checkout.
Subscribe to journal
Immediate online access to all issues from 2019. Subscription will auto renew annually.
US$ 119
Tax calculation will be finalised during checkout.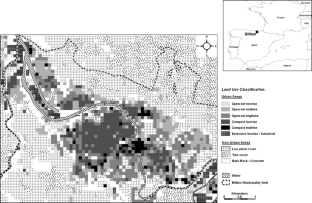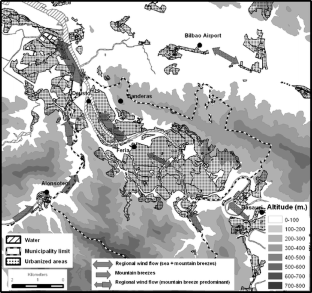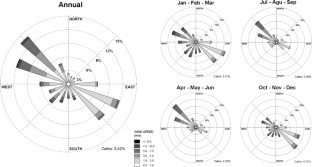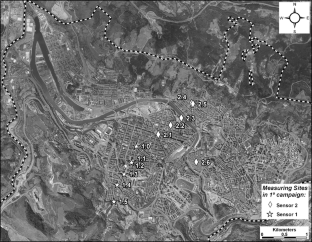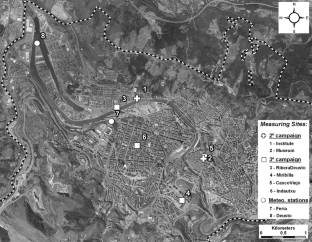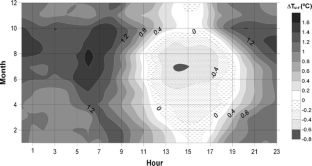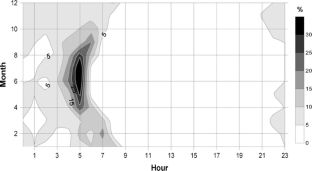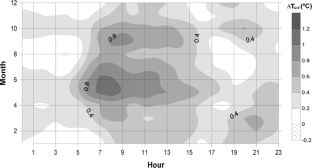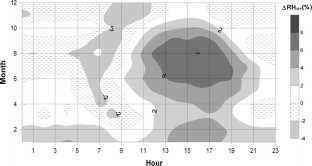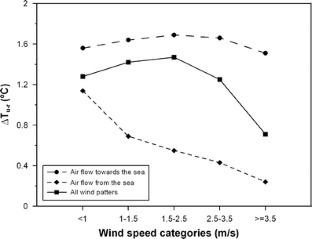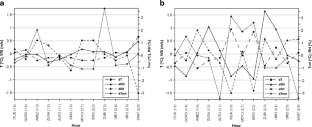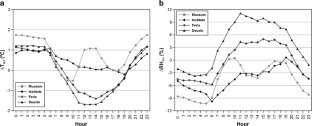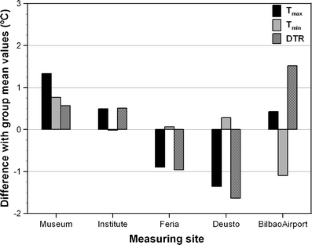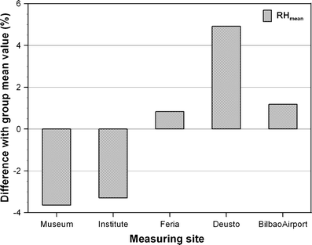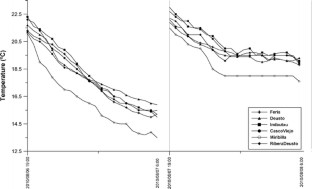 References
Acero JA (2012) Urban climate modelling. Development of climate evaluation methods for urban planning purposes. Ph.D. dissertation thesis, University of Kassel. ISBN: 978-84-88734-09-9

Acero JA, Albizu M, Zeberio U, Santa Coloma O (2006) Caracterización meteorológica de los niveles de calidad del aire en diferentes comarcas del País Vasco. 7th Encuentro Hispano-Luso de Meteorología, Pamplona, Spain

Ackerman B (1985) Temporal march of the Chicago heat island. J Appl Meteorol 24:547–554

Akinbode OM, Eludoyin AO, Fashae OA (2008) Temperature and relative humidity distributions in a medium-size administrative town in Southwest Nigeria. J Environ Manage 87:95–105. doi:10.1016/j.jenvman.2007.01.018

Alcoforado MJ, Andrade H (2006) Nocturnal urban heat island in Lisbon (Portugal): main features and modelling attempts. Theor Appl Climatol 84:151–159

ASHRAE (2001). ASHRAE Fundamentals handbook 2001 (SI edn). American Society of Heating, Refrigerating, and Air-Conditioning Engineers. ISBN: 1883413885

Atkinson BW (2003) Numerical modelling of urban heat-island intensity. Bound-Lay Meteorol 109:285–310

Bornstein RD (1968) Observations of the urban heat island effect in New York City. J Appl Meteorol 7:575–582

Chandler TJ (1965) The climate of London. Hutchinson, London

Figuerola PI, Mazzeo NA (1998) Urban-rural temperature differences in Buenos Aires. Int J Climatol 18:1709–1723

Höppe P (1992) A new procedure to determine the mean radiant temperature outdoors. Wetter Leben 44:147–151

Jauregui E (1997) Heat island development in Mexico City. Atmos Environ 31:3821–3831

Kifle B (2003) Urban heat island and its feature in Addis Ababa (a case study). Fifth International Conference on Urban Climate, Lodz. Available from http://nargeo.geo.uni.lodz.pl/∼icuc5/text/P_6_11.pdf

Kim Y, Baik J (2005) Spatial and temporal structure of the urban heat island in Seoul. J Appl Meteorol 44:591–605

Klysik K, Fortuniak K (1999) Temporal and spatial characteristics of the urban island of Lodz, Poland. Atmos Environ 33:3885–3895

Kolokotroni M, Giridharan R (2008) Urban heat island intensity in London: an investigation of the impact of physical characteristics on changes in outdoor air temperature during summer. Sol Energy 82:986–998

Kolokotsa D, Psomas A, Karapidakis E (2009) Urban heat island in southern Europe: the case study of Hania, Crete. Sol Energy 83:1871–1883

Lemonsu A, Masson V (2002) Simulation of a summer urban breeze over Paris. Bound-Lay Meteorol 104:463–490

Lindberg F, Holmer B, Thorsson S (2008) SOLWEIG 1.0—modelling spatial variations of 3D radiant fluxes and mean radiant temperature in complex urban settings. Int J Biometeorol 51:323–334. doi:10.1007/s00484-008-0162-7

Magee N, Curtis J, Wendler G (1999) The urban heat island effect at Fairbanks, Alaska. Theor Appl Climatol 64:39–47

Manawadu L, Nirosha L (2008) Identifying surface temperature pattern of the City of Colombo. Engineer 41:133–140

Matzarakis A, Rutz F, Mayer H (2007) Modelling radiation fluxes in simple and complex environments—application of RayMan model. Int J Biometeorol 51:323–334. doi:10.1007/s00484-006-0061-8

Mayer H (1988) Results from the research program 'STADTKLIMA BAYERN' for urban planning. Energ Build 11:115–121

Millan M, Alonso L, Legarreta J, Albizu M, Ureta I, Egusquiaguirre C (1984) A fumigation episode in an industrialized estuary: Bilbao, November 1981. Atmos Environ 18:563–572

Millan M, Otamendi E, Alonso L, Ureta I (1987) Experimental characterization of atmospheric diffusion in complex terrain with land–sea interactions. JAPCA 37:807–811

Morris CJG, Simmonds I (2000) Associations between varying magnitudes of the urban heat island and the synoptic climatology in Melbourne, Australia. Int J Climatol 20:1931–1954

Morris CJG, Simmonds I, Plummer N (2001) Quantification of the influences of wind and cloud on the nocturnal urban heat island of a large city. J Appl Meteorol 40:169–182

Oke TR (1987) Boundary layer climates. Routledge, New York

Saitoh TS, Shimada T, Hoshi H (1995) Modelling and simulation of the Tokyo urban heat island. Atmos Environ 30:3431–3442

Santamouris M (2007) Heat island research in Europe, the state of the art. J Adv Build Energy Res 1:123–150

Stewart I, Oke T (2010) Thermal differentiation of local climate zones using temperature observations from urban and rural field sites. In: 9th AMS Symposium on the Urban Environment, 1.1, Keystone, USA, pp. 1–7

Takeuchi W (2010) Application of remote sensing and GIS for monitoring urban heat island in Kuala Lumpur Metropolitan Area Map Asia 2010 and the International Symposium and Exhibition on Geoinformation, Kuala Lumpur. Available from http://www.mapasia.org/2010/proceeding/pdf/306.pdf

Thorsson S, Lindberg F, Eliasson I, Holmer B (2007) Different methods for estimating the mean radiant temperature in an outdoor urban setting. Int J Climatol 27:1983–1993

UN (2008) Urban population, development and the environment 2007. Department of Economic and of Social Affairs, United Nations, New York

Unger J (1996) Heat island intensity with different meteorological conditions in a medium-sized town: Szeged, Hungary. Theor Appl Climatol 54:147–151

Yague C, Zurita E, Martinez A (1991) Statistical analysis of the Madrid urban heat island. Atmos Environ 25:327–332
Acknowledgements
The authors would like to acknowledge Dipl. German Fernandez for the help with the measuring devices and Dipl. Andres Simon, Dipl. Lexuri Yurrebaso, Dr. Karmele Herranz and Dr. Julia Hidalgo for the help during the measurement campaigns. Climatic data were provided by the Environmental Department and the Basque Meteorological Agency in the Basque Country (Spain). This work was partially funded by "K-Egokitzen" (2007–2011), a research project of the Department of Environment of the Basque Government through ETORTEK programme within the framework of the Basque Science, Technology and Innovation Plan 2010.1
About this article
Cite this article
Acero, J.A., Arrizabalaga, J., Kupski, S. et al. Urban heat island in a coastal urban area in northern Spain. Theor Appl Climatol 113, 137–154 (2013). https://doi.org/10.1007/s00704-012-0774-z
Received:

Accepted:

Published:

Issue Date:
Keywords
Wind Speed

Thermal Comfort

Urban Heat Island

Increase Wind Speed

Urban Climate