Abstract
During the last decades, wildfires have received growing attention because of their major impact on the natural and anthropogenic infrastructures worldwide. The present paper focuses on investigating the relationship between the meteorological/climatological conditions and wildfires in Greece on a variety of temporal and spatial scales. This is performed through the identification of the mean surface temperature, the sea-level pressure, and the absolute humidity anomalies during wildfires at 26 meteorological stations covering both maritime and land environments in the Greek domain and the subsequent construction of the derived GIS surface contour maps. A case study analysis through composite anomaly maps of temperature, pressure, precipitable water, 500-hPa geopotential height, specific humidity, and vector wind is also performed. It is concluded that positive surface temperature, absolute/specific humidity, 500-hPa geopotential height, and vector wind anomalies are observed during wildfires while sea-level pressures are anomalously negative. Furthermore, western regions display lower magnitude anomalies compared to the more central and central-eastern regions during wildfires. The above meteorological/climatological findings in conjunction with medium range to seasonal climate forecasts could be used by wildfire risk managers to provide increased wildfire prediction accuracy and thus benefit many aspects of the natural and built environment.
Access options
Buy single article
Instant access to the full article PDF.
USD 39.95
Price excludes VAT (USA)
Tax calculation will be finalised during checkout.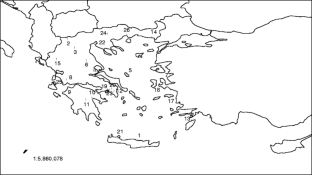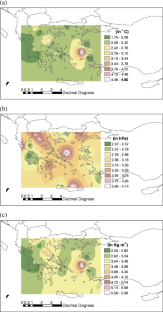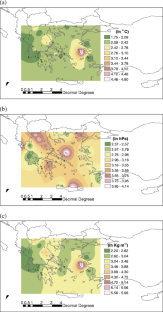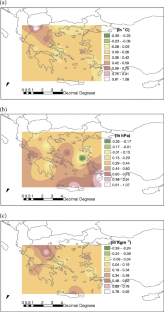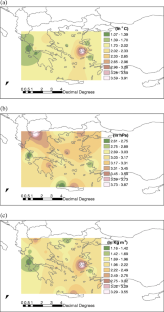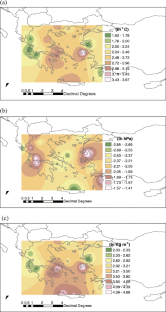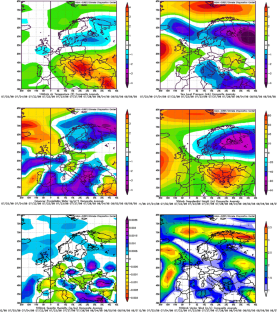 References
Anderson DR, Sweeny DJ, Williams TA (1981) Introduction to statistics: an applications approach. West, St. Paul

Beer T (1991) The interaction of wind and fire. Bound-Lay Meteorol 54:287–308

Bonazountas M, Kallidromitou D, Kassomenos P, Passas N (2005) Forest fire risk analysis. Hum Ecol Risk Assess 11:617–626

Bonazountas M, Kallidromitou D, Kassomenos P, Passas N (2007) A decision support system for managing forest fire casualties. J Environ Manage 84:412–418

Crimmins MA (2006) Synoptic climatology of extreme fire weather conditions across the Southwest United States. Int J Climatol 26:1001–1016

Crimmins MA, Comrie AC (2004) Wildfire-climate interactions across southeast Arizona. Int J Wildland Fire 13:455–466

Flannigan MD, Harrington JB (1988) A study of the relation of meteorological variables to monthly provincial area burned by wildfire in Canada (1953-80). J Appl Meteorol 27:441–452

Fried JS, Torn MS, Mills M (2004) The impact of climate change on wildfire severity: a regional forecast for northern California. Clim Chang 64:169–191

Gillet NP, Weaver AJ, Zwiers FW, Flannigan MD (2004) Detecting the effect of climate change on Canadian forest fires. Geophys Res Lett 31:L18211

Gorski CJ, Farnsworth A (2000) Fire weather and smoke management. In: Whiteman CD (ed) Mountain meteorology: fundamentals and applications. Oxford University Press, New York, pp 237–272

Handmer J, Honda Y, Kundzewicz ZW, Arnell N, Benito G, Hatfield J, Mohamed IF, Peduzzi P, Wu S, Sherstyukov B, Takahashi K, Yan Z (2012) Changes in impacts of climate extremes: human systems and ecosystems. In: Field CB, Barros V, Stocker TF, Qin D, Dokken DJ, Ebi KL, Mastrandrea MD, Mach KJ, Plattner G-K, Allen SK, Tignor M, Midgley PM (eds) Managing the risks of extreme events and disasters to advance climate change adaptation. A special report of working groups I and II of the Intergovernmental Panel on Climate Change (IPCC). Cambridge University Press, Cambridge, pp 231–290

IPCC (2012) In: Field CB, Barros V, Stocker TF, Qin D, Dokken DJ, Ebi KL, Mastrandrea MD, Mach KJ, Plattner G-K, Allen SK, Tignor M, Midgley PM (eds) Managing the risks of extreme events and disasters to advance climate change adaptation. A special report of working groups I and II of the Intergovernmental Panel on Climate Change. Cambridge University Press, Cambridge, p 582

Johnson EA, Wowchuk DR (1993) Wildfires in the southern Canadian Rocky Mountains and their relationship to mid-tropospheric anomalies. Can J Forest Res 23:1213–1222

Jones RA, Shriver JF, O'Brien JJ (1999) The effects of El Nino on rainfall and fire in Florida. Florida Geographers 30:55–69

Kalabokidis K, Gatzogiannis S, Goltsidas S (2002) Introducing wildfire into forest management planning: towards a conceptual approach. Forest Ecol Manag 158:41–50

Karl TR, Melillo JM, Peterson TC (2009) Global climate change impacts in the United States. Global Change Research Program. Cambridge University Press, New York

Kassomenos P (2010) Synoptic circulation control on wild fire occurrence. Phys Chem Earth 35(9–12):544–552

Kipfmueller KF, Swetnam TW (2000) Fire-climate interactions in the Selway-Bitterrot wilderness area. Proceedings of wilderness science in a time of change: a conference, RMRS-P-15-VOL-5. Cole DN, McCool SF, Parsons DJ and Brown PJ (eds), USDA Forest Service, 270–275

Lambert BC, Grumm RH (2003) Using climatic anomalies to forecast wildfires in Pennsylvania. 5th Symposium on Fire and Forest Meteorology, Orlando, 16th – 20th November

Levin N, Saaroni H (1999) Fire weather in Israel—synoptic climatological analysis. GeoJournal 47:523–538

McKillup S, Darby-Dyar M (2010) Geostatistics explained. An introductory guide for earth scientists. Cambridge University Press, London

Millan MM, Estrela MJ, Badenas C (1998) Meteorological processes relevant to forest fire dynamics on the Spanish Mediterranean coast. J Appl Meteorol 37:83–100

Mooney HA (1977) Convergent in Chile and California: Mediterranean climate ecosystems. Dowden, Hutchinson & Ross, Inc, Stroudsberg

Pereira MG, Trigo RM, da Camara CC, Pereira JMC, Leite SM (2005) Synoptic patterns associated with large summer forest fires in Portugal. Agr Forest Meteorol 129:11–25

Remy N, Boucher A, Wu J (2009) Applied Geostatistics with SGeMS. Cambridge University Press, New York

Rohli RV, Henderson KG (2002) A comparison of 500 hPa height patterns associated with anticyclones of Pacific and continental origin impacting the Central Gulf Coast, United States. Phys Geogr 23:449–464

Ronca RE, Battisti DS (1997) Anomalous sea surface temperatures and local air–sea energy exchange on intraannual timescales in the northeastern subtropical Pacific. J Climate 10:102–117

Schoennagel T, Veblen TT, Romme WH (2004) The interaction of fire, fuels, and climate across Rocky Mountain Forests. Bioscience 54:661–676

Skinner WR, Stocks BJ, Martell DL, Bonsal B, Shabbar A (1999) The association between circulation anomalies in the mid-troposphere and area burned by wildland fire. Theor Appl Climatol 63:89–105

Skinner WR, Flannigan MD, Stocks BJ, Martell DL, Wotton BM, Todd JB, Mason JA, Logan KA, Bosch EM (2001) A 500 hPa synoptic wildland fire climatology for large Canadian forest fires, 1959–1996. Theor Appl Climatol 71:157–169

Stocks BJ, Mason JA, Todd JB, Bosch EM, Wotton BM, Amiro BD, Flannigan MD, Hirsch KG, Logan KA, Martell DL, Skinner WR (2003) Large forest fires in Canada, 1959–1997. J Geophys Res 107:8149. doi:10.1029/2001JD000484

Takle ES, Bramer DJ, Heilman WE, Thompson MR (1994) A synoptic climatology for forest fires in the NE US and future implications from GCM simulations. Int J Wildland Fire 4:217–224

Thonicke K, Cramer W (2006) Long-term trends in vegetation dynamics and forest fires in Brandenburg (Germany) under a changing climate. Nat Hazards 38:283–300

Trigo RM, Pereira JMC, Pereira MG, Mota B, Calado TJ, DaCamara CC, Santo FE (2005) Atmospheric conditions associated with the exceptional fire season of 2003 in Portugal. Int J Climatol 26(13):1741–1757

Westerling AL, Bryant BP (2008) Climate change and wildfire in California. Clim Chang 87:231–249

Westerling AL, Gershunov A, Brown TJ, Cayan DR, Dettinger MD (2003) Climate and wildfire in the western United States. B Am Meteorolo Soc 84:595–604

Westerling AL, Hidalgo HG, Cayan DR, Swetnam TW (2006) Warming and earlier spring increases western U.S. forest wildfire activity. Science 313:940–943
About this article
Cite this article
Papadopoulos, A., Paschalidou, A.K., Kassomenos, P.A. et al. Investigating the relationship of meteorological/climatological conditions and wildfires in Greece. Theor Appl Climatol 112, 113–126 (2013). https://doi.org/10.1007/s00704-012-0726-7
Received:

Accepted:

Published:

Issue Date:

DOI: https://doi.org/10.1007/s00704-012-0726-7
Keywords
Kriging

Ordinary Kriging

Specific Humidity

Precipitable Water

Absolute Humidity