Abstract
This paper aims to map the thermal field in the metropolitan region of Rio de Janeiro (MARJ) considering the atmospheric characteristics and the land use that contribute to understanding the urban heat island. Three thermal maps are defined through the use of Landsat5-TM satellite images for three winter events chosen for the decades of 1980, 1990, and 2000, respectively. The results reveal a concentration of warmer cores in urban central areas as well as some local warmer areas in suburban region. Sites with lower temperatures correspond to vegetated areas which are away from the central part of the MARJ, including points of suburban areas. This work emphasizes the importance of the combined analysis of surface temperature with land use and atmospheric conditions, depicting a distinct pattern of heat islands for tropical climate.
Access options
Buy single article
Instant access to the full article PDF.
US$ 39.95
Tax calculation will be finalised during checkout.
Subscribe to journal
Immediate online access to all issues from 2019. Subscription will auto renew annually.
US$ 119
Tax calculation will be finalised during checkout.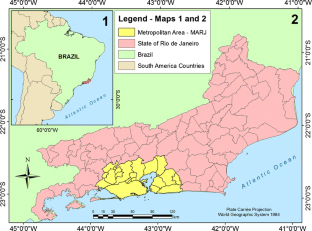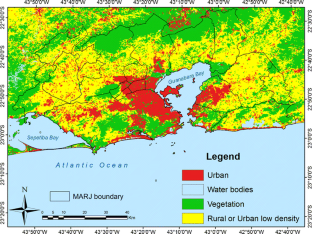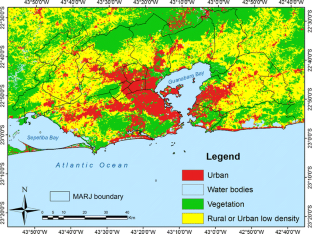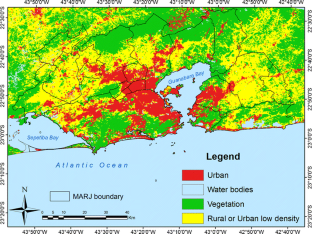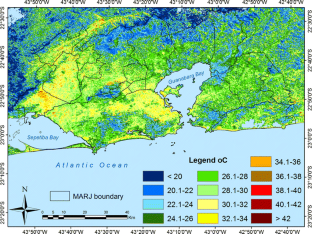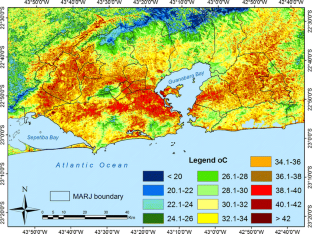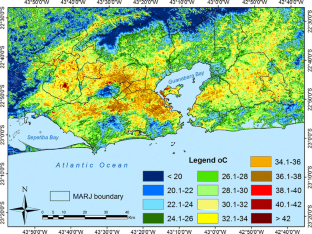 References
Alcoforado MJ, Andrade H (2006) Nocturnal urban heat island in Lisbon (Portugal): main features and modelling attempts. Theor Appl Climatol 84:151–159. doi:10.1007/s00704-005-0152-1

Arnfield AJ (1982) An approach to the estimation of the surface radiative properties and radiation budgets of cities. Phys Geogr 3:97–122

Arnfield AJ (2003) Two decades of urban climate research: a review of turbulence, exchanges of energy and water, and the urban heat island. Int J Climatol 23(1):1–26. doi:10.1002/joc.859

Bejarán RA, Camilloni IA (2003) Objective method for classifying air masses: an application to the analysis of Buenos Aires (Argentina) urban heat island intensity. Theor Appl Climatol 74:93–103. doi:10.1007/s00704-002-0714-4

Bretz S, Akbari H, Rosenfeld A (1998) Practical issues for using solar-reflective materials to mitigate urban heat islands. Atmos Environ 32(1):95–101. doi:10.1016/S1352-2310(97)00182-9

Carfan AC, Nery JT, Stivari SM (2007) Dinâmica dos ventos e temperatura do ar em Maringá, no verão de 2004. Revista Eletrônica Geografar 2(1):01–21. www.ser.ufpr.br/geografar. In Portuguese

Chander G, Markham BL, Helder DL (2009) Summary of current radiometric calibration coefficients for Landsat MSS, TM, ETM+, and EO-1 ALI sensors. Remote Sens Environ 113:893–903

Cheval S, Dumitrescu A (2008) The July urban heat island of Bucharest as derived from modis images. Theor Appl Climatol 91(1–4):1–9. doi:10.1007/s00704-008-0019-3

Cheval S, Dumitrescu A, Bell A (2009) The urban heat island of Bucharest during the extreme high temperatures of July 2007. Theor Appl Climatol 97:391–401. doi:10.1007/s00704-008-0088-3

Chung U, Choi C, Yun JI (2004) Urbanization effect on the observed change in mean monthly temperatures between 1951–1980 and 1971–2000 in Korea. Clim Change 66:127–136. doi:10.1023/B:CLIM.0000043136.58100.ce

De Griend V, Owe M (1993) On the relationship between thermal emissivity and the normalized difference vegetation index for natural surfaces. Int J Remote Sens 14:1119–1131

Ezber Y, Sen OL, Kindap T, Karaca M (2007) Climatic effects of urbanization in Istanbul: a statistical and modeling analysis. Int J Climatol 27(5):667–679. doi:10.1002/joc.1420

Freitas ED, Rozoff CM, Cotton WR, Silva Dias PL (2007) Interactions of an urban heat island and sea breeze circulations during winter over the Metropolitan Area of São Paulo—Brazil. Bound-Layer Meteorol 122(1):43–65. doi:10.1007/s10546-006-9091-3

Fujibe F (2009) Detection of urban warming in recent temperature trends in Japan. International J Climatol 29(12):1811–1822. doi:10.1002/joc.1822

Gallo KP, Tarpley JD, Mcnab AL et al (1995) Assessment of urban heat islands: a satellite perspective. Atmos Res 37:37–43. doi:10.1016/0169-8095(94)00066-M

Giridharan R, Lau SSY, Ganesan S, Givoni B (2007) Urban design factors influencing heat island intensity in high-rise high-density environments of Hong Kong. Build Environ 42(10):3669–3684. doi:10.1016/j.buildenv.2006.09.01

Grimmond CSB (2006) Progress in measuring and observing the urban atmosphere. Theor Appl Climatol 84:3–22. doi:10.1007/s00704-005-0140-5

Grimmond CSB, Oke TR (1991) An evapotranspiration-interception model for urban areas. Water Resour Res 27(7):1739–1755

Grimmond CSB, Oke TR (2002) Turbulent heat fluxes in urban areas: observations and a local-scale urban meteorological parameterization scheme (LUMPS). J Appl Meteorol 41(7):792–810. doi:10.1175/1520-0450(2002)041

Hafner J, Kidder SQ (1999) Urban heat island modeling in conjunction with satellite-derived surface/soil parameters. J Appl Meteorol 38:448–465. doi:10.1175/1520-0450(1999)038<0448:UHIMIC>2.0.CO;2

Homar V, Ramis C, Romero R, Alonso S (2010) Recent trends in temperature and precipitation over the Balearic Islands (Spain). Clim Change 98:199–211. doi:10.1007/s10584-009-9664-5

Huete A, Didan K, Miura T, Rodriguez EP, Gao X, Ferreira LG (2002) Overview of the radiometric and biophysical performance of the MODIS vegetation indices. Remote Sens Environ 83:195–213. doi:10.1016/S0034-4257(02)00096-2

Imhoff ML, Zhang P, Wolfe RE, Bounoua L (2010) Remote sensing of the urban heat island effect across biomes in the continental USA. Remote Sens Environ 114:504–513. doi:10.1016/j.rse.2009.10.008

Iqbal M (1983) An Introduction to Solar Radiation. Academic Press, Toronto

Jiang J, Tian G (2010) Analysis of the impact of land use/land cover change on land surface temperature with remote sensing. Proc Environ Sci 2:571–575. doi:10.1016/j.proenv.2010.10.062

Johansson E (2006) Influence of urban geometry on outdoor thermal comfort in a hot dry climate: a study in Fez, Morocco. Build Environ 41:1326–1338

Kanda M (2006) Progress in the scale modeling of urban climate: review. Theor Appl Climatol 84:23–33. doi:10.1007/s00704-005-0141-4

Karam HA, Oliveira AP, Soares J (1996) Simulação numérica da CLP em Candiota através de um modelo de mesoescala. Workshop on Air Pollution and Acid Rain: The Candiota Program. In Portuguese

Karam HA, Pereira Filho AJ, Masson V, Noilhan J, Marques Filho EP (2010) Formulation of a tropical town energy budget (t-TEB) scheme. Theor Appl Climatol 101:109–120. doi:10.1007/s00704-009-0206-x

Kinouchi T, Yoshitani J (2001) Simulation of the urban heat island in Tokyo with future possible increases of anthropogenic heat, vegetation cover and water surface. Proceedings of the International Symposium on Environmental Hydraulics. 6p

Kolokotroni M, Giridharan R (2008) Urban heat island intensity in London: an investigation of the impact. Sol Energy 82:986–998. doi:10.1016/j.solener.2008.05.004

Kusaka H, Kondo H, Kikegawa Y, Kimura F (2001) A simple singlelayer urban canopy model for atmospheric models: comparison with multi-layer and slab models. Bound-Layer Meteorol 101:329–358. doi:10.1023/A:1019207923078

Lemonsu A, Grimmond CSB, Masson V (2004) Modeling the surface energy balance of the core of an old mediterranean city: Marseille. J Appl Meteorol 43:312–327. doi:10.1175/1520-0450(2004)043<0312:MTSEBO>2.0.CO;2

Li Q, Zhang H, Liu X et al (2004) Urban heat island effect on annual mean temperature during the last 50 years in China. Theor Appl Climatol 79:165–174. doi:10.1007/s00704-004-0065-4

Lin W, Wang B, Li J, Wang X, Zeng L, Yang L, Lin H (2010) The impact of urbanization on the monthly averaged diurnal cycle in October 2004 in the Pearl River Delta region. Atmosfera 23(1):37–51

Lucena AJ, Rotunno Filho OC, França JRA, Peres LF (2010a) The study of the urban heat islands in the metropolitan region of Rio de Janeiro. The Meeting of the Americas (AGU), Foz do Iguaçu/PR, In Portuguese

Lucena AJ, Rotunno Filho OC, França, JRA, Peres LF (2010b) Aplicação da correção atmosférica para imagens de satélite Landsat-TM. XV Congresso Brasileiro de Meteorologia, In Portuguese

Lucena AJ, Correa EB, Rotunno Filho OC, Peres LF, França JRA, Justi da Silva, MGA (2011) Ilhas de calor e eventos de precipitação na região metropolitana do Rio de Janeiro (RMRJ). XIV World Water Congress e 10o SILUSBA, In Portuguese

Manley G (1958) On the frequency of snowfall in metropolitan England. Q J R Meteorol Soc 84:70–72. doi:10.1002/qj.49708435910

Marques Filho EP, Karam HA, Miranda AG, Franca JRA (2009) Rio de Janeiro's urban climate. Urban Climate News—Quarterly Newsletter of the International Association of Urban Climate (IAUC), issue no. 32, June, 5–9. http://www.urban-climate.org

Martilli A, Clappier A, Rotach MW (2002) An urban surface exchange parameterization for mesoscale models. Bound-Layer Meteorol 104:261–304. doi:10.1023/A:1016099921195

Masson V (2000) A physically-based scheme for the urban energy budget in atmospheric models. Bound-Layer Meteorol 94:357–397. doi:10.1023/A:1002463829265

Mather PM (ed) (1993) Geographical information handling—research and applications. Wiley, New York

Murphy DJ, Hall MH, Hall CAS, Heisler GM, Stehman SV, Anselmi-Molina C (2011) The relationship between land cover and the urban heat island in northeastern Puerto Rico. Int J Climatol 31(8):1222–1239. doi:10.1002/joc.2145

Oke TR (1976) The distinction between canopy and boundary-layer heat islands. Atmosphere 14:268–277

Oke TR (1981) Canyon geometry and the nocturnal urban heat island: comparison of scale model and field observation. J Climatol 1:237–254. doi:10.1002/joc.3370010304

Oke TR (1982) The energetic basis of the urban heat island. Q J R Meteorol Soc 108:1–24. doi:10.1002/qj.49710845502

Oke TR (1987) Boundary layer climate, 2nd edn. Routledge, London

Oke TR (1997) Surface climate processes. In: Bailey WG, Oke TR, Rouse WR (eds) Surface climates of Canada. McGill-Queen's University Press, Montreal, pp 21–43

Oke TR, Maxwell GB (1967) Urban heat island dynamics in Montreal and Vancouver. Atmos Environ 9(2):191–200. doi:10.1016/0004-6981(75)90067-0

Oke TR, Johnson GT, Steyn DG, Watson ID (1991) Simulation of surface urban heat islands under 'ideal' conditions at night. Part 2: diagnosis of causation. Bound-Layer Meteorol 56:339–358. doi:10.1007/BF00119211

Oleson KW, Bonan GB, Feddemab J, Jackson T (2011) An examination of urban heat island characteristics in a global climate model. Int J Climatol 31(12):1848–1865. doi:10.1002/joc.2201

Oliveira AP, Bornstein RD, Soares J (2003) Annual and diurnal wind patterns in the city of São Paulo. Water Air Soil Pollut: Focus 3:3–15. doi:10.1023/A:1026090103764

Peres LF, DaCamara CC (2006) Improving two-temperature method retrievals based on a nonlinear optimization approach. IEEE Geosci Remote Sens Lett 3:232–236. doi:10.1109/LGRS.2005.862274

Peres LF, Sobrino JA, Libonati R, Jimenez-Munoz JC, DaCamara CC, Romaguera M (2008) Validation of a temperature emissivity separation hybrid method from airborne hyperspectral scanner data and ground measurements in the SEN2FLEX field campaign. Int J Remote Sens 28:1–18. doi:10.1080/01431160802036532

Peres LF, DaCamara CC, Trigo IF, Freitas SC (2010) Synergistic use of the two-temperature and split-window methods for land-surface temperature retrieval. Int J Remote Sens 31:4387–4409. doi:10.1080/01431160903260973

Pigeon G, Moscicki MA, Voogt JA, Masson V (2008) Simulation of fall and winter surface energy balance over a dense urban area using the TEB scheme. Meteorol Atmos Phys 102:159–172. doi:10.1007/s00703-008-0320-9

Pongracz R, Bartholy J, Dezso Z (2006) Remotely sensed thermal information applied to urban climate analysis. Adv Space Res 37:2191–2196. doi:10.1016/j.asr.2005.06.069

Qin Z, Karnieli A, Berliner P (2001) A mono-window algorithm for retrieving land surface temperature from Landsat TM data and its application to the Israel–Egypt border region. Int J Remote Sens 22(18):3719–3746

Rao PK (1972) Remote sensing of urban heat islands from an environmental satellite. Bull Am Meteorol Soc 53:647–648

Rizwan AM, Dennis LYC, Liu C (2008) A review on the generation, determination and mitigation of urban heat island. J Environ Sci 20:120–128. doi:10.1016/S1001-0742(08)60019-4

Rosa-Freitas MG, Tsouris P, Reis IC, Figueiredo MA, Magalhães M, Nascimento TFS, Honório NA (2010) Dengue and land cover heterogeneity in Rio de Janeiro. Oecologia Australis 14(3):641–667. doi:10.4257/oeco.2010.1403.04

Rosenzweig C, Solecki WD, Parshall L et al (2005) Characterizing the urban heat island in current and future climates in New Jersey. Environ Haz 6:51–62. doi:10.1016/j.hazards.2004.12.001

Roth M (2007) Review of urban climate research in (sub) tropical regions. Int J Climatol 27:1859–1873. doi:10.1002/joc.1591

Saaroni H, Ben-Dor E, Bitan A et al (2000) Spatial distribution and microscale characteristics of the urban heat island in Tel-Aviv, Israel. Land Urban Plan 48:1–18. doi:10.1016/S0169-2046(99)00075-4

Sobrino JA, Jiménez-Muñoz JC, Paolini L (2004) Land surface temperature retrieval from LANDSAT TM 5. Remote Sens Environ 90:434–440. doi:10.1016/j.rse.2004.02.003

Souza JD, Silva BB (2005) Correção atmosférica para temperatura da superfície obtida com imagem TM: Landsat 5. Rev Bras Geofis 23(4):349–358, In Portuguese

Stathopoulou M, Cartalis C (2007) Daytime urban heat islands from Landsat ETM+ and Corine land cover data: an application to major cities in Greece. Sol Energy 81:358–368. doi:10.1016/j.solener.2006.06.014

Streutker DR (2003) Satellite-measured growth of the urban heat island of Houston, Texas. Remote Sens Environ 85:282–289. doi:10.1016/S0034-4257(03)00007-5

Sun CY, Brazel AJ, Chow WTL, Hedquist BC, Prashad L (2009) Desert heat island study in winter by mobile transect and remote sensing techniques. Theor Appl Climatol 98:323–335. doi:10.1007/s00704-009-0120-2

Taha H (1997) Urban climates and heat islands: albedo, evapotranspiration, and anthropogenic heat. Energy Build 25:99–103. doi:10.1016/S0378-7788(96)00999-1

Van Weverberg K, De Ridder K, Van Rompaey A (2007) Modeling the contribution of the Brussels heat island to a long temperature time series. J Appl Meteorol Climatol 47:976–990. doi:10.1175/2007JAMC1482.1

Velazquez-Lozada A, Gonzalez JE, Winter A (2006) Urban Heat island effect analysis for San Juan, Puerto Rico. Atmos Environ 40:1731–1741. doi:10.1016/j.atmosenv.2005.09.074

Voogt JA (2002) Urban heat island, causes and consequences of global environmental change. Encycl Glob Environ Chang 3:660–666

Voogt JA, Oke TR (2003) Thermal remote sensing of urban climates. Remote Sens Environ 86:370–384. doi:10.1016/S0034-4257(03)00079-8

Vukovich FM, Dunn JW, Crissman BW (1976) A theoretical study of the St. Louis heat island: the wind and temperature distribution. J Appl Meteorol 15:417–440. doi:10.1175/1520-0450(1976)015<0417:ATSOTS>2.0.CO;2

Weng Q, Lub D, Schubring J (2004) Estimation of land surface temperature–vegetation abundance relationship for urban heat island studies. Remote Sens Environ 89:467–483. doi:10.1016/j.rse.2003.11.005

Wilks DS (2006) Statistical methods in the atmospheric sciences, 2nd edn. Academic, London

Yoshikado H (1992) Numerical study of the daytime urban effect and its interaction with the sea breeze. J Appl Meteorol 31:1146–1164

Yoshikado H (1994) Interaction of the sea breeze with urban heat islands of different sizes and locations. J Meteorol Soc Jpn 72:139–143

Yuan F, Bauer ME (2007) Comparison of impervious surface area and normalized difference vegetation index as indicators of surface urban heat island effects in Landsat imagery. Remote Sens Environ 106:375–386. doi:10.1016/j.rse.2006.09.003

Zha Y, Gao J, Ni S (2003) Use of normalized difference built-up index in automatically mapping urban areas from TM imagery. Int J Remote Sens 24:583–594. doi:10.1080/01431160304987

Zhang N, Gao Z, Wang X, Chen Y (2010) Modeling the impact of urbanization on the local and regional climate in Yangtze River Delta, China. Theor Appl Climatol 102(3-4):331–342. doi:10.1007/s00704-010-0263-1

Zhang Y, Odeh IOA, Han C (2009) Bi-temporal characterization of land surface temperature in relation to impervious surface area, NDVI and NDBI, using a sub-pixel image analysis. Int J Appl Earth Obs Geoinf 11:256–264. doi:10.1016/j.jag.2009.03.001
Acknowledgments
The first author acknowledges the support provided by Fundação de Amparo à Pesquisa do Estado do Rio de Janeiro (FAPERJ) through a PhD scholarship granted to carry out this work. The authors would like to thank the Civil Engineering Program of Instituto Alberto Luiz Coimbra de Pos-Graduacao e Pesquisa de Engenharia (COPPE)—Universidade Federal do Rio de Janeiro (UFRJ) through the support of the Laboratory of Water Resources and Environmental Issues, the Department of Meteorology—Instituto de Geociências (IGEO)/UFRJ, and Instituto Nacional de Pesquisas Espaciais (INPE), with respect to data and infrastructure provided by these institutions for this research. The authors also recognize the support of Conselho Nacional de Desenvolvimento Científico e Tecnológico (CNPq), through the Programa Sul-Americano de Apoio às Atividades de Cooperação em Ciência e Tecnologia (PROSUL)—Process 490684/2007-6, which deals with remote sensing techniques applied to hydrological monitoring and climate change and the support of Secretaria de Educação Superior (SESu)—Ministério da Educação (MEC)—Coordenação de Aperfeiçoamento de Pessoal de Nível Superior (CAPES)—AUX-PE-PET-1228/2009 (PET CIVIL UFRJ), Project PEC/COPPE—FAPERJ 014/2010 (2010–2012), Project FAPERJ—Process E-26/103.116/2011 (2012–2014), Project IME-PEC/COPPE—CAPES—Aux-PE-PRO-Defense 1783/2008 (2008–2012), and MCT/FINEP/CT-HIDRO—Representative watersheds 04/2005 (2005–2011).
About this article
Cite this article
Lucena, A.J., Rotunno Filho, O.C., França, J.R.A. et al. Urban climate and clues of heat island events in the metropolitan area of Rio de Janeiro. Theor Appl Climatol 111, 497–511 (2013). https://doi.org/10.1007/s00704-012-0668-0
Received:

Accepted:

Published:

Issue Date:
Keywords
Landsat

Brightness Temperature

Land Surface Temperature

Urban Heat Island

Atmospheric Correction