Abstract
Total hours of sunshine are one of the most important factors affecting climate and environment, and its long-term variation is of much concern in climate studies. Trends of temporal and spatial patterns in sunshine hours and related climatic factors over southwestern China are evaluated for the period 1961–2009 based on data from 111 standard meteorological stations. The results showed that southwestern China is experiencing a statistical decrease of sunshine hours, at the rate of 31.9 h/10a during 1961–2009. The decline was particularly strong in summer, whereas it is nonsignificant in winter. Spatially, statistically significant decreases of sunshine hours mainly occurred in lower altitude regions, especially in the Sichuan basin and Guizhou plateau. Sunshine hours have a high correlation with wind speed, relative humidity, precipitation, cloud cover, surface downwards solar radiation flux, and cloud water content, with wind speed showing the strongest relationship to sunshine hours, implicit in the close correlation (temporally and spatially) between the two variables. Changing water vapor and cloud cover influence sunshine hours in southwestern China. In addition, the increased surface downwards solar radiation flux also made some contribution to a rise of sunshine hours during 1991–2009. The larger decreasing trends of sunshine hours at urban stations than rural stations may reflect the effect of urbanization on sunshine hours. Variations are dominated by the comprehensive functions of multiple factors owing to the complex nature of effects on sunshine hours.
Access options
Buy single article
Instant access to the full article PDF.
USD 39.95
Price excludes VAT (USA)
Tax calculation will be finalised during checkout.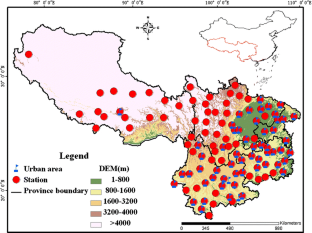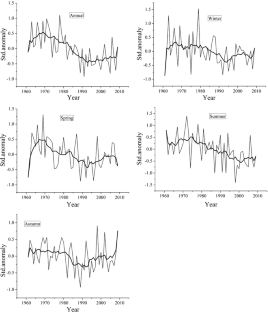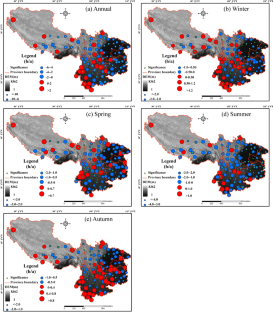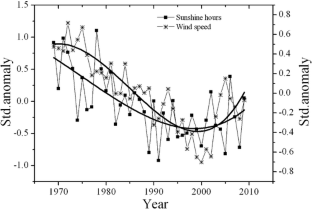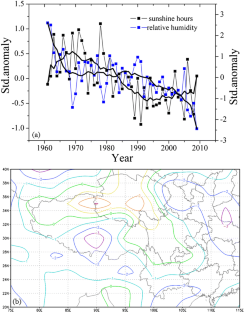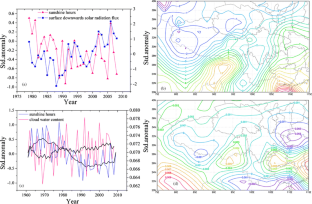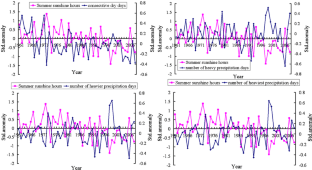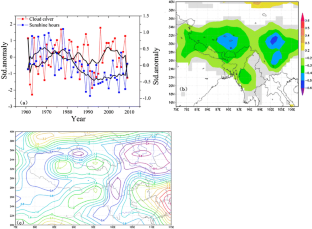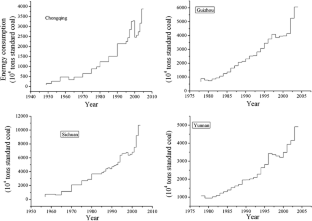 References
Alpert P, Kishcha P, Kaufman YJ, Schwarzbard R (2005) Global dimming or local dimming? Effect of urbanization on sunlight availability. Geophys Res Lett 32:L17802. doi:10.1029/2005GL023320

Che HZ, Shi GY, Zhang XY, Arimoto R, Zhao JQ, Xu L, Wang B, Chen ZH (2005) Analysis of 40 years of solar radiation data from China, 1961–2000. Geophys Res Lett 32:L06803

Chen SY, Zhang KL, Xing XB, Dong AX (2010) Climatic change of sunshine hours in Northwest China during the last 47 years. J Natural Res 25(7):1142–1152, in Chinese with English abstract

Choi Y et al (2003) Adjusting urban bias in the regional mean surface temperature series of South Korea, 1968–99. Int J Climatol 23:577–591

Cutforth HW, Judiesch D (2007) Long-term changes to incoming solar energy on the Canadian Prairie. Agric For Meteorol 145:167–175

Du J, Bian D, Hu J, Liao J, Zhou M (2007) Climatic change of sunshine hours and its influencing factors over Tibet during the last 35 years. Acta Geographica Sinica 62(5):492–500, in Chinese with English abstract

Easterling DR et al (1997) Maximum and minimum temperature trends for the globe. Science 277:364–367

Ertekin C, Yaldiz O (1999) Estimation of monthly average daily global radiation on horizontal surface for Antalya, Turkey. Renew Energ 17:95–102

Fan YQ, Li EJ, Fan ZL (2005) Visibility trends in eleven cities of Hebei Province during 1960–2002. Chinese J Atmos Sci 29(4):526–536, in Chinese with English abstract

Fan X, Wang M, Hao Z (2010) Temporal and spatial variations in sunshine hours during 1959–2008 over Shanxi, China. Ecol Environ Sci 19(3):605–609, in Chinese with English abstract

Fu QY, Zhuang GS, Wang J, Xu C, Huang K, Li J, Hou B, Lu T, Streets DG (2008) Mechanism of formation of the heaviest pollution episode ever recorded in the Yangtze River Delta, China. Atmos Environ 42:2023–2036, in Chinese with English abstract

Grimenes AA, Thue-Hansen V (2006) The reduction of global radiation in south-eastern Norway during the last 50 years. Theor Appl Climatol 85:37–40

Guo J, Ren G (2006) Variation characteristics of sunshine hours in Tianjin in the recent 40 years and influential factors. Sci Meteorol Sin 34(4):415–420, in Chinese with English abstract

Guo YL, Qiu X, Zhang S (2010) Spatial and temporal distribution characteristic of sunshine hours and its influence factors during 1965–2005 in Hebei Province. J Arid Meteorol 28(3):297–303, in Chinese with English abstract

He BF, Feng Y, Xun SP, Tan W (2009) Climatic change of sunshine hours and its influencing factors over Anhui Province during the last 50 years. J Natural Res 24(7):1275–1285, in Chinese with English abstract

Jiao J, Kang WY, Wang J, Dou HY (2008) Temporal and spatial change analysis of sunshine hour in Henan. Meteorol Environ Sci 31(supplement):4–6, in Chinese with English abstract

Kaiser DP (1998) Analysis of total cloud amount over China, 1951–1994. Geophys Res Lett 25:3599–3602

Kaiser DP (2000) Decreasing cloudiness over China: an updated analysis examining additional variables. Geophys Res Lett 27:2193–2196

Kaiser DP, Qian Y (2002) Decreasing trends in sunshine hours over China for 1954–1998: indication of increased haze pollution? Geophys Res Lett 29(21):20–42

Kalnay E et al (1996) The NCEP/NCAR 40-year reanalysis project. Bull Am Meteorol Soc 77:437–471

Kistler R et al (2001) The NCEP–NCAR 50-year reanalysis: monthly means CD-ROM and documentation. Bull Am Meteorol Soc 82:247–267

Kumari BP et al (2007) Observational evidence of solar dimming: offsetting surface warming over India. Geophys Res Lett 34:L21810. doi:10.1029/2007GL031133

Li Z et al (2011) Climate and glacier change in southwestern China during the past several decades. Environ Res Lett 6:045404

Li Z et al (2012) Changes of daily climate extremes in southwestern China during 1961–2008. Glob Planet Chang 80–81:255–272. doi:10.1016/j.gloplacha.2011.06.008

Liang F, Xia XA (2005) Long-term trends in solar radiation and the associated climatic factors over China for 1961–2000. Ann Geophys 23:1–8

Liepert BG (2002) Observed reductions of surface solar radiation at sites in the United States and worldwide from 1961 to 1990. Geophys Res Lett 29(10):1421. doi:10.1029/2002GL014910

Luo YF, Lv DR, He Q, Wang F (2000) Analysis on changes of solar radiation, visibility, and aerosol in coastal region of Southeast China. Clim Environ Res 5(1):36–44, in Chinese with English Abstract

Nazarenko L, Menon S (2005) Varying trends in surface energy fluxes and associated climate between 1960 and 2002 based on transient climate simulations. Geophys Res Lett 32:L22704

Norris JR, Wild M (2007) Trends in aerosol radiative effects over Europe inferred from observed cloud cover, solar "dimming", and solar "brightening". J Geophys Res 112:D08214. doi:10.1029/2006JD007794

Pinker RT, Zhang B, Dutton EG (2005) Do satellites detect trends in surface solar radiation? Science 308:850–854

Power HC (2003) Trends in solar radiation over Germany and an assessment of the role of aerosols and sunshine hours. Theor Appl Climatol 76:47–63

Qian Y, Kaiser D, Leung L, Xu M (2006) More frequent cloud-free sky and less surface solar radiation in China from 1955 to 2000. Geophys Res Lett 33:L01812

Qian Y, Wang W, Leung LR, Kaiser DP (2007) Variability of solar radiation under cloud-free skies in China: the role of aerosols. Geophys Res Lett 34:L12804

Quaas J, Boucher O, Dufresne J, Treut H (2004) Impacts of greenhouse gases and aerosol direct and indirect effects on clouds and radiation in atmospheric GCM simulations of the 1930–1989 period. Clim Dyn 23:779–789

Ren G, Guo J, Xu MZ, Chu ZY, Zhang L, Zou XK, Li QX, Liu XN (2005) Climate changes of China's mainland over the past half century. Acta Meteorol Sin 63(6):942–956, in Chinese with English abstract

Sanchez-Lorenzo A et al (2007) Recent spatial and temporal variability and trends of sunshine hours over the Iberian Peninsula from a homogenized data set. J Geophys Res 112(D20):115.1–115.18. doi:10.1029/2007JD008677

Satheesh SK, Moorthy KK (2005) Radiative effects of natural aerosols: a review. Atmos Environ 39:2089–2110

Sen PK (1968) Estimates of regression coefficient based on Kendall's tau. J Am Stat Assoc 63:1379–1389

Shen Z, Zeng Y, Xiao H, Fei S (2007) Changes of sunshine hours in the recent 40 years over Jiangsu Provinces. Scientia Meteorologica Sinica 27(4):425–429, in Chinese with English abstract

Shi H, Wang XT, Shao ZY, Chen CG, Liu CH (2007) Sunshine change characteristics and its causes in northwest Shandong for the last 52 years. Meteorol Mon 33(2):93–98, in Chinese with English abstract

Stanhill G, Cohen S (2001) Global dimming: a review of the evidence for a widespread and significant reduction in global radiation with discussion of its probable causes and possible agricultural consequences. Agric For Meteorol 107:255–278

Tang X, Li Y (2003) Analysis on characteristics of sunshine change over the last 40 years in Lasa. Xizang Tech 3:56–59, in Chinese with English abstract

Wild M et al (2005) From dimming to brightening: decadal changes in solar radiation at Earth's surface. Science 308:847–850

Xia XA, Chen HB, Wang PC, Zhang WX, Goloub P, Chatenet B, Eck TF, Holben BN (2006) Variation of column-integrated aerosol properties in a Chinese urban region. Journal of Geophysical Research 111(D5): doi:10.1029/2005JD006203. issn: 0148–0227

Xu ZX, Zhao F (2005) Variation of sunlight radiation duration in the Yellow River Basin. Resour Sci 27(5):153–160, in Chinese with English abstract

Yang Y, Yu Q, Wang J (2004) Spatio-temporal variations of principal climatic factors in North China and parts of East China within the past 40 years. Resour Sci 26(4):45–50, in Chinese with English abstract

Yang YH, Zhao N, Hao XF, Li CQ (2009) Decreasing trend of sunshine hours and related driving forces in North China. Theor Appl Climatol 97:91–98. doi:10.1007/s00704-008-0049-x

Yang D, Liu HM, Guo P, Zheng FJ, Liu Q (2010) Characteristics of sunshine hours in Liaoning Province during the period from 1956 to 2008. Arid Zone Research 27(6):885–891, in Chinese with English abstract

Yao L, Wu Q (2002) Characteristics of climate change in the Tibetan Plateau. Meteorol Sci Techol 30(3):163–165, in Chinese with English abstract

You QL, Kang SC, Flügel WA, Sanchez-Lorenzo A, Yan YP, Huang J, Martin-Vide J (2010) From brightening to dimming in sunshine hours over the eastern and central Tibetan Plateau (1961–2005). Theor Appl Climatol 101:445–457. doi:10.1007/s00704-009-0231-9

Zhang YL, Qin BQ, Chen WM (2004) Analysis of 40 year records of solar radiation data in Shanghai, Nanjing and Hangzhou in eastern China. Theor Appl Climatol 78:217–227

Zhao J, Chen C K (1999) Geography of China (in Chinese). Higher education press, Beijing

Zhen SB, Luo YX, Zhou CX, Xu D (2007) Variation of sunshine hours in Guizhou province during 1961–2005. J Metologic Res App 28(supplementII):2–4, in Chinese with English abstract
Acknowledgments
This study was supported by a Key Project of the National Natural Science Foundation of China (91025002), a Project of the National Natural Science Foundation of China (40725001, 30970492, 40971019), a Project for Incubation of Specialists in Glaciology and Geocryology of the National Natural Science Foundation of China (11 J0930003), the CAS Special Grant for Postgraduate Research, Innovation and Practice, the Foundation from the State Key Laboratory of Cryosphere Science, and the Foundation from Lijiang City Government.
About this article
Cite this article
Zongxing, L., Qi, F., Wei, Z. et al. Decreasing trend of sunshine hours and related driving forces in Southwestern China. Theor Appl Climatol 109, 305–321 (2012). https://doi.org/10.1007/s00704-012-0583-4
Received:

Accepted:

Published:

Issue Date:

DOI: https://doi.org/10.1007/s00704-012-0583-4
Keywords