Abstract
The study quantified rainfall variability for March–May (MAM) and October–December (OND) seasons in Tharaka district, Kenya. The parameters analysed were inter-annual variability of seasonal rainfall, onset and cessation using daily rainfall data in three agro-ecological zones' stations. Percentage mean cumulative method was used to determine onset and cessation, and seasonal variability was estimated using rainfall variability indices. Although both seasons are highly variable, OND has been persistently below mean over time while MAM shows high within-season variability. Despite the near uniformity in the mean onset and cessation dates, the former is highly variable on an inter-annual scale. The two rainfall seasons are inherently dissimilar and therefore require specific cropping in agro-ecological zone LM4 and LM4-5. It is possible that farmers in IL5 are missing an opportunity by under-utilising MAM rainfall. The results should be incorporated in implications of climate variability and vulnerability assessment in semi-arid Tharaka district.
Access options
Buy single article
Instant access to the full article PDF.
USD 39.95
Price includes VAT (USA)
Tax calculation will be finalised during checkout.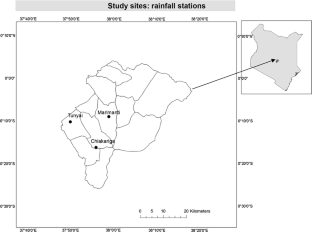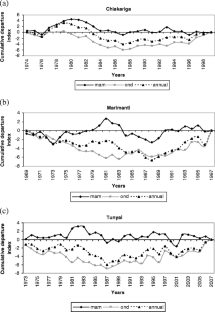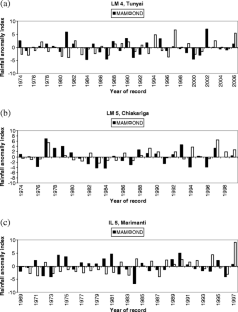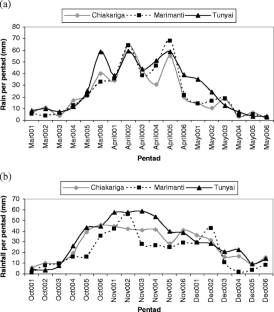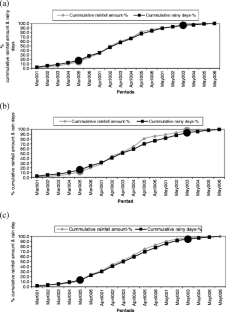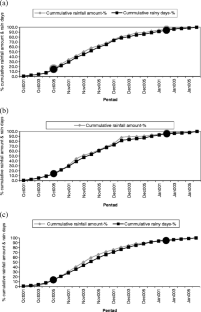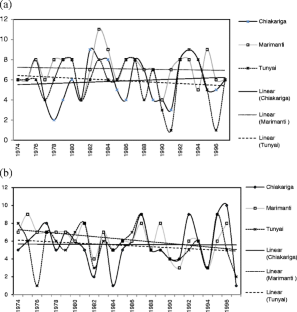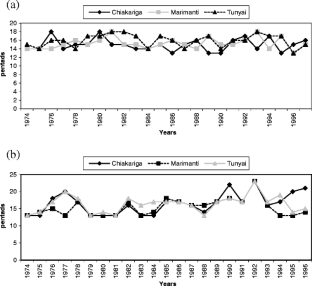 References
African Partnership Forum (2008) Climate Challenges to Africa: A call for action. 10th Meeting of the African Partnership Forum, April 7–8, 2008, Tokyo, Japan. Available at www.africapartnershipforum.org/dataoecd/46/47/40333574.pdf. Accessed 05 Feb 2010

Amissah-Arthur A, Jagtap S, Rosenzweig C (2002) Spatio-temporal effects of El Niño events on rainfall and maize yield in Kenya. Int J Climatol 22:1849–1860

Anyamba A, Tucker CJ (2005) Analysis of Sahelian vegetation dynamics using NOAA-A-AVHRR NDVI data from 1981–2003. J Arid Environ 63:596–614

Anyamba A, Tucker CJ, Eastman JR (2001) NDVI anomaly pattern over Africa during the 1997/98 ENSO Warm Event. Int J Remote Sens 24(10):2055–2067

Araya A, Stroosnijder L (2011) Assessing drought risk and irrigation needs in northern Ethiopia. Agric For Meteorol 151:425–436

Barron J, Rockstrom J, Gichuki F, Hatibu N (2003) Dry spell analysis and maize yields for two semi-arid locations in East Africa. Agric For Meteorol 117:23–37

Camberlin P, Okoola RE (2003) The onset and cessation of the 'long rains' in Eastern Africa and their inter-annual variability. Theor Appl Climatol 75:43–54

Chambers LE (2003) South Australian variability and trends. Bureau of Meteorology Research Centre, Australia, BMRC research report no. 92

Cohen JM, Lewis DB (1987) Role of government in combating food shortages: lessons from Kenya 1984–85. In: Glantz MH (ed) Drought and hunger in Africa: denying famine a future. Cambridge University Press, Cambridge, pp 269–296

Cooper PJM, Dimes J, Rao KPC, Shapiro B, Shiferaw B, Twomlow S (2008) Coping better with current climatic variability in the rain-fed farming systems of the sub-Sahara Africa: an essential first step in adapting to future climate change. Agric Ecosys Environ 126:24–35

Dai A, Lamb PJ, Trenberth KE, Hulme M, Jones PD, Xie P (2004) The recent Sahel drought is real. Int J Climatol 24:1323–1331

Dodd DES, Jolliffe IT (2001) Early detection of the start of the wet season in semiarid tropical climates of western Africa. Int J Climatol 21:1251–1262

Enders CK (2010) Applied missing data analysis. The Guilford Press, New York. ISBN 978-1-60623-639-0. Available at http://books.google.co.ke/. Accessed 30 Jul 2011

Farmer G (1988) Seasonal forecasting of the Kenya coast short rains, 1901–1984. Int J Climatol 8:489–497

Few R, Osbahr H, Bouwer LM, Viner D, Sperling F (2006) Linking climate change adaptation and disaster risk management for sustainable poverty reduction: synthesis report. Ref MWH 475000177.001-6 rev.1

Fussel H, Klein RJT (2006) Climate change vulnerability assessment: an evolution of conceptual thinking. Clim Chang 75:301–329

Goddard L, Mason SJ, Zebiak SE, Ropelewski CF, Basher R, Cane MA (2001) Current approaches to seasonal-to-inter annual climate predictions. Int J Climatol 21:1111–1152

Gommes R, Petrassi FP (1996) Rainfall variability and drought in Sub-Saharan Africa since 1960. FAO Agrometeorology Series, working paper no. 9. Available at http://www.fao.org/waicent/faoinfo/sustdev/EIdirect/EIan0004.htm. Accessed 08 Feb 2010

Hansen JW (2005) Integrating seasonal climate prediction and agricultural models for insights into agricultural practice. Philos Trans R Soc B 360:2037–2047

Hansen JW, Indeje M (2004) Linking dynamic seasonal climate forecasts with crop simulation for maize yield prediction in semi-arid Kenya. Agric For Meteorol 125:143–157

Hulme M (2001) Climate perspectives on Sahelian dessiccation: 1973–1998. Glob Environ Chang 11:19–29

Hutchinson CF (1996) The Sahelian desertification debate: a view from the American south-west. J Arid Environ 33:519–524

Hutchison P (1990) The Southern oscillation and the prediction of 'Der' seasonal rainfall in Somalia. J Clim 5:525–531

Jaetzold R, Schmidt H, Hornetz B, Shisanya C (2007) Farm management handbook of Kenya: part C, East Kenya, vol II, Ministry of Agriculture, Nairobi, Kenya

Jury MR (2002) Economic impacts of climate variability in South Africa and development of resource prediction models. J Appl Meteorol 41:46–55

Kasei CN, Afuakwa, JJ (1991) Determination of optimum planting date and growing season of maize in the northern savanna zone of Ghana. In: Proceedings of the Niamey Workshop, February 1991. IAHS Publ no. 199

Mamoudou B, Frouin R, Nicholson SE (1995) Satellite-derived inter-annual variability of West African rainfall during 1993–1988. J Appl Meteorol 34(2):411–431

Marteau R, Sultan B, Moron V, Alhassane A, Baron C, Traoere SB (2011) The onset of the rainy season and farmers sowing strategy for pearl millet cultivation in southeast Niger. Agric For Meteorol 151:1351–1369

Mugalavai EM, Kipkorir EC, Raes D, Rao MS (2008) Analysis of rainfall onset, cessation and length of growing season for Western Kenya. Agric For Meteorol 148:1123–1135

Mutai CC, Ward MN, Coleman AW (1998) Towards the prediction of the east Africa short rains based on sea surface temperature—atmospheric coupling. Int J Climatol 18:975–997

Mzezewa J, Misi T, Rensburg LD (2010) Characterisation of rainfall at a semi-arid ecotope in the Limpompo Province (South Africa) and its implications for sustainable crop production. Water SA 36(1):19–26

Nicholls N, Wong KK (1990) Dependency of rainfall variability on mean rainfall, latitude and the southern oscillation. J Clim 3(1):163–170

Nicholson SE (1993) An overview of African rainfall fluctuations of the last decade. J Clim 6:1463–1466

Nicholson SE, Some EB, Kone B (2000) An analysis of recent rainfall conditions in West Africa, including the rainy seasons of the 1997 El Niño and 1998 La Niña years. J Clim 13:2628–2640

Odekunle TO (2006) Determining rainy season onset and retreat over Nigeria from precipitation amount and number of rainy days. Theor Appl Climatol 83:193–201

Odingo S, Nyakwada W, Njihia JK (2002) Weather and Climate Sector. In: IGAD and DMCN (eds) Factoring of weather and climate information and products into disaster management policy: a contribution to strategies for disaster management, Nairobi, Kenya. pp 1–33

Ogallo LJ (1988) Relationship between seasonal rainfall in East Africa and the southern oscillation. Int J Climatol 8:31–43

Omotosho JB, Balogun AA, Ogunjobi K (2000) Predicting monthly and seasonal rainfall, onset and cessation of the rainy season in West Africa using only surface data. Int J Climatol 20:8865–8880

Ovuka M, Lindqvist S (2000) Rainfall variability in Murang'a district, Kenya: meteorological data and farmers' perception. Geografiska Annaler Ser A Phys Geogr 82(1):107–119. doi:10.1111/j.0435-3676.2000.00116.x

Phillips G (2003) Determinants of forecast use among communal farmers in Zimbabwe. In: O'Brien K and Vogel (Eds) Coping with climate variability. Ashgate, Burlington, USA. pp 111–127

Phillips J, McIntyre B (2000) ENSO and interannual rainfall variability in Uganda: implications for agricultural management. Int J Climatol 20:171–182

Potop V, Tukkott L, Koznarova V, Mozny M (2010) Drought episodes in the Czech Republic and their potential effects in agriculture. Theor Appl Climatol 99:373–388

Recha CW, Shisanya CA, Makokha GL, Kinuthia RN (2008) Perception and use of climate forecast information amongst small-holder farmers in semi-arid Kenya. Asian J Appl Sci 1(2):128–135

Republic of Kenya (2001) Tharaka district poverty reduction strategy paper: consultation report for the period 2001–2004.

Republic of Kenya (2010) The 2009 population and housing census. CBS and Ministry of Finance and Planning

Seleshi Y, Zanke U (2004) Recent changes in rainfall and rainy days in Ethiopia. Int J Climatol 24:973–983

Shisanya CA (1990) The 1983–1984 drought in Kenya. J East Afr Res Dev 20:127–148

Shisanya CA (1996) Chances and risks of maize and bean growing in the semi-arid areas of SE Kenya during the expected deficient, normal and above normal rainfall of the short rainy season. Ph.D. thesis (published), Trier, Germany

Sivakumar MVK (1987) Agro-climatic aspects of rain-fed agriculture in the Sudano- Sahelian Zone. In: ICRISAT (ed) Soil, crops and water management systems for rain-fed agriculture in the Sudano-Sahelian zone. Proceedings of an international workshop, Niamey, Niger, 11–16 January 1987, pp 17–38

Sivakumar MVK (1988) Predicting rainy season potential from the onset of rains in southern Sahelian and Sudanian climatic zones of West Africa. Agric For Meteorol 42:295–305

Sivakumar MVK (1991) Drought spells and drought frequencies in West Africa. Research bulletin no. 13. Patancheru, A.P 502 324, India. International Crop Research Institute for Semi-Arid Tropics

Smucker TA, Wisner B (2008) Changing household responses to drought in Tharaka, Kenya: vulnerability, persistence and challenge. In: Overseas Development Institute (doi:10.IIII/j.0361-3666.2007.01035.x). Blackwell, New York

Tadross M, Suarez P, Lotsch A, Hachigonta S, Mdoka M, Unganai L, Lucio F, Kamdonyo D, Muchinda M (2009) Growing season rainfall and scenarios of future change in South-east Africa: implications for cultivating maize. Clim Res 40:147–161

Tilahun K (2006) Analysis of rainfall climate and evapo-transpiration in arid and semi-arid regions of Ethiopia using data over the last half a century. J Arid Environ 64:474–487

Tumwesigye EK, Musiitwa F (2001) Characterizing drought patterns for appropriate development and transfer of drought resistant maize cultivars in Uganda. Seventh Eastern and Southern African Regional Maize Conference, 11–15 February 2001, pp 260–262. Available at (http://www.cimmyt.org/english/docs/proceedings/africa/…/54_Komutunga1.pdf). Accessed 05 Jan 2009

UN (2005). The millennium development goals report.

Vogel C, Moser SC, Kasperson RE, Dabelko GD (2007) Linking vulnerability, adaptation, and resilience science to practice: pathways, players and partnerships. Glob Environ Chang 17:349–364

Washington R, Harrison M, Conway D, Black E, Challinor A, Grimes D, Jones R, Morse A, Kay G, Todd M (2006) Africa climate change: taking a shorter route. Am Meteorol Soc 87(10):1355–1366

Wisner B (1977) Constrictions of a livelihood system: the peasants of Tharaka division, Meru district, Kenya. Econ Geogr 53(4):353–357

Yasunaka S, Hanawa K (2005) Regime shift in the global sea-surface temperatures: its relation to El Nino-Southern Oscillation events and dominant variation modes. Int J Climatol 25:913–930
Acknowledgments
The authors acknowledge financial support from the EU Water Facility Project (no. 9 ACP RPR 50/11) in form of field work support and the African Climate Change Fellowship Programme (2009/2010)—a programme of International SysTem for Analysis, Research and Training (START) and partners for a study fellowship award to the first author. Daily rainfall data were provided by the Kenya Meteorological Department and we are indeed grateful. The anonymous reviewer and Victor Makuto (edited) are thanked for helping improve the quality of this work.
About this article
Cite this article
Recha, C.W., Makokha, G.L., Traore, P.S. et al. Determination of seasonal rainfall variability, onset and cessation in semi-arid Tharaka district, Kenya. Theor Appl Climatol 108, 479–494 (2012). https://doi.org/10.1007/s00704-011-0544-3
Received:

Accepted:

Published:

Issue Date:
Keywords
Normalise Difference Vegetation Index

Rainfall Amount

Rainfall Variability

Seasonal Climate Forecast

Rainfall Anomaly Index