Abstract
In this investigation, we generate estimates of soil moisture for the Salt River basin on which the expanding city of Phoenix, Arizona relies upon for nearly half of its water supply. While previous empirical studies have produced mixed results concerning recent drought trends in the southwestern USA, our results support the many numerical climate models which predict that this region will become drier in response to the buildup of greenhouse gases. Over the period 1895–2007, we found that soil moisture levels revealed no significant change. However, if we restrict the study to the period 1980–2007, soil moisture levels have decreased at a highly statistically significant rate. We could find little evidence that the trend is associated with variations in El Niño–Southern Oscillation and the Pacific Decadal Oscillation. Increasing surface pressure over our study area during the latter half of the twentieth century may be a catalyst for the drier conditions.
Access options
Buy single article
Instant access to the full article PDF.
USD 39.95
Price excludes VAT (USA)
Tax calculation will be finalised during checkout.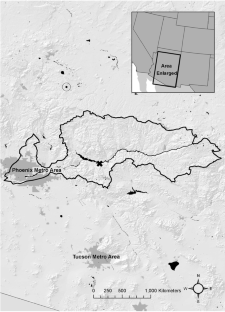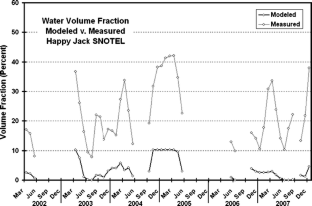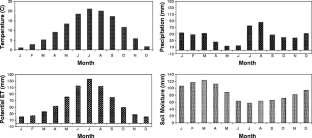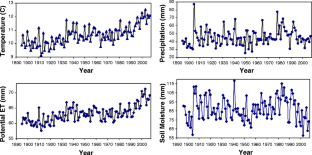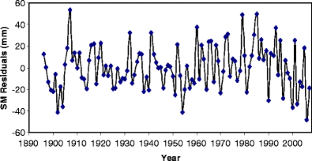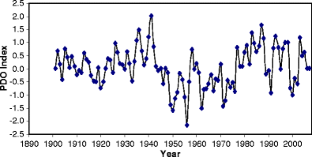 References
Alley WM (1984) The palmer drought severity index—limitations and assumptions. J Appl Meteorol Climatol 23:1100–1109

Andreadis KM, Lettenmaier DP (2006) Trends in 20th century drought over the continental United States. Geophys Res Lett 33. doi:10.1029/2006gl025711

Baker LA, Qureshi TM, Wyman MM (1998) Sources and mobility of arsenic in the Salt River watershed, Arizona. Water Resour Res 34:1543–1552

Blaney HF, Criddle WD (1950) A method of estimating water requirements in irrigated areas from climatological data.Tech Paper 96, USDA, Soil Conservation Service, Washington, DC

Bond NA, Overland JE, Spillane M, Stabeno P (2003) Recent shifts in the state of the North Pacific. Geophys Res Lett 30:4. doi:10.1029/2003gl018597

Brown DP, Comrie AC (2004) A winter precipitation 'dipole' in the western United States associated with multidecadal ENSO variability. Geophys Res Lett 31:4. doi:10.1029/2003gl018726

Burke EJ, Brown SJ, Christidis N (2006) Modeling the recent evolution of global drought and projections for the twenty-first century with the hadley centre climate model. J Hydrometeorol 7:1113–11125

Dai AG, Trenberth KE, Qian TT (2004) A global dataset of Palmer Drought Severity Index for 1870–2002: relationship with soil moisture and effects of surface warming. J Hydrometeorol 5:1117–1130

Daly C, Neilson P, Phillips DL (1994) A statistical–topographical model for mapping climatological precipitation over mountainous terrain. J Appl Meteorol 33:140–158

Ellis AW, Hawkins TW, Balling RC Jr, Gober P (2008) Estimating future runoff levels for a semi-arid fluvial system in central Arizona, USA. Clim Res 35:227–239. doi:10.3354/cr00727

Ellis AW, Goodrich G, Garfin G (2009) A hydroclimatic index for examining patterns of drought in the Colorado River Basin. Intl J Clim. doi:10.1002/joc.1882

Federer CA, Lash D (1983) BROOK: a hydrologic simulation model for eastern forests. Research Report 19, Water Resources Research Center, University of New Hampshire, Durham, NH

Federer CA, Vörösmarty C, Fekete B (1996) Intercomparison of methods for calculating potential evapotranspiration in regional and global water balance models. Water Resour Res 32:2315–2321

Feng S, Hu Q (2007) Changes in winter snowfall/precipitation ratio in the contiguous United States. J Geophys Res D 112:12. doi:10.1029/2007jd008397

Gershunov A, Barnett TP (1998) Interdecadal modulation of ENSO teleconnections. Bull Am Meteorol Soc 79:2715–2725

Goodrich G (2007) Influence of the Pacific decadal oscillation on winter precipitation and drought during years of neutral ENSO in the western United States. Weath Fore 22:116–124

Goodrich GB, Ellis AW (2008) Climatic controls and hydrologic impacts of a recent extreme seasonal precipitation reversal in Arizona. J Appl Meteorol Climatol 2:498–508. doi:10.1175/2007JAMC1627.1

Grantz K, Rajagopalan B, Clark M, Zagona E (2007) Seasonal shifts in the North American Monsoon. J Clim 20:1923–1935. doi:10.1175/JCL14091.1

Groisman PY, Knight RW, Karl TR, Easterling DR, Sun B, Lawrimore JH (2004) Contemporary changes of the hydrological cycle over the contiguous United States: trends derived from in situ observations. J Hydrometeorol 5:64–85

Grundstein A (2008) Assessing climate change in the contiguous United States using a modified Thornthwaite climate classification scheme. Prof Geogra 60:398–412

Guhathakurta S, Gober P (2007) The impact of the Phoenix urban heat island on residential water use. J Am Plann Assoc 73:317–329

Gutzler DS, Kann DM, Thornbrugh C (2002) Modulation of ENSO-based long-lead outlooks of Southwestern US winter precipitation by the Pacific decadal oscillation. Weath Fore 17:1163–1172

Hamlet AF, Lettenmaier DP (2007) Effects of 20th century warming and climate variability on flood risk in the western U.S. Water Resour Res 43. doi:10.1029/2006wr005099

Hamlet AF, Mote PW, Clark MP, Lettenmaier DP (2007) Twentieth-century trends in runoff, evapotranspiration, and soil moisture in the western United States. J Clim 20:1468–1486. doi:10.1175/jcli4051.1

Hamon WR (1961) Estimating potential evapotranspiration. Proc Am Soc Civ Eng 871:107–120

Hare SR, Mantua NJ (2000) Empirical evidence for North Pacific regime shifts in 1977 and 1989, p 103–145

IPCC, 2007: Climate Change 2007: The Physical Science Basis. Contribution of Working Group I to the Fourth Assessment Report of the Intergovernmental Panel on Climate Change [Solomon, S., D. Qin, M. Manning, Z. Chen, M. Marquis, K.B. Averyt, M.Tignor and H.L. Miller (eds.)]. Cambridge University Press,Cambridge, United Kingdom and New York, NY, USA

Kahya E, Dracup J (1994) The influences of type-1 El-Nino and La-Nina events on streamflows in the Pacific-Southwest of the United-States. J Clim 7:965–976

Kestin T, Karoly D, Yang J et al (1998) Time-frequency variability of ENSO and stochastic simulations. J Clim 11:2258–2272

Kharrufa NS (1985) Simplified equation for evapotranspiration in arid regions. Beit Hydrol Sonderh 5(1):39–47

Knowles N, Dettinger MD, Cayan DR (2006) Trends in snowfall versus rainfall in the Western United States. J Clim 19:4545–4559

Lau NC, Leetmaa A, Nath MJ (2006) Attribution of atmospheric variations in the 1997–2003 period to SST anomalies in the Pacific and Indian ocean basins. J Clim 19:3607–3628

Lee SY (1999) Why are the climatological zonal winds easterly in the equatorial upper troposphere? J Atmos Sci 56:1353–1363

Legates DR, McCabe GJ (2005) A re-evaluation of the average annual global water balance. Phys Geogr 26:467–479

Lu J, Sun G, McNulty SG, Amatya DM (2005) A comparison of six potential evapotranspiration methods for regional use in the southeastern United States. J Am Water Resour Assoc 41:621–633

McCabe GJ, Clark MP (2005) Trends and variability in snowmelt runoff in the western United States. J Hydrometeorol 6:476–482

Mote PW, Hamlet AF, Clark MP, Lettenmaier DP (2005) Declining mountain snowpack in western North America. Bull Am Meteorol Soc 86:39. doi:10.1175/bams-86-1-39

Miller DA, White RA (1998) A conterminous United States multi-layer soil characteristics data set for regional climate and hydrology modeling. Earth Interact 2:1–26

Millett B, Johnson WC, Guntenspergen G (2009) Climate trends of the North American prairie pothole region 1906–2000. Clim Change 93:243–267. doi:10.1007/s10584-008-9543-5

Pierce DW, Barnett TP, Hidalgo HG et al (2008) Attribution of declining western US Snowpack to human effects. J Clim 21:6425–6444. doi:10.1175/2008JCLI2405.1

Ropelewski C, Halpert M (1986) North-American precipitation and temperature patterns associated with the El Nino Southern Oscillation (ENSO). Mon Wea Rev 114:2352–2362

Seager R, Ting MF, Held I et al (2007) Model projections of an imminent transition to a more arid climate in southwestern North America. Sci 316:1181–1184. doi:10.1126/science.1139601

Serreze MC, Clark MP, Armstrong DA, McGinnis DL, Pulwarty RS (1999) Characteristics of the western United States snowpack from snowpack telemetry (SNOTEL) data. Water Resour Res 35:2145–2160

Sheffield J, Wood EF (2008a) Projected changes in drought occurrence under future global warming from multi-model, multi-scenario, IPCC AR4 simulations. Clim Dyn 31:79–105. doi:10.1007/s00382-007-0340-z

Sheffield J, Wood EF (2008b) Global trends and variability in soil moisture and drought characteristics, 1950–2000, from observation-driven simulations of the terrestrial hydrologic cycle. J Clim 21:432–458. doi:10.1175/2007JCLI1822.1

Sheppard PR, Comrie AC, Packin GD et al (2002) The climate of the US Southwest. Clim Res 21:219–238

Stewart I, Cayan D, Dettinger M (2005) Changes toward earlier streamflow timing across western North America. J Clim 18:1136–1155

Stooksbury DE, Idso CD, Hubbard KG (1999) The effects of data gaps on the calculated monthly mean maximum and minimum temperatures in the continental United States: a spatial and temporal study. J Clim 12:1524–1533

Thornthwaite CW, Mather JR (1955) The water balance. In: Publications in Climatology, Vol 8. Laboratory of Climatology, Centerton, NJ

Troup AJ (1965) Southern oscillation. Quart J Royal Meteo Soc 91:490–506

Wang GL (2005) Agricultural drought in a future climate: results from 15 global climate models participating in the IPCC 4th assessment. Clim Dyn 25:739–753. doi:10.1007/s00382-005-0057-9

Wentz EA, Gober P (2007) Determinants of small-area water consumption for the city of Phoenix, Arizona. Water Resour Manage 11:1849–1863. doi:10.1007/s11269-006-9133-0

Wetherald RT, Manabe S (1999) Detectability of summer dryness caused by greenhouse warming. Clim Chang 43:495–511

Wetherald RT, Manabe S (2002) Simulation of hydrologic changes associated with global warming. J Geophys Res D 107. doi:10.1029/2001jd001195

Wolock DM, McCabe GJ (1999) Explaining spatial variability in mean annual runoff in the coterminous United States. Clim Res 11:149–159

Xu CY, Singh VP (2001) Evaluation and generalization of temperature-based methods for calculating evaporation. Hydrol Process 15:305–319
Acknowledgments
This material is based upon work supported by the National Science Foundation under Grant No. SES-0345945 Decision Center for a Desert City (DCDC). Any opinions, findings, and conclusions or recommendations expressed in this material are those of the authors and do not necessarily reflect the views of the National Science Foundation.
About this article
Cite this article
Svoma, B.M., Balling, R.C. & Ellis, A.W. Analysis of soil moisture trends in the Salt River watershed of central Arizona. Theor Appl Climatol 102, 159–169 (2010). https://doi.org/10.1007/s00704-010-0255-1
Received:

Accepted:

Published:

Issue Date:

DOI: https://doi.org/10.1007/s00704-010-0255-1
Keywords