Abstract
Global dimming is currently an active area of research in climate change. Trends of temporal (on the order of decades, years, seasons or even months) and spatial patterns in sunshine hours and associated climatic factors (average air temperature, relative humidity, precipitation and wind speed) over North China are evaluated for the period 1965~1999 based on data from 81 standard meteorological stations. The results show that: (1) North China is experiencing decreasing sunshine hours (–82.855 h/decade); (2) seasonally, decline in sunshine hours is highest in summer and lowest in winter; (3) spatially, decrease in sunshine hours is highest in inland and plain regions and lowest in the northwest mountain and coastland regions; (4) sunshine hours have a high correlation with precipitation, relative humidity and wind speed, with wind speed having the strongest influence on sunshine hours implicit in the close correlation (temporally and spatially) between the two variables; (5) cloud cover could not be any significant driver of sunshine-hour decline because it is more or less stable; (6) spatially and seasonally, wind speed is an important driving factor of decreasing sunshine hours in North China. Furthermore, the interactions between wind speed and aerosol loading may be an enabling factor of wind speed in driving (strongly) the changes in sunshine hours.
This is a preview of subscription content,
to check access.
Access this article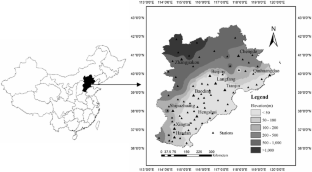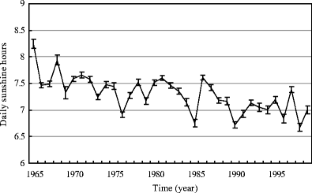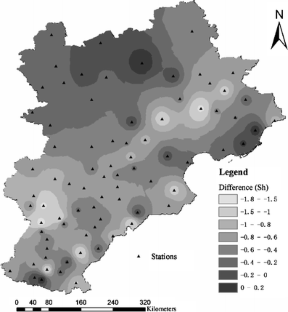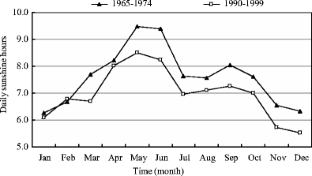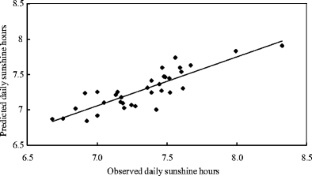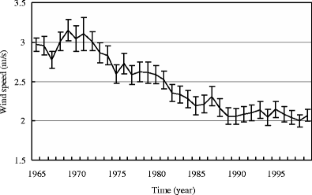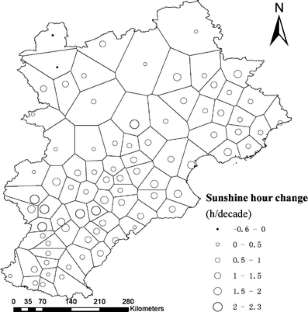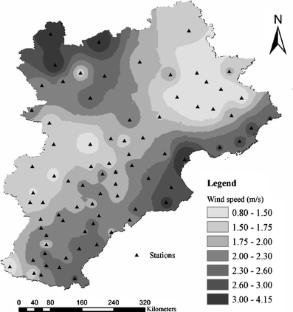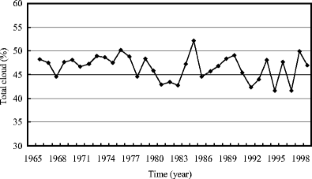 Similar content being viewed by others
References
Alpert P, Kishcha P, Kaufman YJ, Schwarzbard R (2005) Global dimming or local dimming?: Effect of urbanization on sunlight availability. Geophys Res Lett 32:L17802

An J, Zhang R, Han Z (2000) Seasonal changes of total suspended particles in the air of 15 big cities in northern parts of China (in Chinese with English abstract). Clim Environ Res 5(1):25–29

Bulut H, Buyukalaca O (2007) Simple model for the generation of daily global solar-radiation data in Turkey. Appl Energ 84:477–491

Che HZ, Shi GY, Zhang XY, Arimoto R, Zhao JQ, Xu L, Wang B, Chen ZH (2005) Analysis of 40 years of solar radiation data from China, 1961–2000. Geophys Res Lett 32:L06803

Cutforth HW, Judiesch D (2007) Long-term changes to incoming solar energy on the Canadian Prairie. Agric For Meteorol 145:167–175

Editing Committee of National Assessment Report for Climatic Change (2007) National assessment report of climatic change. Scientific Press, Beijing

Ertekin C, Yaldiz O (1999) Estimation of monthly average daily global radiation on horizontal surface for Antalya, Turkey. Renew Energ 17:95–102

Fan YQ, Li EJ, Fan ZL (2005) Visibility trends in eleven cities of Hebei Province during 1960–2002 (in Chinese with English abstract). Chinese J Atmos Sci 29(4):526–536

Forster PV, Ramaswamy PA, Berntsen T, Betts R, Fahey DW, Haywood J, Lean J, Lowe DC, Myhre G, Nganga J, Prinn R, Raga G, Schulz M, Dorland R (2007) Changes in atmospheric constituents and in radiative forcing. In Solomon S, Qin D, Manning M, Chen Z, Marquis M, Averyt KB, Tignor M and Miller HL (eds) Climate change 2007: the physical science basis. Contribution of working group I to the fourth assessment report of the intergovernmental panel on climate change. Cambridge University Press Cambridge, New York

Fu QY, Zhuang GS, Wang J, Xu C, Huang K, Li J, Hou B, Lu T, Streets DG (2008) Mechanism of formation of the heaviest pollution episode ever recorded in the Yangtze River Delta, China. Atmos Environ 42:2023–2036

Grimenes AA, Thue-Hansen V (2006) The reduction of global radiation in south-eastern Norway during the last 50 years. Theor Appl Climatol 85:37–40

Guo J, Ren G (2006) Variation characteristics of sunshine duration in Tianjin in the recent 40 years and influential factors (in Chinese with English abstract). Sci Meteorol Sin 34(4):415–420

Kaiser DP (1998) Analysis of total cloud amount over China, 1951–1994. Geophys Res Lett 25:3599–3602

Kaiser DP (2000) Decreasing cloudiness over China: an updated analysis examining additional variables. Geophys Res Lett 27:2193–2196

Kaiser DP, Qian Y (2002) Decreasing trends in sunshine duration over China for 1954–1998: Indication of increased haze pollution? Geophys Res Lett 29(21):20–42

Li G (2000) Analysis of characteristic of climate change over last 40 year in Xianning (in Chinese). J Hubei Meteorol 1:11–15

Li M, Cai R, Jin W (1999) Analysis on climate change characteristics of sunshine hours over the last 50 years in Yingkou City (in Chinese with English abstract). J Liaoning Meteorol 3:10–13

Liang F, Xia XA (2005) Long-term trends in solar radiation and the associated climatic factors over China for 1961–2000. Ann Geophys 23:1–8

Liepert B (2002) Observed reductions of surface solar radiation at sites in the United States and worldwide from 1961 to 1990. Geophys Res Lett 29(10):1421

Luo YF, Lv DR, He Q, Wang F (2000) Analysis on changes of solar radiation, visibility, and aerosol in coastal region of Southeast China (in Chinese with English Abstract). Clim Environ Res 5(1):36–44

Ma Y, Cui J, Liu X, Zhang J (2005) Analyses on variation characteristics of atmospheric pollutant in a group of cities in central Liaoning from 1987 to 2002 (in Chinese with English abstract). Plateau Meteorol 24 (3):428–436

Nazarenko L, Menon S (2005) Varying trends in surface energy fluxes and associated climate between 1960 and 2002 based on transient climate simulations. Geophys Res Lett 32:L22704

Niu Y, He L, Hu M, Zhang J, Zhao Y (2006) Pollution characteristics of atmospheric fine particles and their secondary components in the atmosphere of Shenzhen in summer and in winter. Sci China Ser B 49(5):466–474

Pinker RT, Zhang B, Dutton EG (2005) Do satellites detect trends in surface solar radiation? Science 308:850–854

Qian Y, Kaiser D, Leung L, Xu M (2006) More frequent cloud-free sky and less surface solar radiation in China from 1955 to 2000. Geophys Res Lett 33:L01812

Qian Y, Wang W, Leung LR, Kaiser DP (2007) Variability of solar radiation under cloud-free skies in China: the role of aerosols. Geophys Res Lett 34:L12804

Quaas J, Boucher O, Dufresne J, Treut H (2004) Impacts of greenhouse gases and aerosol direct and indirect effects on clouds and radiation in atmospheric GCM simulations of the 1930–1989 period. Clim Dyn 23:779–789

Ren G, Guo J, Xu MZ, Chu ZY, Zhang L, Zou XK, Li QX, Liu XN (2005) Climate changes of China's mainland over the past half century (in Chinese with English abstract). Acta Meteorol Sin 63 (6):942–956

Sabziparvar AA (2007) A simple formula for estimating global solar radiation in central arid deserts of Iran. Renew Energ 6 (15):1–9

Satheesh SK, Moorthy KK (2005) Radiative effects of natural aerosols: a review. Atmos Environ 39:2089–2110

Shi H, Wang XT, Shao ZY, Chen CG, Liu CH (2007) Sunshine change characteristics and its causes in northwest Shandong for the last 52 years (in Chinese with English abstract). Meteorol Mon 33 (2):93–98

Stanhill G, Cohen S (2001) Global dimming: a review of the evidence for a widespread and significant reduction in global radiation with discussion of its probable causes and possible agricultural consequences. Agric For Meteorol 107:255–278

Stanhill G, Cohen S (2005) Solar radiation changes in the United States during the Twentieth Century: evidence from sunshine measurements. J Clim 18 (10):1503–1512

Tan Z (1999) Analysis on climate characteristics of sunshine decreasing and its driving factors (in Chinese). J Guangxi Meteorol 20(2):38–40

Tang X, Li Y (2003) Analysis on characteristics of sunshine change over the last 40 years in Lasa (in Chinese). Xizang Tech 3:56–59

Wild M, Gilgen H, Roesch A, Ohmura A, Long C, Dutton E, Forgan B, Kallis A, Russak V, Tsvetkov A (2005) From dimming to brightening: decadal changes in solar radiation at Earth's surface. Science 308:847–850

Wu G, Hu W, Teng E, Wei F (1999) PM2.5 and PM10 pollution level in the four cities in China (in Chinese with English abstract). China Environ Sci 19(2):133–137

Wu G, Liu Y, Wang T (2007) Methods and strategy for modeling daily global solar radiation with measured meteorological data: a case study in Nanchang station, China. Energ Convers Manage 48:2447–2452

Xu M, Chang CP, Fu C, Qi Y, Robock A, Robinson D, Zhang H (2006) Steady decline of east Asian monsoon winds, 1969–2000: evidence from direct ground measurements of wind speed. J Geophys Res 111:D24111

Xu ZX, Zhao F (2005) Variation of sunlight radiation duration in the Yellow River Basin (in Chinese with English abstract). Resour Sci 27(5):153–160

Yang Y, Yu Q, Wang J (2004) Spatio-temporal variations of principal climatic factors in North China and parts of East China within the past 40 years (in Chinese with English abstract). Resour Sci 26(4):45–50

Yao L, Wu Q (2002) Characteristics of climate change in the Tibetan Plateau (in Chinese). Meteorol Sci Techol 30(3):163–165

Yu S, Lin X, Xu X (2002) Temporal and spatial characteristics of air pollution in Beijing (in Chinese with English abstract). J Appl Meteorol Sci 13(suppl):92–100

Zhang YL, Qin BQ, Chen WM (2004) Analysis of 40 year records of solar radiation data in Shanghai, Nanjing and Hangzhou in eastern China. Theor Appl Climatol 78:217–227

Zhou J, Wu Y, Yan G (2005) General formula for estimation of monthly average daily global solar radiation in China. Energ Convers Manage 46:257–268
Acknowledgements
The authors are grateful for the financial support from the Key Innovation Project (KZCX3-SW-446) and the Hundred Talent Youth Scholarship Project from CAS. Dr. J. P. Moiwo is appreciated for the suggestions and review of the manuscript. Meteorological data used in the study were provided by the National Meteorological Information Centre of China (NMIC).
About this article
Cite this article
Yang, Y.H., Zhao, N., Hao, X.H. et al. Decreasing trend of sunshine hours and related driving forces in North China. Theor Appl Climatol 97, 91–98 (2009). https://doi.org/10.1007/s00704-008-0049-x
Received:

Accepted:

Published:

Issue Date:

DOI: https://doi.org/10.1007/s00704-008-0049-x
Keywords