Abstract
The deep convection and associated moist processes have a major role in regulating the circulation and precipitation characteristics of the Indian summer monsoon. This aspect is examined by conducting sensitivity experiments with the Weather Research and Forecast model. Three active monsoon cases during the periods 16–25 June 2015, 20–29 July 2010 and 1–9 August 2007 are selected for the study. Control simulations using reanalysis data as initial and lateral boundary conditions reveal that the model could simulate mean features of the precipitation and circulation pattern during those active monsoon periods. In sensitivity experiments, microphysical latent heat release in the model is switched off and all other conditions are kept same as that of control simulations. The removal of latent heat release in the model suppresses development of deep convection over the monsoon domain and causes substantial reduction in precipitation. A large-scale descending motion appears in the mid-troposphere and vertical growth of clouds is hampered. As a result, thick cloud bands form in the lower atmosphere, which reduces the short-wave radiation reaching the surface and leading to a reduction in land surface temperature over the Indian region. The cessation of deep convection also affects the strength and position of monsoon low-level circulation. The lack of convective heating shifts the low-level jet core over the Arabian Sea towards north. Consequently, the low-level jet gets strengthened over the north-west India and weakens over the peninsular India. The present study unambiguously established the fact that organized deep convection and concomitant vertical heating over the monsoon domain have a prominent role in regulating monsoon dynamics.
Access options
Buy single article
Instant access to the full article PDF.
USD 39.95
Price excludes VAT (USA)
Tax calculation will be finalised during checkout.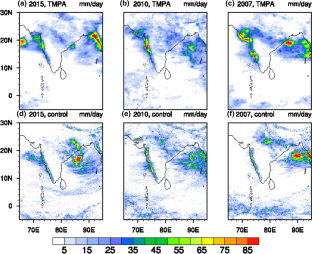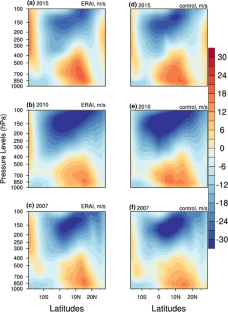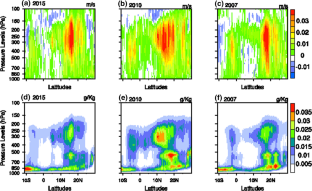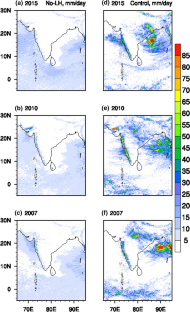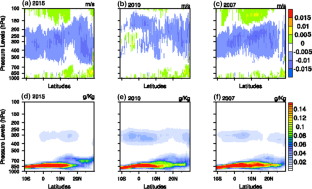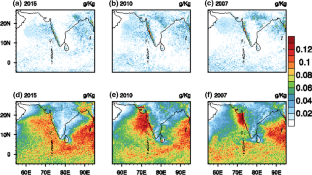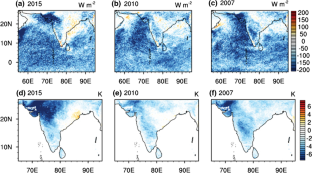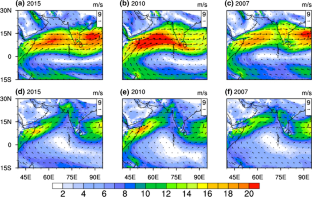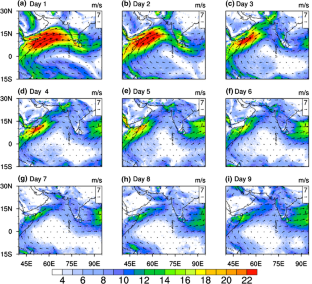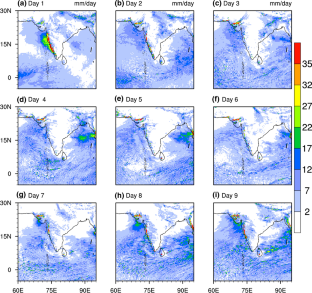 Data availability statement
The data generated by model simulations are available from the corresponding author on reasonable request.
References
Ajayamohan RS, Khouider B, Majda AJ (2014) Simulation of monsoon intraseasonal oscillations in a coarse resolution aquaplanet GCM. Geophys Res Lett 41:5662–5669. https://doi.org/10.1002/2014GL060662

Ajayamohan RS, Khouider B, Majda AJ, Deng Q (2016) Role of stratiform heating on the organization of convection over the monsoon trough. Clim Dyn 47(12):3641–3660

Aneesh S, Sijikumar S (2018) Changes in the La Niña teleconnection to the Indian summer monsoon during recent period. J Atmos Solar-Terr Phys 167:74–79. https://doi.org/10.1016/j.jastp.2017.11.009

Chen T, Rossow WB, Zhang Y (2000) Radiative effects of cloud-type variations. J Clim 13(1):264–286

Chen X, Pauluis OM, Zhang F (2018) Regional simulation of Indian summer monsoon intraseasonal oscillations at gray-zone resolution. Atmos Chem Phys 18:1003–1022. https://doi.org/10.5194/acp-18-1003-2018

Choudhury AD, Krishnan R (2011) Dynamical response of the South Asian monsoon trough to latent heating from stratiform and convective precipitation. J Atmos Sci 68(6):1347–1363

Dee DP et al (2011) The ERA-Interim reanalysis: configuration and performance of the data assimilation system. Q J R Meteorol Soc 137(656):553–597

Duan AM, Wu GX (2005) Role of the Tibetan Plateau thermal forcing in the summer climate patterns over subtropical Asia. Clim Dyn 24(7):793–807

Dutta U, Chaudhari HS, Hazra A, Pokhrel S, Saha SK, Veeranjaneyulu C (2020) Role of convective and microphysical processes on the simulation of monsoon intraseasonal oscillation. Clim Dyn 55(9):2377–2403. https://doi.org/10.1007/s00382-020-05387-z

Giorgi F (2006) Regional climate modeling: Status and perspectives. J Phys IV Fr 139:101–118

Hahn DG, Manabe S (1975) The role of mountains in the south Asian monsoon circulation. J Atmos Sci 32:1515–1541

Halder M, Hazra A, Mukhopadhyay P, Siingh DK (2015) Effect of the better representation of the cloud ice-nucleation in WRF microphysics schemes: a case study of a severe storm in India. Atmos Res 154:155–174

Hartmann DL, Ockert-Bell ME, Michelsen ML (1992) The effect of cloud type on earth's energy balance: Global analysis. J Clim 5(11):1281–1304

Hazra A, Chaudhari HS, Ranalkar MR, Jen-Ping C (2017a) Role of interactions between cloud microphysics, dynamics and aerosol in the heavy rainfall event of June 2013 over Uttarakhand, India. Q J R Meteorol Soc 143:986–998

Hazra A, Chaudhari HS, Saha SK, Pokhrel S (2017b) Effect of cloud microphysics on Indian summer monsoon precipitating clouds: a coupled climate modeling study. J Geophys Res Atmos 122:3786–3805

Hazra A, Chaudhari HS, Saha SK, Pokhrel S, Goswami BN (2017c) Progress towards achieving the challenge of indian summer monsoon climate simulation in a coupled ocean-atmosphere model. J Adv Model Earth Syst 9:2268–2290

Holton JR (2004) An introduction to dynamic meteorology, vol 88. Elsevier Academic Press

Houze RA Jr (2004) Mesoscale convective systems. Rev Geophys 42:RG4003. https://doi.org/10.1029/2004RG000150

Huffman GJ, Bolvin DT, Nelkin EJ, Wolff DB, Adler RF, Gu G, Hong Y, Bowman KP, Stocker EF (2007) The TRMM multisatellite precipitation analysis (TMPA): quasi-global, multiyear, combined-sensor precipitation estimates at fine scales. J Hydrometeorol 8(1):38–55

Joseph PV, Sijikumar S (2004) Intraseasonal variability of the low-level jet stream of the Asian summer monsoon. J Clim 17(7):1449–1458

Kiehl JT, Trenberth KE (1997) Earth's annual global mean energy budget. Bull Am Meteorol Soc 78(2):197–208

Krishnamurti TN, Subrahmanyam D (1982) The 30–50 day mode at 850 mb during MONEX. J Atmos Sci 39(9):2088–2095

Kumar S, Hazra A, Goswami BN (2014) Role of interaction between dynamics, thermodynamics and cloud microphysics on summer monsoon precipitating clouds over the Myanmar Coast and the Western Ghats. Clim Dyn 43(3–4):911–924

Li C, Yanai M (1996) The onset and interannual variability of the asian summer monsoon in relation to land-sea thermal contrast. J Clim 9(2):358–375

Mukhopadhyay P, Taraphdar S, Goswami B, Krishnakumar K (2010) Indian summer monsoon precipitation climatology in a high resolution regional climate model: Impacts of convective parameterization on systematic biases. Weather Forecast 25:369–387

Murakami TP (1987) Effects of the Tibetan Plateau in monsoon meteorology. Oxford University Press, New York, pp 235–270

Nair AKM, Rajeev K, Sijikumar S, Meenu S (2011) Characteristics of a persistent pool of inhibited cloudiness and its genesis over the Bay of Bengal associated with the Asian summer monsoon. Ann Geophys 29:1247–1252

Rajeevan M, Rohini P, Kumar KN, Srinivasan J, Unnikrishnan CK (2012) A study of vertical cloud structure of the Indian summer monsoon using CloudSat data. Clim Dyn 40(3–4):637–650

Ramanathan V, Cess RD, Harrison EF, Minnis P, Barkstrom BR, Ahmad E, Hartmann D (1989) Cloud-radiative forcing and climate: results from the earth radiation budget experiment. Science 243(4887):57–63

Ramu DA, Sabeerali CT, Chattopadhyay R, Rao DN, George G, Dhakate AR, Salunke K, Srivastava A, Rao SA (2016) Indian summer monsoon rainfall simulation and prediction skill in the CFSv2 coupled model: impact of atmospheric horizontal resolution. J Geophys Res Atmos 121:2205–2221. https://doi.org/10.1002/2015JD024629

Ratnam JV, Kumar KK (2005) Sensitivity of the Simulated Monsoons of 1987 and 1988 to Convective Parameterization Schemes in MM5. J Clim 18:2724–2743. https://doi.org/10.1175/jcli3390.1

Sathiyamoorthy V, Pal PK, Joshi PC (2006) Intraseasonal variability of the tropical easterly jet. Meteorol Atmos Phys 96(3–4):305–316

Schumacher C, Houze RA, Kraucunas I (2004) The tropical dynamical response to latent heating estimates derived from the TRMM precipitation radar. J Atmos Sci 61(12):1341–1358

Sijikumar S, John L, Manjusha K (2013) Sensitivity study on the role of Western Ghats in simulating the Asian summer monsoon characteristics. Meteorol Atmos Phys 120(1–2):53–60

Sikka DR, Gadgil S (1980) On the maximum cloud zone and the ITCZ over Indian longitudes during the southwest monsoon. Mon Weather Rev 108:1840–1853

Skamarock WC, Klemp JB, Dudhia J, Gill DO, Barker DM, Duda MG, Huang X, Wang W, Powers JG (2008) A description of the advanced research WRF Version 3. NCAR Technical Note NCAR/TN–475+STR.

Wang B (2006) The Asian monsoon. Springer-Verlag, New York, pp 551–612

Webster PJ, Fasullo J (2003) Dynamic theory of monsoons—encyclopedia of atmospheric sciences. Academic Press, pp 1370–1386

Webster PJ, Magaña VO, Palmer TN, Shukla J, Tomas RA, Yanai M, Yasunari T (1998) Monsoons: processes, predictability, and the prospects for prediction. J Geophys Res Oceans 103(C7):14451–14510

Willetts PD, Marsham JH, Birch CE, Parker DJ, Webster S, Petch J (2017) Moist convection and its upscale effects in simulations of the Indian monsoon with explicit and parametrized convection. Q J R Meteorol Soc 143:1073–1085

Zuluaga MD, Hoyos CD, Webster PJ (2010) Spatial and temporal distribution of latent heating in the South Asian Monsoon Region. J Clim 23(8):2010–2029
Acknowledgements
The ERA-Interim data are obtained from the ECMWF data portal. TRMM Multisatellite Precipitation Analysis data were provided by the NASA/Goddard Space Flight Center archived at the NASA GES DISC. All graphics in this work are created using NCAR Command Language. Thanks to the editor and anonymous reviewers for their constructive comments which helped to improve the manuscript substantially
Ethics declarations
Conflict of interest
The authors declare no competing interests.
Additional information
Responsible Editor: Clemens Simmer.
Publisher's Note
Springer Nature remains neutral with regard to jurisdictional claims in published maps and institutional affiliations.
Rights and permissions
Springer Nature or its licensor holds exclusive rights to this article under a publishing agreement with the author(s) or other rightsholder(s); author self-archiving of the accepted manuscript version of this article is solely governed by the terms of such publishing agreement and applicable law.
About this article
Cite this article
Sijikumar, S., Aneesh, S. Role of deep convection in regulating the Indian summer monsoon dynamics: a regional scale modelling study. Meteorol Atmos Phys 134, 84 (2022). https://doi.org/10.1007/s00703-022-00917-2
Received:

Accepted:

Published:

DOI: https://doi.org/10.1007/s00703-022-00917-2