Abstract
In this research, monthly data on the Frequency of Dust Storm Days (FDSD) of 44 synoptic stations of Iran during a 50-year period from 1968–2017 were used. Temporal variations in Iran's dust storms were investigated using hierarchical cluster analysis, linear regression methods, and nonparametric test of Mann Kendall. According to the cluster analysis, five climatic zones were identified with similar trends in the frequency of occurrence of dust storms including: (1) Southeast, (2) South and Central regions, (3) Western regions, (4) Eastern and Central regions, and (5) the Northern part of the country. The results of the distribution of Iranian dust storms indicated that the highest frequency of the occurrence of this phenomenon was in July, June, and May. In the seasonal period, the peak of the dust storms was concentrated in the spring and summer. Moreover, in terms of spatial analysis, in monthly, seasonal, and annual periods, the maximum FDSD in the southeastern and southern regions was much more severe than in other regions of Iran. Moreover, the slope of the changes in Iran's dust storms indicated that the trend of changes in total monthly, seasonal, and annual periods was incremental, and according to the results of the Mann–Kendall test, it was significant.
Access options
Buy single article
Instant access to the full article PDF.
USD 39.95
Price excludes VAT (USA)
Tax calculation will be finalised during checkout.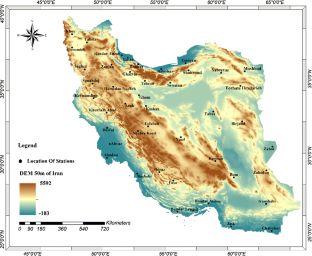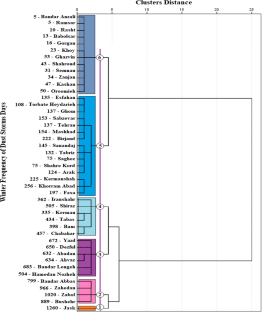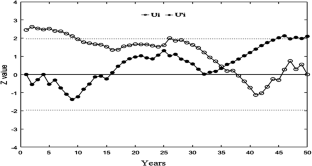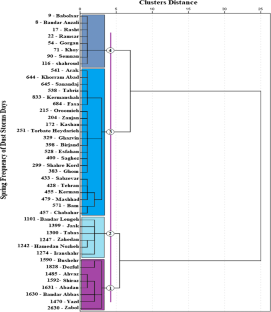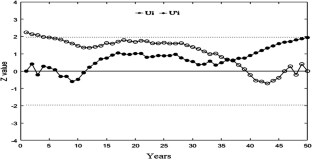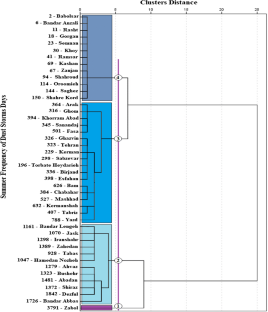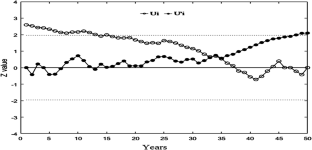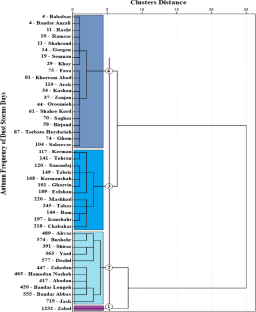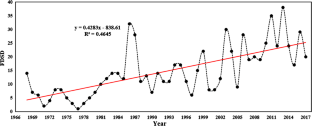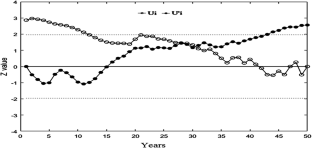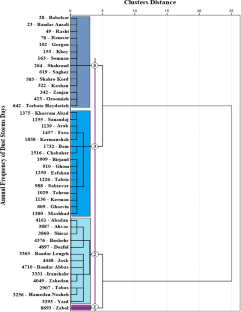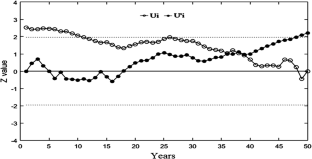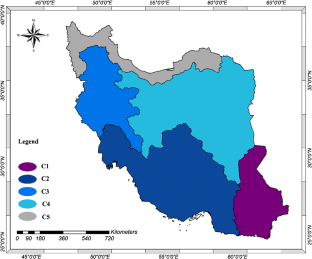 References
Alijani B (2012) Synoptic climatology. Samt Publications, Tehran

Azizi Gh, Miri M, Nabavi O (2012) Detection of dust phenomena in the southwest of Iran. Geogr Stud Arid Reg 7:63–81

Ba Aqideh M, Ahmadi H (2014) An analysis of the dangers of dust and its changes in the West and Southwest of Iran. Help Rescue 2:1–16

Bahiraei H, Ayazi MH, Rajaei MA, Ahmadi H (2011) Synoptic statistical analysis of the phenomenon of dust in the province of Ilam. New Attitude Hum Geogr 1:47–67

Dagsson-Waldhauserova P, Arnalds O, Olafsson H (2013) Long-term frequency and characteristics of dust storm events in Northeast Iceland (1949e2011). Atmos Environ 77:117–127

Dujuan K, Huijun W (2005) Analysis on the decadal scale variation of the dust storm in North China. Sci China Ser D 48(12):2260–2266

Eddenjal A.S (2005) Dust/sand storms over LIBYA: spatial distribution, frequency and seasonality, series: Sand and Dust Storm Warning Advisory and Assessment System (SDS-WAS) Regional Center for Northern Africa-Middle East-Europe (NAMEE) Technical Reports. Barcelona supercomputing center, Word meteorological orginazation, SDS-WAS-2015-001.

Ekström M, McTainsh GH, Chappell A (2004) Australian dust storms: temporal trends and relationships with synoptic pressure distributions (1960–99). Int J Climatol 24:1581–1599

Engestadler S (2001) Dust storms freiquencies and their relationship to land surface conditions. Freidrich-Schiller University Press, Jena

Farajzadeh M, Alizadeh Kh (2011) Spatiotemporal analysis of dust storms in Iran. Space Plan Using 15(1):65–84

Ghavidel Y, Khorshiddoust AM, Farajzadeh M, Pourshahbaz H (2019) Identification of the thresholds of extreme values and synoptic analysis of PM10 pollution in the atmosphere of Ahvaz. Pollution 5(3):611–621

Kang L, Huang H, Chen S, Wang X (2016) Long-term trends of dust events over Tibetan Plateau during 1961–2010. Atmos Environ 125:188–198

Khoshhal Dastjerdi J, Mousavi H, Kashki A (2012) Synoptic analysis of ilam dust storms (1987–2005). Geogr Environ Plann 2:15–34

Khozouei Nejad M, Shojaei M, Karami A (2015) Frequency of dusty phenomena in Kohgiluyeh and Boyer Ahmad Province. Iran National Meteorological Conference, University of Yazd, pp 1–15.

Rezaei M, Farajzadeh M, Ghavidel Y, Mielonen T (2019) Analysis of spatio-temporal dust aerosol frequency over Iran based on satellite data. Atmos Pollut Res 10(2):508–519

Shojaee M, Shokouhipoor FD, Karami A, Yarijoo Kh, Parsaei S, Parvizipour A (2015) The study of the occurrence of dust phenomenon and its frequency, as well as its effect on environmental air quality changes in the province of Khuzestan. The 1st International Dust Conference, Shahid Chamran University of Ahvaz, pp. 282–290.

Wang X, Huanga J, Jia M, Higuchi K (2008) Variability of East Asia dust events and their long-term trend. Atmos Environ 42(13):3156–3165

Wang X, Dong ZH, Zhang C, Qian G (2009) Characterization of the composition of dust fallout and identification of dust sources in arid and semiarid North china. Geomophology 112:144–1570

Wang Y, Stein AF, Draxler RR, de la Rosa JD, Zhang X (2011) Global sand and dust storms in 2008: Observation and HYSPLIT model verification. Atmos Environ 45(35):6368–6381

Zanganeh M (2014) Meteorology of dust storms in Iran. Appl Meteorol 1:1–12

Zolfaghari H, Abedzadeh H (2005) Synoptic analysis of dust systems in West Iran. Geogr Dev 6:173–188
Additional information
Responsible Editor: S. Fiedler.
Publisher's Note
Springer Nature remains neutral with regard to jurisdictional claims in published maps and institutional affiliations.
About this article
Cite this article
Baghbanan, P., Ghavidel, Y. & Farajzadeh, M. Temporal long-term variations in the occurrence of dust storm days in Iran. Meteorol Atmos Phys 132, 885–898 (2020). https://doi.org/10.1007/s00703-020-00728-3
Received:

Accepted:

Published:

Issue Date:

DOI: https://doi.org/10.1007/s00703-020-00728-3