Abstract
This study focuses on the heavy rainfall event associated with hurricane Isabel's (2003) passage over the Appalachian mountains of the eastern United States. Specifically, an ensemble consisting of two groups of simulations using the Weather Research and Forecasting model (WRF), with and without topography, is performed to investigate the orographic influences on heavy rainfall and rainfall variability. In general, the simulated ensemble mean with full terrain is able to reproduce the key observed 24-h rainfall amount and distribution, while the flat-terrain mean lacks in this respect. In fact, 30-h rainfall amounts are reduced by 75% with the removal of topography. Rainfall variability is also significantly increased with the presence of orography. Further analysis shows that the complex interaction between the hurricane and terrain along with contributions from varied microphysics, cumulus parametrization, and planetary boundary layer schemes have a pronounced effect on rainfall and rainfall variability. This study follows closely with a previous study, but for a different TC case of Isabel (2003). It is an important sensitivity test for a different TC in a very different environment. This study reveals that the rainfall variability behaves similarly, even with different settings of the environment.
This is a preview of subscription content, log in to check access.
Access options
Buy single article
Instant access to the full article PDF.
US$ 39.95
Price includes VAT for USA
Subscribe to journal
Immediate online access to all issues from 2019. Subscription will auto renew annually.
US$ 199
This is the net price. Taxes to be calculated in checkout.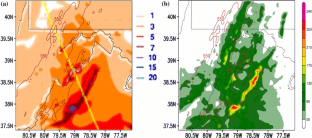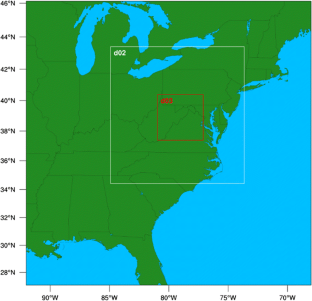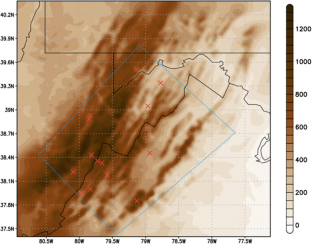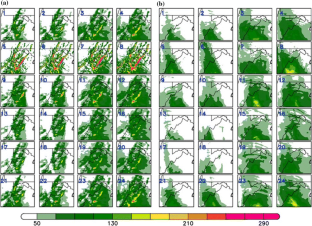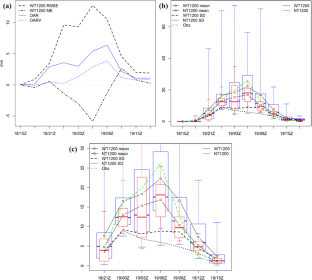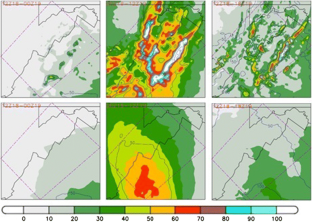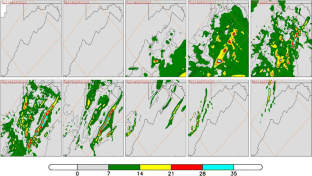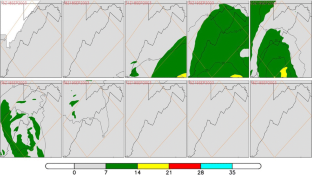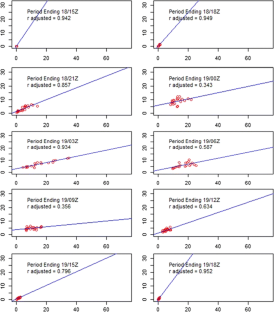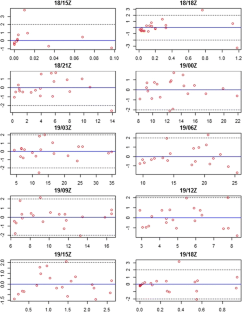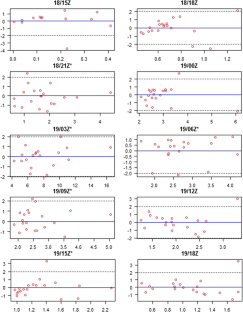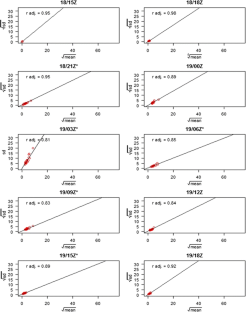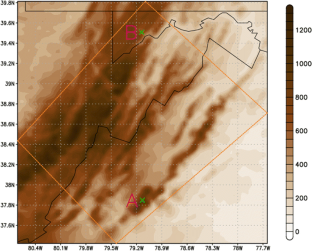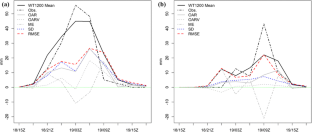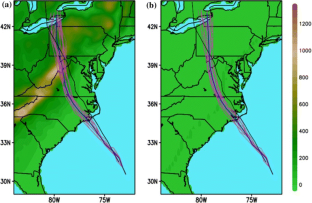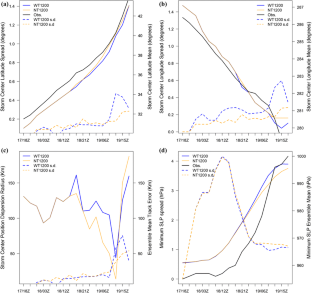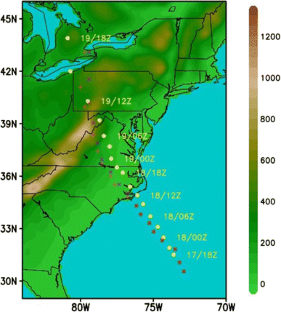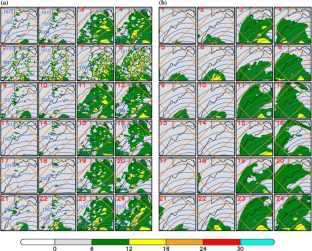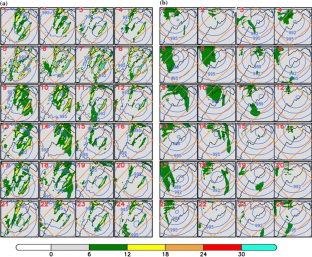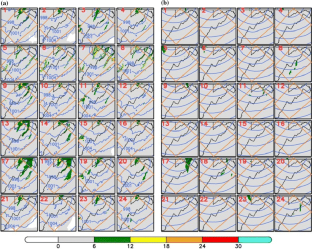 References
Fang X, Kuo Y-H, Wang A (2011) The impacts of Taiwan topography on the predictability of Typhoon Morakot's record-breaking rainfall: a high-resolution ensemble simulation. Weather Forecast 26:613–633

Ferrier BS (1994) A double-moment multiple phase four-class bulk ice scheme. Part I: Description. J Atmos Sci 51:249–280

Hong S-Y, Dudhia J, Chen S-H (2004) A revised approach to ice microphysical processes for the bulk parameterization of clouds and precipitation. Mon Weather Rev 132:103–120

Hong S-Y, Noh Y, Dudhia J (2006) A new vertical diffusion package with an explicit treatment of entrainment processes. Mon Weather Rev 134:2318–2341

Houtekamer PL (1993) Global and local skill forecasts. Mon Weather Rev 121:1834–1846

Janjic ZI (1994) The step-mountain eta coordinate model: further developments of the convection, viscous sublayer and turbulence closure schemes. Mon Weather Rev 122:927–945

Janjic ZI (2000) Comments on "Development and evaluation of a convection scheme for use in climate models". J Atmos Sci 57:3686

Janjic ZI (2002) Nonsingular Implementation of the Mellor–Yamada level 2.5 scheme in the NCEP meso model. NCEP Office Note 437

Jolliffe IT, Stephenson DB (2011) Forecast verification: a practitioner's guide in atmospheric science, 2nd edn. Wiley, Hoboken, NJ

Kain JS (2004) The Kain–Fritsch convective parameterization: an update. J Appl Meteorol 43:170–181

Lin YL, Farley RD, Orville HD (1983) Bulk parameterization of the snow field in a cloud model. J Clim Appl Meteorol 22:1065–1092

Medina MA, Reidand JC, Carpenter RH (2004) Physiography of North Carolina. North Carolina Geological Survey, Division of Land Resources. Accessed 29 Dec 2007

Mellor GL, Yamada T (1982) Development of a turbulence closure model for geophysical fluid problems. Rev Geophys Sp Phys 20:851–875

Morrison H, Thompson G, Tatarskii V (2009) Impact of cloud microphysics on the development of trailing stratiform precipitation in a simulated squall line: comparison of one- and two-moment schemes. Mon Weather Rev 137:991–1007

NOAA (2005) Hurricane Isabel assessment: review of hurricane evacuation study products and other aspects of the National Hurricane Mitigation and Preparedness Program (NHMPP) in the context of the Hurricane Isabel response

NWS (2003) Service assessment: Hurricane Isabel September 18–19, 2003. National Weather Service, NOAA, Silver Spring

Rostom R, Lin Y-L (2015) Control parameters for track continuity of cyclones passing over the southern-central Appalachian mountains. Weather Forecast 30:1429–1449

Sheather SJ (2009) A modern approach to regression with R. Springer, New York

Skamarock WC, Klemp JB, Dudhia J, Gill DO, Barker DM, Duda MG, Huang X-Y, Wang W, Powers JG (2008) A description of the advanced research WRF version 3. NCAR technical note-475 + STR

Tao WK, Simpson J (1993) The Goddard cumulus ensemble model. Part I: model description. Terr Atmos Ocean Sci 4:35–72

Tao WK, Shi JJ, Chen SS, Lang S, Lin PL, Hong SY, Peters-Lidard C, Hou A (2011) The impact of microphysical schemes on hurricane intensity and track. Asia Pac J Atmos Sci 47(1):1–6

Thompson GR, Rasmussen M, Manning K (2004) Explicit forecasts of winter precipitation using an improved bulk microphysics scheme. Part I: description and sensitivity analysis. Mon Weather Rev 132:519–542

Unisys Weather (2015) Hurricane Isabel 2003. http://weather.unisys.com/hurricane/atlantic/2003H/ISABEL/track.dat. Accessed Sep 2015

Whitaker JS, Loughe AF (1998) The relationship between ensemble spread and ensemble mean skill. Mon Weather Rev 126:3292–3302

Wobus RL, Kalnay E (1995) Three years of operational prediction of forecast skill at NMC. Mon Weather Rev 123:2132–2147
Acknowledgements
This study is supported by the National Science Foundation Awards AGS-1265783, OCI-1126543, and CNS-1429464.
Additional information
Responsible Editor: M. Kaplan.
About this article
Cite this article
Oldaker, G., Liu, L. & Lin, Y. Influences of Appalachian orography on heavy rainfall and rainfall variability associated with the passage of hurricane Isabel by ensemble simulations. Meteorol Atmos Phys 131, 329–350 (2019). https://doi.org/10.1007/s00703-017-0562-5
Received:

Accepted:

Published:

Issue Date: