Abstract
With an installed capacity of over 19,000 MW, the wind power currently accounts for almost 70% of the total installed capacity among the renewable energy sector in India. The extraction of wind power mainly depends on prevailing meteorology which is strongly influenced by monsoon variability. The monsoon season is characterized by significant fluctuations in between periods of wet and dry spells. During the dry spells, the demand for power from agriculture and cooling equipment increases, whereas during the wet periods, such demand reduces, although, at the same time, the power supply increases because of strong westerly winds contributing to an enhanced production of wind energy. At this backdrop, we aim to assess the impact of intra-seasonal wind variability on the balance of energy supply and demand during monsoon seasons in India. Further, we explore the probable cause of wind variability by relating it to El Nino events. It is observed that the active and break phases in wind significantly impact the overall wind potential output. Although the dry spells are generally found to reduce the overall wind potential, their impact on the potential seems to have declined after the year 2000. The impact of meteorological changes on variations in wind power studied in this work should find applications typically in taking investment decisions on conventional generation facilities, like thermal, which are currently used to maintain the balance of power supply and demand.
Access options
Buy single article
Instant access to the full article PDF.
US$ 39.95
Tax calculation will be finalised during checkout.
Subscribe to journal
Immediate online access to all issues from 2019. Subscription will auto renew annually.
US$ 119
Tax calculation will be finalised during checkout.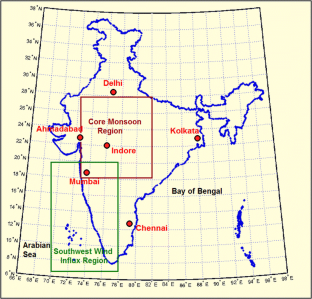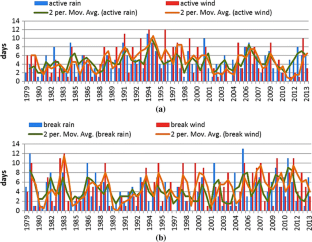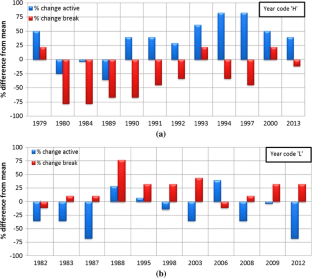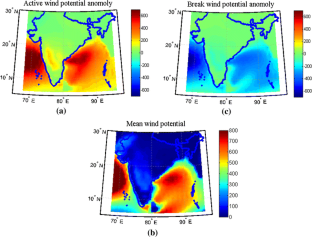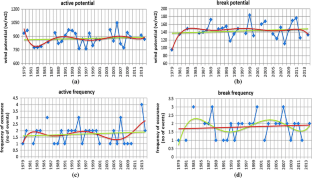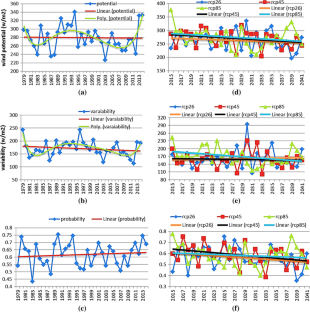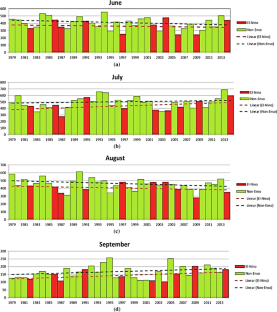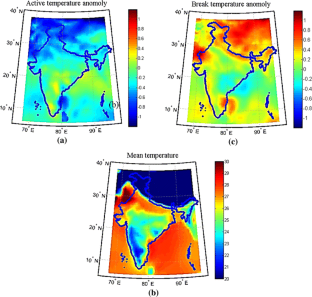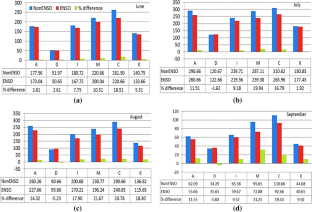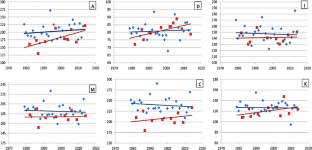 References
Ahuja D, Tatsutani M (2009) Sustainable energy for developing countries. SAPI ENS Surveys and Perspectives Integrating Environment and Society, vol 2.1

Annamalai H, Liu P, Xie SP (2005) Southwest Indian Ocean SST variability: its local effect and remote influence on Asian monsoons. J Clim 18(20):4150–4167

Borah N, Sahai AK, Chattopadhyay R, Joseph S, Abhilash S, Goswami BN (2013) A self-organizing map-based ensemble forecast system for extended range prediction of active/break cycles of Indian summer monsoon. J Geophys Res Atmos 118(16):9022–9034

Chattopadhyay R, Sahai AK, Goswami BN (2008) Objective identification of nonlinear convectively coupled phases of monsoon intraseasonal oscillation: implications for prediction. J Atmos Sci 65(5):1549–1569

Dunning CM, Turner AG, Brayshaw DJ (2015) The impact of monsoon intraseasonal variability on renewable power generation in India. Environ Res Lett 10(6):064002

Durmayaz A, Kadıoǧlu M, Şen Z (2000) An application of the degree-hours method to estimate the residential heating energy requirement and fuel consumption in Istanbul. Energy 25(12):1245–1256

Fazeli R, Ruth M, Davidsdottir B (2016) Temperature response functions for residential energy demand—a review of models. Urban Clim 15:45–59

Gadgil S (2003) The Indian monsoon and its variability. Annu Rev Earth Planet Sci 31(1):429–467

Goswami BN, Mohan RA (2001) Intraseasonal oscillations and interannual variability of the Indian summer monsoon. J Clim 14(6):1180–1198

Gupta E (2012) Global warming and electricity demand in the rapidly growing city of Delhi: a semi-parametric variable coefficient approach. Energy Econ 34(5):1407–1421

Gupta E (2016) The Effect of development on the climate sensitivity of electricity demand in India. Clim Chang Econ 7(2):1650003

Indian Wind Energy Outlook (2012) Global Wind Energy Council. GWEC. http://www.gwec.net/wp-content/uploads/2012/11/India-Wind-Energy-Outlook-2012.pdf. Accessed 10 Jan 2017

Jänicke M (2012) Dynamic governance of clean-energy markets: how technical innovation could accelerate climate policies. J Clean Prod 22(1):50–59

Jha GK, Pal S, Singh A (2012) Changing energy-use pattern and the demand projection for Indian agriculture. Agric Econ Res Rev 25(1):61–68

Krishna Kumar K, Rupa Kumar K, Ashrit RG, Deshpande NR, Hansen JW (2004) Climate impacts on Indian agriculture. Int J Climatol 24(11):1375–1393

Kulkarni S, Deo MC, Ghosh S (2016) Evaluation of wind extremes and wind potential under changing climate for Indian offshore using ensemble of 10 GCMs. Ocean Coast Manag 121:141–152

Kumar KK, Rajagopalan B, Cane MA (1999) On the weakening relationship between the Indian monsoon and ENSO. Science 284(5423):2156–2159

Lau WKM, Waliser DE (2011) Intraseasonal variability in the atmosphere-ocean climate system. Springer, New York

Manwell JF, McGowan, JG, Rogers AL (2010) Wind energy explained: theory, design and application. Wiley, New York

Miller NL, Hayhoe K, Jin J, Auffhammer M (2008) Climate, extreme heat, and electricity demand in California. J Appl Meteorol Climatol 47(6):1834–1844

Paul S, Ghosh S, Oglesby R, Pathak A, Chandrasekharan A, Ramsankaran RAAJ (2016). Weakening of Indian summer monsoon rainfall due to changes in land use land cover. Sci Rep 6

Rajeevan M, Gadgil S, Bhate J (2010) Active and break spells of the Indian summer monsoon. J Earth Syst Sci 119(3):229–247

Sahai AK, Grimm AM, Satyan V, Pant GB (2003) Long-lead prediction of Indian summer monsoon rainfall from global SST evolution. Clim Dyn 20(7–8):855–863

Sarak H, Satman A (2003) The degree-day method to estimate the residential heating natural gas consumption in Turkey: a case study. Energy 28(9):929–939

Shukla J (1987) Interannual variability of monsoons. In: Fein JS, Stephens PL (eds) Monsoons. Wiley, New York, pp 399–464

Singh D, Tsiang M, Rajaratnam B, Diffenbaugh NS (2014) Observed changes in extreme wet and dry spells during the South Asian summer monsoon season. Nat Clim Change 4(6):456–461

Sperber KR, Slingo JM, Annamalai H (2000) Predictability and the relationship between subseasonal and interannual variability during the Asian summer monsoon. Q J R Meteorol Soc 126(568):2545–2574

Turner AG, Annamalai H (2012) Climate change and the South Asian summer monsoon. Nat Clim Change 2(8):587–595

Vecchi GA, Harrison DE (2004) Interannual Indian rainfall variability and Indian Ocean sea surface temperature anomalies. Earth's Clim 247–259

Walker GT (1924) Correlation in seasonal variations of weather 1X: a further study of world weather. Mem Indian Meteorol Dep 25:2757332
Additional information
Responsible Editor: J. T. Fasullo.
About this article
Cite this article
Kulkarni, S., Deo, M.C. & Ghosh, S. Impact of active and break wind spells on the demand–supply balance in wind energy in India. Meteorol Atmos Phys 130, 81–97 (2018). https://doi.org/10.1007/s00703-017-0501-5
Received:

Accepted:

Published:

Issue Date: