Abstract
Reliable land cover data are important for improving numerical simulation by regional climate model, because the land surface properties directly affect climate simulation by partitioning of energy, water and momentum fluxes and by determining temperature and moisture at the interface between the land surface and atmosphere. China has experienced significant land cover change in recent decades and accurate representation of these changes is, hence, essential. In this study, we used a climate model to examine the changes experienced in the regional climate because of the different land cover data in recent decades. Three sets of experiments are performed using the same settings, except for the land use/cover (LC) data for the years 1990, 2000, 2009, and the model default LC data. Three warm season periods are selected, which represented a wet (1998), normal (2000) and a dry year (2011) for China in each set of experiment. The results show that all three sets of land cover experiments simulate a warm bias relative to the control with default LC data for near-surface temperature in summertime in most parts of China. It is especially noticeable in the southwest China and south of the Yangtze River, where significant changes of LC occurred. Deforestation in southwest China and to the south of Yangtze River in the experiment cases may have contributed to the negative precipitation bias relative to the control cases. Large LC changes in northwestern Tibetan Plateau for 2000 and 2009 datasets are also associated with changes in surface temperature, precipitation, and heat fluxes. Wind anomalies and energy budget changes are consistent with the precipitation and temperature changes.
This is a preview of subscription content, log in to check access.
Access options
Buy single article
Instant access to the full article PDF.
US$ 39.95
Price includes VAT for USA
Subscribe to journal
Immediate online access to all issues from 2019. Subscription will auto renew annually.
US$ 199
This is the net price. Taxes to be calculated in checkout.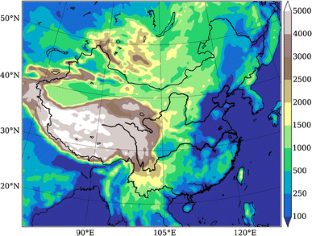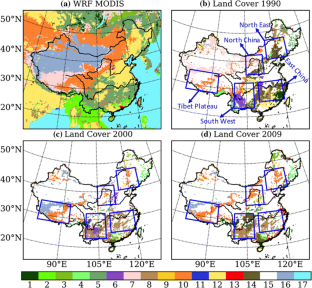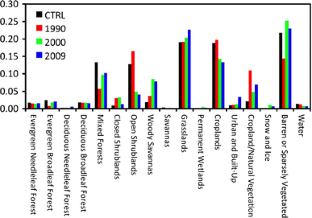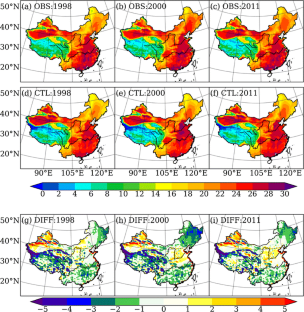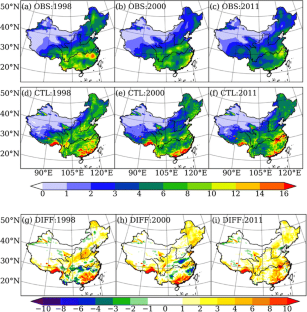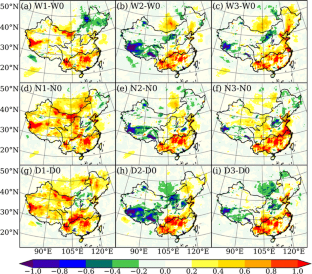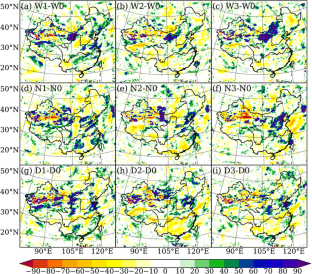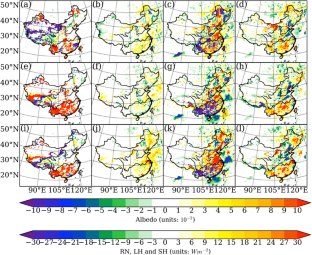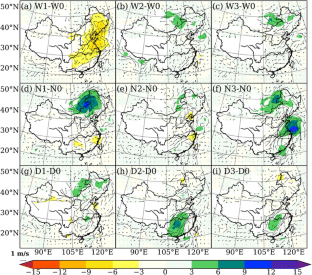 References
Abiodun B, Pal J, Afiesimama E, Gutowski W, Adedoyin A (2008) Simulation of West African monsoon using RegCM3 part II: impacts of deforestation and desertification. Theor Appl Climatol 93(3–4):245–261

Barlage M, Zeng X (2004) The effects of observed fractional vegetation cover on the land surface climatology of the community land model. J Hydrometeorol 5(5):823–830

Beljaars AC, Miller MJ, Viterbo PA (1996) The land surface–atmosphere interaction: a review based on observational and global modeling perspectives. J Geophys Res 101:7209–7225

Beltrán-Przekurat A, Pielke RA, Peters DP, Snyder KA, Rango A (2008) Modeling the effects of historical vegetation change on near-surface atmosphere in the northern Chihuahuan Desert. J Arid Environ 72(10):1897–1910

Belward AS, Estes JE, Kline KD (1999) The IGBP-DIS global 1-km land-cover data set DISCover: a project overview. Photogramm Eng Remote Sens 65(9):1013–1020

Chang J-T, Wetzel PJ (1991) Effects of spatial variations of soil moisture and vegetation on the evolution of a prestorm environment: a numerical case study. Mon Weather Rev 119(6):1368–1390

Chase T, Pielke R Sr, Kittel T, Nemani R, Running S (2000) Simulated impacts of historical land cover changes on global climate in northern winter. Clim Dyn 16(2–3):93–105

Chen F, Avissar R (1994) Impact of land-surface moisture variability on local shallow convective cumulus and precipitation in large-scale models. J Appl Meteorol 33(12):1382–1401

Chen F, Dudhia J (2001) Coupling an advanced land surface-hydrology model with the Penn State-NCAR MM5 modeling system. Part I: model implementation and sensitivity. Mon Weather Rev 129(4):569–585

Chen L, Ma ZG, Fan XG (2012) A comparative study of two land surface schemes in WRF model over Eastern China. J Trop Meteorol 18(4):445–456

Clark CA, Arritt PW (1995) Numerical simulations of the effect of soil moisture and vegetation cover on the development of deep convection. J Appl Meteorol 34(9):2029–2045

Collins WD, Rasch PJ, Boville BA, Hack JJ, McCaa JR, Williamson DL, Kiehl JT, Briegleb B, Bitz C, Lin S (2004) Description of the NCAR community atmosphere model (CAM 3.0), edited, Technical Note TN-464+ STR, National Center for Atmospheric Research, Boulder, CO

Cui X, Graf HF, Langmann B, Chen W, Huang R (2006) Climate impacts of anthropogenic land use changes on the Tibetan Plateau. Glob Planet Chang 54(1):33–56

Davin EL, de Noblet-Ducoudré N (2010) Climatic impact of global-scale deforestation: radiative versus nonradiative processes. J Clim 23(1):97–112

Fan X, Ma Z, Yang Q, Han Y, Mahmood R, Zheng Z (2015a) Land use/land cover changes and regional climate over the Loess Plateau during 2001–2009—part I. Observed evidences. Clim Chang 129:427–440. doi:10.1007/s10584-014-1069-4

Fan X, Ma Z, Yang Q, Han Y, Mahmood R (2015b) Land use/land cover changes and regional climate overthe Loess Plateau during 2001–2009—part II. Interrelationship from observations. Clim Chang 129:441–455. doi:10.1007/s10584-014-1068-5

Feddema JJ, Oleson KW, Bonan GB, Mearns LO, Buja LE, Meehl GA, Washington WM (2005) The importance of land-cover change in simulating future climates. Science 310(5754):1674–1678. doi:10.1126/science.1118160

Friedl MA, McIver DK, Hodges JC, Zhang X, Muchoney D, Strahler AH, Woodcock CE, Gopal S, Schneider A, Cooper A (2002) Global land cover mapping from MODIS: algorithms and early results. Remote Sens Environ 83(1):287–302

Fu C (2003) Potential impacts of human-induced land cover change on East Asia monsoon. Glob Planet Chang 37(3):219–229

Gero A, Pitman A (2006) The impact of land cover change on a simulated storm event in the Sydney basin. J Appl Meteorol Climatol 45(2):283–300

Giorgi F, Francisco R (2000) Evaluating uncertainties in the prediction of regional climate change. Geophys Res Let 27(9):1295–1298

Hansen M, DeFries R, Townshend J, Sohlberg R, Dimiceli C, Carroll M (2002) Towards an operational MODIS continuous field of percent tree cover algorithm: examples using AVHRR and MODIS data. Remote Sens Environ 83(1):303–319

Hao G, Gen-Suo J (2012) Spatial and quantitative comparison of satellite-derived land cover products over China. Atmos Ocean Sci Lett 5(5):426–434

Hoffmann WA, Jackson RB (2000) Vegetation-climate feedbacks in the conversion of tropical savanna to grassland. J Clim 13(9):1593–1602

Hong S-Y, Lim J-OJ (2006) The WRF single-moment 6-class microphysics scheme (WSM6). Asia Pac J Atmos Sci 42(2):129–151

Hong S-Y, Noh Y, Dudhia J (2006) A new vertical diffusion package with an explicit treatment of entrainment processes. Mon Weather Rev 134(9):2318–2341

Hu Y, Jia G (2010) Influence of land use change on urban heat island derived from multi-sensor data. Int J Climatol 30(9):1382–1395

Kain JS (2004) The Kain-Fritsch convective parameterization: an update. J Appl Meteorol 43(1):170–181

Lee E, Sacks WJ, Chase TN, Foley JA (2011) Simulated impacts of irrigation on the atmospheric circulation over Asia. J Geophys Res Atmos (1984–2012) 116(D8):D08114. doi:10.1029/2010JD014740

Li Y, Smith RB (2010) Observation and theory of the diurnal continental thermal tide. J Atmos Sci 67(9):2752–2765

Li Y, Smith RB, Grubišic V (2009) Using surface pressure variations to categorize diurnal valley circulations: experiments in Owens Valley. Mon Weather Rev 137(6):1753–1769

Liu J, Zhuang D, Luo D, Xiao X-M (2003) Land-cover classification of China: integrated analysis of AVHRR imagery and geophysical data. Int J Remote Sens 24(12):2485–2500

Mahmood R, Hubbard KG (2002) Anthropogenic land-use change in the North American tall grass-short grass transition and modification of near-surface hydrologic cycle. Clim Res 21(1):83–90

Mahmood R, Pielke RA Sr, Hubbard KG, Niyogi D, Bonan G, Lawrence P, McNider R, McAlpine C, Etter A, Gameda S, Qian B, Carleton A, Beltran-Przekurat A, Chase T, Quintanar AI, Adegoke JO, Vezhapparambu S, Conner G, Ase S, Sertel E, Legates DR, Wu Y, Hale R, Frauenfeld QW, Watts A, Shepherd M, Mitra C, Anantharaj VG, Fall S, Lund R, Treviño A, Blanken P, Du J, Chang H, Leeper R, Nair US, Dobler S, Deo R, Syktus J (2010) Impacts of land use/land cover change on climate and future research priorities. Bull Am Meteorol Soc 91(1):37–46

Mahmood R, Leeper R, Quintanar AI (2011) Sensitivity of planetary boundary layer atmosphere to historical and future changes of land use/land cover, vegetation fraction, and soil moisture in Western Kentucky, USA. Glob Planet Chang 78(1):36–53

Mahmood R, Pielke RA Sr, Hubbard KG, Niyogi D, Dirmeyer P, McAlpine C, Carleton A, Hale R, Gameda S, Beltran-Przekurat A, Baker B, McNider R, Legates DR, Shepherd M, Du J, Blanken P, Frauenfeld OW, Nair US, Fall S (2014) Land cover changes and their biogeophysical effects on climate. Int J Climatol 34:929–953. doi:10.1002/joc.3736

McPherson RA (2007) A review of vegetation—atmosphere interactions and their influences on mesoscale phenomena. Prog Phys Geogr 31(3):261–285

Ookouchi Y, Segal M, Kessler R, Pielke R (1984) Evaluation of soil moisture effects on the generation and modification of mesoscale circulations. Mon Weather Rev 112(11):2281–2292

Peng SS, Piao S, Zeng Z, Ciais P, Zhou L, Li LZX et al (2014) Afforestation in China cools local land surface temperature. Proc Natl Acad Sci 111(8):2915–2919. doi:10.1073/pnas.1315126111

Pielke RA (2001) Influence of the spatial distribution of vegetation and soils on the prediction of cumulus convective rainfall. Rev Geophys 39(2):151–177

Pielke R, Adegoke J, Beltran-Przekurat A, Hiemstra C, Lin J, Nair U, Niyogi D, Nobis T (2007a) An overview of regional land-use and land-cover impacts on rainfall. Tellus B 59(3):587–601

Pielke RA, Adegoke JO, Chase TN, Marshall CH, Matsui T, Niyogi D (2007b) A new paradigm for assessing the role of agriculture in the climate system and in climate change. Agric For Meteorol 142(2):234–254

Puma M, Cook B (2010) Effects of irrigation on global climate during the 20th century. J Geophys Res Atmos (1984–2012) 115(D16):D16120. doi:10.1029/2010JD014122

Ramankutty N, Foley JA (1998) Characterizing patterns of global land use: an analysis of global croplands data. Glob Biogeochem Cycles 12(4):667–686

Rotenberg E, Yakir D (2010) Contribution of semi-arid forests to the climate system. Science 327(5964):451–454. doi:10.1126/science.1179998

Roy SS, Mahmood R, Niyogi D, Lei M, Foster SA, Hubbard KG, Douglas E, Pielke R (2007) Impacts of the agricultural Green Revolution–induced land use changes on air temperatures in India. J Geophys Res Atmos (1984–2012) 112(D21):D21108. doi:10.1029/2007JD008834

Roy SS, Mahmood R, Quintanar AI, Gonzalez A (2011) Impacts of irrigation on dry season precipitation in India. Theor Appl Climatol 104(1–2):193–207

Scepan J (1999) Thematic validation of high-resolution global land-cover data sets. Photogramm Eng Remote Sens 65(9):1051–1060

Sen OL, Wang B, Wang YQ (2004) Impacts of re-greening the desertified lands in northwestern China: implications from a regional climate model experiment. J Meteorol Soc Jpn 82(6):1679–1693. doi:10.2151/jmsj.82.1679

Sertel E, Robock A, Ormeci C (2010) Impacts of land cover data quality on regional climate simulations. Int J Climatol 30(13):1942–1953

Skamarock WC, Klemp JB (2008) A time-split nonhydrostatic atmospheric model for weather research and forecasting applications. J Comput Phys 227(7):3465–3485

United Nations, Department of Economic and Social Affairs, Population Division (2015). World Population Prospects: The 2015 Revision, Key Findings and Advance Tables. Working Paper No. ESA/P/WP.241

Yang X, Hou Y, Chen B (2011) Observed surface warming induced by urbanization in east China. J Geophys Res Atmos (1984–2012) 116(D14):D14113. doi:10.1029/2010JD015452

Zhang H, Gao X, Li Y (2009) Climate impacts of land-use change in China and its uncertainty in a global model simulation. Clim Dyn 32(4):473–494

Zheng Y, Yu G, Qian Y, Miao M, Zeng X, Liu H (2002) Simulations of regional climatic effects of vegetation change in China. Q J R Meteorol Soc 128(584):2089–2114
Acknowledgments
This study was supported by the National Key Basic Research Program of China (Grant No. 2012CB956203), and the National Natural Science Foundation of China (Grant No. 41305062). L. Chen, Y. Li gratefully acknowledges the support from the Global Institute of Water Security at the University of Saskatchewan.
Additional information
Responsible Editor: X.-Y. Huang.
About this article
Cite this article
Chen, L., Ma, Z., Mahmood, R. et al. Recent land cover changes and sensitivity of the model simulations to various land cover datasets for China. Meteorol Atmos Phys 129, 395–408 (2017). https://doi.org/10.1007/s00703-016-0478-5
Received:

Accepted:

Published:

Issue Date:
Keywords
Land Cover

Tibetan Plateau

Regional Climate Model

Land Cover Change

Land Cover Data