Abstract
The aim of this paper was to characterize the southwest monsoon onset over Myanmar based on the model. The Regional Climate Model (RegCM3) was run for a period of 10 years (2000–2009) to simulate the meteorological fields which focused on April to July season. The model input data were obtained from the reanalyzed datasets of the National Center for Environmental Prediction (NCEP) and National Centre for Atmospheric Research (NCAR). Grell scheme with Arakawa closure for cumulus parameterization assumption was used for simulation with 45 km horizontal resolution. The results revealed that southwest monsoon onset was confirmed when the prevailing wind direction up to 600 hPa level had shifted from northeasterly to westerly or southwesterly. The southwest monsoon first arrived at southernmost Kawthoung station of Myanmar and progressed through the Deltaic and Central parts until it reached at northernmost Putao station. Over the simulation periods, the southwest monsoon onset progressed from the southernmost to northernmost parts of the country in 19 ± 10 days. The position of Intertropical Convergence Zone (ITCZ) appeared (23°N–28°N) over the Northern part of the country before the onset. Furthermore, 500 hPa ridge appeared consistently over the Deltaic area of Myanmar from 6 to 10 days before the monsoon onset. Its position is about 6° to the south of the ITCZ.
We're sorry, something doesn't seem to be working properly.
Please try refreshing the page. If that doesn't work, please contact support so we can address the problem.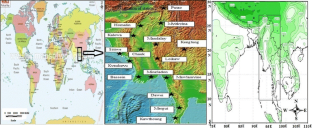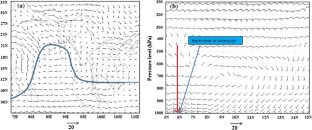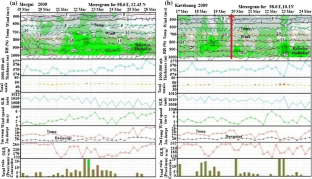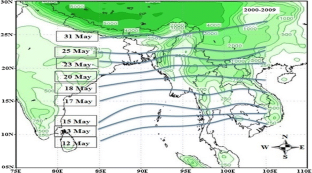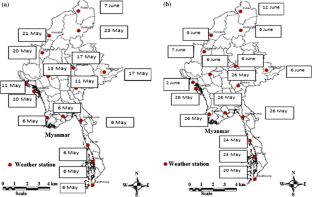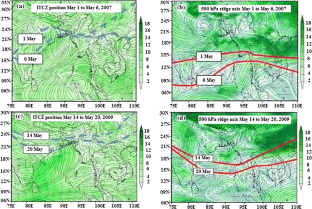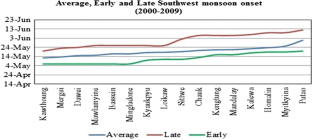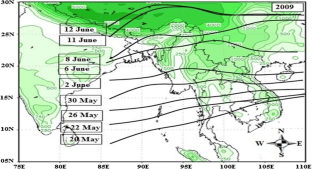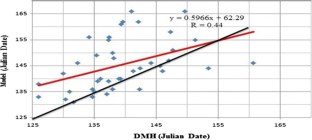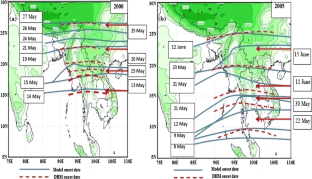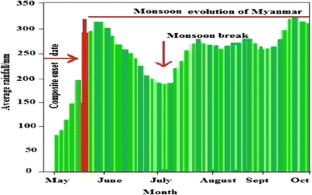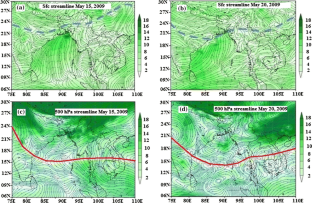 References
Abiodun BJ, Pal JS, Afiesimama EA, Gutowski WJ, Adedoyin A (2008) Simulation of West African monsoon using RegCM3 Part II: impacts of deforestation and desertification. Theor Appl Climatol 93(3–4):245–261

Afiesimama EA, Pal JS, Abiodun BJ, Gutowski WJ, Adedoyin A (2006) Simulation of west African monsoon 32 using the RegCM3. Part I: model validation and inter-annual variability. Theor Appl Climatol 86:23–37

Ananthakrishnan R, Soman MK (1988) The onset of the southwest monsoon over Kerala: 1901–1980. J Climatol 8:283–296

Anthes RA (1977) A cumulus parameterization scheme utilizing a one-dimensional cloud model. Mon Weather Rev 105:1423–1438

Bhaskar R, Srinivas DV, Ratna SB (2008) Regional scale prediction of the onset phase of the Indian southwest monsoon with a high-resolution atmospheric model. Atmos Sci Lett 9:237–244

Bunker AF (1965) Interaction of the summer monsoon air with the Arabian Sea (preliminary analysis). In: Proceedings of the symposium meteorological results, Bombay, India, International Indian Ocean Expedition, pp 3–16

Davis N, Bowden J, Semazzi FHM, Xie L (2009) Customization of RegCM3 Regional Climate Model for 22 Eastern Africa and a Tropical Indian Ocean Domain. J Clim 22(13):3595–3616

Deshpande VR, Kripalani RH, Paul DK (1986) Some facts about monsoon onset dates over Kerala and Bombay. Mausam 37:467–470

Ding YH, Li CY, Liu YJ (2004) Overview of the South China Sea monsoon experiment. Adv Atmos Sci 21:343–360

DMH (2011) Department of Meteorology and Hydrology, Myanmar. Available online at http://www.dmh.gov.mm/index.php? Accessed on 4 Oct 2011

Emanuel KA (1991) A scheme for representing cumulus convection in large-scale 12 models. J Atmos Sci 48:2313–2335

Emanuel KA, Zivkovic-Rothman M (1999) Development and evaluation of a convection scheme for use in climate 2 models. J Atmos Sci 56:1766–1782

Fein JS, Stephens PL (1987) Monsoons. Wiley-Interscience, New York, p 656

Findlater J (1969) A major low level air current near the Indian Ocean during the northern summer. Quart J Roy Meteor Soc 95:362–380

Fosu BO, Wang SYS (2014) Bay of Bengal: coupling of pre monsoon tropical cyclones with the monsoon onset in Myanmar. Clim Dyn (in press) doi:10.1007/s00382-014-2289-z

Fritsch JM, Chappell CF (1980) Numerical prediction of convectively driven mesoscale pressure systems. Part I: convective parameterization. J Atmos Sci 37:1722–1733

Gao X, Zhao Z, Ding Y, Huang R, Giorgi F (2001) Climate change due to greenhouse effects in China as simulated by a regional climate model. Adv Atmos Sci 18(6):1223–1229

Ghanekar SP, Puranik PV, Bhide UV (2003) Forecasting the onset of monsoon over Kerala using the peak in pre monsoon convective activity over south peninsular India. Mausam 54(3):645–652

Giorgi F, Mearns L, Shields C, McDaniel L (1998) Regional nested model simulations of present day and 2× CO2 climate over the central Great Plains of the United States. Clim Change 40:457–493

Grell GA (1993) Prognostic evaluation of assumptions used by cumulus parameterization. Mon Weather Rev 121:764–787

Grell G, Dudhia JJ, Stauffer D (1994) A description of the fifth generation Penn State/NCAR Mesoscale Model (MM5), National Center for Atmospheric Research Tech Note NCAR/TN-398+STR, National Center for Atmospheric Research, Boulder, Colo., USA

Htway O, Matsumoto J (2011) Climatological onset dates of summer monsoon over Myanmar. Int J Climatol 31:382–393. doi:10.1002/joc.2076

IMD (2012) Monsoon monograph. V. I. India Meteorological Department, India

Joseph PV, Pillai PV (1988) 40-day mode of equatorial trough for long range forecasting of Indian summer monsoon onset. Curr Sci 57:951–954

Joseph PV, Eishcheid JK, Pyle RJ (1994) Interannual variability of the onset of the Indian summer monsoon and its association with atmospheric features, El Nino, and sea surface temperature anomalies. J Clim 7:81–105

Joshi PC, Simon B, Desai PS (1990) Atmospheric thermal changes over the Indian region prior to the monsoon onset as observed by satellite sounding data. Int J Climatol 10:49–56

Kajikawa Y, Yasunari T, Yoshida S, Fujinami H (2012) Advanced Asian summer monsoon onset in recent decades. Geophys Res Lett 39:L03803. doi:10.1029/2011GL050540

Kiehl J, Hack J, Bonan G, Boville B, Breigleb B, Williamson D, Rasch PJ (1996) Description of the NCAR community climate model (CCM3), NCAR Technical Note TN-420+STR, National Center for Atmospheric Research, Boulder, Colorado, USA. Available online at http://www.cgd.ucar.edu/cms/ccm3/TN-420/

Koteswaram P (1950) Upper level "lows" in low latitudes in the Indian area during southwest monsoon season and "breaks" in the monsoon. Indian J Meteorol Geophys 1:162–164

Krishnamurti TN (1985) Summer monsoon experiment—a review. Mon Weather Rev 113:1590–1626

Kumar S, Hazra A, Goswami BN (2013) Role of interaction between dynamics, thermodynamics and cloud microphysics on summer monsoon precipitating clouds over the Myanmar Coast and the Western Ghats. Clim Dyn. doi:10.1007/s00382-013-1909-3

Kung EC, Sharif TA (1982) Long-range forecasting of the Indian summer monsoon onset and rainfall with upper air conditions. J Meteorol Soc Japan 60:672–681

Lynch AH, Chapman WL, Walsh JE, Weller G (1995) Development of a regional climate model of the Western Arctic. J Clim 8(6):1555–1570

Mao J, Chan JCL, Wu G (2004) Relationship between the onset of the South China Sea summer monsoon and the structure of the Asian subtropical anticyclone. J Meteorol Soc Japan 82:845–859

Marcella MP, Eltahir EAB (2008) Modeling the hydroclimatology of Kuwait: the role of subcloud evaporation in semiarid climates. J Clim 21:2976–2989. doi:10.1175/2007JCLI2123.1

Moron V, Lucero A, Hilario F, Lyon B, Robertson AW, DeWitt D (2009) Spatio-temporal variability and predictability of summer monsoon onset over the Philippines. Clim Dyn 33:1159–1177. doi:10.1007/s00382-008-0520-5

Murakami T, Matsumoto J (1994) Summer monsoon over the Asian continent and western North Pacific. J Meteorol Soc Japan 72(5):719–745

Pal JS, Small EE, Eltahir EAB (2000) Simulation of regional-scale water and energy budgets: representation of subgrid cloud and precipitation processes within RegCM. J Geophys Res 105(24):29579–29594

Pal JS, Giorgi F, Bi XN, Elguindi et al (2007) Regional climate modeling for the developing world: the ICTP RegCM3 and RegCNET. Bull Am Meteorol Soc 88(9):1395–1409

Potty KVJ, Mohanty UC, Raman S (2001) Simulation of boundary layer structure over the Indian summer monsoon trough during the passage of a depression. J Appl Meteorol 40:1241–1254

PROMISE (2003) A project of European Union. http://ugamp.nerc.ac.uk/promise/brochure/brochure.pdf. Accessed on 4 Oct 2014

Rajeevan M, Dube DP (1995) Long range prediction of monsoon onset over Kerala. Mausam 46:287–290

Rao YP (1976) Southwest monsoon. Meteorological monograph synoptic meteorology no.1/1976, Pune, India, p 367

Reddy SJ (1977) Forecasting the onset of southwest monsoon over Kerala. Indian J Meteorol Geophys 28:113–114

Roy Bhowmik SK, Durai VR (2008) Multi-model ensemble forecasting of rainfall over Indian monsoon region. Atmosfera 21(3):225–239

Saha S, Saha KR (1980) A hypothesis on onset, advance and withdrawal of Indian summer monsoon. Pure appl Geophys 118:1066–1075

Sangwaldach P, Wongwises P, Exell RHB, Sukawat D (2006) The surface features of southwest monsoon onset over Thailand, The 2nd Joint International Conference on "Sustainable Energy and Environment (SEE 2006), D-015(0), Bangkok, Thailand, pp 1–6

Seth A, Giorgi FF (1998) The effects of domain choice on summer precipitation simulation and sensitivity in a regional climate model. J Clim 11(10):2698–2712

Song R, Gao X, Zhang H, Moise A (2008) 20 km resolution regional climate model experiments over Australia: experimental design and simulations of current climate. Aust Meteorol Mag 57(3):175–193

Subbaramayya I, Bhanukumar OSRU (1978) The onset and northern limit of southwest monsoon. Meteorol Mag 107:37–47

Wang B and LinHo (2002) Rainy season of the Asian-Pacific summer monsoon. J Clim 15:386–398

Wang B, Ding Q, Joseph PV (2009) Objective definition of the Indian summer monsoon onset. J. climate 22:3303–3316. doi:10.1175/2008JCLI2675.1

Wang SY, Buckley BM, Yoon JH, Fosu B (2013) Intensification of premonsoon tropical cyclones in the Bay of Bengal and its impacts on Myanmar. J Geophys Res Atmos 118:4373–4384. doi:10.1002/jgrd.50396

WMO (2004) Guide on quality control procedures of data from automatic weather stations (Cimo/opag-surface/et & mt-1/doc. 6.1(2) 20. Ix. 2004), Geneva, Switzerland

Wu R, Wang B (2000) Interannual variability of summer monsoon onset over the Western North Pacific and the underlying processes. J Clim 13:2483–2501

Wu R, Wang B (2001) Multi-stage onset of the summer monsoon over the western North Pacific. Clim Dyn 17:277–289

Wu GX, Zhang YS (1998) Tibetan plateau forcing and the timing of the monsoon onset over South Asia and the South China Sea. Mon Weather Rev 126:913–927

Xie P, Arkin PA (1997) Global precipitation: a 17-year monthly analysis based on gauge observations, satellite estimates, and numerical model outputs. Bull Am Meteorol Soc 78(11):2539–2558. doi:10.1175/1520-0477

Xie P, Arkin PA (1998) Global monthly precipitations estimates from satellite-observed outgoing longwave radiation. J Clim 11:137–164

Yin MT (1949) A synoptic-aerologic study of the onset of the summer monsoon over India and Burma. J Meteorol 6:393–400. doi:10.1175/1520-0469

Zeng X, Zhao M, Dickinson R (1998) Inter comparison of bulk aerodynamic algorithms for the computation of sea surface fluxes using TOGA COARE and TAO data. J Clim 11:2628–2644

Zhang Y, Li T, Wang B, Wu G (2002) Onset of the summer monsoon over the Indochina Peninsula: climatology and interannual variations. J Clim 15:3206–3221

Zhang Z, Chan CL, Ding Y (2004) Characteristics, evolution and mechanisms of the summer monsoon onset over southeast Asia. Int J Climatol 24:1461–1482

Zou L, Zhou T (2013) Improve the simulation of western North Pacific summer monsoon in RegCM3 by suppressing convection. Meteorol Atmos Phys 121(1–2):29–38
Acknowledgments
First author acknowledges the WMO for providing scholarship to carry out this research work. Thanks are due to Prof. Ms. Raquel V. Francisco, College of Science, University of the Philippines, Philippines, for the professional guidance and valuable suggestions that enriched the study. The author also acknowledges Dr. Hrin Nei Thiam, Direction General of Department of Meteorology and Hydrology, Myanmar, for providing data facilities for this work. Special thanks go to Mr. K.D. Sujeewa and Mr. M.D.F. Ramos for being a source of motivation of the study. Thanks are due to the anonymous reviewers for their constructive comments that improved the quality of the paper.
Additional information
Responsible Editor: J. T. Fasullo.
About this article
Cite this article
Mie Sein, Z.M., Islam, A.R.M.T., Maw, K.W. et al. Characterization of southwest monsoon onset over Myanmar. Meteorol Atmos Phys 127, 587–603 (2015). https://doi.org/10.1007/s00703-015-0386-0
Received:

Accepted:

Published:

Issue Date:
Keywords
Southwest Monsoon

Outgoing Longwave Radiation

Onset Date

Monsoon Onset

Indian Summer Monsoon Onset