Abstract
The problem of the contribution of cosmic rays to climate change is a continuing one and one of importance. In principle, at least, the recent results from the CLOUD project at CERN provide information about the role of ionizing particles in 'sensitizing' atmospheric aerosols which might, later, give rise to cloud droplets. Our analysis shows that, although important in cloud physics the results do not lead to the conclusion that cosmic rays affect atmospheric clouds significantly, at least if H2SO4 is the dominant source of aerosols in the atmosphere. An analysis of the very recent studies of stratospheric aerosol changes following a giant solar energetic particles event shows a similar negligible effect. Recent measurements of the cosmic ray intensity show that a former decrease with time has been reversed. Thus, even if cosmic rays enhanced cloud production, there would be a small global cooling, not warming.
Access options
Buy single article
Instant access to the full article PDF.
USD 39.95
Price excludes VAT (USA)
Tax calculation will be finalised during checkout.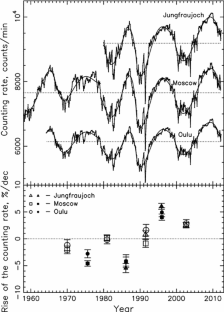 References
Arnold F (2008) Atmospheric ions and aerosol formation. Space Sci Rev 137:225–239

Bazilevskaya GA, Usoskin IG, Flückiger EO et al (2008) Cosmic ray induced ion production in the atmosphere. Space Sci Rev 137:149–173

Carslaw KS, Harrison RG, Kirkby J (2002) Cosmic rays, clouds and climate. Sci Agric 298:1732–1737

Elterman L (1968) Air Force Cambridge Labs. AFCRL 68-0153

Erlykin AD, Gyalai G, Kudela K et al (2009a) Some aspects of ionization and cloud cover, cosmic ray correlation problem. J Atmos Solar Terr Phys 71:823–829

Erlykin AD, Gyalai G, Kudela K et al (2009b) On the correlation between cosmic ray intensity and cloud cover. J Atmos Solar Terr Phys 71:1794–1806

Erlykin AD, Sloan T, Wolfendale AW (2009c) The search for cosmic ray effects on clouds. J Atmos Solar Terr Phys 71:955–958

Harrison RG, Ambaum MHP (2008) Enhancement of cloud formation by droplet charging. Proc R Soc A 464:2561–2573

Hervig M, Deshler T (2002) Evaluation of aerosol measurements from SAGE II, HALOE and balloonborne optical particle counters. J Geophys Res 107:4031–4042

Jackman CH, Fleming EL, Vitt FM, Considine DB (1999) The influence of solar proton events on the ozone layer. Adv Space Res 24:625–630

Jungfraujoch (2012) http://www.nmdb.eu/nest/search.php

Karam PA (2003) Inconstant Sun: how solar evolution has affected cosmic and ultraviolet radiation exposure over the history of life on Earth. Health Phys 84:322–333

Kirkby J, Curtius J, Almeida J et al (2011) Role of sulfuric acid, ammonia and galactic cosmic rays in atmospheric aerosol nucleation. Nat Biotechnol 476:429–433

Liu Y, Zhao X, Li W, Zhou X (2012) Background stratospheric aerosol variations deduced from satellite observations. J Appl Meteorol Climatol 51:799–812

Lockwood M (2012) Solar influence on global and regional climates. Surv Geophys 33:503–534

Lu Q-B (2009) Correlation between cosmic rays and ozone depletion. Phys Rev Lett 102:118501

McCormick MP, Steele HM, Hamill P et al (1982) Polar stratospheric cloud sightings by SAM II. J Atmos Sci 39:1387–1397

Mironova IA (2011), COST Action ES1005.

Mironova IA, Usoskin IG, Kovaltsov GA, Petelina SV (2012) Possible effect of extreme solar energetic particle event of 20 January 2005 on polar stratospheric aerosols: direct observational evidence. Atmos Chem Phys 12:769–778

Moscow (2012) http://helios.izmiran.rssi.ru/cosray/main.htm

NOAA National Weather Service (2012) Climate Prediction Centre—aerosol optical thickness. http://www.nws.noaa.gov

Obridko VN, Shelting BD (2009) Anomalies in evolution of global and large-scale solar magnetic fields as the precursor of several upcoming low solar cycles. Astron Lett 35:247–252

Oulu (2012): http://cr0.izmiran.rssi.ru/oulu/main.htm

Palle Bago E, Butler CJ (2000) The influence of cosmic rays on terrestrial clouds and global warming. Astron Geophys 41:4.18–4.22

Pierce JR, Adams PJ (2009) Uncertainty in global CCN concentrations from uncertain aerosol nucleation and primary emission rates. Atmos Chem Phys 9:1339–1356

Seppälä A, Randall CE, Clilverd MA et al (2009) Geomagnetic activity and polar surface air temperature variability. J Geophys Res 114:A10312:1–10

Sloan T, Wolfendale AW (2008) Testing the proposed causal link between cosmic rays and cloud cover. Env Res Lett 3:024001

Sloan T, Wolfendale AW (2011) The contribution of cosmic rays to global warming. J Atmos Solar Terr Phys 73:2352–2355

Svensmark H, Friis-Christensen E (1997) Variation of cosmic ray flux and global cloud coverage—a missing link in solar–climate relationship. J Atmos Sol Terr Phys 59:1225–1232

Svensmark H (2007) Cosmoclimatology: a new theory emerges. News Rev Astron Geophys 48:1.18–1.24

Voiculescu M, Usoskin IG, Mursula K (2006) Different response of clouds to solar input. Geophys Res Lett 33:L21802
Acknowledgments
We acknowledge the NMDB database http://www.nmdb.eu, founded under the European Union FP7 programme (contract no. 213007) for providing data and also the staff of IGY JUNG monitor. The authors are grateful to Professors Giles Harrison, Jasper Kirkby, Irina Mironova, Ilya Usoskin and Dr. Rolf Buetikofer for helpful correspondence. We are grateful to the John C. Taylor Charitable Foundation for financial support.
Additional information
Responsible editor: L. Gimeno.
About this article
Cite this article
Erlykin, A.D., Sloan, T. & Wolfendale, A.W. A review of the relevance of the 'CLOUD' results and other recent observations to the possible effect of cosmic rays on the terrestrial climate. Meteorol Atmos Phys 121, 137–142 (2013). https://doi.org/10.1007/s00703-013-0260-x
Received:

Accepted:

Published:

Issue Date:

DOI: https://doi.org/10.1007/s00703-013-0260-x
Keywords