Abstract
White Matter Lesions (WML) are a radiological finding common in aged subjects. We explored the impact of WML on underlying neurodegenerative processes. We focused on the impact of WML on two neurodegenerative diseases with different pathology. In this cross-sectional study of 137 subjects (78 female, 59 men, mean age 67.2; 43–87 years), we compared WML in healthy controls (HC; n = 55), patients with Alzheimer's disease and amnestic Mild Cognitive Impairment (aMCI), and Parkinson's disease patients with normal cognition and with MCI. Subjects with AD and aMCI were treated as one group (n = 40), subjects with PD and PDMCI were another group (n = 42). MRI T2_FLAIR sequences were analyzed. WML were divided into periventricular (pWML) or subcortical (sWML) depending on their distance from the ventricles. Subjects from the AD + aMCI group, had a significantly greater volume of WML than both HC and the PD + PDMCI group. The volume of WML was greater in the PD + PDMCI than in HC but the difference was not significant. In AD + aMCI subjects, sWML and not pWML were related to a decrease in global cognitive functioning despite greater volume of pWML. In PD + PDMCI, pWML correlate with decline in executive functions and working memory. In HC, pWML correlated with the multidomain decrease corresponding with the aging. This points to a difference between normal aging and pathological aging due to AD and PD brain pathology. The WML location together with underlying disease related neurodegeneration may play a role in determining the effect of WML on cognition. Our results suggest that the impact of WML is not uniform in all patients; rather, their volume, location and cognitive effect may be disease-specific.
Access options
Buy single article
Instant access to the full article PDF.
USD 39.95
Price excludes VAT (USA)
Tax calculation will be finalised during checkout.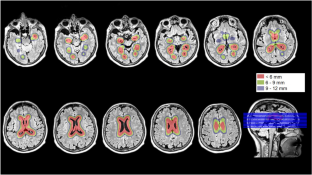 Data availability
The data sets generated during and/or analyzed during the current study are available from the corresponding author on reasonable request.
Acknowledgements
This research has been financially supported by Grants: Ministerstvo Zdravotnictví České Republiky NU20-04-00294, Czech science foundation GAČR 21-25953S and Czech health research council AZV NU21-04-00445. We also acknowledge the core facility MAFIL of CEITEC supported by the MEYS CR (LM2018129 Czech-BioImaging).
Ethics declarations
Conflict of interest
None.
Additional information
Publisher's Note
Springer Nature remains neutral with regard to jurisdictional claims in published maps and institutional affiliations.
Supplementary Information
Below is the link to the electronic supplementary material.
About this article
Cite this article
Grey, M.T., Mitterová, K., Gajdoš, M. et al. Differential spatial distribution of white matter lesions in Parkinson's and Alzheimer's diseases and cognitive sequelae. J Neural Transm 129, 1023–1030 (2022). https://doi.org/10.1007/s00702-022-02519-z
Received:

Accepted:

Published:

Issue Date:

DOI: https://doi.org/10.1007/s00702-022-02519-z
Keywords