Abstract
Persistent postural-perceptual dizziness (PPPD) is a recently defined syndrome with chronic dizziness interrupting daily life. Although the high levels of anxiety and functional changes in postural control strategy and multi-sensory information processing and integration may be underlying the pathophysiology, its neural mechanisms are poorly understood. The aim of this study was to examine the regional cerebral blood flow (rCBF) in patients with PPPD using single photon emission computed tomography (SPECT). A total of 25 patients with PPPD and 25 healthy controls participated in the study. All participants underwent brain SPECT and the patients completed the Dizziness Handicap Inventory. SPECT images were compared between the groups, and the correlation of rCBF and disease severity/duration was assessed in patients. Compared with controls, PPPD patients showed a significantly decreased rCBF in the insula and frontal lobe, mainly in the left posterior insula, bilateral superior frontal gyrus, right inferior frontal gyrus, right precentral gyrus, and left medial orbital gyrus. Additionally, PPPD patients showed a significant rCBF increase in the bilateral cerebellum compared with controls. The results of our study suggest that the altered rCBF in the insular, frontal, and cerebellar cortices might be reflecting the process of maladaptation and the compensatory responses for the changes in PPPD.
This is a preview of subscription content, log in to check access.
Access options
Buy single article
Instant access to the full article PDF.
US$ 39.95
Price includes VAT for USA
Subscribe to journal
Immediate online access to all issues from 2019. Subscription will auto renew annually.
US$ 199
This is the net price. Taxes to be calculated in checkout.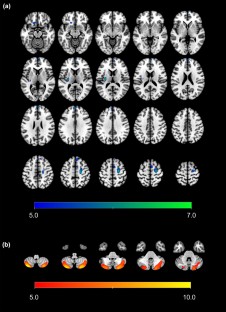 References
Bense S, Bartenstein P, Lochmann M, Schlindwein P, Brandt T, Dieterich M (2004) Metabolic changes in vestibular and visual cortices in acute vestibular neuritis. Ann Neurol 56(5):624–630

Bittar RS, Lins EM (2015) Clinical characteristics of patients with persistent postural-perceptual dizziness. Braz J Otorhinolaryngol 81(3):276–282

Brandt T (1996) Phobic postural vertigo. Neurology 46(6):1515–1519

Brandt T, Dieterich M (1999) The vestibular cortex: its locations, functions, and disorders. Ann N Y Acad Sci 871(1):293–312

Bronstein AM (1995) Visual vertigo syndrome: clinical and posturography findings. J Neurol Neurosurg Psychiatry 59(5):472–476

Cagnie B, Vinck E, Cambier D (2005) The role of SPECT imaging in the diagnosis of vertebrobasilar insufficiency. Nucl Med Commun 26(4):299–301

Chorazy M, Drozdowski W, Budlewski T, Rogowski F (2005) Brain perfusion disturbances in patients with vertigo—a study with SPECT. Neurol Neurochir Pol 39(6):439–444

Dieterich M, Staab JP (2017) Functional dizziness: from phobic postural vertigo and chronic subjective dizziness to persistent postural-perceptual dizziness. Curr Opin Neurol 30(1):107–113

Dieterich M, Bense S, Lutz S, Drzezga A, Stephan T, Bartenstein P, Brandt T (2003) Dominance for vestibular cortical function in the non-dominant hemisphere. Cereb Cortex 13(9):994–1007

du Boisgueheneuc F, Levy R, Volle E, Seassau M, Duffau H, Kinkingnehun S, Samson Y, Zhang S, Dubois B (2006) Functions of the left superior frontal gyrus in humans: a lesion study. Brain 129(12):3315–3328

Friston KJ, Holmes A, Poline J-B, Price CJ, Frith CD (1996) Detecting activations in PET and fMRI: levels of inference and power. Neuroimage 4(3):223–235

Hampshire A, Chamberlain SR, Monti MM, Duncan J, Owen AM (2010) The role of the right inferior frontal gyrus: inhibition and attentional control. Neuroimage 50(3):1313–1319

Helmchen C, Klinkenstein J, Machner B, Rambold H, Mohr C, Sander T (2009) Structural changes in the human brain following vestibular neuritis indicate central vestibular compensation. Ann N Y Acad Sci 1164(1):104–115

Helmchen C, Ye Z, Sprenger A, Munte TF (2014) Changes in resting-state fMRI in vestibular neuritis. Brain Struct Funct 219(6):1889–1900

Holle D, Schulte-Steinberg B, Wurthmann S, Naegel S, Ayzenberg I, Diener H-C, Katsarava Z, Obermann M (2015) Persistent postural-perceptual dizziness: a matter of higher, central dysfunction? PLoS One 10(11):e0142468

Hong SK, Kim JH, Kim HJ, Lee HJ (2014) Changes in the gray matter volume during compensation after vestibular neuritis: a longitudinal VBM study. Restor Neurol Neurosci 32(5):663–673

Iglói K, Doeller CF, Paradis A-L, Benchenane K, Berthoz A, Burgess N, Rondi-Reig L (2015) Interaction between hippocampus and cerebellum crus I in sequence-based but not place-based navigation. Cereb Cortex 25(11):4146–4154

Indovina I, Riccelli R, Chiarella G, Petrolo C, Augimeri A, Giofrè L, Lacquaniti F, Staab JP, Passamonti L (2015) Role of the insula and vestibular system in patients with chronic subjective dizziness: an fMRI study using sound-evoked vestibular stimulation. Front Behav Neurosci 9:334

Ioffe M, Chernikova L, Ustinova K (2007) Role of cerebellum in learning postural tasks. Cerebellum 6(1):87–94

Jacob RG, Lilienfeld SO, Furman JMR, Durrant JD, Turner SM (1989) Panic disorder with vestibular dysfunction: further clinical observations and description of space and motion phobic stimuli. J Anxiety Disord 3(2):117–130

Jacob RG, Woody SR, Clark DB, Lilienfeld SO, Hirsch BE, Kucera GD, Furman JM, Durrant JD (1993) Discomfort with space and motion: a possible marker of vestibular dysfunction assessed by the situational characteristics questionnaire. J Psychopathol Behav Assess 15(4):299–324

Joglekar SS, Bell JR, Caroline M, Chase PJ, Domesek J, Patel PS, Sataloff RT (2014) Evaluating the role of single-photon emission computed tomography in the assessment of neurotologic complaints. Ear Nose Throat J 93(4–5):168–173

Kellermann T, Regenbogen C, De Vos M, Mößnang C, Finkelmeyer A, Habel U (2012) Effective connectivity of the human cerebellum during visual attention. J Neurosci 32(33):11453–11460

Krishna BA, Kirtane MV, Sangeeta T, Gopinath G (2000) Pre and post betahistine therapy 99 m Tc—HMPAO brain spect studies in patients with vertigo. Neurol India 48(3):255–259

Lee J-O, Lee E-S, Kim J-S, Lee Y-B, Jeong Y, Choi BS, Kim J-H, Staab JP (2018) Altered brain function in persistent postural perceptual dizziness: a study on resting state functional connectivity. Hum Brain Mapp 39(8):3340–3353

Li W, Feng Y, Lu W, Xie X, Xiong Z, Jing Z, Cai X, Huang L (2016) Evaluating the morphological changes of intracranial arteries and whole-brain perfusion in undetermined isolated vertigo. J Neurol Sci 370:70–77

Lopez C, Blanke O, Mast F (2012) The human vestibular cortex revealed by coordinate-based activation likelihood estimation meta-analysis. Neuroscience 212:159–179

McArthur C, Jampana R, Patterson J, Hadley D (2011) Applications of cerebral SPECT. Clin Radiol 66(7):651–661

Nigro S, Indovina I, Riccelli R, Chiarella G, Petrolo C, Lacquaniti F, Staab JP, Passamonti L (2018) Reduced cortical folding in multi-modal vestibular regions in persistent postural perceptual dizziness. Brain Imaging Behav. https://doi.org/10.1007/s11682-018-9900-6

Öngür D, Price JL (2000) The organization of networks within the orbital and medial prefrontal cortex of rats, monkeys and humans. Cereb Cortex 10(3):206–219

Popkirov S, Staab JP, Stone J (2018) Persistent postural-perceptual dizziness (PPPD): a common, characteristic and treatable cause of chronic dizziness. Pract Neurol 18(1):5–13

Riccelli R, Passamonti L, Toschi N, Nigro S, Chiarella G, Petrolo C, Lacquaniti F, Staab JP, Indovina I (2017) Altered insular and occipital responses to simulated vertical self-motion in patients with persistent postural-perceptual dizziness. Front Neurol 8:529

Sataloff RT, Mandel S, Muscal E, Park CH, Rosen DC, Kim SM, Spiegel JR (1996) Single-photon-emission computed tomography (SPECT) in neurotologic assessment: a preliminary report. Am J Otol 17(6):909–916

Staab JP, Ruckenstein MJ (2007) Expanding the differential diagnosis of chronic dizziness. Arch Otolaryngol Head Neck Surg 133(2):170–176

Staab JP, Ruckenstein MJ, Amsterdam JD (2004) A prospective trial of sertraline for chronic subjective dizziness. Laryngoscope 114(9):1637–1641

Staab JP, Rohe DE, Eggers SD, Shepard NT (2014) Anxious, introverted personality traits in patients with chronic subjective dizziness. J Psychosom Res 76(1):80–83

Staab JP, Eckhardt-Henn A, Horii A, Jacob R, Strupp M, Brandt T, Bronstein A (2017) Diagnostic criteria for persistent postural-perceptual dizziness (PPPD): Consensus document of the Committee for the Classification of Vestibular Disorders of the Bárány Society. J Vestib Res 27(4):191–208

Van Ombergen A, Heine L, Jillings S, Roberts RE, Jeurissen B, Van Rompaey V, Mucci V, Vanhecke S, Sijbers J, Vanhevel F (2017) Altered functional brain connectivity in patients with visually induced dizziness. Neuroimage Clin 14:538–545

Warwick JM (2004) Imaging of brain function using SPECT. Metab Brain Dis 19(1–2):113–123

Wuehr M, Pradhan C, Novozhilov S, Krafczyk S, Brandt T, Jahn K, Schniepp R (2013) Inadequate interaction between open-and closed-loop postural control in phobic postural vertigo. J Neurol 260(5):1314–1323

Wuehr M, Brandt T, Schniepp R (2017) Distracting attention in phobic postural vertigo normalizes leg muscle activity and balance. Neurology 88(3):284–288

Wurthmann S, Naegel S, Steinberg BS, Theysohn N, Diener H-C, Kleinschnitz C, Obermann M, Holle D (2017) Cerebral gray matter changes in persistent postural perceptual dizziness. J Psychosom Res 103:95–101

Yan Z, Cui L, Yu T, Liang H, Wang Y, Chen C (2017) Analysis of the characteristics of persistent postural-perceptual dizziness: a clinical-based study in China. Int J Audiol 56(1):33–37
Funding
This research did not receive any specific grant from funding agencies in the public, commercial, or not-for-profit sectors.
Ethics declarations
Conflict of interest
Nothing to report.
About this article
Cite this article
Na, S., Im, J.J., Jeong, H. et al. Cerebral perfusion abnormalities in patients with persistent postural-perceptual dizziness (PPPD): a SPECT study. J Neural Transm 126, 123–129 (2019). https://doi.org/10.1007/s00702-018-1948-3
Received:

Accepted:

Published:

Issue Date:
Keywords
Persistent postural-perceptual dizziness

Single photon emission computed tomography

Brain perfusion

Regional cerebral blood flow