Abstract
The mechanism of botulinum toxin type A (BTX-A) antinociceptive action in the central nervous system is little known. The potential interaction between BTX-A and GABAergic system has not been investigated previously. In the present study, we demonstrate prevention of BTX-A antinociceptive effect on formalin-induced inflammatory pain and partial sciatic nerve transection-induced mechanical allodynia by GABA-A antagonist bicuculline, thus suggesting association of the GABA-A receptors and antinociceptive action of BTX-A.
Access options
Buy single article
Instant access to the full article PDF.
US$ 39.95
Tax calculation will be finalised during checkout.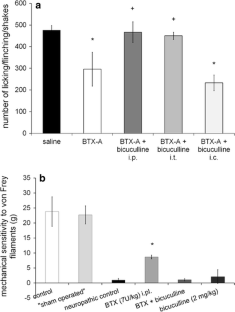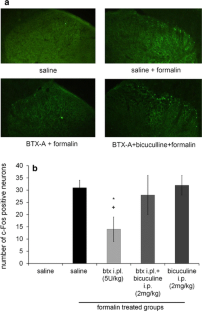 References
Antal M, Petkó M, Polgár E, Heizmann CW, Storm-Mathisen J (1996) Direct evidence of an extensive GABAergic innervation of the spinal dorsal horn by fibres descending from the rostral ventromedial medulla. Neuroscience 3(2):509–518

Antonucci F, Rossi C, Gianfranceschi L, Rossetto O, Caleo M (2008) Long-distance retrograde effects of botulinum neurotoxin A. J Neurosci 28:3689–3696

Aoki KR (2008) Future aspects of botulinum neurotoxins. J Neural Transm 115:567–573

Aoki KR, Francis J (2011) Updates on the antinociceptive mechanism hypothesis of botulinum toxin A. Parkinsonism Relat Disord Suppl 1:S28–S33

Bach-Rojecky L, Lacković Z (2009) Central origin of the antinociceptive action of the botulinum toxin type A. Pharmacol Biochem Behav 94:234–238

Bach-Rojecky L, Šalković-Petrišić M, Lacković Z (2010) Botulinum toxin type A reduces pain supersensitivity in experimental diabetic neuropathy: bilateral effects after unilateral injection. Eur J Pharmacol 633:10–14

Bardoni R, Takatawa T, Tong CK, Choudhury P, Scherre G, MacDermott AB (2013) Pre- and postsynaptic inhibitory control in the spinal cord dorsal horn. Ann NY Acad Sci 1279:90–96

Drinovac V, Bach-Rojecky L, Matak I, Lacković Z (2013) Involvement of μ-opioid receptors in antinociceptive action of botulinum toxin type A. Neuropharmacology 70:331–337

Favre-Guilmard C, Auguet M, Chabrier PE (2009) Different antinociceptive effects of botulinum toxin type A in inflammatory and peripheral polyneuropathic rat models. Eur J Pharmacol 617:48–53

Filipovic B, Matak I, Bach-Rojecky L, Lacković Z (2012) Central action of peripherally applied botulinum toxin type A on pain and dural extravasation in rat model of trigeminal neuropathy. PLoS One 7(1):e29803. doi:10.1371/journal.pone.0029803

Jabbari B, Machado D (2011) Treatment of refractory pain with botulinum toxins––an evidence-based review. Pain Med 12(11):1594–1606

Lindenlaub T, Sommer C (2000) Partial sciatic nerve transection as a model of neuropathic pain: a qualitative and quantitative neuropathological study. Pain 89:97–106

Matak I, Bach-Rojecky L, Filipović B, Lacković Z (2011) Behavioral and immunohistochemical evidence for central antinociceptive activity of botulinum toxin A. Neuroscience 186:201–207

Matak I, Riederer P, Lacković Z (2012) Botulinum toxin's axonal transport from periphery to the spinal cord. Neurochem Int 61:236–239

Matteoli M, Pozzi D, Grumelli C, Condliffe SB, Frassoni C, Harkany T, Verderio C (2009) The synaptic split of SNAP-25: different roles in glutamatergic and GABAergic neurons? Neuroscience 158(1):223–230

Melin C, Jacquot F, Dallel R, Artola A (2013) Segmental disinhibition supressess C-fiber inputs to the rat superficial medullary dorsal horn via activation of GABA-B receptors. Eur J Neurosci 37:417–428

Micov A, Tomić M, Popović B, Stepanović-Petrović R (2010) The antihyperalgesic effect of levetiracetam in an inflammatory model of pain in rats: mechanism of action. Br J Pharmacol 161(2):384–392

Moore KA, Kohno T, Karchewski LA, Scholz J, Baba H, Woolf CJ (2002) Partial peripheral nerve injury promotes a selective loss of GABAergic inhibition in the superficial dorsal horn of the spinal cord. J Neurosci 22(15):6724–6731

Pavone F, Luvisetto S (2010) Botulinum neurotoxin for pain management: insights from animal models. Toxins 2(12):2890–2913

Restani L, Antonucci F, Gianfranceschi L, Rossi C, Rossetto O, Caleo M (2011) Evidence for anterograde transport and transcytosis of botulinum neurotoxin A (BoNT/A). J Neurosci 31(44):15650–15659

Tjølsen A, Berge OG, Hunskaar S, Rosland JH, Hole K (1992) The formalin test: an evaluation of the method. Pain 51(1):5–17

Ueda H, Amano H, Shiomi H, Takagi H (1979) Comparison of the analgesic effects of various opioid peptides by a newly devised intracisternal injection technique in conscious mice. Eur J Pharmacol 56:265–268

Yamamoto T, Yaksh TL (1993) Effects of intrathecal strychnine and bicuculline on nerve compression-induced thermal hyperalgesia and selective antagonism by MK-801. Pain 54(1):79–84
About this article
Cite this article
Drinovac, V., Bach-Rojecky, L. & Lacković, Z. Association of antinociceptive action of botulinum toxin type A with GABA-A receptor. J Neural Transm 121, 665–669 (2014). https://doi.org/10.1007/s00702-013-1150-6
Received:

Accepted:

Published:

Issue Date:
Keywords
Botulinum toxin type A

Neuropathic pain

Formalin-induced pain

GABA

c-Fos