Abstract
Diamine oxidase (DAO) was purified to homogeneity from human seminal plasma by consecutive chromatographic fractionation on heparin-sepharose, phenyl-sepharose, CIM-QA, and Superdex 200. Human seminal plasma DAO behaves electrophoretically similar to DAO proteins from other human tissues and has very similar enzymatic properties with histamine and aliphatic diamines being the preferred substrates as well as significant conversion of polyamines. The cellular source and functional importance of DAO in human semen remain to be determined.
This is a preview of subscription content,
to check access.
Access this article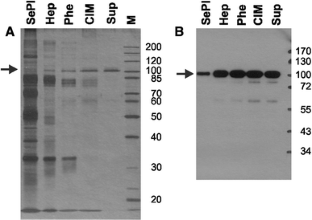 References
Bradford MM (1976) A rapid and sensitive method for quantitation of microgram quantities of protein utilizing the principle of protein dye binding. Anal Biochem 72:248–254

Crabbe MJC (1977) The development of a qualitative assay for male infertility from a study of enzymes in human semen. J Reprod Fertil 51:73–76

Forman HJ, Maiorino M, Ursini F (2010) Signaling functions of reactive oxygen species. Biochemistry 49:835–842

Hölttä E, Pulkkinen P, Elfving K, Jänne J (1975) Oxidation of polyamines by diamine oxidase from human seminal plasma. Biochem J 145:373–378

Kavanagh JP, Brightwell R, Bardsley WG, Schnieden H (1981) Levamisole and other diamine oxidase inhibitors as inhibitors of sperm motility. Arch Androl 7:51–62

Laemmli UK (1970) Cleavage of structural proteins during the assembly of the head of bacteriophage T4. Nature 227:680–685

Le Calvé M, Segalen J, Quernee D, Lavault MT, Lescoat D (1995) Diamine oxidase activity and biochemical markers in human seminal plasma. Hum Reprod 10:1141–1144

McGrath AP, Hilmer KM, Collyer CA, Shepard EM, Elmore BO, Brown DE, Dooley DM, Guss JM (2009) Structure and inhibition of human diamine oxidase. Biochemistry 48:9810–9822

O'Farrell PH (1975) High resolution two-dimensional electrophoresis of proteins. J Biol Chem 250:4007–4021

Pulkkinen P, Kanerva S, Elfving K, Jänne J (1975) Association of spermine and diamine oxidase activity with human spermatozoa. J Reprod Fertil 43:49–55

Schwelberger HG (2004) Diamine oxidase (DAO) enzyme and gene. In: Falus A (ed) Histamine: biology and medical aspects. SpringMed Publishing, Budapest, pp 43–52

Schwelberger HG (2007) The origin of mammalian plasma amine oxidases. J Neural Transm 114:757–762

Schwelberger HG (2010) Structural organization of mammalian copper-containing amine oxidase genes. Inflamm Res 59(Suppl 2):S223–S225

Schwelberger HG, Bodner E (1997) Purification and characterization of diamine oxidase from porcine kidney and intestine. Biochim Biophys Acta 1340:152–164

Schwelberger HG, Feurle J (2007) Luminometric determination of amine oxidase activity. Inflamm Res 56(Suppl 1):S53–S54

Schwelberger HG, Klocker J, Sattler J, Bodner E (1995) Determination of the activity of diamine oxidase in extremely small tissue samples. Inflamm Res 44(Suppl 1):S94–S95

Stone JR, Yang S (2006) Hydrogen peroxide: a signaling messenger. Antioxid Redox Signal 8:243–270

Towbin H, Staehelin T, Gordon J (1979) Electrophoretic transfer of proteins from polyacrylamide gels to nitrocellulose sheets: procedure and some applications. Proc Natl Acad Sci USA 76:4350–4354

Uchijima Y, Yoshida K, Kobayashi N, Saitoh H (1989) Studies on diamine oxidase (DAO) activity in seminal plasma. Hinyokika Kiyo 35:829–833

Wilflingseder D, Sørensen BK, Houen G, Schwelberger HG (2002) Complex formation of human placental diamine oxidase. Inflamm Res 51(Suppl 1):S89–S90

Zeller A (1941) Über das Vorkommen der Diamin-oxydase im menschlichen Sperma. Helv Chim Acta 24:117–120
Acknowledgments
This work was supported by grants from the Austrian Science Fund and by COST Action BM0806.
Conflict of interest
  The authors declare that they have no conflict of interest.
About this article
Cite this article
Schwelberger, H.G., Feurle, J. & Ahrens, F. Characterization of diamine oxidase from human seminal plasma. J Neural Transm 120, 983–986 (2013). https://doi.org/10.1007/s00702-013-0983-3
Received:

Accepted:

Published:

Issue Date:

DOI: https://doi.org/10.1007/s00702-013-0983-3
Keywords