Abstract
Cortical excitability can be modulated using repetitive transcranial magnetic stimulation (rTMS). Previously, we showed that rTMS combined with cognitive training (rTMS-COG) has positive results in Alzheimer's disease (AD). The goal of this randomized double-blind, controlled study was to examine the safety and efficacy of rTMS-COG in AD. Fifteen AD patients received 1-h daily rTMS-COG or sham treatment (seven treated, eight placebo), five sessions/week for 6 weeks, followed by biweekly sessions for 3 months. The primary outcome was improvement of the cognitive score. The secondary outcome included improvement in the Clinical Global Impression of Change (CGIC) and Neuropsychiatric Inventory (NPI). There was an improvement in the average ADAS-cog score of 3.76 points after 6 weeks in the treatment group compared to 0.47 in the placebo group and 3.52 points after 4.5 months of treatment, compared to worsening of 0.38 in the placebo (P = 0.04 and P = 0.05, respectively). There was also an improvement in the average CGIC score of 3.57 (after 6 weeks) and 3.67 points (after 4.5 months), compared to 4.25 and 4.29 in the placebo group (mild worsening) (P = 0.05 and P = 0.05, respectively). NPI improved non-significantly. In summary, the NeuroAD system offers a novel, safe and effective therapy for improving cognitive function in AD.
This is a preview of subscription content,
to check access.
Access this article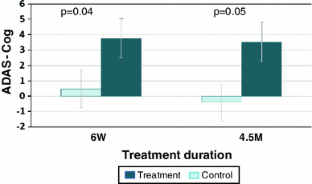 References
Ahmed Z, Wieraszko A (2006) Modulation of learning and hippocampal, neuronal plasticity by repetitive transcranial magnetic stimulation (rTMS). Bioelectromagnetics 27:288–294

Ahmed MA, Darwish ES, Khedr EM, El Serogy YM, Ali AM (2012) Effects of low versus high frequencies of repetitive transcranial magnetic stimulation on cognitive function and cortical excitability in Alzheimer's dementia. J Neurol 259:83–92

Bellgowan PS, Buffalo EA, Bodurka J, Martin A (2009) Lateralized spatial and object memory encoding in entorhinal and perirhinal cortices. Learn Mem 16:433–438

Bentwich J, Dobronevsky E, Aichenbaum S, Shorer R, Peretz R, Khaigrekht M, Marton RG, Rabey JM (2011) Beneficial effect of repetitive transcranial magnetic stimulation combined with cognitive training for the treatment of Alzheimer's disease: a proof of concept study. J Neural Transm 118:463–471

Birks J (2006) Cholinesterase inhibitors for Alzheimer's disease. Cochrane Database Syst Rev 1:CD005593. doi:10.1002/14651858.CD005593

Bliss TV, Collingridge GL (1993) A synaptic model of memory: long-term potentiation in the hippocampus. Nature 361:31–39

Buck BH, Black SE, Behrmann M, Caldwell C, Bronskill MJ (1997) Spatial- and object-based attentional deficits in Alzheimer's disease. Relationship to HMPAO-SPECT measures of parietal perfusion. Brain 120:1229–1244

Cotelli M, Manenti R, Cappa SF, Geroldi C, Zanetti O, Rossini PM, Miniussi C (2006) Effect of transcranial magnetic stimulation on action naming in patients with Alzheimer disease. Arch Neurol 63:1602–1604

Cotelli M, Calabria M, Manenti R, Rosini S, Zanetti O, Cappa SF, Miniussi C (2011) Improved language performance in Alzheimer disease following brain stimulation. J Neurol Neurosurg Psychiatry 82:794–797

Courtney C, Farrell D, Gray R, Hills R, Lynch L, Sellwood E, Edwards S, Hardyman W, Raftery J, Crome P, Lendon C, Shaw H, Bentham P, AD2000 Collaborative Group (2004) Long-term donepezil treatment in 565 patients with Alzheimer's disease (AD2000): randomised double-blind trial. Lancet 363:2105–2115

Cummings JL, Mega M, Gray K, Rosenberg-Thompson S, Carusi DA, Gornbein J (1994) The Neuropsychiatric Inventory: comprehensive assessment of psychopathology in dementia. Neurology 44:2308–2314

Freitas C, Mondragón-Llorca H, Pascual-Leone A (2011) Noninvasive brain stimulation in Alzheimer's disease: systematic review and perspectives for the future. Exp Gerontol 46:611–627

Grafman J, Pascual-Leone A, Alway D, Nichelli P, Gomez-Tortosa E, Hallett M (1994) Induction of a recall deficit by rapid-rate transcranial magnetic stimulation. NeuroReport 5:1157–1160

Guy W (1976) Clinical global impressions. In: ECDEU Assessment Manual for Psychopharmacology, revised. National Institute of Mental Health, Rockville, pp 218–222

Harpaz Y, Levkovitz Y, Lavidor M (2009) Lexical ambiguity resolution in Wernicke's area and its right homologue. Cortex 45:1097–1103

Hoogendam JM, Ramakers GM, DiLazzaro V (2010) Physiology of repetitive transcranial magnetic stimulation of the human brain. Brain Stimul 3:95–118

Kimbrell TA, Little JT, Dunn RT, Frye MA, Greenberg BD, Wassermann EM, Repella JD, Danielson AL, Willis MW, Benson BE, Speer AM, Osuch E, George MS, Post RM (1999) Frequency dependence of antidepressant response to left prefrontal repetitive transcranial magnetic stimulation (rTMS) as a function of baseline cerebral glucose metabolism. Biol Psychiatry 46:1603–1613

Lisanby SH, Luber B, Perera T, Sackeim HS (2000) Transcranial magnetic stimulation: applications in basic neuroscience and neuropsychopharmacology. Int J Neuropsychopharmacol 3:259–273

Mantovani A, Lisanby SH (2004) Applications of transcranial magnetic stimulation to therapy in psychiatry. Psychiatric Times 21:1–2

Nardone R, Bergmann J, Christova M, Caleri F, Tezzon F, Ladurner G, Trinka E, Golaszewski S (2012) Effect of transcranial brain stimulation for the treatment of Alzheimer disease: a review. Int J Alzheimers Dis. Article ID 687909

Pascual-Leone A, Tormos JM, Keenan J, Tarazona F, Cañete C, Catalá MD (1998) Study and modulation of human cortical excitability with transcranial magnetic stimulation. J Clin Neurophysiol 15:333–334

Perry EK, Perry RH, Blessed G, Tomlinson BE (1977) Necropsy evidence of central cholinergic deficits in senile dementia. Lancet 1:189

Rafii MS, Ellis RJ, Corey-Bloom J (2009) Dementing and degenerative disorders. In: Corey-Bloom J, David RB (eds) Clinical adult neurology. Demos Medical, New York, pp 395–417

Reichman WE, Fiocco AJ, Rose NS (2010) Exercising the brain to avoid cognitive decline: examining the evidence. Aging Health 6:565–584

Rockwood K, Fay S, Gorman M, Carver D, Graham JE (2007) The clinical meaningfulness of ADAS-Cog changes in Alzheimer's disease patients treated with donepezil in an open-label trial. BMC Neurology 30:7–26

Rogalsky C, Matchin W, Hickok G (2008) Broca's area, sentence comprehension, and working memory: an fMRI Study. Front Hum Neurosci 2:14

Rosen WG, Mohs RC, Davis KL (1984) A new rating scale for Alzheimer's disease. Am J Psychiatry 141:1356–1364

Rossi S, Hallett M, Rossini PM, Pascual-Leone A, Safety of TMS Consensus Group (2009) Safety, ethical considerations, and application guidelines for the use of transcranial magnetic stimulation in clinical practice and research. Clin Neurophysiol 120:2008–2039

Siebner HR, Rothwell J (2003) Transcranial magnetic stimulation: new insights into representational cortical plasticity. Exp Brain Res 148:1–16

Sitzer DI, Twamley EW, Jeste DV (2006) Cognitive training in Alzheimer's disease: a meta-analysis of the literature. Acta Psychiatr Scand 114:75–90

Spector A, Thorgrimsen L, Woods B, Royan L, Davies S, Butterworth M, Orrell M (2003) Efficacy of an evidence-based cognitive stimulation therapy programme for people with dementia: randomised controlled trial. Br J Psychiatry 183:248–254

Wagner T, Valero-Cabre A, Pascual-Leone A (2007) Noninvasisve human brain stimulation. Annu Rev Biomed Eng 9:527–565

Zheng XM (2000) Regional cerebral blood flow changes in drug-resistant depressed patients following treatment with transcranial magnetic stimulation: a statistical parametric mapping analysis. Psychiatry Res 100:75–80
Acknowledgments
We thank Dr. Ariela Alter (Neuronix Ltd., Yokneam, Israel) for her contribution to the manuscript and Dr. Innesa Bekerman for performing the MRI anatomical determinations.
Conflict of interest
Neuronix Ltd, Yokneam, Israel financially supported this study through The Fund for Medical Research, Development of Infrastructure and Health Services––Assaf Harofeh Medical Center, Israel. The study sponsors supported the study by providing funds. The design, the collection, analysis and interpretation of the data, the writing of the report and the decision to submit the paper were the entire responsibility of the corresponding author and the co-authors. The corresponding author had full access to all the data in the study and had final responsibility for the decision to submit for publication. Prof. Rabey (the corresponding author) is a consultant for Neuronix Ltd.
About this article
Cite this article
Rabey, J.M., Dobronevsky, E., Aichenbaum, S. et al. Repetitive transcranial magnetic stimulation combined with cognitive training is a safe and effective modality for the treatment of Alzheimer's disease: a randomized, double-blind study. J Neural Transm 120, 813–819 (2013). https://doi.org/10.1007/s00702-012-0902-z
Received:

Accepted:

Published:

Issue Date:

DOI: https://doi.org/10.1007/s00702-012-0902-z
Keywords