Abstract
Iron and immunity are closely linked: firstly by the fact that many of the genes/proteins involved in iron homoeostasis play a vital role in controlling iron fluxes such that bacteria are prevented from utilising iron for growth; secondly, cells of the innate immune system, monocytes, macrophages, microglia and lymphocytes, are able to combat bacterial insults by carefully controlling their iron fluxes, which are mediated by hepcidin and ferroportin. In addition, lymphocytes play an important role in adaptive immunity. Thirdly, a variety of effector molecules, e.g. toll-like receptors, NF-κB, hypoxia factor-1, haem oxygenase, will orchestrate the inflammatory response by mobilising a variety of cytokines, neurotrophic factors, chemokines, and reactive oxygen and nitrogen species. Pathologies, where iron loading and depletion occur, may adversely affect the ability of the cell to respond to the bacterial insult.
Access options
Buy single article
Instant access to the full article PDF.
US$ 39.95
Tax calculation will be finalised during checkout.
Subscribe to journal
Immediate online access to all issues from 2019. Subscription will auto renew annually.
US$ 119
Tax calculation will be finalised during checkout.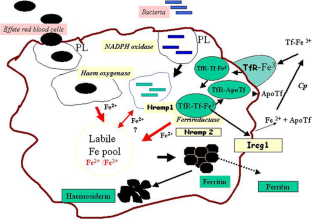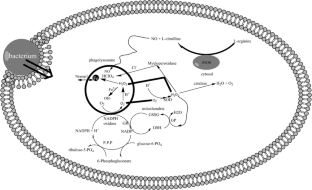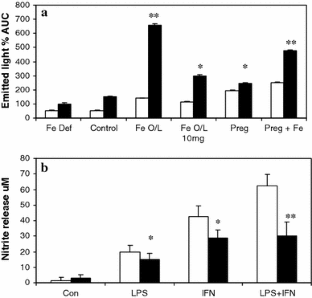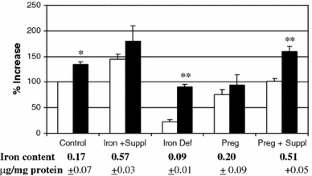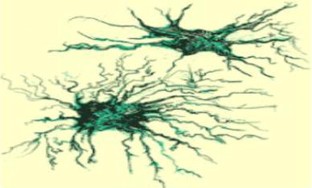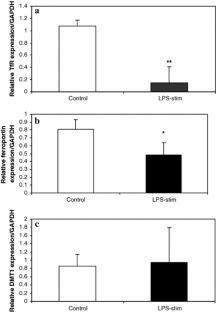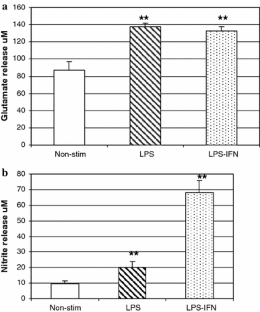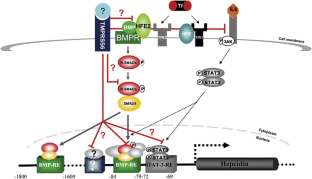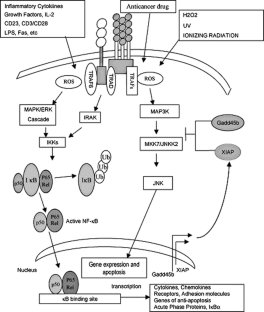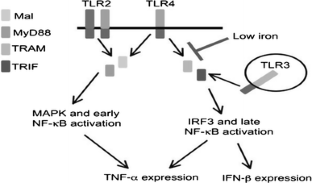 References
Baranano DE, Snyder SH (2001) Neural roles for heme oxygenase contrasts to nitric oxide synthase. Proc Natl Acad Sci USA 98:10996–11002

Bayele HK, Peyssonnaux C, Giatromanolaki A et al (2007) HIF-1 regulated heritable variation and allele expression phenotypes of the macrophage immune response gene SLC11A1 from a Z-DNA-forming microsatellite. Blood 110:3039–3048

Bullen JJ, Spalding PB, Ward CG, Gutteridge JM (1991) Haemochromatosis, iron and septicaemia caused by Vibrio vulnificus. Arch Intern Med 151:1606–1609

Chan WY, Kohsaka S, Rezaie P (2007) The origin and cell lineage of microglia: new concepts. Brain Res Rev 53:344–354

Crichton RR, Dexter DT, Ward RJ (2010) Brain iron metabolism and its perturbation in neurological disease J Neural Trans (submitted)

Cramer T, Yamanishi Y, Clausen BE et al (2003) HIF-1α is essential for myeloid cell mediated inflammation. Cell 112:645–657

Crichton RR (2009) Inorganic biochemistry of iron from molecular mechanisms to clinical consequences, 3rd edn. Wiley, Chichester, p 461

Dissanayake DS, Kumarasiri PV, Nugegoda DB, Dissanayake DM (2009) The association of iron status with educational performance and intelligence among adolescents. Ceylon Med J 54:75–79

Doherty CP (2007) Host–pathogen interactions: the role of iron. J Nutr 137:1341–1344

Drakesmith H, Chen N, Ledermann H, Screaton G, Townsend A, Xu XN (2005) HIV-1 Nef down-regulates the hemochromatosis protein HFE manipulating iron homeostasis. Proc Natl Acad Sci USA 102:11017–11022

Engelhart MJ, Geerlings MI, Meijer J, Kilaan A, Ruitenberg A, van Swieten J, Stijnen T, Hofman A, Witteman JC, Breteler MM (2009) Inflammatory proteins in plasma and the risk of dementia. Arch Neurol 61:668–672

Ferrucci L, Semba RD, Guralnik JM, Ershler WB, Bandinelli S, Patel KV, Sun K, Woodman RC, Andrews NC, Cotter RJ, Ganz T, Nemeth E, Longo DL (2010) Proinflammatory state hepcidin and anaemia in older persons. Blood 115:3810–3816

Gerhard GS, Levin KA, Goldstien J, Wojnar MM, Chorney MJ, Belchis DA (2001) Vibrio vulnificus septicaemia in a patient with the haemochromatosis HFE C282Y mutation. Arch Pathol Lab Med 125:1107–1109

Gimeno D, Kivimaki M, Brunner EJ, Elovainio M, De Vogli R, Steptoe A, Kumari M, Lowe GD, Rumley A, Marmot MG, Ferrie JE (2009) Associations of C-reactive protein and interleukin-6 with cognitive symptoms of depression: 12 year follow-up of the Whitehall II study. Psychol Med 39:413–423

Goetz DH, Holmes MA, Borregaard N, Bluhm ME, Raymond KN, Strong RK (2002) The neutrophil lipocalin NGAL is a bacteriostatic agent that interferes with siderophore mediated iron acquisition. Mol Cell 10:1033–1043

Gordeuk VR, Ballou S, Lozanski G, Brittenham GM (1992) Decreased concentrations of tumor necrosis factor-alpha in supernatants of monocytes from homozygotes for hereditary hemochromatosis. Blood 79:1855–1860

Graeber MB, Streit WJ (2010) Microglia: biology and pathology. Acta Neuropathol 119:89–105

Guerreiro RJ, Santana I, Bras JM, Santiago B, Paiva A, Oliveira C (2007) Peripheral inflammatory cytokines as biomarkers in Alzheimer disease and mild cognitive impairment. Neurodegener Dis 4:406–412

Halterman JS, Kaczorowski JM, Aligne CA, Auinger P, Szilagyi PG (2001) Iron deficiency and cognitive achievement among school-aged children and adolescents in the United States. Pediatrics 107:1381–1386

Kaltschmidt B, Kaltschmidt C (2000) Constitutive NF-kappa B activity is modulated via neuron–astroglia interaction. Exp Brain Res 130:100–104

Krause A, Neitz S, Maget HJ et al (2000) LEAP-1 a novel highly disulphide-bonded human peptide exhibits antimicrobial activity. FEBS Lett 480:147–150

Kreutzberg GW (1996) Microglia: a sensor for pathological events in the CNS. Trends Neurosci 19:312–318

Lee P, Peng H, Gelbart T, Beutler E (2004) The IL-6- and lipopolysaccharide-induced transcription of hepcidin in HFE-, transferrin receptor 2-, and beta 2-microglobulin-deficient hepatocytes. Proc Natl Acad Sci USA 101:9263–9265

Lee P, Peng H, Gelbart T, Wang L, Beutler E (2005) Regulation of hepcidin transcription by interleukin 1 and interleukin 6. Proc Natl Acad Sci USA 102:1906–1910

Legrand D, Mazurier J (2010) A critical review of the roles of host. Biometals 23:365–376

Liu XB, Nguyen NB, Marquess KD, Yang F, Haile DJ (2005) Regulation of hepcidin and ferroportin expression by lipopolysaccharide in splenic macrophages. Blood Cells Mol Dis 35:47–56

Loiarro M, Ruggiero V, Sette C (2010) Targeting TLR/IL-1R signalling in human disease. Mediators Inflamm. doi:10.1155/2010/674363

Magaki S, Yellon SM, Muelier C, Kirsch WM (2008) Immunophenotypes in the circulation of patients with mild cognitive impairment. J Psychiatr Res 42:240–246

McDonald CJ, Jones MK, Wallace DF, Summerville L, Nawaratna S, Subramaniam VN (2010) Increased iron stores correlates with worse disease outcomes in a mouse model of Schistosomiasis infection. PloS ONE 5(3):e9594 doi:10.1371/journal.pone.0009594

Moura E, Noordermeer MA, Verhoeven N, Verheul AF, Marx JJ (1998) Iron release from human monocytes after erythrophagocytosis in vitro: an investigation in normal subjects and hereditary hemochromatosis patients. Blood 92:2511–2519

Muckenthaler MU (2008) Fine tuning of hepcidin expression by positive and negative regulators. Cell Metab 8:1–3

Nairz M, Theurl I, Ludwiczek S, Theurl M, Mair SM, Fritsche G, Weiss G (2007) The co-ordinated regulation of iron homeostasis in murine macrophages limits the availability of iron for intracellular Salmonella typhimurium. Cell Microbiol 9:2126–2140

Nairz M, Fritsche G, Brunner P, Talasz H, Hantke K, Weiss G (2008) Interferon-gamma limits the availability of iron for intramacrophage Salmonella typhimurium. Eur J Immunol 38:1923–1936

Nairz M, Theurl I, Schroll A, Theuri M, Fritsche G, Lindner E, Seifert M, Crouch ML, Hantke K, Akira S, Fang FC, Weiss G (2009) Absence of functional Hfe protects mice from invasive Salmonella enterica serovar Typhimurium infection via induction of lipocalin-2. Blood 114:3642–3651

Nemeth E, Rivera S, Gabayan V et al (2004) IL-6 mediates hypoferremia of inflammation by inducing the synthesis of the iron regulating hormone hepcidin. J Clin Invest 113:1271–1276

Niederkofler V, Salie R, Arber S (2005) Hemojuvelin is essential for dietary iron sensing, and its mutation leads to severe iron overload. J Clin Invest 115:2180–2186

Olakanmi O, Schlesinger LS, Ahmed A, Britigan BE (2002) Intraphagosomal Mycobacterium tuberculosis acquires iron from both extracellular transferrin and intracellular iron pools. Impact of interferon-gamma and hemochromatosis. J Biol Chem 277:49727–49734

Olakanmi O, Schlesinger LS, Britigan BE (2007) Hereditary haemochromatosis results in decreased iron acquisition and growth by Mycobacterium tuberculosis within human macrophages. J Leukoc Biol 81:195–204

Oppenheimer SJ (2001) Iron and its relation to immunity and infectious disease. J Nutr 131:616S–633S

Pan X, Tamilselvam B, Hansen EJ, Daefler S (2010) Modulation of iron homeostasis in macrophages by bacterial intracellular pathogens. BMC Microbiol 10:64

Park CH, Valore EV, Waring AJ, Ganz T (2001) Hepcidin a urinary antimicrobial peptide synthesise in the liver. J Biol Chem 276:7806–7810

Peyssonnaux C, Datta V, Cramer T, Doedens A, Theodorakis EA et al (2005) HIF-1α expression regulates the bacterial capacity of phagocytes. J Clin Invest 115:1806–1815

Peyssonnaux C, Zinkernagel AS, Datta V, Lauth X, Johnson RS, Nizel V (2006) TLR-4 dependent hepcidin expression by myeloid cells in response to bacterial pathogens. Blood 107:3727–3732

Porto G, De Sousa M (2007) Iron overload and immunity. World J Gastroenterol 13:4707–4715

Ray S, Britschgi M, Herbert C, Takeda-Uchimura Y, Boxer A, Blennow K, Freidman LF et al (2007) Classification and prediction of clinical Alzheimer's diagnosis based on plasma signalling proteins. Nat Med 13:1359–1362

Rioux FM, LeBlanc CP (2007) Iron supplementation during pregnancy: what are the risks and benefits of current practices? Appl Physiol Nutr Metab 32:282–288

Roy CN, Custodio AO, de Graaf J et al (2004) An Hfe-dependent pathway mediates hyposideremia in response to lipopolysaccharide-induced inflammation in mice. Nat Genet 36:481–485

Silvestri L, Pagani A, Camaschella C (2008) Furin-mediated release of soluble hemojuvelin: a new link between hypoxia and iron homeostasis. Blood 111:924–931

Sow FB, Florence WC, Satoskar AR, Schlesinger LS, Zwilling BS, Lafuse WP (2007) Expression and localization of hepcidin in macrophages: a role in host defense against tuberculosis. J Leukoc Biol 82:934–945

Stolzfus R, Dreyfuss M (1988) International Nutritional Anaemia Consultative Group. ILSI Press, Washington, DC

Tacchini L, Gammella E, De Ponti C, Recalcati S, Cairo G (2008) Role of HIF-1 and NF-kappaB transcription factors in the modulation of transferrin receptor by inflammatory and anti-inflammatory signals. J Biol Chem 283:20674–20686

Theul I, Finkenstedt A, Scholl A, Nairz M et al (2010) Growth differentiation factor 15 in anaemia of chronic disease, iron deficiency anaemia and mixed type anaemia. Br J Haematol 148:449–455

Wang L, Cherayil BJ (2009) Ironing out the wrinkles in host defence interactions between iron homeostasis and innate immunity. J Innate Immun 1:455–464

Wang L, Johnson EE, Shi HN, Walker WA, Wessling-Resnick M, Cherayil BJ (2008) Attenuated inflammatory responses in haemochromatosis reveal a role for iron in the regulation of macrophage cytokine translation. J Immunol 181:2723–2731

Wang L, Harrington L, Trebicka E, Shi HN, Kagan JC, Hong CC, Lin HY, Babitt JL, Cherayil BJ (2009) Selective modulation of TLR4-activated inflammatory responses by altered iron homeostasis in mice. J Clin Invest 119:3322–3328

Ward RJ, Wilmet R, Legssyer R, Leroy D, Crichton RR, Srai K, Pirreaux C, Hue L, Piette J, Klein D, Summer K (2009) Iron supplementation to pregnant rats: effects on pregnancy outcome, iron homeostasis and immune function. Biometals 22:211–223

Wessling-Resnick M (2010) Iron homeostasis and the inflammatory response. Annu Rev Nutr 30:105–122
Acknowledgments
The financial support of IREB (RJW), and ERAB (RJW, DTD) and COST D34 are gratefully acknowledged.
About this article
Cite this article
Ward, R.J., Crichton, R.R., Taylor, D.L. et al. Iron and the immune system. J Neural Transm 118, 315–328 (2011). https://doi.org/10.1007/s00702-010-0479-3
Received:

Accepted:

Published:

Issue Date:
Keywords
Macrophage

Iron

Hepcidin

Ferroportin

Inflammation