Abstract
Background
The usage of machine vision technologies for image-based analysis and inspection is increasing. With the advent of the ability to process high-dimension data instantly, the possibilities of machine vision multiply exponentially. Robots now use this technology to assist in surgery.
Objective
The aim of this study is to explore the efficacy of Surgical Navigation Robot NaoTrac (Brain Navi Biotechnology Co., Ltd.), which utilizes machine vision-inspired technology for patient registration and stereotactic external ventricular drainage (EVD) by the robotic arm.
Methods
Preoperative and postoperative computed tomography (CT) scans were acquired for each case. The surgeons planned the targets and trajectories with the preoperative CT images. The postoperative CT images were utilized in the accuracy measurements.
Results
All 14 cases had cerebrospinal fluid drained through the catheter. The NaoTrac placed the catheter into the frontal horn in one attempt in 13 cases and was able to drain CSF in 12 cases. Not a single case had any bleeding or intraoperative complications. The average time spent on the patient registration was 142.8 s. The mean target deviation was 1.68 mm, and the mean angular deviation was 1.99°, all within the accepted tolerance for minimal tissue damage.
Conclusion
The results of this report demonstrate that machine vision-inspired patient registration is feasible and fast. NaoTrac has demonstrated its accuracy and safety in performing frameless catheter placement in 13 clinical cases. Other stereotactic neurosurgical operations such as stereotactic biopsy, depth electrode placement, deep brain stimulation electrode positioning, and neuroendoscopy may also be benefited from the assistance of NaoTrac.
Access options
Buy single article
Instant access to the full article PDF.
USD 39.95
Price excludes VAT (USA)
Tax calculation will be finalised during checkout.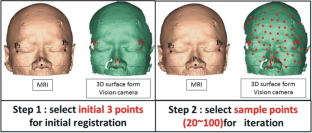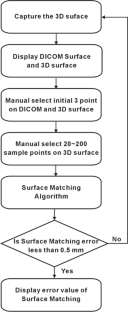 References
AlAzri A, Mok K, Chankowsky J, Mullah M, Marcoux J (2017) Placement accuracy of external ventricular drain when comparing freehand insertion to neuronavigation guidance in severe traumatic brain injury. Acta Neurochir (Wien) 159(8):1399–1411

Brandmeir NJ, Savaliya S, Rohatgi P, Sather M (2018) The comparative accuracy of the ROSA stereotactic robot across a wide range of clinical applications and registration techniques. J Robot Surg 12(1):157–163

Cardinale F, Rizzi M, D'Orio P et al (2017) A new tool for touch-free patient registration for robot-assisted intracranial surgery: application accuracy from a phantom study and a retrospective surgical series. Neurosurg Focus 42(5):E8

Chan AY, Lin JJ, Mnatsakanyan L, Sazgar M, Sen-Gupta I, Hsu FPK, Vadera S (2016) Robot-assisted placement of depth electrodes along the long Axis of the amygdalohippocampal complex. Interdiscip Neurosurg 6:38–41

Chau CYC, Craven CL, Rubiano AM, Adams H, Tülü S, Czosnyka M, Servadei F, Ercole A, Hutchinson PJ, Kolias AG (2019) The evolution of the role of external ventricular drainage in traumatic brain injury. J Clin Med 8(9):1422

Choi PJ, Oskouian RJ, Tubbs RS (2018) Telesurgery: past, present, and future.Cureus. https://doi.org/10.7759/cureus.2716

De Benedictis A, Trezza A, Carai A et al (2017) Robot-assisted procedures in pediatric neurosurgery. Neurosurg Focus 42(5):E7

Faria C, Erlhagen W, Rito M, DeMomi E, Ferrigno G, Bicho E (2015) Review of robotic technology for stereotactic neurosurgery. IEEE Rev Biomed Eng 8:125–137

Heilbrun MP, McDonald P, Wiker C, Koehler S, Peters W (1992) Stereotactic localization and guidance using a machine vision technique. Stereotact Funct Neurosurg 58(1–4):94–98

Hoshide R, Calayag M, Meltzer H, Levy ML, Gonda D (2017) Robot-assisted endoscopic third ventriculostomy: institutional experience in 9 patients. J Neurosurg Pediatr 20(2):125–133

Ghasem A, Sharma A, Greif DN, Alam M, Al Maaieh M (2018) The arrival of robotics in spine surgery: a review of the literature. Spine (Phila Pa 1976) 43(23):1670–1677

Kim YS (2016) Roles of stereotactic surgical robot systems in neurosurgery. Hanyang Med Rev 36(4):211–214

Lee KS, Zhang JJY, Bolem N et al (2020) Freehand insertion of external ventricular drainage catheter: evaluation of accuracy in a single center. Asian J Neurosurg 15(1):45

Lefranc M, Capel C, Pruvot-Occean A-S, Fichten A, Desenclos C, Toussaint P, Le Gars D, Peltier J (2015) Frameless robotic stereotactic biopsies: a consecutive series of 100 cases. J Neurosurg 122(2):342–352

Miller BA, Salehi A, Limbrick DD, Smyth MD (2017) Applications of a robotic stereotactic arm for pediatric epilepsy and neurooncology surgery. J Neurosurg Pediatr 20(4):364–370

Mohri I, Umezu Y, Fukunaga J, Tane H, Nagata H, Hirashima H, Nakamura K, Hirata H (2014) Development of a new position-recognition system for robotic radiosurgery systems using machine vision. Nihon Hoshasen Gijutsu Gakkai Zasshi 70(8):751–756

Neudorfer C, Hunsche S, Hellmich M, ElMajdoub F, Maarouf M (2018) Comparative study of robot-assisted versus conventional frame-based deep brain stimulation stereotactic neurosurgery. Stereotact Funct Neurosurg 96(5):327–334

Sharma JD, Seunarine KK, Tahir MZ, Tisdall MM (2019) Accuracy of robot-assisted versus optical frameless navigated stereoelectroencephalography electrode placement in children. J Neurosurg Pediatr 23(3):297–302

Spyrantis A, Cattani A, Woebbecke T, Konczalla J, Strzelczyk A, Rosenow F, Wagner M, Seifert V, Kudernatsch M, Freiman TM (2019) Electrode placement accuracy in robot-assisted epilepsy surgery: a comparison of different referencing techniques including frame-based CT versus facial laser scan based on CT or MRI. Epilepsy \& Behav 91:38–47

Vakharia VN, Sparks R, O'Keeffe AG, Rodionov R, Miserocchi A, McEvoy A, Ourselin S, DuncanJ, (2017) Accuracy of intracranial electrode placement for stereoelectroencephalography: a systematic review and meta-analysis. Epilepsia 58(6):921–932
Funding
This project did not receive any specific grant from funding agencies in the public, commercial, or not-for-profit sectors.
Ethics declarations
Ethics approval
The studies involving human participants were reviewed and approved by the Ethics Committee of Hualien Tzu Chi Hospital (IRB107-97-A) and registered with Taiwan Food and Drug Administration (TFDA- 1,096,604,197).
Informed consent
For this type of study, formal consent is not required by our institution.
Conflict of interest
The authors declare no conflict of interest.
Additional information
Publisher's note
Springer Nature remains neutral with regard to jurisdictional claims in published maps and institutional affiliations.
This article is part of the Topical Collection on Neurosurgical technique evaluation
Supplementary Information
Below is the link to the electronic supplementary material.
About this article
Cite this article
Chiu, TL., Lin, SZ., Ahmed, T. et al. Pilot study of a new type of machine vision-assisted stereotactic neurosurgery for EVD placement. Acta Neurochir 164, 2385–2393 (2022). https://doi.org/10.1007/s00701-022-05287-7
Received:

Accepted:

Published:

Issue Date:

DOI: https://doi.org/10.1007/s00701-022-05287-7
Keywords
Surgical navigation robot

Machine vision

Catheter

External ventricular drainage

Stereotactic neurosurgery

Accuracy

Safety