Abstract
Purpose
To report the long-term clinical and angiographic outcomes of the endovascular treatment of large/giant basilar tip aneurysms (BTAs) in our institutions.
Methods
We retrospectively reviewed cases of BTA larger than 10 mm that received endovascular treatment between January 2009 and December 2019. Data on the demographic and clinical characteristics and radiologic severity were obtained from the patients' medical records. The collected clinical follow-up data included neurological evaluation. Magnetic resonance angiography (MRA) was performed 6 to 12 months after the procedure, followed by once every 1 to 2 years as needed.
Results
A total of 12 patients with BTA were included in this study. The median age was 60.08 years (27–80 years), and the mean clinical follow-up was 66.78 months (19.00–142.87 months). Almost half of the patients presented with unruptured BTAs (58.33%, n = 7). The median maximum aneurysm diameter was 13.00 mm (10.46–20.90 mm) and the mean neck size was 8.34 mm (4.82–13.04 mm). A Modified Raymond Roy Classification (MRRC1) of 1 or 2 was observed in 66.67% of the patients (n = 8) immediately after the first procedure. Procedural morbidity and mortality were 33.33% and 8.33%, respectively. Major recanalization occurred in two patients, one of whom underwent additional coiling with the other being merely observed due to older age.
Conclusion
It is very difficult to cure a large BTA completely at once and recanalization occurred often after endovascular treatment. Conducting long-term follow-up studies at short intervals is warranted, as well as improving existing treatment methods and developing new approaches.
Access options
Buy single article
Instant access to the full article PDF.
USD 39.95
Price excludes VAT (USA)
Tax calculation will be finalised during checkout.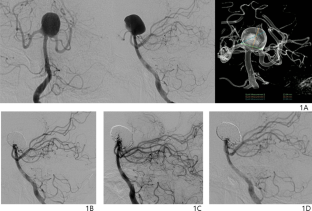 References
Abla AA, Lawton MT, Spetzler RF (2014) The art of basilar apex aneurysm surgery: is it sustainable in the future? World Neurosurg 82:e51-53

Arat A, Cil B (2005) Double-balloon remodeling of wide-necked aneurysms distal to the circle of Willis. AJNR Am J Neuroradiol 26:1768–1771

Aydin K, Stracke CP, Barburoglu M, Yamac E, Berdikhojayev M, Sencer S, Chapot R (2019) Long-term outcomes of wide-necked intracranial bifurcation aneurysms treated with T-stent-assisted coiling. J Neurosurg. https://doi.org/10.3171/2019.9.Jns191733:1-10

Bartolini B, Blanc R, Pistocchi S, Redjem H, Piotin M (2014) "Y" and "X" stent-assisted coiling of complex and wide-neck intracranial bifurcation aneurysms. AJNR Am J Neuroradiol 35:2153–2158

Brinjikji W, Kallmes DF, Kadirvel R (2015) Mechanisms of healing in coiled intracranial aneurysms: a review of the literature. AJNR Am J Neuroradiol 36:1216–1222

Cagnazzo F, Limbucci N, Nappini S, Renieri L, Rosi A, Laiso A, Tiziano di Carlo D, Perrini P, Mangiafico S (2019) Y-stent-assisted coiling of wide-neck bifurcation intracranial aneurysms: a meta-analysis. AJNR Am J Neuroradiol 40:122–128

Chalouhi N, Bovenzi CD, Thakkar V, Dressler J, Jabbour P, Starke RM, Teufack S, Gonzalez LF, Dalyai R, Dumont AS, Rosenwasser R, Tjoumakaris S (2014) Long-term catheter angiography after aneurysm coil therapy: results of 209 patients and predictors of delayed recurrence and retreatment. J Neurosurg 121:1102–1106

Da Ros V, Caroff J, Rouchaud A, Mihalea C, Ikka L, Moret J, Spelle L (2017) Large basilar apex aneurysms treated with flow-diverter stents. AJNR Am J Neuroradiol 38:1156–1162

Damiano RJ, Tutino VM, Paliwal N, Patel TR, Waqas M, Levy EI, Davies JM, Siddiqui AH, Meng H (2020) Aneurysm characteristics, coil packing, and post-coiling hemodynamics affect long-term treatment outcome. J Neurointerv Surg 12:706–713

Eskridge JM, Song JK (1998) Endovascular embolization of 150 basilar tip aneurysms with Guglielmi detachable coils: results of the Food and Drug Administration multicenter clinical trial. J Neurosurg 89:81–86

Evans JJ, Sekhar LN, Rak R, Stimac D (2004) Bypass grafting and revascularization in the management of posterior circulation aneurysms. Neurosurgery 55:1036–1049

Ewald C, Kühne D, Hassler W (1998) Giant basilar artery aneurysms encorporating the posterior cerebral artery: bypass surgery and coil occlusion–two case reports. Neurol Med Chir (Tokyo) 38(Suppl):83–85

Fargen KM, Mocco J, Neal D, Dewan MC, Reavey-Cantwell J, Woo HH, Fiorella DJ, Mokin M, Siddiqui AH, Turk AS, Turner RD, Chaudry I, Kalani MY, Albuquerque F, Hoh BL (2013) A multicenter study of stent-assisted coiling of cerebral aneurysms with a Y configuration. Neurosurgery 73:466–472

Fujimoto M, Lylyk I, Bleise C, Albiña P, Chudyk J, Lylyk P (2020) Long-term outcomes of the WEB device for treatment of wide-neck bifurcation aneurysms. AJNR Am J Neuroradiol 41:1031–1036

Goddard JK, Moran CJ, Cross DT 3rd, Derdeyn CP (2005) Absent relationship between the coil-embolization ratio in small aneurysms treated with a single detachable coil and outcomes. AJNR Am J Neuroradiol 26:1916–1920

Gory B, Blanc R, Turjman F, Berge J, Piotin M (2018) The Barrel vascular reconstruction device for endovascular coiling of wide-necked intracranial aneurysms: a multicenter, prospective, post-marketing study. J Neurointerv Surg 10:969–974

Goyal N, Hoit D, DiNitto J, Elijovich L, Fiorella D, Pierot L, Lamin S, Spelle L, Saatci I, Cekirge S, Arthur AS (2020) How to WEB: a practical review of methodology for the use of the Woven EndoBridge. J Neurointerv Surg 12:512–520

Greve T, Sukopp M, Wostrack M, Burian E, Zimmer C, Friedrich B (2021) Initial Raymond-Roy Occlusion Classification but not Packing density defines risk for recurrence after aneurysm coiling. Clin Neuroradiol 31:391–399

Jafar JJ, Russell SM, Woo HH (2002) Treatment of giant intracranial aneurysms with saphenous vein extracranial-to-intracranial bypass grafting: indications, operative technique, and results in 29 patients. Neurosurgery 51:138–144; discussion 144–136

Kono K, Terada T (2013) Hemodynamics of 8 different configurations of stenting for bifurcation aneurysms. AJNR Am J Neuroradiol 34:1980–1986

Lawton MT (2002) Basilar apex aneurysms: surgical results and perspectives from an initial experience. Neurosurgery 50:1–8; discussion 8–10

Limbucci N, Renieri L, Nappini S, Consoli A, Rosi A, Mangiafico S (2016) Y-stent assisted coiling of bifurcation aneurysms with Enterprise stent: long-term follow-up. J Neurointerv Surg 8:158–162

Limbucci N, Cirelli C, Valente I, Nappini S, Renieri L, Laiso A, Rosi A, Amadori T, Amadori A, Mangiafico S (2020) Y-Stenting versus pulserider-assisted coiling in the treatment of wide-neck bifurcation aneurysms: role of anatomical features on midterm results. Neurosurgery 87:329–337

Lozier AP, Kim GH, Sciacca RR, Connolly ES, Jr., Solomon RA (2004) Microsurgical treatment of basilar apex aneurysms: perioperative and long-term clinical outcome. Neurosurgery 54:286–296; discussion 296–289

Lv X, Li Y, Liu A, Wu Z (2008) Endovascular management of multiple cerebral aneurysms in acute subarachnoid hemorrhage associated with fenestrated basilar artery. A case report and literature review. Neuroradiol J 21:137–142

Lylyk P, Chudyk J, Bleise C, Sahl H, Pérez MA, Henkes H, Bhogal P (2018) The pCONus2 neck-bridging device: early clinical experience and immediate angiographic results. World Neurosurg 110:e766–e775

Lylyk P, Chudyk J, Bleise C, Henkes H, Bhogal P (2019) Treatment of wide-necked bifurcation aneurysms : initial results with the pCANvas neck bridging device. Clin Neuroradiol 29:467–477

Mai JC, Tariq F, Kim LJ, Sekhar LN (2013) Flow diversion radial artery bypass graft coupled with terminal basilar artery occlusion for the treatment of complex basilar apex aneurysms: operative nuances. Neurosurgery 72:ons116–126; discussion ons126

Mascitelli JR, Moyle H, Oermann EK, Polykarpou MF, Patel AA, Doshi AH, Gologorsky Y, Bederson JB, Patel AB (2015) An update to the Raymond-Roy Occlusion Classification of intracranial aneurysms treated with coil embolization. J Neurointerv Surg 7:496–502

Ramanathan D, Ciporen J, Ghodke B, Ellenbogen RG, Sekhar LN (2010) Treatment of coil embolization failed recurrent giant basilar tip aneurysms with bypass and surgical occlusion. J Neurointerv Surg 2:237–241

Sluzewski M, Menovsky T, van Rooij WJ, Wijnalda D (2003) Coiling of very large or giant cerebral aneurysms: long-term clinical and serial angiographic results. AJNR Am J Neuroradiol 24:257–262

Sluzewski M, van Rooij WJ, Slob MJ, Bescós JO, Slump CH, Wijnalda D (2004) Relation between aneurysm volume, packing, and compaction in 145 cerebral aneurysms treated with coils. Radiology 231:653–658

Steinberg GK, Drake CG, Peerless SJ (1993) Deliberate basilar or vertebral artery occlusion in the treatment of intracranial aneurysms. Immediate results and long-term outcome in 201 patients. J Neurosurg 79:161–173

Sugiyama S, Niizuma K, Sato K, Rashad S, Kohama M, Endo H, Endo T, Matsumoto Y, Ohta M, Tominaga T (2016) Blood flow into basilar tip aneurysms: a predictor for recanalization after coil embolization. Stroke 47:2541–2547

Sullivan BJ, Sekhar LN, Duong DH, Mergner G, Alyano D (1999) Profound hypothermia and circulatory arrest with skull base approaches for treatment of complex posterior circulation aneurysms. Acta Neurochir (Wien) 141:1–11; discussion 11–12

Tamatani S, Ito Y, Abe H, Koike T, Takeuchi S, Tanaka R (2002) Evaluation of the stability of aneurysms after embolization using detachable coils: correlation between stability of aneurysms and embolized volume of aneurysms. AJNR Am J Neuroradiol 23:762–767

Tjahjadi M, Kim T, Ojar D, Byoun HS, Lee SU, Ban SP, Hwang G, Kwon OK (2017) Long-term review of selected basilar-tip aneurysm endovascular techniques in a single institution. Interdisciplinary Neurosurgery 8:50–56

van Rooij WJ, Sluzewski M (2007) Coiling of very large and giant basilar tip aneurysms: midterm clinical and angiographic results. AJNR Am J Neuroradiol 28:1405–1408

van Rooij WJ, Sluzewski M, Slob MJ, Rinkel GJ (2005) Predictive value of angiographic testing for tolerance to therapeutic occlusion of the carotid artery. AJNR Am J Neuroradiol 26:175–178
Ethics declarations
Ethics approval
All procedures involving human participants were in accordance with the ethical standards of the institutional and/or national research committee (Yonsei University Institutional Review Board) and with the 1964 Helsinki Declaration and its later amendments or comparable ethical standards. For this type of study, formal consent is not required.
Conflict of interest
The authors declare no competing interests.
Additional information
Publisher's note
Springer Nature remains neutral with regard to jurisdictional claims in published maps and institutional affiliations.
This article is part of the Topical Collection on Vascular Neurosurgery - Aneurysm
About this article
Cite this article
Kim, M.J., Chung, J., Park, K.Y. et al. Endovascular treatment for large (> 10 mm) basilar tip aneurysms: a retrospective case series. Acta Neurochir 164, 1239–1245 (2022). https://doi.org/10.1007/s00701-022-05175-0
Received:

Accepted:

Published:

Issue Date:

DOI: https://doi.org/10.1007/s00701-022-05175-0
Keywords
Endovascular treatment

Basilar tip aneurysms

Large aneurysm