Abstract
Background
Glioma invading the corpus callosum (CC) accounts for approximately 14% of gliomas and is thought to be more aggressive. However, there is still a lack of studies on the pathogenesis and molecular features of this condition. Here, we examined the occurrence association of CC invasion with respect to patients' clinical, pathological, and genetic characteristics.
Methods
First, a cohort of 331 patients was included, with 86 cases (26%) that were diagnosed with invasion glioma. They were all analyzed for basic clinical and pathological characteristics and four routinely tested glioma molecular markers. Second, 29 pairs of patients who underwent deep sequencing of 68 glioma molecular alterations were selected from both groups for in-depth analysis.
Results
The results of the first part showed that there was no difference between the two groups in terms of the basic factors in univariate analysis, while in multivariate logistic analysis, WHO grade was the risk factor for CC invasion (p = 0.001). The results of the second part showed that the paired groups had different genetic expression profiles, which highlighted glioma invading the CC as a distinct biological entity. PDGFRA mutation (PDGFRAmut) was present in 9 patients with invasive gliomas (31%), but only in one case (3.4%) in the control group (OR 17.331; 95% CI 1.987–151.156).
Conclusion
Our data revealed the clinical, pathological, and genetic characteristics of glioma invading the CC and showed that it may be associated with glioma WHO grade and PDGFRAmut, but not other factors. Thus, the risk signaling pathway may offer potential therapeutic targets for this disease.
This is a preview of subscription content, log in to check access.
Access options
Buy single article
Instant access to the full article PDF.
US$ 39.95
Price includes VAT for USA
Subscribe to journal
Immediate online access to all issues from 2019. Subscription will auto renew annually.
US$ 199
This is the net price. Taxes to be calculated in checkout.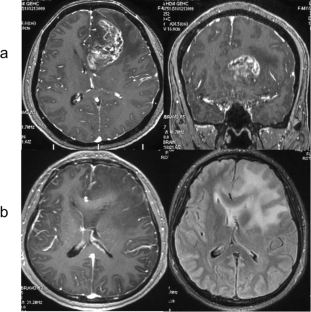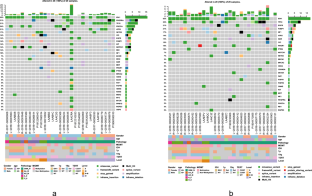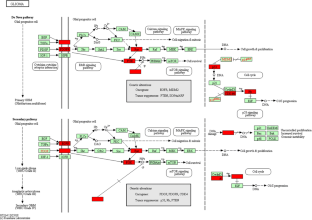 Acknowledgments
We thank Genetron Health who provided the next-generation sequencing platform, and we appreciate the technique of bioinformatic analysis provided by Liwen Jiang and Lan Su.
Submission declaration and verification
Neither the entire paper nor any part of its content has been published or has been accepted elsewhere. It is not being submitted to any other journal. All authors of this paper have read and approved the final version submitted.
Ethics declarations
Conflict of interest
The authors declare that they have no conflict of interest.
Ethical approval
All procedures performed in studies involving human participants were in accordance with the ethical standards of the institutional and/or national research committee and with the 1964 Helsinki declaration and its later amendments or comparable ethical standards.
Additional information
Publisher's note
Springer Nature remains neutral with regard to jurisdictional claims in published maps and institutional affiliations.
This research did not receive any specific grant from funding agencies in the public, commercial, or not-for-profit sectors.
Shaoping Shen and Shiyu Feng are co-first author.
This article is part of the Topical Collection on Tumor – Glioma.
About this article
Cite this article
Shen, S., Feng, S., Liu, H. et al. Associations of histological and molecular alterations with invasion of the corpus callosum in gliomas. Acta Neurochir 162, 1691–1699 (2020). https://doi.org/10.1007/s00701-020-04376-9
Received:

Accepted:

Published:

Issue Date:
Keywords
Corpus callosum

Glioma

Glioma molecular alterations

Butterfly Gliomas

Genetic characteristics

PDGFRA