Abstract
Background
Common fibular (peroneal) nerve (CFN) entrapment is the most frequent nerve entrapment in the lower extremity. It can cause pain, sensory abnormalities, and reduced ability to dorsiflex the foot or a drop foot. A simple test to assist with diagnosis of CFN entrapment is described as an adjunctive clinical tool for the diagnosis of CFN entrapment and also as a predictor of successful surgical decompression of a CFN entrapment.
Methods
The test, a lidocaine injection into the peroneus longus muscle at the site of a common fibular nerve entrapment, was studied retrospectively in 21 patients who presented with a clinical suspicion of CFN entrapment. Patients ages ranged from 17 to 71 (mean 48.5).
Results
The lidocaine injection test (LIT) was positive in 19 patients, and of these, 17 underwent surgical decompression and subsequently experienced improved ability to dorsiflex their foot and reduced sensory abnormalities.
Conclusion
The LIT is a simple, safe adjunctive test to help diagnose and also predict a successful outcome of surgical decompression of a CFN entrapment. The proposed mechanism of action of the LIT could lead to new, non-surgical treatments for CFN entrapment.
Access options
Buy single article
Instant access to the full article PDF.
US$ 39.95
Tax calculation will be finalised during checkout.
Subscribe to journal
Immediate online access to all issues from 2019. Subscription will auto renew annually.
US$ 119
Tax calculation will be finalised during checkout.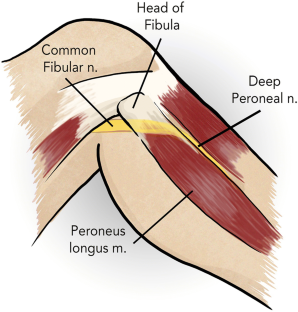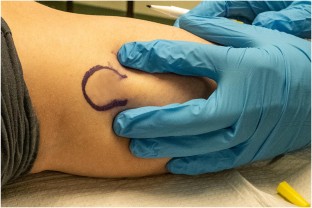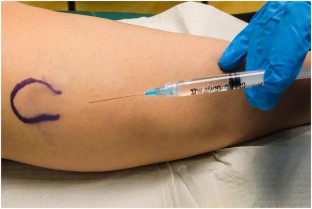 References
1.

Anselmi SJ (2006) Common peroneal nerve compression. J Am Podiatr Med Assoc 96(5):413–417

2.

Appiah-Ankam J, Hunter JM (2004) Pharmacology of neuromuscular blocking drugs. Contin Educ Anaesth Crit Care Pain 4(1):2–7

3.

Barrett SL (2015) Practical pain management for the lower extremity surgeon Data Trace Publishing Company, Brooklandville

4.

Barrett SL, Nassler W, DuCasse S, Zislis G, Sohani S (2019) Improved vascular perfusion of the dorsalis pedis artery after sonographic guided infiltration of a subanesthetic dose of lidocaine—the "Phoenix sign." A retrospective case study illustrates efficacy of the nerve block and subsequent common fibular nerve decompression in a patient with post-traumatic chronic left lower extremity pain. Prac Pain Man 19(7):51–54

5.

Boon AJ, Dib MY (2009) Peripheral nerve entrapment and compartment syndromes of the lower leg. In: Akuthota V, Herring SA (eds) Nerve and vascular injuries in sports medicine. Springer, New York, pp 139–159

6.

Bowley MP, Doughty CT (2019) Entrapment neuropathies of the lower extremity. Med Clin 103(2):371–382

7.

Chari B, McNally E (2018) Nerve entrapment in ankle and foot: ultrasound imaging. In Seminars in musculoskeletal radiology Thieme Medical Publishers, Stuttgart 22(03):354–363

8.

Datema M, Hoitsma E, Roon KI, Malessy MJ, Van Dijk JG, Tannemaat MR (2016) The Tinel sign has no diagnostic value for nerve entrapment or neuropathy in the legs. Muscle Nerve 54(1):25–30

9.

Dellon AL (2005) Postarthroplasty "palsy" and systemic neuropathy: a peripheral-nerve management algorithm. Ann Plast Surg 55(6):638–642

10.

Dellon AL (2008) The Dellon approach to neurolysis in the neuropathy patient with chronic nerve compression. Handchir Mikrochir Plast Chir 40(06):351–360

11.

Dellon AL, Ebmer J, Swier P (2002) Anatomic variations related to decompression of the common peroneal nerve at the fibular head. Ann Plast Surg 48(1):30–34

12.

Dellon AL, Muse VL, Scott ND (2012) A positive Tinel sign as predictor of pain relief or sensory recovery after decompression of chronic tibial nerve compression in patients with diabetic neuropathy. J Reconstr Microsurg 28(04):235–234

13.

Dikmen PY, Aydinlar EI, Karlikaya G (2013) Expected and experienced pain levels in electromyography. Nöro Psikiyatr Arş 50(4):364

14.

Emamhadi M, Bakhshayesh B, Andalib S (2016) Surgical outcome of foot drop caused by common peroneal nerve injuries; is the glass half full or half empty? Acta Neurochir 158(6):1133–1138

15.

Franson J, Baravarian B (2006) Tarsal tunnel syndrome: a compression neuropathy involving four distinct tunnels. Clin Podiatr Med Surg 23(3):597–609

16.

George SC, Boyce DE (2014) An evidence-based structured review to assess the results of common peroneal nerve repair. Plast Reconstr Surg 134(2):302e–311e

17.

Humphreys DB, Novak CB, Mackinnon SE (2007) Patient outcome after common peroneal nerve decompression. J Neurosurg 2:314–318

18.

Iwamoto N, Isu T, Chiba Y, Kim K, Morimoto D, Yamazaki K, Isobe M (2015) Clinical features and treatment of peroneal nerve entrapment neuropathy. No Shinkei Geka 43(4):309–316

19.

Iwamoto N, Kim K, Isu T, Chiba Y, Morimoto D, Isobe M (2016) Repetitive plantar flexion test as an adjunct tool for the diagnosis of common peroneal nerve entrapment neuropathy. World Neurosurg 86:484–489

20.

Kim DH, Murovic JA, Tiel RL, Kline DG (2004) Management and outcomes in 318 operative common peroneal nerve lesions at the Louisiana State University Health Sciences Center. Neurosurg. 54(6):1421–1429

21.

Kim K, Isu T, Kokubo R, Morimoto D, Kobayashi S, Morita A (2015) Repetitive plantar flexion (provocation) test for the diagnosis of intermittent claudication due to peroneal nerve entrapment neuropathy: case report. NMC Case Rep J 2(4):140–142

22.

London ZN, Burke JF, Hazan R, Hastings MM, Callaghan BC (2014) Electromyography-related pain: muscle selection is the key modifiable study characteristic. Muscle Nerve 49(4):570–574

23.

London ZN, Hazan R, Burke JF, Callaghan BC (2014) Altering electromyography studies: importance of the electromyographer's perception of patient pain. Arch Phys Med Rehabil 95(1):39–42

24.

Maalla R, Youssef M, Sebai MA, Essadam H (2013) Peroneal nerve entrapment at the fibular head: outcomes of neurolysis. Orthop Traumatol Surg Res 99(6):719–722

25.

Marciniak C (2013) Fibular (peroneal) neuropathy: electrodiagnostic features and clinical correlates. Phys Med Rehabil Clin N Am 24(1):121–137

26.

Morimoto D, Isu T, Kim K, Sugawara A, Yamazaki K, Chiba Y, Iwamoto N, Isobe M, Morita A (2015) Microsurgical decompression for peroneal nerve entrapment neuropathy. Neurol Med Chir:oa–2014

27.

Murinova N, Chiu SC, Krashin D, Karl HW (2016) Common peroneal nerve entrapment. In: Trescott AM (ed) Peripheral nerve entrapments. Springer International Publishing, Cham, pp 745–757

28.

Naguib M, Lien CA, Meistelman C (2015) Chapter 34: pharmacology of neuromuscular blocking drugs. In: Miller RD (ed) Miller's anesthesia, 8th edn. Elsevier Saunders, Philadelphia, pp 958–994

29.

Namerow NS, Campion DS, Bluestone R, Cracchiolo A 3rd (1977) Peripheral nerve entrapments. Western J Med 127(4):299

30.

Poppler LH, Groves AP, Sacks G, Bansal A, Davidge KM, Sledge JA, Tymkew H, Yan Y, Hasak JM, Potter P, Mackinnon SE (2016) Subclinical peroneal neuropathy: a common, unrecognized, and preventable finding associated with a recent history of falling in hospitalized patients. Ann Fam Med 14(6):526–533

31.

Rinkel WD, Cabezas MC, van Neck JW, Birnie E, Hovius SE, Coert JH (2018) Validity of the Tinel sign and prevalence of tibial nerve entrapment at the tarsal tunnel in both diabetic and nondiabetic subjects: a cross-sectional study. Plast Reconstr Surg 142(5):1258–1266

32.

Sansone JM, Gatzke AM, Aslinia F, Rolak LA, Yale SH (2006) Jules Tinel (1879–1952) and Paul Hoffmann (1884–1962). Clin Med Res 4(1):85–89

33.

Sidey JD (1969) Weak ankles a study of common peroneal entrapment neuropathy. Br Med J 3(5671):623–626

34.

Souter J, Swong K, McCoyd M, Balasubramanian N, Nielsen M, Prabhu VC (2018) Surgical results of common peroneal nerve neuroplasty at lateral fibular neck. World Neurosurg 112:e465–e472

35.

Spinner RJ (2006) Outcomes for peripheral nerve entrapment syndromes. Clin Neurosurg 53:285

36.

Terzis JK, Kostas I (2020) Outcome with microsurgery of common peroneal nerve lesions. J Plast Reconstr Aesthet Surg 73(1):72–80

37.

Travell JG, Simons LS (1992) Myofascial pain and dysfunction: the trigger point manual. Lippincott Williams & Wilkins, Philadelphia

38.

Trescot AM (2016) Peripheral nerve entrapments. Springer International Publishing, Basel

39.

van Zantvoort AP, Cuppen P, Scheltinga MR (2017) Management and patients perspective regarding a common peroneal nerve schwannoma: a rare cause of lower leg pain in a young individual. Bmj Case Rep 2017:bcr–2017

40.

Vastamäki M (1986) Decompression for peroneal nerve entrapment. Acta Orthop Scand 57(6):551–554

41.

Verson J, Haig AJ, Sandella D, Yamakawa KS, London Z, Tomkins-Lane C (2015) Patient perception of pain versus observed pain behavior during a standardized electrodiagnostic test. Muscle Nerve 51(2):185–191

42.

Westhout FD, Paré LS, Linskey ME (2007) Central causes of foot drop: rare and underappreciated differential diagnoses. J Spinal Cord Med 30(1):62–66

43.

Williams JH, Barnes WS (1989) The positive inotropic effect of epinephrine on skeletal muscle: a brief review. Muscle Nerve 12(12):968–975

44.

Wilson TJ, Kleiber GM, Nunley RM, Mackinnon SE, Spinner RJ (2018) Distal peroneal nerve decompression after sciatic nerve injury secondary to total hip arthroplasty. J Neurosurg 1(aop):1–5
Ethics declarations
Conflict of interest
The authors declare that they have no conflict of interest.
Ethical approval
All procedures performed in studies involving human participants were in accordance with the ethical standards of the 1964 Helsinki declaration and its later amendments or comparable ethical standards. For this type of study, formal consent is not required.
Informed consent
For this type of study, formal consent is not required.
Additional information
Publisher's note
Springer Nature remains neutral with regard to jurisdictional claims in published maps and institutional affiliations.
No Presentations at Conferences
This article is part of the Topical Collection on Peripheral Nerves
About this article
Cite this article
Nirenberg, M.S. A simple test to assist with the diagnosis of common fibular nerve entrapment and predict outcomes of surgical decompression. Acta Neurochir 162, 1439–1444 (2020). https://doi.org/10.1007/s00701-020-04344-3
Received:

Accepted:

Published:

Issue Date:
Keywords
Common fibular nerve

Common peroneal nerve

Common fibular nerve decompression

Drop foot

Common peroneal nerve decompression

Common peroneal nerve entrapment