Abstract
Background
Selective amygdalohippocampectomy (AH) is a surgical option for patients with medically intractable seizures from mesial temporal lobe pathology. The transcranial route is considered the best method to achieve this goal. However, the standard approach through the neocortex is still invasive. The risks can be minimized if the mesial temporal lobe is resected while preserving the lateral temporal lobe and the Meyer's loop. This study explores the feasibility of selective AH by endoscopic endonasal approach (EEA) in cadaveric specimens.
Methods
The endoscopic anatomy of the mesial temporal lobe and the feasibility of a successful selective AH were studied in six hemispheres from three injected human cadavers. Quantitative analyses on the extent of resection and angles of exposure were performed based on CT and MRI studies of pre- and post-selective AH and measurements taken during dissections.
Results
The EEA V1-V2 corridor provided a direct and logical line of access to the mesial temporal lobe, following its natural trajectory with no brain retraction and minimal exposure of the pterygopalatine fossa. The components of the mesial temporal lobe were resected just as selectively and easily as the transcranial route, but without compromising the structures of the lateral temporal lobe or the Meyer's loop.
Conclusions
The EEA V1-V2 corridor demonstrated its selective resectability and accessibility of the mesial temporal lobe in cadaveric specimens. The clinical value of this approach should be explored responsibly by a surgeon with both competent microsurgical skills and experiences in EEA.
Access options
Buy single article
Instant access to the full article PDF.
USD 39.95
Price excludes VAT (USA)
Tax calculation will be finalised during checkout.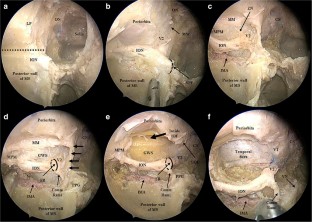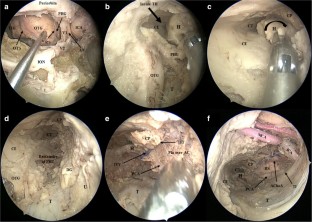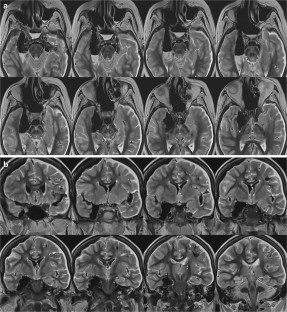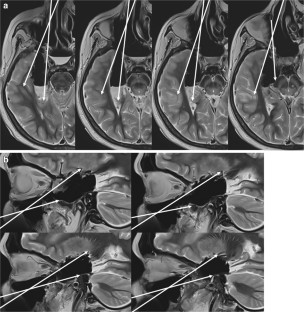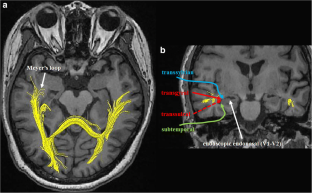 References
Olivier A (2000) Transcortical selective amygdalohippocampectomy in temporal lobe epilepsy. Can J Neurol Sci 27:S68–S76 discussion S92–S96

Yasargil MG, Wieser HG, Valavanis A, von Ammon K, Roth P (1993) Surgery and results of elective amygdala-hippocampectomy in one hundred patients with nonlesional limbic epilepsy. Neurosurg Clin N Am 4:243–261

Egan RA, Shults WT, So N, Burchiel K, Kellogg JX, Salinsky M (2000) Visual field deficits in conventional anterior temporal lobectomy versus amygdalohippocampectomy. Neurology 55:1818–1822

Falowski SM, Wallace D, Kanner A, Smith M, Rossi M, Balabanov A, Ouyang B, Byrne RW (2012) Tailored temporal lobectomy for medically intractable epilepsy: evaluation of pathology and predictors of outcome. Neurosurgery 71:703–709

Ipekdal HI, Karadas O, Erdogan E, Gokcil Z (2011) Spectrum of surgical complications of temporal lobe epilepsy surgery: a single - center study. Turk Neurosurg 21:147–151

Tanriverdi T, Ajlan A, Poulin N, Olivier A (2009) Morbidity in epilepsy surgery: an experience based on 2449 epilepsy surgery procedures from a single institution: clinical article. J Neurosurg 110:1111–1123

Bahuleyan B, Fisher W, Robinson S, Cohen AR (2013) Endoscopic transventricular selective amygdalohippocampectomy: cadaveric demonstration of a new operative approach. World Neurosurg 80:178–182

Chen HI, Bohman LE, Loevner LA, Lucas TH (2014) Transorbital endoscopic amygdalohippocampectomy: a feasibility investigation. J Neurosurg 120:1428–1436

Kalinin P, Sharipov O, Kutin M, Fomichev D, Gavrjushin A, Polev G, Shults Y, Avdeeva K (2017) Amygdalohippocampectomy via the lateral extended transsphenoidal endoscopic approach through the pterygopalatine fossa: an anatomic study. World Neurosurg 103:457–464

Silbergeld DL, Vollmer DG, Tantuwaya VS, Elchler ME (1994) Endoscopic transventricular hippocampectomy. J Epilepsy 8:68–73

Labidi M, Watanabe K, Hanakita S, Park HH, Bouazza S, Bernat AL, Froelich S (2018) The chopsticks technique for endoscopic endonasal surgery-improving surgical efficiency and reducing the surgical footprint. World Neurosurg 117:208–220

Attiah MA, Paulo DL, Danish SF, Stein SC, Mani R (2015) Anterior temporal lobectomy compared with laser thermal hippocampectomy for mesial temporal epilepsy: a threshold analysis study. Epilepsy Res 115:1–7

Barbaro NM, Quigg M, Ward MM, Chang EF, Broshek DK, Langfitt JT, Yan G, Laxer KD, Cole AJ, Sneed PK, Hess CP, Yu W, Tripathi M, Heck CN, Miller JW, Garcia PA, McEvoy A, Fountain NB, Salanova V, Knowlton RC, Bagic A, Henry T, Kapoor S, McKhann G, Palade AE, Reuber M, Tecoma E (2018) Radiosurgery versus open surgery for mesial temporal lobe epilepsy: the randomized, controlled ROSE trial. Epilepsia 59:1198–1207

Moles A, Guenot M, Rheims S, Berthiller J, Catenoix H, Montavont A, Ostrowsky-Coste K, Boulogne S, Isnard J, Bourdillon P (2018) SEEG-guided radiofrequency coagulation (SEEG-guided RF-TC) versus anterior temporal lobectomy (ATL) in temporal lobe epilepsy. J Neurol 265:1998–2004

Gaab MR, Ehrhardt K, Heissler HE (1989) Local brain pressure microcirculation and pH during neurosurgical operations. In: Hoff JT, Betz AL (eds) Intracranial Pressure VII. Springer, Berlin, pp 886–890

Andrews RJ, Bringas JR (1993) A review of brain retraction and recommendations for minimizing intraoperative brain injury. Neurosurgery 33:1052–1063

Goga C, Ture U (2015) The anatomy of Meyer's loop revisited: changing the anatomical paradigm of the temporal loop based on evidence from fiber microdissection. J Neurosurg 122:1253–1262

Balakrishnan K, Moe KS (2011) Applications and outcomes of orbital and transorbital endoscopic surgery. Otolaryngol Head Neck Surg 144:815–820

De Battista JC, Zimmer LA, Rodriguez-Vazquez JF, Froelich SC, Theodosopoulos PV, DePowell JJ, Keller JT (2011) Muller's muscle, no longer vestigial in endoscopic surgery. World Neurosurg 76:342–346

Martins C, Li X, Rhoton AL Jr (2003) Role of the zygomaticofacial foramen in the orbitozygomatic craniotomy: anatomic report. Neurosurgery 53:168–172 discussion: 172–173

Kassam AB, Thomas A, Carrau RL, Snyderman CH, Vescan A, Prevedello D, Mintz A, Gardner P (2008) Endoscopic reconstruction of the cranial base using a pedicled nasoseptal flap. Neurosurgery 63(suppl 1):ONS44–ONS52

Leng LZ, Brown S, Anand VK, Schwartz TH (2008) "Gasket-seal" watertight closure in minimal-access endoscopic cranial base surgery. Neurosurgery 62:342–343

Luginbuhl AJ, Campbell PG, Evans J, Rosen M (2010) Endoscopic repair of high-flow cranial base defects using a bilayer button. Laryngoscope 120:876–880

Conger A, Zhao F, Wang X, Eisenberg A, Griffiths C, Esposito F, Carrau RL, Barkhoudarian G, Kelly DF (2018) Evolution of the graded repair of CSF leaks and skull base defects in endonasal endoscopic tumor surgery: trends in repair failure and meningitis rates in 509 patients. J Neurosurg 130:861–875

Lai LT, Trooboff S, Morgan MK, Harvey RJ (2014) The risk of meningitis following expanded endoscopic endonasal skull base surgery: a systematic review. J Neurol Surg B Skull Base 75:18–26
Ethics declarations
Conflict of interest
The authors declare that they have no conflict of interest.
Ethical approval
All procedures performed in studies involving human participants were in accordance with the ethical standards of the institutional and/or national research committee and with the 1964 Helsinki Declaration and its later amendments or comparable ethical standards. For the following retrospective study, formal consents are not required.
Informed consent
Informed consent was obtained from all individual participants included in the study. No identifiable information is available in the article. This article does not contain any studies with human participants performed by any of the authors.
Additional information
Publisher's note
Springer Nature remains neutral with regard to jurisdictional claims in published maps and institutional affiliations.
This article is part of the Topical Collection on Neurosurgical Anatomy
About this article
Cite this article
Park, H.H., Ronconi, D., Hanakita, S. et al. Endoscopic endonasal approach to the mesial temporal lobe: anatomical study and clinical considerations for a selective amygdalohippocampectomy. Acta Neurochir 162, 881–891 (2020). https://doi.org/10.1007/s00701-019-04163-1
Received:

Accepted:

Published:

Issue Date:

DOI: https://doi.org/10.1007/s00701-019-04163-1
Keywords
Endoscopic endonasal approach

Mesial temporal lobe

Meyer's loop

Selective amygdalohippocampectomy

Temporal lobe epilepsy