Abstract
Background
It is still controversial whether an increased proliferation index is correlated with the tumor invasiveness of pituitary adenomas. A homogeneous large monocentric series of pituitary adenomas was retrospectively analyzed. The correlation between the proliferation indices (Ki-67 and p53 expression levels) and invasiveness and size of pituitary adenomas was investigated in primary operated and recurrent adenomas.
Method
Four hundred thirty-nine patients after resection of pituitary adenomas were retrospectively included (43 recurrent tumors, 196 null cell adenomas, 86 somatotroph adenomas, 55 corticotroph adenomas, 55 prolactinomas, 4 thyreotroph adenomas). The maximum tumor diameter and tumor invasiveness in Knosp grading were assessed and Ki-67 and p53 immunostaining was performed. The role of invasiveness was evaluated using a cumulative odds ordinal logistic regression. For calculating the effect of tumor size, a one-way analysis of variance (ANOVA) was conducted.
Results
Overall and in the subgroups, no significant correlation between proliferation indices and mean tumor diameter was found. No significant predictive expression value of Ki-67 and p53 on tumor invasiveness and in recurrent tumors could be demonstrated. There was a tendency that Ki-67 LI and p53 LI are higher in recurrent corticotroph adenomas and lactotroph adenomas but values did not reach the significant level.
Conclusion
Invasive character of pituitary adenomas is neither correlated with increased Ki-67 LI nor with increased p53 expression. Proliferation parameters are independent from adenoma size at initial presentation. The partly elevated expression of Ki-67 in recurrent tumors underlines the clinical importance of the marker.
Access options
Buy single article
Instant access to the full article PDF.
USD 39.95
Price excludes VAT (USA)
Tax calculation will be finalised during checkout.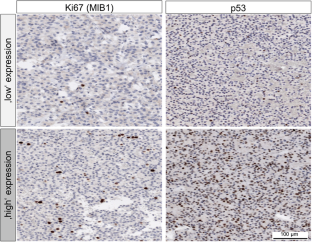 References
Abe T, Sanno N, Osamura YR, Matsumoto K (1997) Proliferative potential in pituitary adenomas: measurement by monoclonal antibody MIB-1. Acta Neurochir 139:613–618

Chacko G, Chacko AG, Kovacs K, Scheithauer BW, Mani S, Muliyil JP, Seshadri MS (2010) The clinical significance of MIB-1 labeling index in pituitary adenomas. Pituitary 13:337–344. https://doi.org/10.1007/s11102-010-0242-7

Chiloiro S, Bianchi A, Doglietto F, de Waure C, Giampietro A, Fusco A, Iacovazzo D, Tartaglione L, Di Nardo F, Signorelli F, Lauriola L, Anile C, Rindi G, Maira G, Pontecorvi A, De Marinis L (2014) Radically resected pituitary adenomas: prognostic role of Ki 67 labeling index in a monocentric retrospective series and literature review. Pituitary 17:267–276. https://doi.org/10.1007/s11102-013-0500-6

Chiloiro S, Doglietto F, Trapasso B, Iacovazzo D, Giampietro A, Di Nardo F, de Waure C, Lauriola L, Mangiola A, Anile C, Maira G, De Marinis L, Bianchi A (2015) Typical and atypical pituitary adenomas: a single-center analysis of outcome and prognosis. Neuroendocrinology 101:143–150. https://doi.org/10.1159/000375448

Cooper O (2015) Silent corticotroph adenomas. Pituitary 18:225–231. https://doi.org/10.1007/s11102-014-0624-3

de Aguiar PH, Aires R, Laws ER, Isolan GR, Logullo A, Patil C, Katznelson L (2010) Labeling index in pituitary adenomas evaluated by means of MIB-1: is there a prognostic role? A critical review. Neurol Res 32:1060–1071. https://doi.org/10.1179/016164110X12670144737855

De Lellis RALR, Heitz PU et al (2004) World Health Organization classification of tumours: pathology and genetics of tumours of endocrine organs. IARC Press, Lyon, pp 9–47

Gejman R, Swearingen B, Hedley-Whyte ET (2008) Role of Ki-67 proliferation index and p53 expression in predicting progression of pituitary adenomas. Hum Pathol 39:758–766. https://doi.org/10.1016/j.humpath.2007.10.004

Honegger J, Prettin C, Feuerhake F, Petrick M, Schulte-Monting J, Reincke M (2003) Expression of Ki-67 antigen in nonfunctioning pituitary adenomas: correlation with growth velocity and invasiveness. J Neurosurg 99:674–679. https://doi.org/10.3171/jns.2003.99.4.0674

Iuchi T, Saeki N, Osato K, Yamaura A (2000) Proliferation, vascular endothelial growth factor expression and cavernous sinus invasion in growth hormone secreting pituitary adenomas. Acta Neurochir 142:1345–1351

Jahangiri A, Wagner JR, Pekmezci M, Hiniker A, Chang EF, Kunwar S, Blevins L, Aghi MK (2013) A comprehensive long-term retrospective analysis of silent corticotrophic adenomas vs hormone-negative adenomas. Neurosurgery 73:8–17discussion 17-18. https://doi.org/10.1227/01.neu.0000429858.96652.1e

Knosp E, Kitz K, Perneczky A (1989) Proliferation activity in pituitary adenomas: measurement by monoclonal antibody Ki-67. Neurosurgery 25:927–930

Knosp E, Steiner E, Kitz K, Matula C (1993) Pituitary adenomas with invasion of the cavernous sinus space: a magnetic resonance imaging classification compared with surgical findings. Neurosurgery 33:610–617 discussion 617-618

Lee EH, Kim KH, Kwon JH, Kim HD, Kim YZ (2014) Results of immunohistochemical staining of cell-cycle regulators: the prediction of recurrence of functioning pituitary adenoma. World Neurosurg 81:563–575. https://doi.org/10.1016/j.wneu.2013.09.035

Lloyd RVOR, Kloppel G, Rosai J (2017) WHO classification of tumours of endocrine organs, 4th edn. IARC Press, Lyon, p 13

Madsen H, Borges TM, Knox AJ, Michaelis KA, Xu M, Lillehei KO, Wierman ME, Kleinschmidt-DeMasters BK (2011) Giant pituitary adenomas: pathologic-radiographic correlations and lack of role for p53 and MIB-1 labeling. Am J Surg Pathol 35:1204–1213. https://doi.org/10.1097/PAS.0b013e31821e8c96

Mastronardi L, Guiducci A, Spera C, Puzzilli F, Liberati F, Maira G (1999) Ki-67 labelling index and invasiveness among anterior pituitary adenomas: analysis of 103 cases using the MIB-1 monoclonal antibody. J Clin Pathol 52:107–111

Matsuyama J (2012) Ki-67 expression for predicting progression of postoperative residual pituitary adenomas: correlations with clinical variables. Neurol Med Chir (Tokyo) 52:563–569

Mete O, Gomez-Hernandez K, Kucharczyk W, Ridout R, Zadeh G, Gentili F, Ezzat S, Asa SL (2016) Silent subtype 3 pituitary adenomas are not always silent and represent poorly differentiated monomorphous plurihormonal Pit-1 lineage adenomas. Mod Pathol 29:131–142. https://doi.org/10.1038/modpathol.2015.151

Miermeister CP, Petersenn S, Buchfelder M, Fahlbusch R, Ludecke DK, Holsken A, Bergmann M, Knappe HU, Hans VH, Flitsch J, Saeger W, Buslei R (2015) Histological criteria for atypical pituitary adenomas - data from the German pituitary adenoma registry suggests modifications. Acta Neuropathol Commun 3:50. https://doi.org/10.1186/s40478-015-0229-8

Paek KI, Kim SH, Song SH, Choi SW, Koh HS, Youm JY, Kim Y (2005) Clinical significance of Ki-67 labeling index in pituitary macroadenoma. J Korean Med Sci 20:489–494. https://doi.org/10.3346/jkms.2005.20.3.489

Ramirez C, Cheng S, Vargas G, Asa SL, Ezzat S, Gonzalez B, Cabrera L, Guinto G, Mercado M (2012) Expression of Ki-67, PTTG1, FGFR4, and SSTR 2, 3, and 5 in nonfunctioning pituitary adenomas: a high throughput TMA, immunohistochemical study. J Clin Endocrinol Metab 97:1745–1751. https://doi.org/10.1210/jc.2011-3163

Righi A, Agati P, Sisto A, Frank G, Faustini-Fustini M, Agati R, Mazzatenta D, Farnedi A, Menetti F, Marucci G, Foschini MP (2012) A classification tree approach for pituitary adenomas. Hum Pathol 43:1627–1637. https://doi.org/10.1016/j.humpath.2011.12.003

Saeger W, Ludecke DK, Buchfelder M, Fahlbusch R, Quabbe HJ, Petersenn S (2007) Pathohistological classification of pituitary tumors: 10 years of experience with the German Pituitary Tumor Registry. Eur J Endocrinol 156:203–216. https://doi.org/10.1530/eje.1.02326

Saeger W, Honegger J, Theodoropoulou M, Knappe UJ, Schofl C, Petersenn S, Buslei R (2016) Clinical impact of the current WHO classification of pituitary adenomas. Endocr Pathol 27:104–114. https://doi.org/10.1007/s12022-016-9418-7

Salehi F, Agur A, Scheithauer BW, Kovacs K, Lloyd RV, Cusimano M (2009) Ki-67 in pituitary neoplasms: a review--part I. Neurosurgery 65:429–437discussion 437. https://doi.org/10.1227/01.NEU.0000349930.66434.82

Sarkar S, Chacko AG, Chacko G (2014) An analysis of granulation patterns, MIB-1 proliferation indices and p53 expression in 101 patients with acromegaly. Acta Neurochir 156:2221–2230discussion 2230. https://doi.org/10.1007/s00701-014-2230-6

Solarski M, Rotondo F, Syro LV, Cusimano MD, Kovacs K (2017) Alpha subunit in clinically non-functioning pituitary adenomas: an immunohistochemical study. Pathol Res Pract 213:1130–1133. https://doi.org/10.1016/j.prp.2017.07.010

Trouillas J, Roy P, Sturm N, Dantony E, Cortet-Rudelli C, Viennet G, Bonneville JF, Assaker R, Auger C, Brue T, Cornelius A, Dufour H, Jouanneau E, Francois P, Galland F, Mougel F, Chapuis F, Villeneuve L, Maurage CA, Figarella-Branger D, Raverot G, members of H, Barlier A, Bernier M, Bonnet F, Borson-Chazot F, Brassier G, Caulet-Maugendre S, Chabre O, Chanson P, Cottier JF, Delemer B, Delgrange E, Di Tommaso L, Eimer S, Gaillard S, Jan M, Girard JJ, Lapras V, Loiseau H, Passagia JG, Patey M, Penfornis A, Poirier JY, Perrin G, Tabarin A (2013) A new prognostic clinicopathological classification of pituitary adenomas: a multicentric case-control study of 410 patients with 8 years post-operative follow-up. Acta Neuropathol 126:123–135. https://doi.org/10.1007/s00401-013-1084-y

Warnet A, Porsova-Dutoit I, Lahlou N, Seret-Begue D, Lajeunie E, Chanson P, Woimant F, Lot G, Guillausseau PJ, Roger M (1994) Glycoprotein hormone alpha-subunit secretion in prolactinomas and in non-functioning adenomas: relation with the tumour size. Clin Endocrinol 41:177–184

Zada G, Du R, Laws ER Jr (2011) Defining the "edge of the envelope": patient selection in treating complex sellar-based neoplasms via transsphenoidal versus open craniotomy. J Neurosurg 114:286–300. https://doi.org/10.3171/2010.8.JNS10520

Zada G, Woodmansee WW, Ramkissoon S, Amadio J, Nose V, Laws ER Jr (2011) Atypical pituitary adenomas: incidence, clinical characteristics, and implications. J Neurosurg 114:336–344. https://doi.org/10.3171/2010.8.JNS10290

Zaidi HA, Cote DJ, Dunn IF, Laws ER Jr (2016) Predictors of aggressive clinical phenotype among immunohistochemically confirmed atypical adenomas. J Clin Neurosci 34:246–251. https://doi.org/10.1016/j.jocn.2016.09.014
Ethics declarations
Conflict of interest
The authors declare that they have no conflict of interest.
Ethical approval
All procedures performed in studies involving human participants were in accordance with the ethical standards of the institutional and/or national research committee (University Hospital Tübingen, Germany) and with the 1964 Helsinki declaration and its later amendments or comparable ethical standards.
For this type of study, formal consent is not required.
Additional information
Publisher's note
Springer Nature remains neutral with regard to jurisdictional claims in published maps and institutional affiliations.
This article is part of the Topical Collection on Pituitaries
About this article
Cite this article
Grimm, F., Maurus, R., Beschorner, R. et al. Ki-67 labeling index and expression of p53 are non-predictive for invasiveness and tumor size in functional and nonfunctional pituitary adenomas. Acta Neurochir 161, 1149–1156 (2019). https://doi.org/10.1007/s00701-019-03879-4
Received:

Accepted:

Published:

Issue Date:

DOI: https://doi.org/10.1007/s00701-019-03879-4
Keywords
Pituitary adenomas

p53

Ki-67

Invasiveness