Abstract
Background
Large intracranial aneurysm is challenging for both surgical and endovascular treatment. High recurrence and retreatment rates are still limitations for endovascular treatment. Analysing risk factors of recurrence after endovascular treatment can be useful for planning future treatment strategies.
Method
We retrospectively reviewed patients with intracranial saccular aneurysm (≥ 8 mm) who underwent endovascular treatment from 2008 to 2017 at our institution. The demographic features, clinical information and angiographic results were analysed to reveal the risk factors for recurrence and retreatment. Subgroup analysis was performed according to packing density (PD) and stent insertion status.
Results
The total recurrence and retreatment rates were 25.7% (44/171) and 10.5% (18/171), respectively. Independent risk factors for recurrence after endovascular treatment were larger aneurysm size (OR 1.32; 95% CI 1.17–1.51; p < 0.001), ruptured status (OR 3.91; 95%CI 1.44–10.90; p = 0.008), initial incomplete occlusion (OR 2.72; 95%CI 1.18–6.41; p = 0.020), and low dome-to-neck ratio (OR 0.61; 95%CI 0.36–0.97; p = 0.047). The recurrence rate for the no-stent with low PD (< 17.5%) group was 50% (14/28); 37.5% (6/16) for stent-assisted coil (SAC) with low PD group, 22.0% (20/91) for no-stent with high PD group and 11.1% (4/36) for SAC with high PD group.
Conclusion
The independent risk factors for recurrence after endovascular treatment in large (≥ 8 mm) intracranial saccular aneurysm were larger aneurysm size, ruptured status, low dome-to-neck ratio and initial incomplete occlusion state. SAC is a useful method for lowering recurrence after endovascular treatment for relatively large (≥ 8 mm) cerebral aneurysm.
Access options
Buy single article
Instant access to the full article PDF.
USD 39.95
Price excludes VAT (USA)
Tax calculation will be finalised during checkout.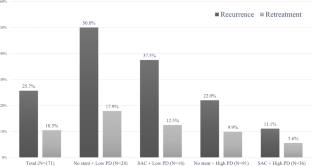 References
Chalouhi N, Tjoumakaris S, Gonzalez LF et al (2014) Coiling of large and giant aneurysms: complications and long-term results of 334 cases. AJNR Am J Neuroradiol 35(3):546–552

Ferns SP, Sprengers MES, van Rooij WJ, Rinkel GJE, van Rijn JC, Bipat S, Sluzewski M, Majoie CBLM (2009) Coiling of intracranial aneurysms: a systematic review on initial occlusion and reopening and retreatment rates. Stroke 40(8):e523–e529

Ferns SP, Majoie CBLM, Sluzewski M, van Rooij WJ (2010) Late adverse events in coiled ruptured aneurysms with incomplete occlusion at 6-month angiographic follow-up. AJNR Am J Neuroradiol 31(3):464–469

Gaba RC, Ansari SA, Roy SS, Marden FA, Viana MAG, Malisch TW (2006) Embolization of intracranial aneurysms with hydrogel-coated coils versus inert platinum coils: effects on packing density, coil length and quantity, procedure performance, cost, length of hospital stay, and durability of therapy. Stroke 37(6):1443–1450

Goddard JK, Moran CJ, Cross DT, Derdeyn CP (2005) Absent relationship between the coil-embolization ratio in small aneurysms treated with a single detachable coil and outcomes. AJNR Am J Neuroradiol 26(8):1916–1920

Jo KI, Yang N-R, Jeon P, Kim KH, Hong S-C, Kim JS (2018) Treatment outcomes with selective coil embolization for large or Giant aneurysms : prognostic implications of incomplete occlusion. J Korean Neurosurg Soc 61(1):19–27

Kai Y, Hamada J, Morioka M, Yano S, Kuratsu J (2005) Evaluation of the stability of small ruptured aneurysms with a small neck after embolization with Guglielmi detachable coils: correlation between coil packing ratio and coil compaction. Neurosurgery 56(4):785–792; discussion 785-792

Kawanabe Y, Sadato A, Taki W, Hashimoto N (2001) Endovascular occlusion of intracranial aneurysms with Guglielmi detachable coils: correlation between coil packing density and coil compaction. Acta Neurochir 143(5):451–455

Lawson MF, Newman WC, Chi Y-Y, Mocco JD, Hoh BL (2011) Stent-associated flow remodeling causes further occlusion of incompletely coiled aneurysms. Neurosurgery 69(3):598–603 discussion 603-604

Molyneux AJ, Birks J, Clarke A, Sneade M, Kerr RSC (2015) The durability of endovascular coiling versus neurosurgical clipping of ruptured cerebral aneurysms: 18 year follow-up of the UK cohort of the international subarachnoid aneurysm trial (ISAT). Lancet Lond Engl 385(9969):691–697

Nguyen TN, Hoh BL, Amin-Hanjani S, Pryor JC, Ogilvy CS (2007) Comparison of ruptured vs unruptured aneurysms in recanalization after coil embolization. Surg Neurol 68(1):19–23

Pierot L, Cognard C, Anxionnat R, Ricolfi F, Investigators CLARITY (2011) Remodeling technique for endovascular treatment of ruptured intracranial aneurysms had a higher rate of adequate postoperative occlusion than did conventional coil embolization with comparable safety. Radiology 258(2):546–553

Piotin M, Spelle L, Mounayer C, Salles-Rezende MT, Giansante-Abud D, Vanzin-Santos R, Moret J (2007) Intracranial aneurysms: treatment with bare platinum coils--aneurysm packing, complex coils, and angiographic recurrence. Radiology 243(2):500–508

Piotin M, Blanc R, Spelle L, Mounayer C, Piantino R, Schmidt PJ, Moret J (2010) Stent-assisted coiling of intracranial aneurysms: clinical and angiographic results in 216 consecutive aneurysms. Stroke 41(1):110–115

Raymond J, Guilbert F, Weill A, Georganos SA, Juravsky L, Lambert A, Lamoureux J, Chagnon M, Roy D (2003) Long-term angiographic recurrences after selective endovascular treatment of aneurysms with detachable coils. Stroke 34(6):1398–1403

Ries T, Siemonsen S, Thomalla G, Grzyska U, Zeumer H, Fiehler J (2007) Long-term follow-up of cerebral aneurysms after endovascular therapy prediction and outcome of retreatment. AJNR Am J Neuroradiol 28(9):1755–1761

Roy D, Milot G, Raymond J (2001) Endovascular treatment of unruptured aneurysms. Stroke 32(9):1998–2004

Slob MJ, Sluzewski M, van Rooij WJ, Roks G, Rinkel GJE (2004) Additional coiling of previously coiled cerebral aneurysms: clinical and angiographic results. AJNR Am J Neuroradiol 25(8):1373–1376

Sluzewski M, van Rooij WJ, Slob MJ, Bescós JO, Slump CH, Wijnalda D (2004) Relation between aneurysm volume, packing, and compaction in 145 cerebral aneurysms treated with coils. Radiology 231(3):653–658

Tamatani S, Ito Y, Abe H, Koike T, Takeuchi S, Tanaka R (2002) Evaluation of the stability of aneurysms after embolization using detachable coils: correlation between stability of aneurysms and embolized volume of aneurysms. AJNR Am J Neuroradiol 23(5):762–767

Tosello RT, Batista UC, Pereira BJA, Piske RL (2017) Packing density necessary to reach a high complete occlusion rate in circumferential Unruptured intracranial aneurysms treated with stent-assisted coil embolization. AJNR Am J Neuroradiol 38(10):1973–1977

Zhang Q, Jing L, Liu J, Wang K, Zhang Y, Paliwal N, Meng H, Wang Y, Wang S, Yang X (2018) Predisposing factors for recanalization of cerebral aneurysms after endovascular embolization: a multivariate study. J Neurointerv Surg 10(3):252–257
Ethics declarations
Conflict of interest
All authors certify that they have no affiliations with or involvement in any organisation or entity with any financial interest (such as honoraria; educational grants; participation in speaker's bureaus; membership, employment, consultancies, stock ownership, or other equity interest; and expert testimony or patent-licencing arrangements), or non-financial interest (such as personal or professional relationships, affiliations, knowledge or beliefs) in the subject matter or materials discussed in this manuscript.
Ethical approval
All procedures performed in studies involving human participants were in accordance with the ethical standards of the institutional and/or national research committee and with the 1964 Helsinki declaration and its later amendments or comparable ethical standards. This study was approved by the institutional review board at the author's institute (KC18RESI0538).
Informed consent
For this type of study, formal consent is not required.
Additional information
Publisher's note
Springer Nature remains neutral with regard to jurisdictional claims in published maps and institutional affiliations.
This article is part of the Topical Collection on Vascular Neurosurgery - Aneurysm
About this article
Cite this article
Park, Y.K., Bae, HJ., Cho, D.Y. et al. Risk factors for recurrence and retreatment after endovascular treatment of intracranial saccular aneurysm larger than 8 mm. Acta Neurochir 161, 939–946 (2019). https://doi.org/10.1007/s00701-019-03877-6
Received:

Accepted:

Published:

Issue Date:

DOI: https://doi.org/10.1007/s00701-019-03877-6
Keywords
Intracranial aneurysm

Endovascular procedure

Recurrence

Stents