Abstract
Background
Syringo-subarachnoid shunt (SSS) is a valid method for the treatment of syringomyelia persisting after foramen magnum decompression (FMD) for Chiari I malformation.
Method
We give a brief overview on indication and outcome of SSS, followed by a detailed description of the surgical anatomy, and of the microsurgical technique. In particular, we highlight some key points for complication avoidance.
Conclusion
SSS is a valid option to treat syringomyelia, since in experienced hands, the outcome is good in most patients, including those with holocord syringomyelia. Careful understanding of anatomy and spinal cord physiology is required to minimize complications.
This is a preview of subscription content, log in to check access.
Access options
Buy single article
Instant access to the full article PDF.
US$ 39.95
Price includes VAT for USA
Subscribe to journal
Immediate online access to all issues from 2019. Subscription will auto renew annually.
US$ 199
This is the net price. Taxes to be calculated in checkout.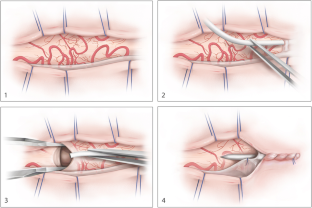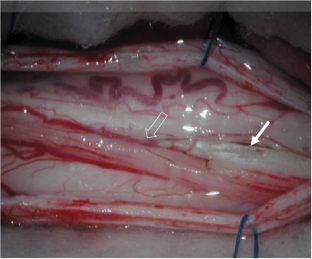 References
1.

Epstein FJ, Ozek M (1993) The plated bayonet: a new instrument to facilitate surgery for intra-axial neoplasms of the spinal cord and brain stem. Technical note. J Neurosurg 78(3):505–507

2.

Pencovich N, Korn A, Constantini S (2013) Intraoperative neurophysiologic monitoring during syringomyelia surgery: lessons from a series of 13 patients. Acta Neurochir 155(5):785–791 discussion 791

3.

Sgouros S, Williams B (1995) A critical appraisal of drainage in syringomyelia. J Neurosurg 82(1):1–10

4.

Soleman J, Roth J, Bartoli A, Rosenthal D, Korn A, Constantini S (2017) Syringo-subarachnoid shunt for the treatment of persistent syringomyelia following decompression for Chiari type I malformation: surgical results. World Neurosurg 108:836–843
Ethics declarations
Conflict of interest
The authors declare that they have no conflict of interest.
Additional information
Key points
- The main indication of SSS is persistent, progressing, recurrent, or newly developed syringomyelia after FMD decompression for Chiari I malformation.
- Before indicating SSS surgery, hydrocephalus, regrowth of the posterior fossa bone (especially in young children), scoliosis, tethered cord syndrome, spinal cord tumors, and spinal instability should be ruled out.
- Microsurgical technique, accompanied by neuromonitoring are imperative as they help preserve neurological function.
- The identification of the posterior midline (posterior median sulcus) of the SC is essential, in order to avoid damage to the ascending columns of the posterior SC.
- Small pial arteries fold medially towards the posterior median sulcus, aiding the surgeon in identifying the midline.
- The syrinx is best reached through a blunt dissection of the SC posterior midline using a plated bayonet, so that the surrounding neuronal structures are minimally affected.
- As an alternative, if the syringomyelia is bulging laterally, it can be approached through the DREZ.
- The shunt catheter is inserted 2–3 cm into the syrinx cavity and subarachnoid space rostrally and cranially, respectively.
- The shunt catheter has to be long enough (at least 4 cm) and must be sutured to the arachnoid, to lower the risk of shunt dislocation.
- The goal of surgery is to release pressure from the SC and prevent further neurological deterioration.
Publisher's note
Springer Nature remains neutral with regard to jurisdictional claims in published maps and institutional affiliations.
This article is part of the Topical Collection on Pediatric Neurosurgery
Electronic supplementary material
Video showing the surgical technique of syringo-subarachnoid shunt insertion. (MP4 256145 kb)
About this article
Cite this article
Soleman, J., Roth, J. & Constantini, S. Syringo-subarachnoid shunt: how I do it. Acta Neurochir 161, 367–370 (2019). https://doi.org/10.1007/s00701-019-03810-x
Received:

Accepted:

Published:

Issue Date:
Keywords
Syringo-subarachnoid shunt

Syringomyelia

Chiari I malformation

Spinal cord

Microsurgery

Pediatric neurosurgery

Spinal electrophysiological monitoring