Abstract
Background
Burr hole surgery for moyamoya disease and moyamoya syndrome is known to be an effective, versatile, and relatively simple revascularization technique. We will focus on the technical operative aspects of multiple burr hole surgery as we perform it in our center.
Methods
Periosteal flaps are prepared and placed in a burr hole with beveled edge, after opening the dura and arachnoid membrane, in order to facilitate neovascularization into the ischemic cortex.
Conclusions
Burr hole surgery is a versatile treatment modality for moyamoya and moyamoya-like disease. Success can be maximized by having a meticulous operative technique.
This is a preview of subscription content, log in to check access.
Access options
Buy single article
Instant access to the full article PDF.
US$ 39.95
Price includes VAT for USA
Subscribe to journal
Immediate online access to all issues from 2019. Subscription will auto renew annually.
US$ 199
This is the net price. Taxes to be calculated in checkout.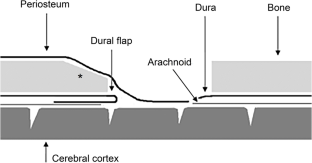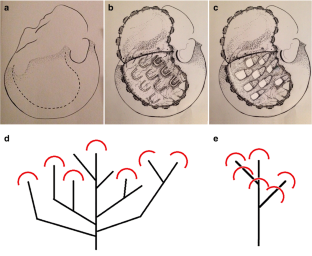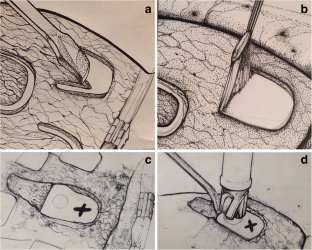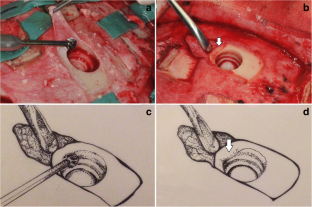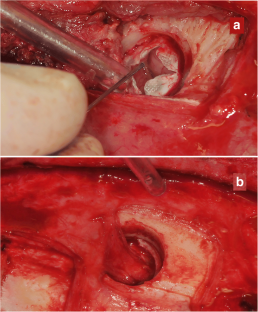 Abbreviations
MMD:

moyamoya disease

MMS:

moyamoya syndrome

ICA:

internal carotid artery

STA:

superficial temporal artery

MCA:

medial cerebral artery

CSF:

cerebrospinal fluid

CPP:

cerebral perfusion pressure
References
1.

Blauwblomme T, Mathon B, Naggara O, Kossorotoff M, Bourgeois M, Puget S, Meyer P, Brousse V, de Montalembert M, Brunelle F, Zerah M, Sainte-Rose C (2017) Long-term outcome after multiple Burr hole surgery in children with moyamoya angiopathy: a single-center experience in 108 hemispheres. Neurosurgery 80(6):950–956

2.

Dusick J, Gonzalez N, Martin N (2011) Clinical and angiographic outcomes from indirect revascularization surgery for moyamoya disease in adults and children: a review of 63 procedures. Neurosurgery 68(1):34–43

3.

Hayashi T, Shirane R, Fujimura M, Tominaga T (2010) Postoperative neurological deterioration in pediatric moyamoya disease: watershed shift and hyperperfusion. J Neurosurg Pediatr 6:73–81

4.

Kawaguchi T, Fujita S, Hosoda K, Shose Y, Hamano S, Iwakura M, Tamaki N (1996) Multiple burr-hole operation for adult moyamoya disease. J Neurosurg 84(3):468–476

5.

McLaughlin N, Martin N (2014) Effectiveness of burr holes for indirect revascularization in patients with moyamoya disease-a review of the literature. World Neurosurg 81(1):91–98

6.

Sainte-Rose C, Oliveira R, Puget S, Beni-Adani L, Boddaert N, Thorne J, Wray A, Zerah M, Bourgeois M (2006) Multiple burr hole surgery for the treatment of moyamoya disease in children. J Neurosurg 105(6):437–443

7.

Zhao X, Wang C, Ji Y, Han C, Wang M (2015) Therapeutic effect of multiple burr hole operation combined with dural inversion and periosteal synangiosis for moyamoya disease. Br J Neurosurg 229(6):811–817
Acknowledgments
The authors of this study would like to acknowledge Tatjana Blondé (medical illustrations), the OR technical support team of the Antwerp University Hospital (intraoperative photographs), Lord Ilia Lavrysen (video-editing), and Barbara Blokland (proofreading of manuscript).
Ethics declarations
Conflict of interest
First author Dr. Eno Lavrysen declares that he has no conflict of interest. Second author Prof. Dr. Tomas Menovsky declares that he has no conflict of interest.
Ethical approval
This article does not contain any studies with human participants performed by any of the authors.
Informed consent
Informed consent was obtained from all individual participants included in the study.
Additional information
This article is part of the Topical Collection on Pediatric Neurosurgery
Electronic supplementary material
00:08–00:30 s: Patient positioning and dissection in the avascular plane between periosteum and galea aponeurotica. Notice the way the scalpel is placed on the periosteum with the sharp edge pointed toward the inner side of the galea and turned at a 45-degree angle. At the same time, traction is applied to the skin flap containing the galea aponeurotica to ease dissection. 00:35–00:42 s: First image = completely prepared periosteum. Second image = marking the periosteal flaps using a triangle form. Third image = alternative, more U-shaped flaps. 00:43–00:46 s: Incision of the periosteum, creating the flap. It this to be mentioned that avoiding the use of electrocautery is preferred when possible, in order to maximize vascularization potential of the edges of the periosteal (and/or meningeal) flaps. 00:47–00:58 s: Careful separation of the periosteal flap from the cranial bone in order to prepare the surface for placement of the burr hole. 01:03–01:21 s: CREATION of burr hole using the drill bit. Notice how in the medial part of the burr hole (upper side in the frame) a beveled edge is created. 01:26–01:31 s: Hemostasis of epidural bleeding and bone bleeding using gelatin foam. A Penfield dissector is used to push the gelatin foam into the epidural edges of the burr hole and in the bleeding bone. Bone wax, oxidized cellulose, etc. are alternatives. 01:37–01:45 s: Dural incision. Notice the use of an instrument in order to protect the arachnoidal layer. Coagulation of the meningeal edges is avoided in order to maximize vascularization potential from these edges, which can be of greater importance than from the periosteal flaps in some cases. 01:46–01:57 s: Opening of the arachnoid membrane using a scissor. The bevel of a needle can also be used. Notice the cortex which is being exposed. 01:58–02:16 s: Placement of the periosteal flaps on the exposed cortex in the subarachnoidal space. 02:18–02:34 s: Placement of fibrin sealant in into the burr hole to prevent CSF-leakage and hematoma inflow, two of the most important postoperative complications of this procedure. 02:36–02:59 s: Another example of placement of the periosteal flap on the cortex. (MOV 283226 kb)
00:08–00:30 s: Patient positioning and dissection in the avascular plane between periosteum and galea aponeurotica. Notice the way the scalpel is placed on the periosteum with the sharp edge pointed toward the inner side of the galea and turned at a 45-degree angle. At the same time, traction is applied to the skin flap containing the galea aponeurotica to ease dissection. 00:35–00:42 s: First image = completely prepared periosteum. Second image = marking the periosteal flaps using a triangle form. Third image = alternative, more U-shaped flaps. 00:43–00:46 s: Incision of the periosteum, creating the flap. It this to be mentioned that avoiding the use of electrocautery is preferred when possible, in order to maximize vascularization potential of the edges of the periosteal (and/or meningeal) flaps. 00:47–00:58 s: Careful separation of the periosteal flap from the cranial bone in order to prepare the surface for placement of the burr hole. 01:03–01:21 s: CREATION of burr hole using the drill bit. Notice how in the medial part of the burr hole (upper side in the frame) a beveled edge is created. 01:26–01:31 s: Hemostasis of epidural bleeding and bone bleeding using gelatin foam. A Penfield dissector is used to push the gelatin foam into the epidural edges of the burr hole and in the bleeding bone. Bone wax, oxidized cellulose, etc. are alternatives. 01:37–01:45 s: Dural incision. Notice the use of an instrument in order to protect the arachnoidal layer. Coagulation of the meningeal edges is avoided in order to maximize vascularization potential from these edges, which can be of greater importance than from the periosteal flaps in some cases. 01:46–01:57 s: Opening of the arachnoid membrane using a scissor. The bevel of a needle can also be used. Notice the cortex which is being exposed. 01:58–02:16 s: Placement of the periosteal flaps on the exposed cortex in the subarachnoidal space. 02:18–02:34 s: Placement of fibrin sealant in into the burr hole to prevent CSF-leakage and hematoma inflow, two of the most important postoperative complications of this procedure. 02:36–02:59 s: Another example of placement of the periosteal flap on the cortex. (MOV 283226 kb)
About this article
Cite this article
Lavrysen, E., Menovsky, T. How I do it: operative nuances of multiple burr hole surgery for moyamoya disease and syndrome. Acta Neurochir 161, 171–175 (2019). https://doi.org/10.1007/s00701-018-3743-1
Received:

Accepted:

Published:

Issue Date:
Keywords
Burr holes

Extracranial-intracranial bypass

Indirect revascularization

Moyamoya disease

Moyamoya syndrome

Multiple burr hole surgery

Pediatric neurosurgery