Abstract
Background
Small deep infarcts constitute a well-known risk of motor and speech deficit in insulo-opercular glioma surgery. However, the risk of cognitive deterioration in relation to stroke occurrence in so-called silent areas is poorly known. In this paper, we propose to build a distribution map of small deep infarcts in glioma surgery, and to analyze patients' cognitive outcome in relation to stroke occurrence.
Methods
We retrospectively studied a consecutive series of patients operated on for a diffuse glioma between June 2011and June 2017. Patients with lower-grade glioma were cognitively assessed, both before and 4 months after surgery. Areas of decreased apparent diffusion coefficient (ADC) on the immediate postoperative MRI were segmented. All images were registered in the MNI reference by ANTS algorithm, allowing to build a distribution map of the strokes. Stroke occurrence was correlated with the postoperative changes in semantic fluency score in the lower-grade glioma cohort.
Results
One hundred fifteen patients were included. Areas of reduced ADC were observed in 27 out of 54 (50%) patients with a lower-grade glioma, and 25 out of 61 (41%) patients with a glioblastoma. Median volume was 1.6 cc. The distribution map revealed five clusters of deep strokes, corresponding respectively to callosal, prefrontal, insulo-opercular, parietal, and temporal tumor locations. No motor nor speech long-term deficits were caused by these strokes. Cognitive evaluations at 4 months showed that the presence of small infarcts correlated with a slight decrease of semantic fluency scores.
Conclusion
Deep small infarcts are commonly found after glioma surgery, but their actual impact in terms of patients' quality of life remains to be demonstrated. Further studies are needed to better evaluate the cognitive consequences—if any—for each of the described hotspots and to identify risk factors other than the surgery-induced damage of microvessels.
Access options
Buy single article
Instant access to the full article PDF.
USD 39.95
Price excludes VAT (USA)
Tax calculation will be finalised during checkout.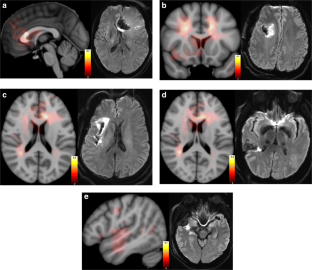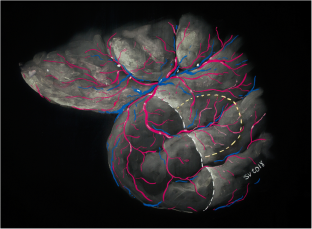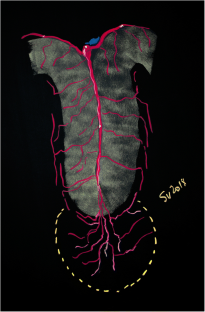 References
Jakola AS, Myrmel KS, Kloster R, Torp SH, Lindal S, Unsgård G, Solheim O (2012) Comparison of a strategy favoring early surgical resection vs a strategy favoring watchful waiting in low-grade gliomas. JAMA 308(18):1881–1888

Jakola AS, Unsgård G, Solheim O (2011) Quality of life in patients with intracranial gliomas: the impact of modern image-guided surgery. J Neurosurg 114(6):1622–1630

Wager M, Rigoard P, Bouyer C, Baudiffier V, Stal V, Bataille B, Gil R, Du Boisgueheneuc F (2017) Operating environment for awake brain surgery - choice of tests. Neurochirurgie 63(3):150–157

Szelényi A, Bello L, Duffau H, Fava E, Feigl GC, Galanda M, Neuloh G, Signorelli F, Sala F, Workgroup for Intraoperative Management in Low-Grade Glioma Surgery within the European Low-Grade Glioma Network (2010) Intraoperative electrical stimulation in awake craniotomy: methodological aspects of current practice. Neurosurg Focus 28(2):E7

Gempt J, Förschler A, Buchmann N, Pape H, Ryang Y-M, Krieg SM, Zimmer C, Meyer B, Ringel F (2013) Postoperative ischemic changes following resection of newly diagnosed and recurrent gliomas and their clinical relevance. J Neurosurg 118(4):801–808

Duffau H (2012) A new concept of diffuse (low-grade) glioma surgery. Adv Tech Stand Neurosurg 38:3–27

Mandonnet E, De Witt Hamer P, Poisson I et al (2015) Initial experience using awake surgery for glioma: oncological, functional, and employment outcomes in a consecutive series of 25 cases. Neurosurgery. https://doi.org/10.1227/NEU.0000000000000644

Rheault F, Houde J, Goyette N, Morency F, Descoteaux M (2016) MI-Brain, a software to handle tractograms and perform interactive virtual dissection. In: Proceeding of: Breaking the Barriers of Diffusion MRI (ISMRM workshop). September. Lisbon, Portugal, 2016

Avants BB, Tustison NJ, Song G, Cook PA, Klein A, Gee JC (2011) A reproducible evaluation of ANTs similarity metric performance in brain image registration. Neuroimage 54(3):2033–2044

Satoer D, Visch-Brink E, Smits M, Kloet A, Looman C, Dirven C, Vincent A (2014) Long-term evaluation of cognition after glioma surgery in eloquent areas. J Neuro-Oncol 116(1):153–160

Satoer D, Vork J, Visch-Brink E, Smits M, Dirven C, Vincent A (2012) Cognitive functioning early after surgery of gliomas in eloquent areas. J Neurosurg 117(5):831–838

Foulon C, Cerliani L, Kinkingnéhun S, Levy R, Rosso C, Urbanski M, Volle E, Thiebaut de Schotten M (2018) Advanced lesion symptom mapping analyses and implementation as BCBtoolkit. Gigascience. https://doi.org/10.1093/gigascience/giy004

Mandonnet E, Wager M, Almairac F et al (2017) Survey on current practice within the European low-grade glioma network: where do we stand and what is the next step? Neurooncol Pract. https://doi.org/10.1093/nop/npw031

Rofes A, Mandonnet E, Godden J et al (2017) Survey on current cognitive practices within the European Low-Grade Glioma Network: towards a European assessment protocol. Acta Neurochir 159(7):1167–1178

Ulmer S, Braga TA, Barker FG 2nd, Lev MH, Gonzalez RG, Henson JW (2006) Clinical and radiographic features of peritumoral infarction following resection of glioblastoma. Neurology 67(9):1668–1670

Smith JS, Cha S, Mayo MC, McDermott MW, Parsa AT, Chang SM, Dillon WP, Berger MS (2005) Serial diffusion-weighted magnetic resonance imaging in cases of glioma: distinguishing tumor recurrence from postresection injury. J Neurosurg 103(3):428–438

Jakola AS, Berntsen EM, Christensen P, Gulati S, Unsgård G, Kvistad KA, Solheim O (2014) Surgically acquired deficits and diffusion weighted MRI changes after glioma resection - a matched case-control study with blinded neuroradiological assessment. PLoS One 9(7):e101805. https://doi.org/10.1371/journal.pone.0101805

Khan RB, Gutin PH, Rai SN, Zhang L, Krol G, DeAngelis LM (2006) Use of diffusion weighted magnetic resonance imaging in predicting early postoperative outcome of new neurological deficits after brain tumor resection. Neurosurgery 59(1):60–66 discussion 60-66

Duffau H (2009) A personal consecutive series of surgically treated 51 cases of insular WHO Grade II glioma: advances and limitations. J Neurosurg 110(4):696–708

Gempt J, Krieg SM, Hüttinger S, Buchmann N, Ryang Y-M, Shiban E, Meyer B, Zimmer C, Förschler A, Ringel F (2013) Postoperative ischemic changes after glioma resection identified by diffusion-weighted magnetic resonance imaging and their association with intraoperative motor evoked potentials. J Neurosurg 119(4):829–836

Kumabe T, Higano S, Takahashi S, Tominaga T (2007) Ischemic complications associated with resection of opercular glioma. J Neurosurg 106(2):263–269

Moshel YA, Marcus JDS, Parker EC, Kelly PJ (2008) Resection of insular gliomas: the importance of lenticulostriate artery position. J Neurosurg 109(5):825–834

Sanai N, Polley M-Y, Berger MS (2010) Insular glioma resection: assessment of patient morbidity, survival, and tumor progression. J Neurosurg 112(1):1–9

Lang FF, Olansen NE, DeMonte F, Gokaslan ZL, Holland EC, Kalhorn C, Sawaya R (2001) Surgical resection of intrinsic insular tumors: complication avoidance. J Neurosurg 95(4):638–650

Duvernoy HM, Delon S, Vannson JL (1981) Cortical blood vessels of the human brain. Brain Res Bull 7(5):519–579

Nonaka H, Akima M, Hatori T, Nagayama T, Zhang Z, Ihara F (2003) Microvasculature of the human cerebral white matter: arteries of the deep white matter. Neuropathology 23(2):111–118

Nonaka H, Akima M, Hatori T, Nagayama T, Zhang Z, Ihara F (2003) The microvasculature of the cerebral white matter: arteries of the subcortical white matter. J Neuropathol Exp Neurol 62(2):154–161

Fernández-Miranda JC, Rhoton AL, Kakizawa Y, Choi C, Alvarez-Linera J (2008) The claustrum and its projection system in the human brain: a microsurgical and tractographic anatomical study. J Neurosurg 108(4):764–774

Türe U, Yaşargil MG, Al-Mefty O, Yaşargil DC (2000) Arteries of the insula. J Neurosurg 92(4):676–687

Hendrikse J, Zwanenburg JJ, Visser F, Takahara T, Luijten P (2008) Noninvasive depiction of the lenticulostriate arteries with time-of-flight MR angiography at 7.0 T. Cerebrovasc Dis 26(6):624–629

Kang H-S, Han MH, Kwon BJ, Kwon O-K, Kim SH, Chang K-H (2005) Evaluation of the lenticulostriate arteries with rotational angiography and 3D reconstruction. AJNR Am J Neuroradiol 26(2):306–312

Saito R, Kumabe T, Inoue T, Takada S, Yamashita Y, Kanamori M, Sonoda Y, Tominaga T (2009) Magnetic resonance imaging for preoperative identification of the lenticulostriate arteries in insular glioma surgery. Technical note. J Neurosurg 111(2):278–281
Acknowledgements
EM thanks Pr Duffau for fruitful discussions about this work.
Ethics declarations
Conflict of interest
The authors declare that they have no conflict of interest.
Informed consent
All patients signed a written informed consent for retrospective analysis of their clinical and radiological data, although due to the retrospective nature of the study, formal consent is not required.
Ethical approval
All procedures performed in studies involving human participants were in accordance with the ethical standards of the institutional and/or national research committee and with the 1964 Helsinki declaration and its later amendments or comparable ethical standards.
Additional information
This article is part of the Topical Collection on Tumor - Glioma
About this article
Cite this article
Loit, MP., Rheault, F., Gayat, E. et al. Hotspots of small strokes in glioma surgery: an overlooked risk?. Acta Neurochir 161, 91–98 (2019). https://doi.org/10.1007/s00701-018-3717-3
Received:

Accepted:

Published:

Issue Date:

DOI: https://doi.org/10.1007/s00701-018-3717-3
Keywords
Strokes

Glioma

Surgery

Cognitive outcome