Abstract
Background
Comments made by readers in response to news articles about current events can provide profound insights into public understanding of and perspectives on those events. Here, in follow up to a paper published last year in this journal, we examined reader comments to articles in newspapers and magazines about neurosurgical interventions for treating psychiatric illness.
Method
We conducted a thematic analysis of these comments (N = 662 coded units of data) posted in response to 115 newspaper and magazine articles from four countries (Canada, USA, Germany, and Spain) between 2006 and 2017. The comments were coded using an iteratively refined coding scheme that was structured around four a priori categories based on results from the parent study and two new categories that emerged.
Results
We found many references to historical psychosurgery and mostly negative and pessimistic comments about ablative neurosurgical interventions. Comments to deep brain stimulation were more positive, and comments to optogenetics most controversial. We also found many expressions of distrust of medical professionals in the context of interventions on the brain and concerns about social and individual control.
Conclusions
Overall, results suggest there is still much work to be done to raise public awareness about re-emerging and new neurosurgical interventions. Balanced discussion is needed if these approaches are to find a place in health care for psychiatric disorders.
This is a preview of subscription content, log in to check access.
Access options
Buy single article
Instant access to the full article PDF.
US$ 39.95
Price includes VAT for USA
Subscribe to journal
Immediate online access to all issues from 2019. Subscription will auto renew annually.
US$ 199
This is the net price. Taxes to be calculated in checkout.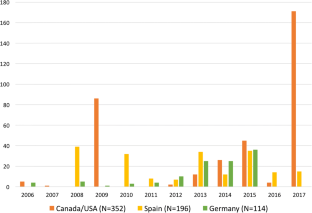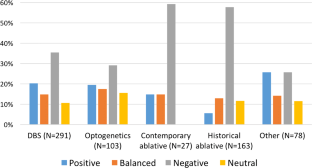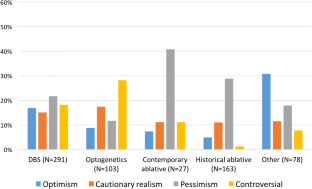 References
1.

Abdullah T, Brown TL (2011) Mental illness stigma and ethnocultural beliefs, values, and norms: an integrative review. Clin Psychol Rev 31(6):934–948

2.

Bauer MW (2005) Public perceptions and mass media in the biotechnology controversy. Int J Public Opinion Res 17(1):5–22

3.

Braun V, Clarke V (2006) Using thematic analysis in psychology. Qual Res Psychol 3(2):77–10

4.

Cabrera LY, Reiner PB (2015) Understanding public (mis)understanding of tDCS for enhancement. Frontiers in integrative Neuroscience 9 (art 30)

5.

Cabrera LY, Bittlinger M, Lou H, Müller S, Illes J (2018) The re-emergence of psychiatric neurosurgery: insights from a cross-national study of newspaper and magazine coverage. Acta Neurochir 17(1):1–11

6.

Chi MT (1997) Quantifying qualitative analyses of verbal data: a practical guide. J Learn Sci 6(3):271–315

7.

Craig DA (2011) Ethical language and themes in news coverage of genetic testing. J Mass Commun Q 77(1):160–174

8.

Diefenbach GJ, Diefenbach D, Baumeister A, West M (1999) Portrayal of lobotomy in the popular press: 1935-1960. J Hist Neurosci 8(1):60–69

9.

European Commission (2013) Eurobarometer: responsible research and innovation (RRI), Science and Technology http://eceuropaeu/commfrontoffice/publicopinion/archives/ebs/ebs_401_enpdf Accessed 24 January 2018

10.

Faridani S, Bitton E, Ryokai K, Goldberg K (2010) Opinion space: a scalable tool for browsing online comments. In: CHI '10, ACM press. ACM press, New York, New York, USA, p 1175

11.

Gilbert F, Ovadia D (2011) Deep brain stimulation in the media: over-optimistic portrayals call for a new strategy involving journalists and scientists in ethical debates. Frontiers in integrative Neuroscience 5 (Art 16)

12.

Happer C, Philo G (2013) The role of the media in the construction of public belief and social change. J Soc Polit Psych 1(1):321–336

13.

Henrich N, Holmes B (2011) What the public was saying about the H1N1 vaccine: perceptions and issues discussed in on-line comments during the 2009 H1N1 pandemic. PLoS One 6(4):e18479–e18412

14.

Lauber C, Nordt C, Falcato L, Rössler W (2005) Can a seizure help? The public's attitude toward electroconvulsive therapy. Psychiatry Res 134(2):205–209

15.

Müller S, Riedmüller R, van Oosterhout A (2015) Rivaling paradigms in psychiatric neurosurgery: adjustability versus quick fix versus minimal-invasiveness. Front Integr Neurosci 9(214):165

16.

Nuttin BJ, Cosyns P, Demeulemeester H, Gybels J (1999) Electrical stimulation in anterior limbs of internal capsules in patients with obsessive-compulsive disorder. Lancet 354(9189):1526

17.

Nuttin BJ, Gybels J, Cosyns P, Gabriels L, al E (2002) Deep brain stimulation for psychiatric disorders. Neurosurgery 5(12):519

18.

Pressman JD (1998) Last resort. Cambridge University Press, Cambridge

19.

Racine E, Waldman S, Palmour N, Risse D, Illes J (2007) "Currents of hope": neurostimulation techniques in U.S. and U.K. print media. Camb Q Healthc Ethics 16(03):312–316

20.

Regan Á, Shan L, McConnon Á, Marcu A, Raats M, Wall P, Barnett J (2014) Strategies for dismissing dietary risks: insights from user-generated comments online. Health Risk Soc 16(4):308–322

21.

Rössler W, Salize HJ (1995) Factors affecting public attitudes towards mental health care. Eur Arch Psychiatry Clin Neurosci 245(1):20–26

22.

Schläpfer TE, Fins JJ (2010) Deep brain stimulation and the neuroethics of responsible publishing. JAMA 303:775–776

23.

Schläpfer TE, Lisanby SH, Pallanti S (2010) Separating hope from hype: some ethical implications of the development of deep brain stimulation in psychiatric research and treatment. Brain Stimul 15(5):285–287

24.

Valenstein ES (1986) Great and desperate cures. Basic Books (AZ), Ann Arbor

25.

Weiner RD, Reti IM (2017) Key updates in the clinical application of electroconvulsive therapy. Int Rev Psychiatry 29(2):54–62

26.

Westerman D, Spence PR, Van Der Heide B (2013) Social media as information source: recency of updates and credibility of information. J Comput-Mediat Commun 19(2):171–183

27.

World Health Organization (2016) Investing in treatment for depression and anxiety leads to fourfold return. In: World Health Organization. http://www.who.int/mediacentre/news/releases/2016/depression-anxiety-treatment/en/. Accessed 24 Jan 2018

28.

Wright KB (2005) Researching internet-based populations: advantages and disadvantages of online survey research, online questionnaire authoring software packages, and web survey services. J Comput-Mediat Commun 10(3):1–19
Acknowledgments
We would like to acknowledge the support from members of the ERA-NET NEURON psychiatric neurosurgery team, and Caitlin Courchesne (Neuroethics Canada) for the thoughtful comments on previous drafts.
Funding
ERA-NET NEURON Team Grant: Ethical, Legal and Social (ELS) Issues #ERN-144241 (JI) and the Federal Ministry of Education and Research of Germany (01GP1621A) (SM). The sponsor had no role in the design or conduct of this research.
Ethics declarations
Conflict of interest
The authors declare that they have no conflict of interest.
Ethical approval
This article does not contain any studies with human participants performed by any of the authors.
Additional information
This article is part of the Topical Collection on Functional Neurosurgery - Other
About this article
Cite this article
Cabrera, L.Y., Bittlinger, M., Lou, H. et al. Reader comments to media reports on psychiatric neurosurgery: past history casts shadows on the future. Acta Neurochir 160, 2501–2507 (2018). https://doi.org/10.1007/s00701-018-3696-4
Received:

Accepted:

Published:

Issue Date:
Keywords
Psychiatric neurosurgery

Neuroethics

Public perceptions