Abstract
Background
Hearing preservation in patients with vestibular schwannomas remains difficult by microsurgery or radiosurgery.
Method
In this study, awake surgery via the retrosigmoid approach was performed for vestibular schwannomas (volume, 11.6 ± 11.2 ml; range, 1.3–26.4 ml) in eight consecutive patients with preoperative quartering of pure tone audiometry (PTA) of 53 ± 27 dB.
Results
After surgery, hearing was preserved in seven patients and improved in one patient. The postoperative quartering PTA was 51 ± 21 dB. Serviceable hearing (class A + B + C) using the American Association of Otolaryngology-Head and Neck Surgery (AAO-HNS) classification was preserved in all patients. Preoperative useful hearing (AAO-HNS class A + B) was observed in three patients, and useful hearing was preserved in all three of these patients after surgery. In addition, useful facial nerve function (House-Blackmann Grade 1) was preserved in all patients.
Conclusions
These results suggest that awake surgery for vestibular schwannomas is associated with low patient morbidity, including with respect to hearing and facial nerve function.
Access options
Buy single article
Instant access to the full article PDF.
US$ 39.95
Tax calculation will be finalised during checkout.
Subscribe to journal
Immediate online access to all issues from 2019. Subscription will auto renew annually.
US$ 119
Tax calculation will be finalised during checkout.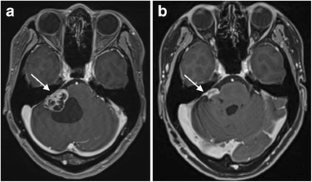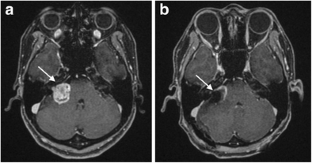 References
1.

Abboud T, Regelsberger J, Matschke J, Jowett N, Westphal M, Dalchow C (2016) Long-term vestibulocochlear functional outcome following retro-sigmoid approach to resection of vestibular schwannoma. Eur Arch Otorhinolaryngol 273:719–725

2.

American Academy of Otolaryngology-Head and Neck Surgery (1995) Committee on hearing and equilibrium guidelines for the evaluation of hearing preservation in acoustic neuroma (vestibular schwannoma). American Academy of Otolaryngology-Head and Neck Surgery Foundation, INC. Otolaryngeal Head Neck Surg 113:179–180

3.

Anaizi AN, DiNapoli VV, Pensak M, Theodosopoulos PV (2016) Small vestibular schwannomas: does surgery remain a viable treatment option? J Neurol Surg B Skull Base 77:212–218

4.

Boari N, Bailo M, Gagliardi F, Franzin A, Gemma M, del Vecchio A, Bolognesi A, Picozzi P, Mortini P (2014) Gamma knife radiosurgery for vestibular schwannoma: clinical results at long-term follow-up in a series of 379 patients. J Neurosurg 121(Suppl):123–142

5.

Chacko AG, Thomas SG, Babu KS, Daniel RT, Chacko G, Prabhu K, Cherian V, Korula G (2013) Awake craniotomy and electrophysiological mapping for eloquent area tumours. Clin Neurol Neurosurg 115:329–334

6.

Golfinos JG, Hill TC, Rokosh R, Choudhry O, Shinseki M, Mansouri A, Friedmann DR, Thomas Roland J Jr, Kondziolka D (2016) A matched cohort comparison of clinical outcomes following microsurgical resection or stereotactic radiosurgery for patients with small- and medium-sized vestibular schwannomas. J Neurosurg 125:1472-1482

7.

Iwai Y, Ishibashi K, Watanabe Y, Uemura G, Yamanaka K (2015) Functional preservation after planned partial resection followed by gamma knife radiosurgery for large vestibular schwannomas. World Neurosurg 84:292–300

8.

Kim SS, McCutcheon IE, Suki D, Weinberg JS, Sawaya R, Lang FF, Ferson D, Heimberger AB, DeMonte F, Prabhu SS (2009) Awake craniotomy for brain tumors near eloquent cortex: correlation of intraoperative cortical mapping with neurological outcomes in 309 consecutive patient. Neurosurgery 64:836–845

9.

Peng KA, Wilkinson EP (2016) Optimal outcomes for hearing preservation in the management of small vestibular schwannomas. J Laryngol Otol 130:606–610

10.

Pereira LC, Oliveira KM, L'Abbate GL, Sugai R, Ferreira JA, da Motta LA (2009) Outcome of fully awake craniotomy for lesions near the eloquent cortex: analysis of a prospective surgical series of 79 supratentorial primary brain tumors with long follow-up. Acta Neurochir (Wein) 151:1215–1230

11.

Peruzzi P, Bergese SD, Viloria A, Puente EG, Abdel-Rasoul M, Chiocca EA (2011) A retrospective cohort-matched comparison of conscious sedation versus general anesthesia for supratentorial glioma resection. Clinical article. J Neurosurg 114:633–639.

12.

Pinksker MO, Nabavi A, Mehdorn HM (2007) Neuronavigation and resection of lesions located in eloquent brain areas under local anesthesia and neuropsychological-neurophysiological monitoring. Minim Invasive Neurosurg 50:281–284

13.

Raheja A, Bowers CA, MacDonald JD, Shelton C, Gurgel RK, Brimley C, Couldwell WT (2016) Middle fossa approach for vestibular schwannoma: good hearing and facial nerve outcomes with low morbidity. World Neurosurg 92:37–46

14.

Rykaczewski B, Zabek M (2014) A meta-analysis of treatment of vestibular schwannoma using gamma knife radiosurgery. Contemp Oncol (Pozn) 18:60–66

15.

Sacko O, Lauwers-Cances V, Brauge D, Sesay M, Brenner A, Roux FE (2011) Awake craniotomy vs. surgery under general anesthesia for resection of supratentorial lesions. Neurosurgery 68:1192–1199

16.

Sarmiento JM, Patel S, Mukherjee D, Patil CG (2013) Improving outcomes in patients with vestibular schwannomas: microsurgery versus radiosurgery. J Neurosurg Sci 57:23–44

17.

Shinoura N, Yamada R, Kodama T, Suzuki Y, Takahashi M, Yagi K (2005) Preoperative fMRI, tractography and continuous task during awake surgery for maintenance of motor function following surgical resection of metastatic tumor spread to the primary motor area. Minim Invasive Neurosurg 48:85–90

18.

Shinoura N, Midorikawa A, Yamada R, Hiromitsu K, Itoi C, Saito S, Yagi K (2016) Operative strategies during awake surgery affect deterioration of paresis one month after surgery for brain lesions in the primary motor area. J Neurol Surg A Cent Eur Neurosurg. doi:10.1055/s-0036-1586252

19.

Taylor MD, Bernstein M (1999) Awake craniotomy with brain mapping as the routine surgical approach to treating patients with supratentorial intraaxial tumors: a prospective trial of 200 cases. J Neurosurg 90:35–41

20.

Wanibuchi M, Fukushima T, Friedman AH, Watanabe K, Akiyama Y, Mikami T, Iihoshi S, Murakami T, Sugino T, Mikuni N (2014) Hearing preservation surgery for vestibular schwannomas via the retrosigmoid transmeatal approach: surgical tips. Neurosurg Rev 37:431–444

21.

Wilden JA, Voorhies J, Mosier KM, O'Neill DP, Cohen-Gadol AA (2013) Strategies to maximize resection of complex, or high surgical risk, low-grade gliomas. Neurosurg Focus 34:1–11

22.

Yamakami I, Ito S, Higuchi Y (2014) Retrosigmoid removal of small acoustic neuroma: curative tumor removal with preservation of function. J Neurosurg 121:554–563

23.

Yang I, Sughrue ME, Han SJ, Aranda D, Pitts LH, Cheung SW, Parsa AT (2013) A comprehensive analysis of hearing preservation after radiosurgery for vestibular schwannoma: clinical article. J Neurosurg 119(Suppl):851–859

24.

Zhang Z, Nguyen Y, De Seta D, Russo FY, Rey A, Kalamarides M, Sterkers O, Bernardeschi D (2016) Surgical treatment of sporadic vestibular schwannoma in a series of 1006 patients. Acta Otorhinolaryngol Ital 36:408-414
Ethics declarations
Funding
No funding was received for this research.
Conflict of interest
None.
Ethical approval
All procedures performed in studies involving human participants were in accordance with the ethical standards of the institutional and/or national research committee and with the 1964 Helsinki declaration and its later amendments or comparable ethical standards.
For this type of study formal consent is not required.
About this article
Cite this article
Shinoura, N., Midorikawa, A., Hiromitsu, K. et al. Preservation of hearing following awake surgery via the retrosigmoid approach for vestibular schwannomas in eight consecutive patients. Acta Neurochir 159, 1579–1585 (2017). https://doi.org/10.1007/s00701-017-3235-8
Received:

Accepted:

Published:

Issue Date:
Keywords
Awake surgery

Vestibular schwannomas

Facial nerve

Hearing