Abstract
Background
Previous studies have consistently demonstrated gaze behaviour differences related to expertise during various surgical procedures. In micro-neurosurgery, however, there is a lack of evidence of empirically demonstrated individual differences associated with visual attention. It is unknown exactly how neurosurgeons see a stereoscopic magnified view in the context of micro-neurosurgery and what this implies for medical training.
Method
We report on an investigation of the eye movement patterns in micro-neurosurgery using a state-of-the-art eye tracker. We studied the eye movements of nine neurosurgeons while performing cutting and suturing tasks under a surgical microscope. Eye-movement characteristics, such as fixation (focus level) and saccade (visual search pattern), were analysed.
Results
The results show a strong relationship between the level of microsurgical skill and the gaze pattern, whereas more expertise is associated with greater eye control, stability, and focusing in eye behaviour. For example, in the cutting task, well-trained surgeons increased their fixation durations on the operating field twice as much as the novices (expert, 848 ms; novice, 402 ms).
Conclusions
Maintaining steady visual attention on the target (fixation), as well as being able to quickly make eye jumps from one target to another (saccades) are two important elements for the success of neurosurgery. The captured gaze patterns can be used to improve medical education, as part of an assessment system or in a gaze-training application.
This is a preview of subscription content, log in to check access.
Access options
Buy single article
Instant access to the full article PDF.
US$ 39.95
Price includes VAT for USA
Subscribe to journal
Immediate online access to all issues from 2019. Subscription will auto renew annually.
US$ 199
This is the net price. Taxes to be calculated in checkout.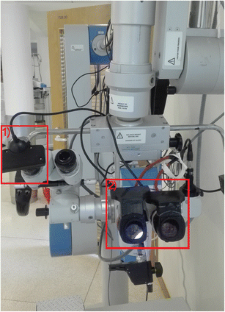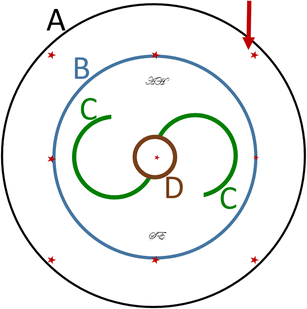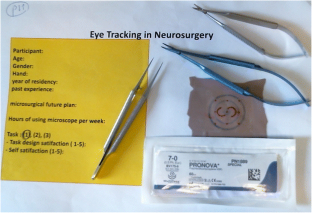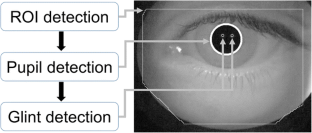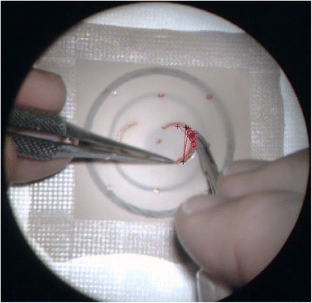 References
1.

Afkari H, Eivazi S, Bednarik R, Mäkelä S (2014) The potentials for hands-free interaction in micro-neurosurgery. In: Proceedings of NordiCHI, Helsinki, 26-30 October 2014, pp 401–410. doi:10.1145/2639189.2639213

2.

Afkari H, Bednarik R, Mäkelä S, Eivazi S (2016) Mechanisms for maintaining situation awareness in the micro-neurosurgical operating room. Int J Hum Comput Stud 95:1–14

3.

Atkins MS, Tien G, Khan RS, Meneghetti A, Zheng B (2013) What do surgeons see capturing and synchronizing eye gaze for surgery applications. Surg Innov 20(3):241–248

4.

Bourne SK, Walcott BP, Sheth SA, Coumans JVC (2013) Neurological surgery: the influence of physical and mental demands on humans performing complex operations. J Clin Neurosci 20(3):342–348

5.

Chan WY, Matteucci P, Southern SJ (2007) Validation of microsurgical models in microsurgery training and competence: a review. Microsurgery 27(5):494–499

6.

Chan W, Niranjan N, Ramakrishnan V (2010) Structured assessment of microsurgery skills in the clinical setting. J Plast Reconstr Aesthet Surg 63(8):1329–1334

7.

Duchowski A (2007) Eye tracking methodology, theory and practice, 2nd edn. Springer, London

8.

Eivazi S, Bednarik R (2011) Predicting problem-solving behavior and performance levels from visual attention data. In: Proceedings of the 2nd Workshop on Eye Gaze in Intelligent Human Machine Interaction at IUI,, Palo Alto, 13 February 2011, pp 9–16

9.

Eivazi S, Bednarik R, Tukiainen M, von und zu Fraunberg M, Leinonen V, Jääskeläinen JE (2012) Gaze behaviour of expert and novice microneurosurgeons differs during observations of tumor removal recordings. In: Proceedings of the ACM Symposium on Eye Tracking Research and Applications, ETRA, Santa Barbara, 28-30 March 2012, pp 377–380. doi:10.1145/2168556.2168641

10.

Eivazi S, Afkari H, Bednarik R, Leinonen V, Tukiainen M, Jääskeläinen JE (2015) Analysis of disruptive events and precarious situations caused by interaction with neurosurgical microscope. Acta Neurochir (Wein) 157(7):1147–1154

11.

Eivazi S, Bednarik R, Leinonen V, von und zu Fraunberg M, Jääskeläinen JE (2016) Embedding an eye tracker into a surgical microscope: requirements, design, and implementation. IEEE Sensors J 16(7):20–70

12.

Fanua SP, Kim J, Shaw Wilgis E (2001) Alternative model for teaching microsurgery. Microsurgery 21(8):379–382

13.

Gegenfurtner A, Lehtinen E, Säljö R (2011) Expertise differences in the comprehension of visualizations: a meta-analysis of eye-tracking research in professional domains. Educ Psychol Rev 23(4):523–552

14.

Grober ED, Hamstra SJ, Wanzel KR, Reznick RK, Matsumoto ED, Sidhu RS, Jarvi KA (2003) Validation of novel and objective measures of microsurgical skill: hand-motion analysis and stereoscopic visual acuity. Microsurgery 23(4):317–322

15.

Haider H, Frensch PA (1996) The role of information reduction in skill acquisition. Cogn Psychol 30(3):304–337

16.

Haider H, Frensch PA (1999) Eye movement during skill acquisition: more evidence for the information-reduction hypothesis. J Exp Psychol Learn Mem Cogn 25(1):172–190

17.

Hansen DW, Ji Q (2010) In the eye of the beholder: a survey of models for eyes and gaze. IEEE Trans Pattern Anal Mach Intell 32(3):478–500

18.

Harada K, Morita A, Minakawa Y, Baek YM, Sora S, Sugita N, Kimura T, Tanikawa R, Ishikawa T, Mitsuishi M (2015) Assessing microneurosurgical skill with medico-engineering technology. World Neurosurg 84(4):964–971

19.

Hermens F, Flin R, Ahmed I (2013) Eye movements in surgery: a literature review. J Eye Mov Res 6(4):1–11

20.

Hernesniemi J, Niemelä M, Karatas A, Kivipelto L, Ishii K, Rinne J, Ronkainen A, Koivisto T, Kivisaari R, Shen H, Lehecka M, Frösen J, Piippo A, Jääskeläinen JE (2005) Some collected principles of microneurosurgery: simple and fast, while preserving normal anatomy: a review. Surg Neurol 64:195–200

21.

Holmqvist K, Nyström M, Andersson R, Dewhurst R, Jarodzka H, Van de Weijer J (2011) Eye tracking: a comprehensive guide to methods and measures. Oxford University Press, Oxford

22.

Ibbotson JA, MacKenzie CL, Cao CGL, Lomax AJ (1999) Gaze patterns in laparoscopic surgery. Stud Health Technol Inform 62:154–160

23.

Kübler TC, Eivazi S, Kacneci E (2015) Automated visual scanpath analysis reveals the expertise level of micro-neurosurgeons. In: Workshop on Interventional Microscopy at International Conference on Medical Image Computing and Computer-Assisted Interventions (MICCAI), 5-9 October 2015, Munich. https://goo.gl/4780eE. Accessed 7 March 2017

24.

Kundel HL, La Follette PS Jr (1972) Visual search patterns and experience with radiological images 1. Radiology 103(3):523–528

25.

Kundel HL, Nodine CF, Carmody D (1978) Visual scanning, pattern recognition and decision-making in pulmonary nodule detection. Investig Radiol 13(3):175–181

26.

Lahiri A, Lim AY, Qifen Z, Lim B (2005) Microsurgical skills training: a new concept for simulation of vessel-wall suturing. Microsurgery 25(1):21–24

27.

Law B, Atkins MS, Kirkpatrick AE, Lomax AJ (2004) Eye gaze patterns differentiate novice and experts in a virtual laparoscopic surgery training environment. In: Proceedings of ETRA, ACM 41–48. doi:10.1145/968363.968370

28.

Lehecka M, Laakso A, Hernesniemi J, Çelik Ö (2011) Helsinki Microneurosurgery basics and tricks. Druckerei Hohl, Balgheim

29.

Nodine CF, Kundel HL (1987) Using eye movements to study visual search and to improve tumor detection. Radiographics 7(6):1241–1250

30.

Nowitzke AM (2005) Assessment of the learning curve for lumbar microendoscopic discectomy. Neurosurgery 56(4):755–762

31.

Ramachandran S, Ghanem AM, Myers SR (2013) Assessment of microsurgery competency—where are we now? Microsurgery 33(5):406–415

32.

Rayner K (1998) Eye movements in reading and information processing: 20 years of research. Psychol Bull 124(3):372–422

33.

Richstone L, Schwartz MJ, Seideman C, Cadeddu J, Marshall S, Kavoussi LR (2010) Eye metrics as an objective assessment of surgical skill. Ann Surg 252(1):177–182

34.

Salvucci DD, Goldberg JH (2000) Identifying fixations and saccades in eye-tracking protocols. In: Proceedings of the ACM Symposium on Eye Tracking Research and Applications, ETRA, Santa Barbara, 28-30 March 2012, pp 71–78. doi:10.1145/355017.355028

35.

Tafaj E, Kasneci G, Rosenstiel W, Bogdan M (2012) Bayesian online clustering of eye movement data. In: Proceedings of the ACM Symposium on Eye Tracking Research and Applications, ETRA, Santa Barbara, 28-30 March 2012, pp 285–288. doi:10.1145/2168556.2168617

36.

Tien T, Pucher PH, Sodergren MH, Sriskandarajah K, Yang GZ, Darzi A (2014) Eye tracking for skills assessment and training: a systematic review. J Surg Res 191(1):169–178

37.

Tomizawa Y, Aoki H, Suzuki S, Matayoshi T, Yozu R (2012) Eye-tracking analysis of skilled performance in clinical extracorporeal circulation. J Artif Organs 15(2):146–157

38.

Vine SJ, Moore L, Wilson MR (2011) Quiet eye training facilitates competitive putting performance in elite golfers. Front Psychol 2:8–16

39.

Vine SJ, Masters RS, McGrath JS, Bright E, Wilson MR (2012) Cheating experience: guiding novices to adopt the gaze strategies of experts expedites the learning of technical laparoscopic skills. Surgery 152(1):32–40

40.

Wilson M, McGrath J, Vine S, Brewer J, Defriend D, Masters R (2010) Psychomotor control in a virtual laparoscopic surgery training environment: gaze control parameters differentiate novices from experts. Surg Endosc 24(10):2458–2464
Acknowledgements
We would like to thank all surgeons who participated in this study, and Helsinki University Hospital for enabling us to conduct this experiment.
Ethics declarations
Funding
No funding was received for this research.
Conflict of interest
None.
Ethical approval
For this type of study formal consent is not required.
Informed consent
Informed consent was obtained from all individual participants included in the study.
Additional information
Comments
Microsurgical skill acquisition at an earlier stage of neurosurgery training represents an essential goal to reach an objective competence-based assessment. The analysis of the gaze patterns using eye tracking technology to quantify neurosurgeons' focus continuity movements performing different training tasks using a neurosurgical microscope is a valuable idea. The collected data can be used to design special tasks to develop longer fixation duration or to increase the interaction between perception and action systems. Moreover, the subjective psychomotor abilities will enhance more with learning to concentrate on the objective field, reducing unnecessary distractions and optimising the microsurgical strategy. The opportune introduction of these evidences in the training processes or to integrate the technology in new neurosurgical trainingsimulators can reduce the learning curve of difficult surgical techniques, accelerate the rate for trainees to achieve surgical competency and improve patient safety.
Alex Alfieri, Lehel Török,
Brandenburg, Germany
About this article
Cite this article
Eivazi, S., Hafez, A., Fuhl, W. et al. Optimal eye movement strategies: a comparison of neurosurgeons gaze patterns when using a surgical microscope. Acta Neurochir 159, 959–966 (2017). https://doi.org/10.1007/s00701-017-3185-1
Received:

Accepted:

Published:

Issue Date:
Keywords
Medical practice

Visual attention

Microsurgery

Surgical training

Neurosurgery