Abstract
Background
Sacral epidural arteriovenous fistulas (eAVFs) are rare and often misdiagnosed because of the incongruence between the thoracic level of clinical deficits and the sacral location of the offending pathology. Failure to diagnose this lesion delays treatment, resulting in prolonged venous hypertension in the cord, progressive neurological deterioration, and decreased chances of recovery.
Methods
A single-institution case series and the published literature were reviewed.
Results
Three patients had sacral eAVFs are located in the ventral epidural space with outflow connections to radicular veins that arterialized spinal cord veins, all presenting with thoracic myelopathy, venous engorgement, and delayed diagnosis. All eAVFs were occluded completely with radiographic and clinical improvement.
Conclusions
Sacral eAVF pathophysiology, namely venous hypertension and compromised spinal cord circulation, is exactly the same as dural AVFs, as is their treatment: the interruption of outflow by occlusion of the draining vein, which effectively eliminates venous hypertension, without occlusion of the actual fistula itself. Epidural exposure of sacral eAVFs is not necessary, whereas complete intradural occlusion of their radicular drainage is. Draining radicular veins intermingle with the nerve roots and their occasional multiplicity makes them more difficult to identify intraoperatively.
Access options
Buy single article
Instant access to the full article PDF.
USD 39.95
Price excludes VAT (USA)
Tax calculation will be finalised during checkout.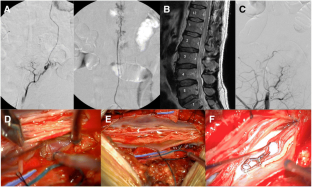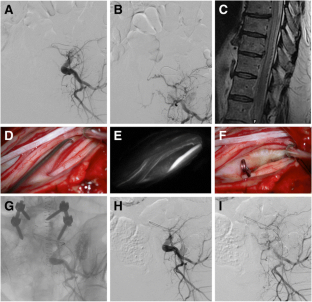 References
Abe O, Machida T, Sasaki Y, Aoki S, Shirouzu I, Ohkubo T, Hayashi N, Sasaki Y (1996) A dural arteriovenous fistula fed entirely by the lateral sacral artery. Neuroradiology 38:618–620

Akiyama H, Katayama S, Tanaka K, Korosue K (2001) Multiple spinal arteriovenous fistulas occurring at conus medullaris and dura of the sacral region: a case report. No Shinkei Geka 29:1177–1181

Asakuno K, Kim P, Kawamoto T, Ogino M (2002) Dural arteriovenous fistula and progressive conus medullaris syndrome as complications of lumbar discectomy. Case report. J Neurosurg 97:375–379

Borghei-Razavi H, Weber W, Daabak KM, Schick U (2014) Sacral dural arteriovenous fistula presented as an acute isolated thoracic myelopathy: clinical and surgical importance. Clin Neurol Neurosurg 124:185–187

Burguet JL, Dietemann JL, Wackenheim A, Kehr P, Buchheit F (1985) Sacral meningeal arteriovenous fistula fed by branches of the hypogastric arteries and drained through medullary veins. Neuroradiology 27:232–237

Chen CJ, Hsu HL (2002) Engorged and tortuous intradural filum terminale vein as a sign of a sacral dural arteriovenous malformation. Eur J Radiol 44:152–155

Djindjian M, Ayache P, Brugieres P, Poirier J (1989) Sacral lipoma of the filum terminale with dural arteriovenous fistula. Case report. J Neurosurg 71:768–771

Djindjian M, Ribeiro A, Ortega E, Gaston A, Poirier J (1988) The normal vascularization of the intradural filum terminale in man. Surg Radiol Anat 10:201–209

Eskandar EN, Borges LF, Budzik RF Jr, Putman CM, Ogilvy CS (2002) Spinal dural arteriovenous fistulas: experience with endovascular and surgical therapy. J Neurosurg 96:162–167

Hayashi K, Kitagawa N, Takahata H, Yoshioka T, Matsuo Y, Morikawa M, Ochi M, Kaminogo M, Shibata S (2001) A case of spinal dural AVF treated by endovascular embolization. No To Shinkei 53:381–385

Kim DI, Choi IS, Berenstein A (1991) A sacral dural arteriovenous fistula presenting with an intermittent myelopathy aggravated by menstruation. Case report. J Neurosurg 75:947–949

Larsen DW, Halbach VV, Teitelbaum GP, McDougall CG, Higashida RT, Dowd CF, Hieshima GB (1995) Spinal dural arteriovenous fistulas supplied by branches of the internal iliac arteries. Surg Neurol 43:35–40 discussion 40-31

O'Brien WT, Schwartz ED, Hurst RW, Sinson G (2001) Spinal dural arteriovenous fistula with supply from sacral arteries. Surg Neurol 56:175–176 discussion 177

Schaat TJ, Salzman KL, Stevens EA (2002) Sacral origin of a spinal dural arteriovenous fistula: case report and review. Spine (Phila Pa 1976) 27:893–897

Stein SC, Ommaya AK, Doppman JL, Di Chiro G (1972) Arteriovenous malformation of the cauda equina with arterial supply from branches of the internal iliac arteries. Case report. J Neurosurg 36:649–651

Witiw CD, Fallah A, Radovanovic I, Wallace MC (2011) Sacral intradural arteriovenous fistula treated indirectly by transection of the filum terminale: technical case report. Neurosurgery 69:E780–E784 discussion E784
Ethics declarations
Funding
No funding was received for this research.
Conflict of interest
All authors certify that they have no affiliations with or involvement in any organization or entity with any financial interest (such as honoraria; educational grants; participation in speakers' bureaus; membership, employment, consultancies, stock ownership, or other equity interest; and expert testimony or patent-licensing arrangements), or non-financial interest (such as personal or professional relationships, affiliations, knowledge or beliefs) in the subject matter or materials discussed in this manuscript.
Ethical approval
All procedures performed in studies involving human participants were in accordance with the ethical standards of the institutional and/or national research committee and with the 1964 Helsinki declaration and its later amendments or comparable ethical standards. For this type of study formal consent is not required.
About this article
Cite this article
Burkhardt, JK., Safaee, M.M., Clark, A.J. et al. Sacral epidural arteriovenous fistulas: imitators of spinal dural arteriovenous fistulas with different pathologic anatomy: report of three cases and review of the literature. Acta Neurochir 159, 1087–1092 (2017). https://doi.org/10.1007/s00701-017-3170-8
Received:

Accepted:

Published:

Issue Date:

DOI: https://doi.org/10.1007/s00701-017-3170-8
Keywords
Spinal dural arteriovenous fistula (dAVF)

Sacral epidural arteriovenous fistula (eAVF)

Microsurgical clip occlusion

Thoracic myelopathy

Venous hypertension