Abstract
Background
The phrenic nerve can be transferred to the musculocutaneous nerve in patients with traumatic brachial plexus palsy in order to recover biceps strength, but the results are controversial. There is also a concern about pulmonary function after phrenic nerve transection. In this paper, we performed a qualitative systematic review, evaluating outcomes after this procedure.
Method
A systematic review of published studies was undertaken in accordance with the Preferred Reporting Items for Systematic reviews and Meta-Analyses (PRISMA) statement. Data were extracted from the selected papers and related to: publication, study design, outcome (biceps strength in accordance with BMRC and pulmonary function) and population. Study quality was assessed using the "strengthening the reporting of observational studies in epidemiology" (STROBE) standard or the CONSORT checklist, depending on the study design.
Results
Seven studies were selected for this systematic review after applying inclusion and exclusion criteria. One hundred twenty-four patients completed follow-up, and most of them were graded M3 or M4 (70.1 %) for biceps strength at the final evaluation. Pulmonary function was analyzed in five studies. It was not possible to perform a statistical comparison between studies because the authors used different parameters for evaluation. Most of the patients exhibited a decrease in pulmonary function tests immediately after surgery, with recovery in the following months. Study quality was determined using STROBE in six articles, and the global score varied from 8 to 21.
Conclusions
Phrenic nerve transfer to the musculocutaneous nerve can recover biceps strength ≥M3 (BMRC) in most patients with traumatic brachial plexus injury. Early postoperative findings revealed that the development of pulmonary symptoms is rare, but it cannot be concluded that the procedure is safe because there is no study evaluating pulmonary function in old age.
This is a preview of subscription content,
to check access.
Access this article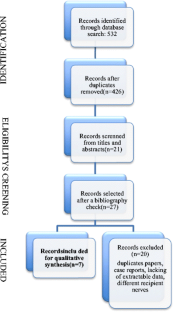 Similar content being viewed by others
References
Brandstetter RD, Kazemi H (1983) Aging and the respiratory system. Med Clin N Am 67:419–431

Chalidapong P, Sananpanich K, Kraisarin J, Bumroongkit C (2004) Pulmonary and biceps function after intercostal and phrenic nerve transfer for brachial plexus injuries. J Hand Surg (Br) 29:8–11

Chetta A, Rehman AK, Moxham J, Carr DH, Polkey MI (2005) Chest radiography cannot predict diaphragm function. Respir Med 99:39–44

Downey R (2011) Anatomy of the Normal Diaphragm. Thorac Surg Clin 21:273–279

Elm E, Altman DG, Egger M, Pocock SJ, Gøtzsche PC, Vandenbroucke JP (2014) The Strengthening the Reporting of Observational Studies in Epidemiology (STROBE) Statement: guidelines for reporting observational studies. Int J Surg 12:1495–1499

Gu YD, Ma MK (1996) Use of the phrenic nerve for brachial plexus reconstruction. Clin Orthop Relat Res 119–121

Haninec P, Mencl L, Kaiser R (2013) End-to-side neurorrhaphy in brachial plexus reconstruction. J Neurosurg 119:689–694

Imai T, Yuasa H, Kato Y, Matsumoto H (2005) Aging of phrenic nerve conduction in the elderly. Clin Neurophysiol 116:2560–2564

Janssens JP, Pache JC, Nicod LP (1999) Physiological changes in respiratory function associated with ageing. Eur Respir J 13:197–205

Kaufman MR, Elkwood AI, Colicchio AR, CeCe J, Jarrahy R, Willekes LJ, Rose MI, Brown D (2014) Functional restoration of diaphragmatic paralysis: an evaluation of phrenic nerve reconstruction. Ann Thorac Surg 97:260–266

Kim DH, Murovic JA, Tiel RL, Kline DG (2004) Mechanisms of injury in operative brachial plexus lesions. Neurosurg Focus 16:E2

Lalley PM (2013) The aging respiratory system—pulmonary structure, function and neural control. Respir Physiol Neurobiol 187:199–210

Laroche CM, Mier AK, Moxham J, Green M (1988) Diaphragm strength in patients with recent hemidiaphragm paralysis. Thorax 43:170–174

Liu Y, Lao J, Gao K, Gu Y, Zhao X (2014) Comparative study of phrenic nerve transfers with and without nerve graft for elbow flexion after global brachial plexus injury. Injury 45:227–231

Loukas M, Kinsella CR, Louis RG, Gandhi S, Curry B (2006) Surgical anatomy of the accessory phrenic nerve. Ann Thorac Surg 82:1870–1875

Lowery EM, Brubaker AL, Kuhlmann E, Kovacs EJ (2013) The aging lung. Clin Interv Aging 8:1489–1496

Luedemann W, Hamm M, Blömer U, Samii M, Tatagiba M (2002) Brachial plexus neurotization with donor phrenic nerves and its effect on pulmonary function. J Neurosurg 96:523–526

Lykissas MG (2011) Current concepts in end-to-side neurorrhaphy. World J Orthop 2:102–106

McCool FD, Tzelepis GE (2012) Dysfunction of the Diaphragm. N Engl J Med 366:932–942

Mendelsohn AH, Deconde A, Lambert HW, Dodson SC, Daney BT, Stark ME, Berke GS, Wisco JJ (2011) Cervical variations of the phrenic nerve. Laryngoscope 121:1920–1923

Midha R (1997) Epidemiology of brachial plexus injuries in a multitrauma population. Neurosurgery 40:1182–1188, discussion 1188–9

Midha R (2004) Nerve transfers for severe brachial plexus injuries: a review. Neurosurg Focus 16:E5

Mier A, Brophy C, Moxham J, Green M (1989) Twitch pressures in the assessment of diaphragm weakness. Thorax 44:990–996

Miller MR (2010) Structural and physiological age-associated changes in aging lungs. Semin Respir Crit Care Med 31:521–527

Moher D, Liberati A, Tetzlaff J, Altman DG (2010) Preferred reporting items for systematic reviews and meta-analyses: the PRISMA statement. Int J Surg 8:336–341

Monreal R (2007) Restoration of elbow flexion by transfer of the phrenic nerve to musculocutaneous nerve after brachial plexus injuries. Hand (N Y) 2:206–211

Qureshi A (2009) Diaphragm paralysis. Semin Respir Crit Care Med 30:315–320

Schröder TH, Storbeck B, Rabe KF, Weber C (2015) The aging lung: clinical and imaging findings and the fringe of physiological state. RoFo 187:430–439

Schulz KF, Altman DG, Moher D (2010) CONSORT 2010 Statement: updated guidelines for reporting parallel group randomised trials. BMC Med 8:18

Sharma MS, Loukas M, Spinner RJ (2011) Accessory phrenic nerve: a rarely discussed common variation with clinical implications. Clin Anat 24:671–673

Siqueira MG, Martins RS (2009) Phrenic nerve transfer in the restoration of elbow flexion in brachial plexus avulsion injuries. Neurosurgery 65:A125–A131

Socolovsky M, di Masi G, Bonilla G, Domínguez Paez M, Robla J, Calvache Cabrera C (2015) The phrenic nerve as a donor for brachial plexus injuries: is it safe and effective? Case series and literature analysis. Acta Neurochir (Wien) 157:1077–1086, discussion 1086

Steier J, Kaul S, Seymour J, Jolley C, Rafferty G, Man W, Luo YM, Roughton M, Polkey MI, Moxham J (2007) The value of multiple tests of respiratory muscle strength. Thorax 62:975–980

Syabbalo N (1998) Assessment of respiratory muscle function and strength. Postgrad Med J 74:208–215

Terzis JK, Barbitsioti A (2012) Primary restoration of elbow flexion in adult post-traumatic plexopathy patients. J Plast Reconstr Aesthet Surg 65:72–84

Terzis JK, Papakonstantinou KC (2000) The surgical treatment of brachial plexus injuries in adults. Plast Reconstr Surg 106:1097–1122, quiz 1123–4

Tos P, Colzani G, Ciclamini D, Titolo P, Pugliese P, Artiaco S (2014) Clinical applications of end-to-side neurorrhaphy: an update. Biomed Res Int 2014:1–5

Viterbo F, Amr AH, Stipp EJ, Reis FJ (2009) End-to-side neurorrhaphy: past, present, and future. Plast Reconstr Surg 124:e351–e358

Xu W-D, Gu Y-D, Lu J-B, Yu C, Zhang C-G, Xu J-G (2005) Pulmonary function after complete unilateral phrenic nerve transection. J Neurosurg 103:464–467

Xu W-D, Gu Y-D, Xu J-G, Tan L-J (2002) Full-length phrenic nerve transfer by means of video-assisted thoracic surgery in treating brachial plexus avulsion injury. Plast Reconstr Surg 110:104–109, discussion 110–1

Zheng M-X, Qiu Y-Q, Xu W-D, Xu J-G (2012) Long-term observation of respiratory function after unilateral phrenic nerve and multiple intercostal nerve transfer for avulsed brachial plexus injury. Neurosurgery 70:796–801, discussion 801

Zheng M-X, Xu W-D, Shen Y-D, Xu J-G, Gu Y-D (2012) Reconstruction of elbow flexion by end-to-side neurorrhaphy in phrenic nerve transfer. Plast Reconstr Surg 129:573e–575e
Ethics declarations
For this type of study, formal consent is not required.
Funding
No funding was received for this research.
Conflicts of interest
None.
Additional information
Comment
This paper reviews the literature on using the phrenic nerve to neurotize the musculocutaneous nerve or its distal motor branches to restore elbow flexion, particularly in clinical settings of nerve root avulsion where other nerve repair options are very limited. It is comprehensive, thoughtful, and points out a major shortcoming which is that no one has studied the long-term effects of having only one phrenic nerve to support ventilation, particularly in older patients. Hopefully this shortcoming will be addressed by future studies.
Michel Kliot
Illinois, USA
About this article
Cite this article
de Mendonça Cardoso, M., Gepp, R. & Correa, J.F.G. Outcome following phrenic nerve transfer to musculocutaneous nerve in patients with traumatic brachial palsy: a qualitative systematic review. Acta Neurochir 158, 1793–1800 (2016). https://doi.org/10.1007/s00701-016-2855-8
Received:

Accepted:

Published:

Issue Date:

DOI: https://doi.org/10.1007/s00701-016-2855-8
Keywords