Abstract
Background
There is a need to improve outcome in patients with brain abscesses and hyperbaric oxygen therapy (HBOT) is a promising treatment modality. The objective of this study was to evaluate HBOT in the treatment of intracranial abscesses.
Method
This population-based, comparative cohort study included 40 consecutive adult patients with spontaneous brain abscess treated surgically between January 2003 and May 2014 at our institution. Twenty patients received standard therapy with surgery and antibiotics (non-HBOT group), while the remaining 20 patients also received adjuvant HBOT (HBOT group).
Results
Resolution of brain abscesses and infection was seen in all patients. Two patients had reoperations after HBOT initiation (10 %), while nine patients (45 %) in the non-HBOT group underwent reoperations (p = 0.03). Of the 26 patients who did not receive HBOT after the first surgery, 15 (58 %) had one or several recurrences that lead to a new treatment: surgery (n = 11), surgery + HBO (n = 5) or just HBO (n = 1). In contrast, recurrences occurred in only 2 of 14 (14 %) who did receive HBOT after the first surgery (p < 0.01). A good outcome (Glasgow Outcome Score [GOS] of 5) was achieved in 16 patients (80 %) in the HBOT cohort versus 9 patients (45 %) in the non-HBOT group (p = 0.04).
Conclusions
HBOT was associated with less treatment failures and need for reoperation and seemingly with improved long-term outcome. Further, HBOT was well tolerated and safe. Prospective studies are warranted to establish the role of HBOT in the treatment of brain abscesses.
Access options
Buy single article
Instant access to the full article PDF.
USD 39.95
Price excludes VAT (USA)
Tax calculation will be finalised during checkout.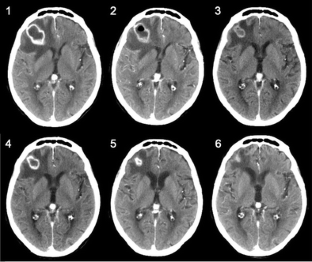 References
Carey ME (1981) Neurosurgical infections. In: Howard RJ and Simmons RL (eds) Surgical infectious disease. Appleton-Century-Croft, New York, pp 629–664

Bhand AA (2004) Brain abscess—diagnosis and management. J Coll Physicians Surg Pak 14:407–410

Dill SR, Cobbs CG, McDonald CK (1995) Subdural empyema: analysis of 32 cases and review. Clin Infect Dis 20:372–386

Helweg-Larsen J, Astradsson A, Richhall H, Erdal J, Laursen A, Brennum J (2012) Pyogenic brain abscess, a 15 year survey. BMC Infect Dis 12:332

Nathoo N, Nadvi SS, Gouws E, van Dellen JR (2001) Craniotomy improves outcomes for cranial subdural empyemas: computed tomography-era experience with 699 patients. Neurosurgery 49:872–877, discussion 877–878

Tonon E, Scotton PG, Gallucci M, Vaglia A (2006) Brain abscess: clinical aspects of 100 patients. Int J Infect Dis 10:103–109

Xiao F, Tseng MY, Teng LJ, Tseng HM, Tsai JC (2005) Brain abscess: clinical experience and analysis of prognostic factors. Surg Neurol 63:442–449, discussion 449–450

Teasdale G, Jennett B (1974) Assessment of coma and impaired consciousness. A practical scale. Lancet 2:81–84

Pierre I, Zarrouk V, Noussair L, Molina JM, Fantin B (2014) Invasive actinomycosis: surrogate marker of a poor prognosis in immunocompromised patients. Int J Infect Dis 29:74–79

Rosenblum ML, Hoff JT, Norman D, Edwards MS, Berg BO (1980) Nonoperative treatment of brain abscesses in selected high-risk patients. J Neurosurg 52:217–225

Hakan T, Ceran N, Erdem I, Berkman MZ, Goktas P (2006) Bacterial brain abscesses: an evaluation of 96 cases. J Infect 52:359–366

Lu CH, Chang WN, Lui CC (2006) Strategies for the management of bacterial brain abscess. J Clin Neurosci 13:979–985

Osenbach RK, Loftus CM (1992) Diagnosis and management of brain abscess. Neurosurg Clin N Am 3:403–420

Takeshita M, Kagawa M, Izawa M, Takakura K (1998) Current treatment strategies and factors influencing outcome in patients with bacterial brain abscess. Acta Neurochir (Wein) 140:1263–1270

Allen DB, Maguire JJ, Mahdavian M, Wicke C, Marcocci L, Scheuenstuhl H, Chang M, Le AX, Hopf HW, Hunt TK (1997) Wound hypoxia and acidosis limit neutrophil bacterial killing mechanisms. Arch Surg 132:991–996

Knighton DR, Halliday B, Hunt TK (1986) Oxygen as an antibiotic. A comparison of the effects of inspired oxygen concentration and antibiotic administration on in vivo bacterial clearance. Arch Surg 121:191–195

Mader JT, Brown GL, Guckian JC, Wells CH, Reinarz JA (1980) A mechanism for the amelioration by hyperbaric oxygen of experimental staphylococcal osteomyelitis in rabbits. J Infect Dis 142:915–922

Park MK, Myers RA, Marzella L (1992) Oxygen tensions and infections: modulation of microbial growth, activity of antimicrobial agents, and immunologic responses. Clin Infect Dis 14:720–740

Rylander M, Brorson JE, Holm SE, Norrby R (1981) Studies on some variables influencing aminoglycoside efficacy in vivo and in vitro. Scand J Infect Dis 13:217–225

Simmen HP, Blaser J (1993) Analysis of pH and pO2 in abscesses, peritoneal fluid, and drainage fluid in the presence or absence of bacterial infection during and after abdominal surgery. Am J Surg 166:24–27

Lind F, Eriksson B, Frostell C, Arnell P, Lycke H, Oscarsson N, Spetz L, Hammarlund C, Benoni D, Douglas J (2011) How we work with hyperbaric oxygen therapy. Lakartidningen 108:1914–1915

Lind F, Öhlen G, Linden V, Eriksson B, Frostell C (2011) Treatment with hyperbaric oxygen (HBO) at the Karolinska University Hospital. A Stockholm County Council Report on the clinical practice and evidence basis of hyperbaric medicine in Stockholm. Stockholm County Council, Stockholm

Neovius EB, Lind MG, Lind FG (1997) Hyperbaric oxygen therapy for wound complications after surgery in the irradiated head and neck: a review of the literature and a report of 15 consecutive patients. Head Neck 19:315–322

Thom SR (2009) Oxidative stress is fundamental to hyperbaric oxygen therapy. J Appl Physiol 106:988–995

Brummelkamp WH, Boerema I, Hoogendyk L (1963) Treatment of clostridial infections with hyperbaric oxygen drenching. A report on 26 cases. Lancet 1:235–238

Faglia E, Favales F, Aldeghi A, Calia P, Quarantiello A, Oriani G, Michael M, Campagnoli P, Morabito A (1996) Adjunctive systemic hyperbaric oxygen therapy in treatment of severe prevalently ischemic diabetic foot ulcer. A randomized study. Diabetes Care 19:1338–1343

Londahl M, Katzman P, Nilsson A, Hammarlund C (2010) Hyperbaric oxygen therapy facilitates healing of chronic foot ulcers in patients with diabetes. Diabetes Care 33:998–1003

Mader JT, Adams KR, Wallace WR, Calhoun JH (1990) Hyperbaric oxygen as adjunctive therapy for osteomyelitis. Infect Dis Clin N Am 4:433–440

Slack WK, Thomas DA, Perrins D (1965) Hyperbaric oxygenation chronic osteomyelitis. Lancet 1:1093–1094

Barnes RC (2012) Intracranial abscess. Undersea Hyperb Med 39:727–730

Kurschel S, Mohia A, Weigl V, Eder HG (2006) Hyperbaric oxygen therapy for the treatment of brain abscess in children. Childs Nerv Syst 22:38–42

Kutlay M, Colak A, Yildiz S, Demircan N, Akin ON (2005) Stereotactic aspiration and antibiotic treatment combined with hyperbaric oxygen therapy in the management of bacterial brain abscesses. Neurosurgery 57:1140–1146, discussion 1140–1146

LA Lampl FG, Dietze T, Trauschel M (1989) Hyperbarix oxygen in intracranial abscesses. J Hyperb Med 4:111–126

Larsson A, Engstrom M, Uusijarvi J, Kihlstrom L, Lind F, Mathiesen T (2002) Hyperbaric oxygen treatment of postoperative neurosurgical infections. Neurosurgery 50:287–295, discussion 295–286

Larsson A, Uusijarvi J, Lind F, Gustavsson B, Saraste H (2011) Hyperbaric oxygen in the treatment of postoperative infections in paediatric patients with neuromuscular spine deformity. Eur Spine J 20:2217–2222

Nakahara K, Yamashita S, Ideo K, Shindo S, Suga T, Ueda A, Honda S, Hirahara T, Watanabe M, Yamashita T, Maeda Y, Yonemochi Y, Takita T, Ando Y (2014) Drastic therapy for listerial brain abscess involving combined hyperbaric oxygen therapy and antimicrobial agents. J Clin Neurol 10:358–362

Weaver LK (2014) Hyperbaric oxygen therapy: indications, 13th edn. Undersea and Hyperbaric Medicine Society, Durham

Charlson ME, Pompei P, Ales KL, MacKenzie CR (1987) A new method of classifying prognostic comorbidity in longitudinal studies: development and validation. J Chronic Dis 40:373–383

Jennett B (1975) Predicting outcome after head injury. J R Coll Physicians Lond 9:231–237

Jansson AK, Enblad P, Sjolin J (2004) Efficacy and safety of cefotaxime in combination with metronidazole for empirical treatment of brain abscess in clinical practice: a retrospective study of 66 consecutive cases. Eur J Clin Microbiol Infect Dis23:7–14

Mamelak AN, Mampalam TJ, Obana WG, Rosenblum ML (1995) Improved management of multiple brain abscesses: a combined surgical and medical approach. Neurosurgery 36:76–85, discussion 85–76

Tekkok IH, Erbengi A (1992) Management of brain abscess in children: review of 130 cases over a period of 21 years. Childs Nerv Syst 8:411–416

Tseng JH, Tseng MY (2006) Brain abscess in 142 patients: factors influencing outcome and mortality. Surg Neurol 65:557–562, discussion 562

Cavusoglu H, Kaya RA, Turkmenoglu ON, Colak I, Aydin Y (2008) Brain abscess: analysis of results in a series of 51 patients with a combined surgical and medical approach during an 11-year period. Neurosurg Focus 24:E9

Miller JD, Ledingham IM, Jennett WB (1970) Effects of hyperbaric oxygen on intracranial pressure and cerebral blood flow in experimental cerebral oedema. J Neurol Neurosurg Psychiatry 33:745–755

Hehenberger K, Brismar K, Lind F, Kratz G (1997) Dose-dependent hyperbaric oxygen stimulation of human fibroblast proliferation. Wound Rep Reg 5:147–150

Heyboer M 3rd, Milovanova TN, Wojcik S, Grant W, Chin M, Hardy KR, Lambert DS, Logue C, Thom SR (2014) CD34+/CD45-dim stem cell mobilization by hyperbaric oxygen—changes with oxygen dosage. Stem Cell Res 12:638–645
Ethics declarations
Disclosure
The authors report no conflict of interest concerning the materials or methods used in this study or the findings specified in this paper.
Funding
No funding was received for this research.
Conflict of interest
All authors certify that they have no affiliations with or involvement in any organisation or entity with any financial interest (such as honoraria; educational grants; participation in speakers' bureaus; membership, employment, consultancies, stock ownership, or other equity interest; and expert testimony or patent-licensing arrangements), or non-financial interest (such as personal or professional relationships, affiliations, knowledge or beliefs) in the subject matter or materials discussed in this manuscript.
Ethical considerations
All procedures performed in studies involving human participants were in accordance with the ethical standards of the institutional and/or national research committee and with the 1964 Helsinki declaration and its later amendments or comparable ethical standards. For this type of study formal consent is not required.
Additional information
Comment
The authors have conducted a retrospective population-based comparative cohort study of the value of hyperbaric oxygen therapy (HBOT) in brain abscess. They demonstrated a favorable impact of this therapy on the need for further surgical interventions and outcome.
They correctly point out the limitations of the study approach including a difference in clinical presentation severity and in the inclusion of cross-over cases to the HBOT arm. The duration of treatment with hyperbaric oxygen varied across the patient population and remains somewhat speculative.
The results are sufficiently intriguing to support a randomized prospective trial of HBOT in brain abscess including also patients with multiple abscesses and immune-compromised patients as sub-groups.
Zvi Harry Rapaport
Petah Tiqva, Israel
About this article
Cite this article
Bartek, J., Jakola, A.S., Skyrman, S. et al. Hyperbaric oxygen therapy in spontaneous brain abscess patients: a population-based comparative cohort study. Acta Neurochir 158, 1259–1267 (2016). https://doi.org/10.1007/s00701-016-2809-1
Received:

Accepted:

Published:

Issue Date:

DOI: https://doi.org/10.1007/s00701-016-2809-1
Keywords
Brain abscess

Hyperbaric oxygen therapy

Intracranial brain infection

Brain empyema