Abstract
Background
Developments in micro-neurosurgical microscopes have improved operating precision and ensured the quality of outcomes. Using the stereoscopic magnified view, however, necessitates frequent manual adjustments to the microscope during an operation.
Method
This article reports on an investigation of the interaction details concerning a state-of-the-art micro-neurosurgical microscope. The video data from detailed observations of neurosurgeons' interaction patterns with the microscope were analysed to examine disruptive events caused by adjusting the microscope.
Results
The primary findings show that interruptions caused by adjusting the microscope handgrips and mouth switch prolong the surgery time up to 10 %. Surgeons, we observed, avoid interaction with the microscope's controls, settings, and configurations by working at the edge of the view, operating on a non-focused view, and assuming unergonomic body postures.
Conclusions
The lack of an automatic method for adjusting the microscope is a major problem that causes interruptions during micro-neurosurgery. From this understanding of disruptive events, we discuss the opportunities and limitations of interactive technologies that aim to reduce the frequency or shorten the duration of interruptions caused by microscope adjustment.
Access options
Buy single article
Instant access to the full article PDF.
US$ 39.95
Tax calculation will be finalised during checkout.
Subscribe to journal
Immediate online access to all issues from 2019. Subscription will auto renew annually.
US$ 119
Tax calculation will be finalised during checkout.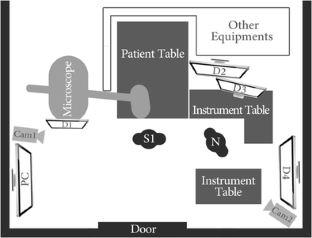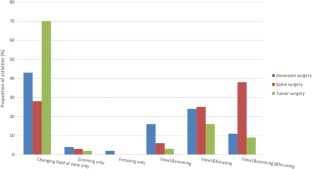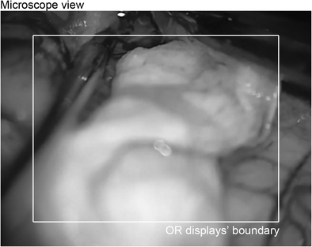 References
1.

Wilson CB (1970) Microsurgery applied to neurosurgery. JAMA-J Am Med Assoc 213:1346–1346

2.

Sugar O (1976) Microneurosurgery. JAMA-J Am Med Assoc 235:2541–2541

3.

Yasargil MG, Curcic M, Abernathey CD (1995) Microneurosurgery of CNS tumors. Thieme, New York

4.

Kriss TC, Kriss VM (1998) History of the operating microscope: from magnifying glass to microneurosurgery. Neurosurgery 42(4):899–907

5.

Ramamurti R, Sridhar K, Vasudevan M (2005) Textbooks of operative neurosurgery. BI Publications Pvt Ltd, New Delhi

6.

Uluç K, Kujoth GC, Baskaya MK (2009) Operating microscopes: past, present, and future. Neurosurg Focus 27:E4

7.

Hernesniemi J, Niemelä M, Karatas A, Kivipelto L, Ishii K, Rinne J, Ronkainen A, Koivisto T, Kivisaari R, Shen H, Lehecka M, Frösen J, Piippo A, Jääskeläinen JE (2005) Some collected principles of microneurosurgery: simple and fast, while preserving normal anatomy: a review. Surg Neurol 64:195–200

8.

Hindmarsh J, Pilnick A (2002) The tacit order of teamwork: collaboration and embodied conduct in anesthesia. Sociol Q 43:139–164

9.

Heinemann GD, Zeiss AM (2002) Team performance in health care: assessment and development. Springer, New York

10.

Lingard L, Reznick R, Espin S, Regehr G, DeVito I (2002) Team communications in the operating room: talk patterns, sites of tension, and implications for novices. Acad Med 77:232–237

11.

Coiera E (2000) When conversation is better than computation. J Am Med Inform Assoc 7:277–286

12.

Elprama SA, Kilpi K, Duysburgh P, Jacobs A, Vermeulen L, Van Looy J (2013) Identifying barriers in telesurgery by studying current team practices in robot-assisted surgery. In PervasiveHealth conference. IEEE 224–231

13.

Mentis HM, Taylor AS (2013) Imaging the body: embodied vision in minimally invasive surgery. In Proc CHI '13 SIGCHI Conference. ACM 1479–1488

14.

Dinka D, Nyce JM, Timpka T (2009) Situated cognition in clinical visualization: the role of transparency in gammaknife neurosurgery planning. Artif Intell Med 46:111–118

15.

Ash JS, Berg M, Coiera E (2004) Some unintended consequences of information technology in health care: the nature of patient care information system-related errors. J Am Med Inform Assoc 11:104–112

16.

Afkari H, Eivazi S, Bednarik R, Mäkelä S (2014) The potentials for hands-free interaction in micro-neurosurgery. In Proc of NordiCHI'14. ACM 401–410

17.

Nardi BA, Schwarz H, Kuchinsky A, Leichner R, Whittaker S, Sclabassi R (1993) Turning away from talking heads: the use of video-as-data in neurosurgery. In Proc. INTERACT'93 and CHI'93 conference. ACM 327–334

18.

Eivazi S, Bednarik R, Tukiainen M, Fraunberg M, Leinonen V, Jääskeläinen JE (2012) Gaze behaviour of expert and novice microneurosurgeons differs during observations of tumor removal recordings. In Proc of ETRA'12. ACM 377–380

19.

Mitsuishi M, Morita A, Sugita N, Sora S, Mochizuki R, Tanimoto K, Baek YM, Takahashi H, Harada K (2012) Master–slave robotic platform and its feasibility study for micro-neurosurgery. Int J Med Robot 9:180–189

20.

Beyer H, Holtzblatt K (1999) Contextual design. Interactions 6:32–42

21.

Lehecka M, Laakso A, Hernesniemi J, Çelik Ö (2011) Helsinki microneurosurgery basics and tricks . DruckereiHohl GmbH and Co, KG, Germany

22.

Hsiu-Ting C, Hsu M, Chao-Hsu T, Wei-Liang H, Tien-Hsiang W (2012) A three-dimensional stereoscopic monitor system in microscopic vascular anastomosis. Microsurgery 32:571–574

23.

Wieben O (2001) Image-guided surgery. In: Webster J (eds) Minimally Invasive Medical Technology, Series in Med Physics and Biomed Eng, pp. 152–175

24.

Charlier J, Sourdille P, Behague M, Buquet C (1991) Eye-controlled microscope for surgical applications. Dev Ophthalmol 22:154–158

25.

Hinckley K, Pausch R, Goble JC, Kassell NF (1994) Passive real-world interface props for neurosurgical visualization. In Proc of the SIGCHI conference, ACM, 452–458

26.

Finke M, Schweikard A (2010) Motorization of a surgical microscope for intra-operative navigation and intuitive control. Int J Med Robot Comput Assist Surg 6(3):269–280

27.

Hillaire S, Lécuyer A, Cozot R, Casiez G (2008) Using an eye-tracking system to improve camera motions and depth-of-field blur effects in virtual environments. In VR'08 Conference. IEEE 47–50

28.

Duchowski A (2002) A breadth-first survey of eye-tracking applications. Behav Res Meth Instr C 34(4):455–470

29.

Jacob RJ, Karn KS (2003) Eye tracking in human-computer interaction and usability research: Ready to deliver the promises. In: Hyona J, Radach R, Deubel H (eds) The mind's eye: cognitive and applied aspects of eye movement research, pp 573–603

30.

Ware C, Mikaelian HH (1987) An evaluation of an eye tracker as a device for computer input. In ACM SIGCHI Bull 17:183–188. ACM
Conflicts of interest
All authors certify that they have NO affiliations with or involvement in any organization or entity with any financial interest (such as honoraria; educational grants; participation in speakers' bureaus; membership, employment, consultancies, stock ownership, or other equity interest; and expert testimony or patent-licensing arrangements), or non-financial interest (such as personal or professional relationships, affiliations, knowledge or beliefs) in the subject matter or materials discussed in this manuscript.
About this article
Cite this article
Eivazi, S., Afkari, H., Bednarik, R. et al. Analysis of disruptive events and precarious situations caused by interaction with neurosurgical microscope. Acta Neurochir 157, 1147–1154 (2015). https://doi.org/10.1007/s00701-015-2433-5
Received:

Accepted:

Published:

Issue Date:
Keywords
Medical practice

Microscope use in the OR

Interruption

Interaction with microscope

Micro-neurosurgery