Abstract
Background
Improvement of surgical accuracy during DBS-lead implantation has been described recently, leading to "frameless" or "MRI-verified" techniques. However, combining a high-quality definition of the STN using intraoperative 1.5 MRI with the possibility to reduce errors due to co-registration and to monitor lead progression during surgical insertion while checking the absence of surgical complication is an appealing method. We report here surgical methodology, safety, application accuracy, and clinical benefit of STN-lead implantation under MRI guidance.
Methods
Two patients with a severe PD state were treated by bilateral STN–DBS. Leads were implanted under general anesthesia using intraoperative MRI guidance (ClearPoint system). Lead implantation accuracy was measured on T1 axial images at the level of the target. Clinical improvement was measured on the pre- and post-UPDRS 3 scale at 1-year follow-up.
Results
Surgery was safe and uneventful in both cases. Radial error was 0.36 (right) and 0.86 mm (left) in case 1, and 0.41 (right) and 0.14 mm (left) in case 2. No edema or hemorrhage were noticed.
Conclusions
Intraoperative MRI guidance allows DBS lead implantation with high accuracy and with great clinical efficacy. A larger cohort of patients is needed to confirm these initial results.
Access options
Buy single article
Instant access to the full article PDF.
US$ 39.95
Tax calculation will be finalised during checkout.
Subscribe to journal
Immediate online access to all issues from 2019. Subscription will auto renew annually.
US$ 119
Tax calculation will be finalised during checkout.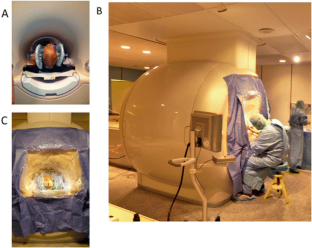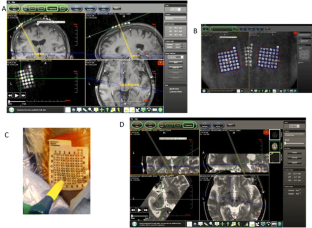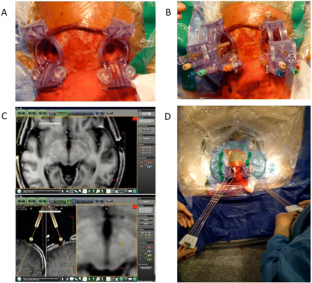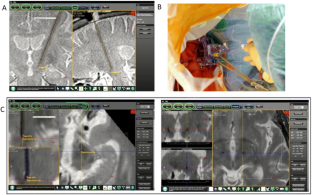 References
1.

Anheim M, Batir A, Fraix V, Silem M, Chabardes S, Seigneuret E, Krack P, Benabid AL, Pollak P (2008) Improvement in Parkinson disease by subthalamic nucleus stimulation based on electrode placement: effects of reimplantation. Arch Neurol 65:612–616

2.

Benabid AL, Chabardes S, Mitrofanis J, Pollak P (2009) Deep brain stimulation of the subthalamic nucleus for the treatment of Parkinson's disease. Lancet Neurol 8:67–81

3.

Chabardes S, Polosan M, Krack P, Bastin J, Krainik A, David O, Bougerol T, Benabid AL (2013) Deep brain stimulation for obsessive–compulsive disorder: subthalamic nucleus target. World Neurosurg 80(S31):e31–e38

4.

Chhabra V, Sung E, Mewes K, Bakay RA, Abosch A, Gross RE (2010) Safety of magnetic resonance imaging of deep brain stimulator systems: a serial imaging and clinical retrospective study. J Neurosurg 112:497–502

5.

Dormont D, Ricciardi KG, Tande D, Parain K, Menuel C, Galanaud D, Navarro S, Cornu P, Agid Y, Yelnik J (2004) Is the subthalamic nucleus hypointense on T2-weighted images? A correlation study using MR imaging and stereotactic atlas data. AJNR Am J Neuroradiol 25:1516–1523

6.

Fraix V, Chabardes S, Krainik A, Seigneuret E, Grand S, Le Bas JF, Krack P, Benabid AL, Pollak P (2010) Effects of magnetic resonance imaging in patients with implanted deep brain stimulation systems. J Neurosurg 113:1242–1245

7.

Golombeck MA, Thiele J, Dossel O (2002) Magnetic resonance imaging with implanted neurostimulators: numerical calculation of the induced heating. Biomed Tech (Berl) 47(Suppl 1 Pt 2):660–663

8.

Hariz MI (2002) Safety and risk of microelectrode recording in surgery for movement disorders. Stereotact Funct Neurosurg 78:146–157

9.

Henderson JM, Tkach J, Phillips M, Baker K, Shellock FG, Rezai AR (2005) Permanent neurological deficit related to magnetic resonance imaging in a patient with implanted deep brain stimulation electrodes for Parkinson's disease: case report. Neurosurgery 57:E1063, discussion E1063

10.

Hirabayashi H, Tengvar M, Hariz MI (2002) Stereotactic imaging of the pallidal target. Mov Disord 17(Suppl 3):S130–S134

11.

Holloway KL, Gaede SE, Starr PA, Rosenow JM, Ramakrishnan V, Henderson JM (2005) Frameless stereotaxy using bone fiducial markers for deep brain stimulation. J Neurosurg 103:404–413

12.

Kimmelman J, Duckworth K, Ramsay T, Voss T, Ravina B, Emborg ME (2011) Risk of surgical delivery to deep nuclei: a meta-analysis. Mov Disord 26:1415–1421

13.

Limousin P, Pollak P, Benazzouz A, Hoffmann D, Le Bas JF, Broussolle E, Perret JE, Benabid AL (1995) Effect of parkinsonian signs and symptoms of bilateral subthalamic nucleus stimulation. Lancet 345:91–95

14.

Mallet L, Polosan M, Jaafari N, Baup N, Welter ML, Fontaine D, du Montcel ST, Yelnik J, Chereau I, Arbus C, Raoul S, Aouizerate B, Damier P, Chabardes S, Czernecki V, Ardouin C, Krebs MO, Bardinet E, Chaynes P, Burbaud P, Cornu P, Derost P, Bougerol T, Bataille B, Mattei V, Dormont D, Devaux B, Verin M, Houeto JL, Pollak P, Benabid AL, Agid Y, Krack P, Millet B, Pelissolo A (2008) Subthalamic nucleus stimulation in severe obsessive-compulsive disorder. N Engl J Med 359:2121–2134

15.

Movement, Disorder, Society, Task, Force, on, Rating, Scales, for, Parkinson's, Disease (2003) The Unified Parkinson's Disease Rating Scale (UPDRS): status and recommendations. Mov Disord 18:738–750

16.

Nazzaro JM, Lyons KE, Wetzel LH, Pahwa R (2010) Use of brain MRI after deep brain stimulation hardware implantation. Int J Neurosci 120:176–183

17.

Schaltenbrand GWW (1977) Atlas for stereotaxy of the human brain, with an accompanying guide. Stuttgart

18.

Schuepbach WM, Rau J, Knudsen K, Volkmann J, Krack P, Timmermann L, Halbig TD, Hesekamp H, Navarro SM, Meier N, Falk D, Mehdorn M, Paschen S, Maarouf M, Barbe MT, Fink GR, Kupsch A, Gruber D, Schneider GH, Seigneuret E, Kistner A, Chaynes P, Ory-Magne F, Brefel Courbon C, Vesper J, Schnitzler A, Wojtecki L, Houeto JL, Bataille B, Maltete D, Damier P, Raoul S, Sixel-Doering F, Hellwig D, Gharabaghi A, Kruger R, Pinsker MO, Amtage F, Regis JM, Witjas T, Thobois S, Mertens P, Kloss M, Hartmann A, Oertel WH, Post B, Speelman H, Agid Y, Schade-Brittinger C, Deuschl G (2013) Neurostimulation for Parkinson's disease with early motor complications. N Engl J Med 368:610–622

19.

Slavin KV, Thulborn KR, Wess C, Nersesyan H (2006) Direct visualization of the human subthalamic nucleus with 3T MR imaging. AJNR Am J Neuroradiol 27:80–84

20.

Spetzger U, Hubbe U, Struffert T, Reinges MH, Krings T, Krombach GA, Zentner J, Gilsbach JM, Stiehl HS (2002) Error analysis in cranial neuronavigation. Minim Invasive Neurosurg 45:6–10

21.

Spiegel J, Fuss G, Backens M, Reith W, Magnus T, Becker G, Moringlane JR, Dillmann U (2003) Transient dystonia following magnetic resonance imaging in a patient with deep brain stimulation electrodes for the treatment of Parkinson disease. Case report. J Neurosurg 99:772–774

22.

Starr PA, Bejjani P, Lozano AM, Metman LV, Hariz MI (2011) Stereotactic techniques and perioperative management of DBS in dystonia. Mov Disord 26(Suppl 1):S23–S30

23.

Starr PA, Christine CW, Theodosopoulos PV, Lindsey N, Byrd D, Mosley A, Marks WJ Jr (2002) Implantation of deep brain stimulators into the subthalamic nucleus: technical approach and magnetic resonance imaging-verified lead locations. J Neurosurg 97:370–387

24.

Starr PA, Martin AJ, Ostrem JL, Talke P, Levesque N, Larson PS (2010) Subthalamic nucleus deep brain stimulator placement using high-field interventional magnetic resonance imaging and a skull-mounted aiming device: technique and application accuracy. J Neurosurg 112:479–490

25.

Tagliati M, Jankovic J, Pagan F, Susatia F, Isaias IU, Okun MS (2009) Safety of MRI in patients with implanted deep brain stimulation devices. Neuroimage 47(Suppl 2):T53–T57

26.

Zrinzo L, Foltynie T, Limousin P, Hariz M (2012) Image-verified deep brain stimulation reduces risk and cost with no apparent impact on efficacy. Mov Disord 27:1585–1586, author reply 1586-1587
Conflict of interest
None.
About this article
Cite this article
Chabardes, S., Isnard, S., Castrioto, A. et al. Surgical implantation of STN-DBS leads using intraoperative MRI guidance: technique, accuracy, and clinical benefit at 1-year follow-up. Acta Neurochir 157, 729–737 (2015). https://doi.org/10.1007/s00701-015-2361-4
Received:

Accepted:

Published:

Issue Date:
Keywords
DBS

Subthalamic nucleus

MRI

Parkinson disease