Abstract
Background
The authors describe their experience with a modified version of the standard technique of open-door laminoplasty for the surgical treatment of spondylotic myelopathy in elderly patients with temporary removal of the laminae, extensive decompression, and pre-plating of the laminae beyond the surgical field.
Methods
Description of surgical anatomy, surgical technique, indications, limitations, complications, and specific perioperative considerations, as well as specific information to give to the patient about surgery and potential risks. A summary of ten key points is given.
Conclusions
Transection of the laminae on both sides (temporary laminectomy) and pre-plating of the laminae outside of the surgical field has several advantages: better decompression of the spinal canal and the neuroforamina on both sides, easier undercutting of adjacent vertebral arches for cranio-caudal decompression, and no risk of spinal cord injury by the screwdriver when attaching plates to the laminae.
Access options
Buy single article
Instant access to the full article PDF.
USD 39.95
Price excludes VAT (USA)
Tax calculation will be finalised during checkout.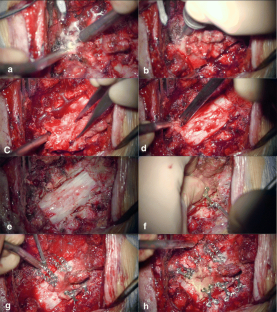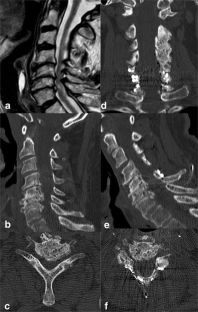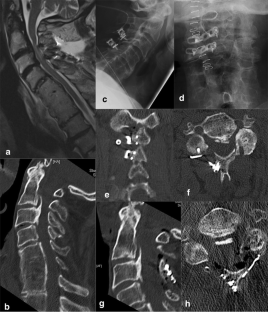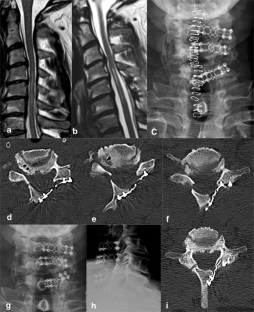 References
Kim SW, Hai DM, Sundaram S, Kim YC, Park MS, Paik SH, Kwak YH, Kim TH (2013) Is cervical lordosis relevant in laminoplasty? Spine J 13(8):914–921

Lee DG, Lee SH, Park SJ, Kim ES, Chung SS, Lee CS, Eoh W (2013) Comparison of surgical outcomes after cervical laminoplasty: open-door technique versus French-door technique. J Spinal Disord Tech 26(6):E198–E203

Komotar RJ, Mocco J, Kaiser MG (2006) Surgical management of cervical myelopathy: indications and techniques for laminectomy and fusion. Spine J 6(6 Suppl):252S–267S

König SA, Ranguis S, Spetzger U (2013) Management of complex cervical instability. J Neurol Surg A Cent Eur Neurosurg. doi:10.1055/s-0033-1345095

Ratliff JK, Cooper PR (2003) Cervical laminoplasty. A critical review. J Neurosurg 98(3 Suppl):230–238

Liu X, Min S, Zhang H, Zhou Z, Wang H, Jin A (2013) Anterior corpectomy versus posterior laminoplasty for multilevel cervical myelopathy: a systematic review and meta-analysis. Eur Spine J. doi:10.1007/s00586-013-3043-7

Machino M, Yukawa Y, Hida T, Ito K, Nakashima H, Kanbara S, Morita D, Kato F (2012) The prevalence of pre- and postoperative symptoms in patients with cervical spondylotic myelopathy treated by cervical laminoplasty. Spine (Phila Pa 1976) 37(22):E1383–E1388

Machino M, Yukawa Y, Hida T, Ito K, Nakashima H, Kanbara S, Morita D, Kato F (2012) Can elderly patients recover adequately after laminoplasty?: a comparative study of 520 patients with cervical spondylotic myelopathy. Spine (Phila Pa 1976) 37(8):667–671

Fehlings MG, Smith JS, Kopjar B, Arnold PM, Yoon ST, Vaccaro AR, Brodke DS, Janssen ME, Chapman JR, Sasso RC, Woodard EJ, Banco RJ, Massicotte EM, Dekutoski MB, Gokaslan ZL, Bono CM, Shaffrey CI (2012) Perioperative and delayed complications associated with the surgical treatment of cervical spondylotic myelopathy based on 302 patients from the AOSpine North America Cervical Spondylotic Myelopathy Study. J Neurosurg Spine 16(5):425–432

Zhu B, Xu Y, Liu X, Liu Z, Dang G (2013) Anterior approach versus posterior approach for the treatment of multilevel cervical spondylotic myelopathy: a systemic review and meta-analysis. Eur Spine J 22(7):1583–1593
Conflict of interest
The authors certify that there is no actual or potential conflict of interest relating to this article.
Electronic supplementary material
Below is the link to the electronic supplementary material.
About this article
Cite this article
König, S.A., Spetzger, U. Modified open-door laminoplasty for the surgical treatment of cervical spondylotic myelopathy in elderly patients. Acta Neurochir 156, 1225–1230 (2014). https://doi.org/10.1007/s00701-014-2078-9
Received:

Accepted:

Published:

Issue Date:

DOI: https://doi.org/10.1007/s00701-014-2078-9
Keywords