Abstract
Background and objective
Endovascular coil embolization has been a major treatment modality for unruptured intracranial aneurysms (UIAs) in South Korea. However, there are still few reports on the outcomes of this procedure. We performed a retrospective, multicenter study to determine how safe and effective coiling for UIA has been over the most recent 3 years in South Korea.
Materials and methods
We analyzed a total of 2,180 UIAs in 2,035 patients who were treated by coiling from January 2007 to December 2009 at 22 centers in South Korea, with a focus on patient characteristics, the location and size of the aneurysms, procedural complications, and angiographic and clinical outcomes.
Results
Coiling was successful in 98.0 % of the cases (2,137/2,180 aneurysms). Immediate post-procedural angiography demonstrated complete occlusion in 62.6 % (1,337/2,137 aneurysms), residual neck in 32.4 % (692/2,137), and residual sac in 5.0 % (108/2,137) of the cases. The rate of any procedure-related adverse event was 6.9 % (148/2,137 aneurysms). The rates of permanent morbidity and mortality were 1.8 % (39/2,137 aneurysms) and 0.1 % (2/2,137 aneurysms), respectively. Follow-up conventional angiography or MRA at ≥6 months was performed in 85.7 % (1,832/2,137 aneurysms) of cases. Among the eligible aneurysms for follow-up angiographic analysis, major recanalization was noted in 3.9 % (72/1,832 aneurysms, mean follow-up interval, 12 months). Among these, 68 aneurysms (3.7 %) were re-treated. An aneurysm of the middle cerebral artery (MCA) was a risk factor for incomplete occlusion (P = 0.049) and major recanalization (P = 0.046). During follow-up, no aneurysmal rupture occurred.
Conclusions
Endovascular coil embolization of UIAs has been an effective preventive modality with low procedure-related morbidity in South Korea.
Access options
Buy single article
Instant access to the full article PDF.
USD 39.95
Price excludes VAT (USA)
Tax calculation will be finalised during checkout.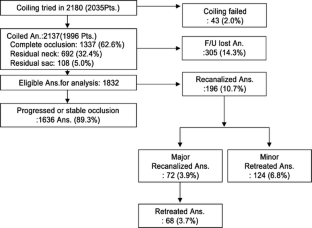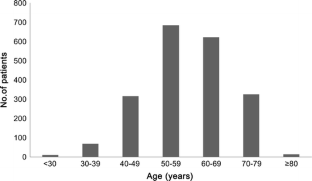 References
Campi A, Ramzi N, Molyneux AJ, Summers PE, Kerr RS, Sneade M, Yarnold JA, Rischmiller J, Byrne JV (2007) Retreatment of ruptured cerebral aneurysms in patients randomized by coiling or clipping in the International Subarachnoid Aneurysm Trial (ISAT). Stroke 38:1538–1544

Gonzalez N, Murayama Y, Nien YL, Martin N, Frazee J, Duckwiler G, Jahan R, Gobin YP, Vinuela F (2004) Treatment of unruptured aneurysms with GDCs: clinical experience with 247 aneurysms. AJNR Am J Neuroradiol 25:577–583

Jayaraman MV, Do HM, Versnick EJ, Steinberg GK, Marks MP (2007) Morphologic assessment of middle cerebral artery aneurysms for endovascular treatment. J Stroke Cerebrovasc Dis 16:52–56

Juvela S, Porras M, Poussa K (2000) Natural history of unruptured intracranial aneurysms: probability and risk factors for aneurysm rupture. Neurosurg Focus 8: Preview 1

Khaldi A, Fargen KM, Waldau B, Siddiqui AH, Hoh BL, Mack W, Carpenter J, Veznedaroglu E, Mocco J (2012) The orbit galaxy XTRASOFT coils: a multicenter study of coil safety and efficacy in both ruptured and unruptured cerebral aneurysms. J Vasc Interv Neurol 5:17–21

Komotar RJ, Mocco J, Solomon RA (2008) Guidelines for the surgical treatment of unruptured intracranial aneurysms: the first annual J. Lawrence pool memorial research symposium–controversies in the management of cerebral aneurysms. Neurosurgery 62:183–193, discussion 193–184

Lee T, Baytion M, Sciacca R, Mohr JP, Pile-Spellman J (2005) Aggregate analysis of the literature for unruptured intracranial aneurysm treatment. AJNR Am J Neuroradiol 26:1902–1908

Locksley HB (1966) Natural history of subarachnoid hemorrhage, intracranial aneurysms and arteriovenous malformations. Based on 6368 cases in the cooperative study. J Neurosurg 25:219–239

Mocco J, Komotar RJ, Lavine SD, Meyers PM, Connolly ES, Solomon RA (2004) The natural history of unruptured intracranial aneurysms. Neurosurg Focus 17:E3

Nahed BV, DiLuna ML, Morgan T, Ocal E, Hawkins AA, Ozduman K, Kahle KT, Chamberlain A, Amar AP, Gunel M (2005) Hypertension, age, and location predict rupture of small intracranial aneurysms. Neurosurgery 57:676–683, discussion 676–683

Ohashi Y, Horikoshi T, Sugita M, Yagishita T, Nukui H (2004) Size of cerebral aneurysms and related factors in patients with subarachnoid hemorrhage. Surg Neurol 61:239–245, discussion 245–237

Pierot L, Spelle L, Vitry F, Investigators A (2008) Immediate clinical outcome of patients harboring unruptured intracranial aneurysms treated by endovascular approach: results of the ATENA study. Stroke 39:2497–2504

Rankin J (1957) Cerebral vascular accidents in patients over the age of 60. II. Prognosis. Scott Med J 2:200–215

Ries T, Buhk JH, Kucinski T, Goebell E, Grzyska U, Zeumer H, Fiehler J (2006) Intravenous administration of acetylsalicylic acid during endovascular treatment of cerebral aneurysms reduces the rate of thromboembolic events. Stroke 37:1816–1821

Roy D, Milot G, Raymond J (2001) Endovascular treatment of unruptured aneurysms. Stroke 32:1998–2004

Terada T, Tsuura M, Matsumoto H, Masuo O, Tsumoto T, Yamaga H, Itakura T (2005) Endovascular treatment of unruptured cerebral aneurysms. Acta Neurochir Suppl 94:87–91

Yamada NK, Cross DT 3rd, Pilgram TK, Moran CJ, Derdeyn CP, Dacey RG Jr (2007) Effect of antiplatelet therapy on thromboembolic complications of elective coil embolization of cerebral aneurysms. AJNR Am J Neuroradiol 28:1778–1782
Acknowledgments
The study is supported by a grant from the Korea Healthcare Technology R&D Project, Ministry of Health & Welfare, Republic of Korea (A102065).
The authors have no personal, financial, or institutional interest concerning the materials or methods used in this study or the findings specified in this paper.
Conflicts of interest
None.
Additional information
The Korean Unruptured Cerebral Aneurysm Coiling (KUCAC) Investigators:
Jae Seung Ahn, Byung Duk Kwon, Dooh Hoon Kwon; Asan Medical Center, Seoul, Korea
Min-Woo Baik, Seong-Rim Kim, Young Woo Kim; Bucheon St. Mary's Hospital, Bucheon, Korea
Jun Su Byeon, Sung Nam Hwang, Taek Kyun Nam; Chung-ang University Hospital, Seoul, Korea
Jae-Hyung Choi, Jae-Taeck Huh, Myong-Jin Kang; Dong-A University Hospital, Busan, Korea
Jin Young Jung; Dong-Eui Medical Center, Busan, Korea
Keun-Tae Cho, Seung-Koan Hong, Byeong Cheol Kim; Dong Guk University Ilsan Hospital, Ilsan, Korea
Seung-Gyun Hwang; Ewha Womans University Hospital, Seoul, Korea
Chan Jong Ryu; Gil Hospital, Incheon, Korea
Dae Seob Choi, Cheol Hee Lee, In Sung Park; GyeongSang National University Hospital, Jinju, Korea
Gyojun Hwang, Seung Hun Sheen; Hallym University Chuncheon Medical Center, Chuncheon, Korea
Young Il Chun, Chang Taek Moon, Hong Gee Roh; Konkuk University Medical Center, Seoul, Korea
Jun Seok Koh, Chang Woo Ryu, Hee Sup Shin; Kyoung Hee University Hospital at Gangdong, Seoul, Korea
Dong Hun Kang, Youg-Sun Kim, Jaechan Park; Kyungpook National University Hospital, Daegu, Korea
Tae Sik Kong; Presbyterian Medical Center, Jeonju, Korea
Seung-Chyul Hong, Pyoung Jeon, Jong-Soo Kim; Samsung Medical Center, Seoul, Korea
Jae Seung Bang, O-Ki Kwon, Chang Wan Oh; Seoul National University Bundang Hospital, Bundang Korea
Young Dae Cho, Moon Hee Han, Hyun-Seung Kang; Seoul National University Hospital, Seoul, Korea
Hack-Gun Bae, Seok-Mann Yoon, Il-Gyu Yun; Soonchunhyang University Cheonan Hospital, Cheonan, Korea
Sung Jin Cho, Sukh Que Park, Sung-Tae Park; Soonchunhyang University Seoul Hospital, Seoul, Korea
Min-ho Kim, Soon Chan Kwon, Shang Hun Shin; Ulsan University Hospital, Ulsan, Korea
Myeong Sub Lee, Ji Woong Oh, Kum Whang,; Wonju Severance Christian Hospital, Wonju, Korea
Cheol Hun Jang, Young Jin Jung; Yeungnam University Medical Center, Daegu, Korea
About this article
Cite this article
Kwon, S.C., Kwon, OK. & the Korean Unruptured Cerebral Aneurysm Coiling (KUCAC) Investigators. Endovascular coil embolization of unruptured intracranial aneurysms: a Korean multicenter study. Acta Neurochir 156, 847–854 (2014). https://doi.org/10.1007/s00701-014-2033-9
Received:

Accepted:

Published:

Issue Date:

DOI: https://doi.org/10.1007/s00701-014-2033-9
Keywords