Abstract
Purpose
Abducens nerve palsy is the most common complication after transvenous embolization (TVE) for cavernous sinus dural arteriovenous fistula. Abducens nerve palsy is reported to have a good prognosis after the symptoms have been alleviated. The purpose of this study was to identify cases of delayed abducens nerve palsy after successful TVE and discuss the physiological mechanisms responsible for this unusual complication.
Methods
Between 1991 and 2012, TVE was performed for 73 patients. The patients were evaluated for clinical symptoms every 12 months during the follow-up period. Patients' data and information about abducens nerve palsy were obtained from clinical records retrospectively.
Results
Abducens nerve palsy newly developed in 4 (5.5 %) of 73 patients at 3–65 months after TVE. All four patients with delayed abducens nerve palsy were followed up for 8–84 months. However, delayed abducens nerve palsy persisted in all four patients. In these four patients, the shunt points were posterior cavernous sinus. The average coil length used for four patients was 206.5 ± 43.1 cm (n = 4), and the average coil length used for patients without delayed abducens nerve palsy was 112.8 ± 38.8 cm (n = 69).
Conclusion
The possibility of delayed abducens nerve palsy should be kept in mind, especially in the patients who were treated with transvenous coil packing in the posterior part of the cavernous sinus. Furthermore, our results suggest that long-term follow-up care is important for these patients, even after complete neurological and radiological recovery was attained.
Access options
Buy single article
Instant access to the full article PDF.
USD 39.95
Price excludes VAT (USA)
Tax calculation will be finalised during checkout.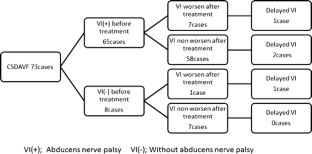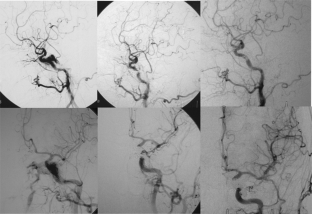 References
Uflacker R, Lima S, Ribas GC, Piske RL (1986) Carotid-cavernous fistulas: embolization through the superior ophthalmic vein approach. Radiology 159:175–179

Kim DJ, Kim DI, Suh SH, Kim J, Lee SK, Kim EY, Chung TS (2006) Results of transvenous embolization of cavernous dural arteriovenous fistula: a single-center experience with emphasis on complications and management. AJNR Am J Neuroradiol 27:2078–2082

Oishi H, Arai H, Sato K, Iizuka Y (1999) Complications associated with transvenous embolisation of cavernous dural arteriovenous fistula. Acta Neurochir (Wien) 141:1265–1271

Tsumoto T, Terada T, Tsuura M, Matsumoto H, Yamaga H, Masuo O, Itakura T (2004) Analysis of complications related to endovascular therapy for dural arteriovenous fistulae. Interv Neuroradiol 30(10 Suppl 1):121–125

Bink A, Berkefeld J, Lüchtenberg M, Gerlach R, Neumann-Haefelin T, Zanella F, du Mesnil de Rochemont R (2009) Coil embolization of cavernous sinus in patients with direct and dural arteriovenous fistula. Eur Radiol 19:1443–1449

Kirsch M, Henkes H, Liebig T, Weber W, Esser J, Golik S, Kühne D (2006) Endovascular management of dural carotid-cavernous sinus fistulas in 141 patients. Neuroradiology 48:486–490

Liang CC, Michon JJ, Cheng KM, Chan CM, Cheung YL (1999) Ophthalmologic outcome of transvenous embolization of spontaneous carotid-cavernous fistulas: a preliminary report. Int Ophthalmol 23:43–47

Cheng KM, Chan CM, Cheung YL (2003) Transvenous embolisation of dural carotid-cavernous fistulas by multiple venous routes: a series of 27 cases. Acta Neurochir (Wien) 145:17–29

Klisch J, Huppertz HJ, Spetzger U, Hetzel A, Seeger W, Schumacher M (2003) Transvenous treatment of carotid cavernous and dural arteriovenous fistulae: results for 31 patients and review of the literature. Neurosurgery 53:836–856

Nishino K, Ito Y, Hasegawa H, Kikuchi B, Shimbo J, Kitazawa K, Fujii Y (2008) Cranial nerve palsy following transvenous embolization for a cavernous sinus dural arteriovenous fistula: association with the volume and location of detachable coils. J Neurosurg 109:208–214

Bink A, Goller K, Lüchtenberg M, Neumann-Haefelin T, Dützmann S, Zanella F, Berkefeld J, du Mesnil de Rochemont R (2010) Long-term outcome after coil embolization of cavernous sinus arteriovenous fistulas. AJNR Am J Neuroradiol 31:1216–1221

Liu HM, Wang YH, Chen YF, Cheng JS, Yip PK, Tu YK (2001) Long-term clinical outcome of spontaneous carotid cavernous sinus fistulae supplied by dural branches of the internal carotid artery. Neuroradiology 43:1007–1014

Quiñones D, Duckwiler G, Gobin PY, Goldberg RA, Viñuela F (1997) Embolization of dural cavernous fistulas via superior ophthalmic vein approach. AJNR Am J Neuroradiol 18:921–928

Roy D, Raymond J (1997) The role of transvenous embolization in the treatment of intracranial dural arteriovenous fistulas. Neurosurgery 40:1133–1141

Klisch J, Schipper J, Husstedt H, Laszig R, Schumacher M (2001) Transsphenoidal computer-navigation-assisted deflation of a balloon after endovascular occlusion of a direct carotid cavernous sinus fistula. AJNR Am J Neuroradiol 22:537–540

Destrieux C, Velut S, Kakou MK, Lefrancq T, Arbeille B, Santini JJ (1997) A new concept in Dorello's canal microanatomy: the petroclival venous confluence. J Neurosurg 87:67–72

Kshettry VR, Lee JH, Ammirati M (2013) The Dorello canal: historical development, controversies in microsurgical anatomy, and clinical implications. Neurosurg Focus 34:E4

Iaconetta G, Fusco M, Samii M (2003) The sphenopetroclival venous gulf: a microanatomical study. J Neurosurg 99:366–375

Ozveren MF, Uchida K, Tekdemir I, Cobanoglu B, Akdemir I, Kawase T, Deda H (2002) Dural and arachnoid membraneous protection of the abducens nerve at the petroclival region. Skull Base 12:181–188

Umansky F, Elidan J, Valarezo A (1991) Dorello's canal: a microanatomical study. J Neurosurg 75:294–298

Izumi T, Miyachi S, Hattori K, Iizuka H, Nakane Y, Yoshida J (2007) Thrombophilic abnormalities among patients with cranial dural arteriovenous fistulas. Neurosurgery 61:262–268
Conflict of interest
None.
About this article
Cite this article
Kashiwazaki, D., Kuwayama, N., Akioka, N. et al. Delayed abducens nerve palsy after transvenous coil embolization for cavernous sinus dural arteriovenous fistulae. Acta Neurochir 156, 97–101 (2014). https://doi.org/10.1007/s00701-013-1926-3
Received:

Accepted:

Published:

Issue Date:

DOI: https://doi.org/10.1007/s00701-013-1926-3
Keywords