Abstract
Background
Intraoperative imaging is increasingly being used in resection of brain tumors. Navigable three-dimensional (3D)-ultrasound is a novel tool for planning and guiding such resections. We review our experience with this system and analyze our initial results, especially with respect to malignant gliomas.
Methods
A prospective database for all patients undergoing sononavigation-guided surgery at our center since this surgery's introduction in June 2011 was queried to retrieve clinical data and technical parameters. Imaging was reviewed to categorize tumors based on enhancement and resectability. Extent of resection was also assessed.
Results
Ninety cases were operated and included in this analysis, 75 % being gliomas. The 3D ultrasound mode was used in 87 % cases (alone in 40, and combined in 38 cases). Use of combined mode function [ultrasound (US) with magnetic resonance (MR) images] facilitated orientation of anatomical data. Intraoperative power Doppler angiography was used in one-third of the cases, and was extremely beneficial in delineating the vascular anatomy in real-time. Mean duration of surgery was 4.4 hours. Image resolution was good or moderate in about 88 % cases. The use of the intraoperative imaging prompted further resection in 59 % cases. In the malignant gliomas (51 cases), gross-total resection was achieved in 47 % cases, increasing to 88 % in the "resectable" subgroup.
Conclusions
Navigable 3D US is a versatile, useful and reliable intraoperative imaging tool in resection of brain tumors, especially in resource-constrained settings where Intraoperative MR (IOMR) is not available. It has multiple functionalities that can be tailored to suit the procedure and the experience of the surgeon.
Access options
Buy single article
Instant access to the full article PDF.
USD 39.95
Price excludes VAT (USA)
Tax calculation will be finalised during checkout.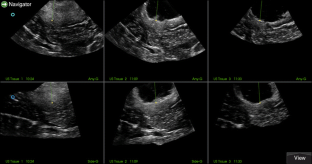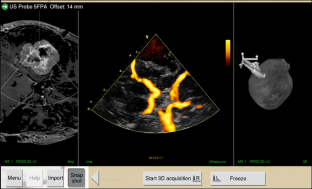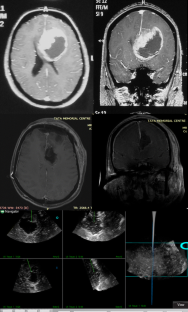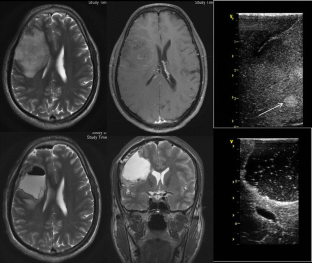 Abbreviations
IOUS:

Intraoperative Ultrasound

2D:

Two dimensional

3D:

Three dimensional

IOMR:

Intraoperative Magnetic resonance Imaging

CT:

Computed Tomography

ALA:

Aminolevulinc acid

PD:

Power doppler
References
Bonsanto MM, Metzner R, Aschoff A, Tronnier V, Kunze S, Wirtz CR (2005) 3D ultrasound navigation in syrinx surgery—a feasibility study. Acta Neurochir 147:533–540, discussion 540–531

Diez Valle R, Tejada Solis S, Idoate Gastearena MA, Garcia de Eulate R, Dominguez Echavarri P, Aristu Mendiroz J (2011) Surgery guided by 5-aminolevulinic fluorescence in glioblastoma: volumetric analysis of extent of resection in single-center experience. J Neuro-Oncol 102:105–113

Dohrmann GJRJ (2001) History of intraoperative ultrasound in neurosurgery. Neurosurg Clin N Am 12:155–166

Glasker S, Shah MJ, Hippchen B, Neumann HP, van Velthoven V (2011) Doppler-sonographically guided resection of central nervous system hemangioblastomas. Neurosurgery 68:267–275, discussion 274–265

Gronningsaeter A, Kleven A, Ommedal S, Aarseth TE, Lie T, Lindseth F, Lango T, Unsgard G (2000) SonoWand, an ultrasound-based neuronavigation system. Neurosurgery 47:1373–1379, discussion 1379–1380

Jakola AS, Gulati M, Gulati S, Solheim O (2012) The influence of surgery on quality of life in patients with intracranial meningiomas: a prospective study. J Neuro-Oncol 110:137–144

Kolstad F, Rygh OM, Selbekk T, Unsgaard G, Nygaard OP (2006) Three-dimensional ultrasonography navigation in spinal cord tumor surgery. Technical note. J Neurosurg Spine 5:264–270

Kubben PLTMKJ, Schijns OEMG, ter Laak-Poort MP, van Overbeeke JJ, van Santbrink H (2011) Intraoperative MRI-guided resection of glioblastoma multiforme: a systematic review. Lancet Oncol 12:1062–1070

Kurimoto M, Hayashi N, Kamiyama H, Nagai S, Shibata T, Asahi T, Matsumura N, Hirashima Y, Endo S (2004) Impact of neuronavigation and image-guided extensive resection for adult patients with supratentorial malignant astrocytomas: a single-institution retrospective study. Minim Invasive Neurosurg : MIN 47:278–283

Mehdorn HMSF, Dawirs S, Hedderich J, Dörner L, Nabavi A (2011) High-field iMRI in glioblastoma surgery: improvement of resection radicality and survival for the patient? Acta Neurochir Suppl 109:103–106

Moiyadi A, Shetty P (2011) Objective assessment of utility of intraoperative ultrasound in resection of central nervous system tumors: a cost-effective tool for intraoperative navigation in neurosurgery. J Neurosci Rural Pract 2:4–11

Rasmussen IA Jr, Lindseth F, Rygh OM, Berntsen EM, Selbekk T, Xu J, Nagelhus Hernes TA, Harg E, Haberg A, Unsgaard G (2007) Functional neuronavigation combined with intra-operative 3D ultrasound: initial experiences during surgical resections close to eloquent brain areas and future directions in automatic brain shift compensation of preoperative data. Acta Neurochir 149:365–378

Rohde VCVA (2011) Intraoperative 3-dimensional ultrasound for resection control during brain tumour removal: preliminary results of a prospective randomized study. Acta Neurochir Suppl 109:187–190

Roth J, Biyani N, Beni-Adani L, Constantini S (2007) Real-time neuronavigation with high-quality 3D ultrasound SonoWand in pediatric neurosurgery. Pediatr Neurosurg 43:185–191

Rygh OM, Nagelhus Hernes TA, Lindseth F, Selbekk T, Brostrup Muller T, Unsgaard G (2006) Intraoperative navigated 3-dimensional ultrasound angiography in tumor surgery. Surg Neurol 66:581–592, discussion 592

Rygh OM, Selbekk T, Torp SH, Lydersen S, Hernes TA, Unsgaard G (2008) Comparison of navigated 3D ultrasound findings with histopathology in subsequent phases of glioblastoma resection. Acta Neurochir 150:1033–1041, discussion 1042

Saether CA, Torsteinsen M, Torp SH, Sundstrom S, Unsgard G, Solheim O (2012) Did survival improve after the implementation of intraoperative neuronavigation and 3D ultrasound in glioblastoma surgery? A retrospective analysis of 192 primary operations. J Neurol Surg Part A Cent Eur Neurosurg 73:73–78

Sanai N, Polley MY, McDermott MW, Parsa AT, Berger MS (2011) An extent of resection threshold for newly diagnosed glioblastomas. J Neurosurg 115:3–8

Selbekk T, Jakola AS, Solheim O, Johansen TF, Lindseth F, Reinertsen I, Unsgard G (2013) Ultrasound imaging in neurosurgery: approaches to minimize surgically induced image artefacts for improved resection control. Acta Neurochir 155:973–980

Senft CBA, Franz K, Vatter H, Gasser T, Seifert V (2011) Intraoperative MRI guidance and extent of resection in glioma surgery: a randomised, controlled trial. Lancet Oncol 12:997–1003

Solheim O, Selbekk T, Jakola AS, Unsgard G (2010) Ultrasound-guided operations in unselected high-grade gliomas–overall results, impact of image quality and patient selection. Acta Neurochir 152:1873–1886

Solheim O, Selbekk T, Lovstakken L, Tangen GA, Solberg OV, Johansen TF, Cappelen J, Unsgard G (2010) Intrasellar ultrasound in transsphenoidal surgery: a novel technique. Neurosurgery 66:173–185, discussion 185–176

Steno A, Karlik M, Mendel P, Cik M, Steno J (2012) Navigated three-dimensional intraoperative ultrasound-guided awake resection of low-grade glioma partially infiltrating optic radiation. Acta Neurochir 154:1255–1262

Stummer W, Pichlmeier U, Meinel T, Wiestler OD, Zanella F, Reulen H-J (2006) Fluorescence-guided surgery with 5-aminolevulinic acid for resection of malignant glioma: a randomised controlled multicenter phase III trial. Lancet Oncol 7:392–401

Unsgaard G, Gronningsaeter A, Ommedal S, Nagelhus Hernes TA (2002) Brain operations guided by real-time two-dimensional ultrasound: new possibilities as a result of improved image quality. Neurosurgery 51:402–411, discussion 411–402

Unsgaard G, Ommedal S, Rygh OM, Lindseth F (2005) Operation of arteriovenous malformations assisted by stereoscopic navigation-controlled display of preoperative magnetic resonance angiography and intraoperative ultrasound angiography. Neurosurgery 56:281–290

Unsgaard G, Rygh OM, Selbekk T, Muller TB, Kolstad F, Lindseth F, Hernes TA (2006) Intra-operative 3D ultrasound in neurosurgery. Acta Neurochir 148:235–253, discussion 253

Unsgaard G, Selbekk T, Brostrup Muller T, Ommedal S, Torp SH, Myhr G, Bang J, Nagelhus Hernes TA (2005) Ability of navigated 3D ultrasound to delineate gliomas and metastases–comparison of image interpretations with histopathology. Acta Neurochir 147:1259–1269, discussion 1269

Unsgard G, Solheim O, Lindseth F, Selbekk T (2011) Intra-operative imaging with 3D ultrasound in neurosurgery. Acta Neurochir Suppl 109:181–186

Willems PW, Taphoorn MJ, Burger H, Berkelbach van der Sprenkel JW, Tulleken CA (2006) Effectiveness of neuronavigation in resecting solitary intracerebral contrast-enhancing tumors: a randomized controlled trial. J Neurosurg 104:360–368

Wirtz CR, Albert FK, Schwaderer M, Heuer C, Staubert A, Tronnier VM, Knauth M, Kunze S (2000) The benefit of neuronavigation for neurosurgery analyzed by its impact on glioblastoma surgery. Neurol Res 22:354–360
Acknowledgments
We would like to thank all the members of our neuro-oncology working group and Mr. Thomson Verghese (clinical nurse coordinator) for assistance in the clinical work and data collection.
Conflicts of interest
None.
Electronic supplementary material
Below is the link to the electronic supplementary material.
Medial frontal glioblastoma. Snapshot from the navigation screen showing the post contrast MR image (left) and corresponding Us image (center). Note the US image shows hyperechoic tumor beyond the contrast enhancing MR tumor component. Also, the ventricular system is very well delineated on the US image, facilitating orientation. (JPEG 195 kb)
Posterior frontal glioma. Snapshot from the navigation screen. Left panel shown the MR image with a white outlined rectangle denoting the sector scanned by the US. The corresponding US image is shown in the center panel. It depicts the structural heterogeneity of the tumor. Also noteworthy is the brainshift that is apparent as compared to the preoperative MRI. (JPEG 174 kb)
Medial frontal glioma. Snapshot from the navigation screen. Left panel shows the preoperative contrast enhanced MR images in "dual anyplane" view. The center panel shows the corresponding US images. Note that the tumor is hyperechoic (and therefore not cystic but containing solid necrotic areas), though the MR shows a hypointense non-enhancing central core. (JPEG 239 kb)
Parietal Glioma. Snapshot from the navigation screen. Left panel shows the preoperative contrast enhanced MR images in "dual anyplane" view. The center panel shows the corresponding US images. Note that the tumor is hypoechoic (and therefore cystic) as reflected in the MR, which shows a hypointense non-enhancing central core. (JPEG 193 kb)
About this article
Cite this article
Moiyadi, A.V., Shetty, P.M., Mahajan, A. et al. Usefulness of three-dimensional navigable intraoperative ultrasound in resection of brain tumors with a special emphasis on malignant gliomas. Acta Neurochir 155, 2217–2225 (2013). https://doi.org/10.1007/s00701-013-1881-z
Received:

Accepted:

Published:

Issue Date:

DOI: https://doi.org/10.1007/s00701-013-1881-z
Keywords