Abstract
Background
Surgical treatment options for meralgia paresthetica include neurolysis and neurectomy procedures. Reported success rates for pain relief are generally higher after neurectomy, but an obvious disadvantage compared with neurolysis is the loss of sensation in the anterolateral part of the thigh. In this study we analyzed our results on pain relief after both procedures, and we determined the impact of loss of sensation with a questionnaire.
Methods
Between 1999 and 2009, all patients with persistent symptoms of meralgia paresthetica who presented to our clinic after failure of conservative treatment were offered a neurectomy procedure. After this period, the surgical strategy was changed to first neurolysis followed by neurectomy in case of failure. We retrospectively analyzed our results for both strategies with a questionnaire that was focused on pain relief, numbness and the impact of numbness.
Results
Ten patients underwent a neurolysis with a 60 % pain relief rate compared to 87.5 % of the eight patients that primarily underwent a neurectomy. Most neurectomy patients (62.5 %) were not hindered by the numbness, 25 % sometimes and only one patient was frequently bothered, but was still satisfied with the outcome. The failures of neurolysis were secondarily treated by neurectomy, which resulted in pain relief in three out of four patients.
Conclusions
This series confirms previous reports in the literature that have shown higher success rates for the neurectomy procedure. In addition, it shows that most patients are not bothered by the numbness following this procedure. These observations can be used in the surgical decision making for meralgia paresthetica.
Access options
Buy single article
Instant access to the full article PDF.
US$ 39.95
Tax calculation will be finalised during checkout.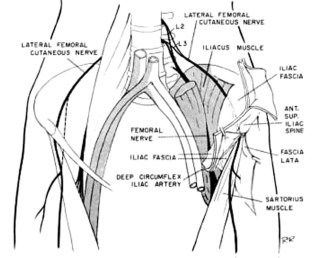 References
1.

Alberti O, Wickboldt J, Becker R (2009) Suprainguinal retroperitoneal approach for the successful surgical treatment of meralgia paresthetica. J Neurosurg 110:768–774

2.

Aldrich EF, van den Heever CM (1989) Suprainguinal ligament approach for surgical treatment of meralgia paresthetica. Technical note. J Neurosurg 70:492–494

3.

Antoniadis G, Braun V, Rath S, Moese G, Richter HP (1995) Meralgia paraesthetica and its surgical treatment. Nervenarzt 66:614–617

4.

Ducic I, Dellon AL, Taylor NS (2006) Decompression of the lateral femoral cutaneous nerve in the treatment of meralgia paresthetica. J Reconstr Microsurg 22:113–118

5.

Ecker A, Woltman HW (1938) Meralgia paresthetica: A report of one hundred and fifty cases. JAMA 110:1650

6.

Edelson R, Stevens P (1994) Meralgia paresthetica in children. J Bone Joint Surg Am 76:993–999

7.

Ghent WR (1961) Further studies on meralgia paresthetica. Can Med Assoc J 85:871–875

8.

Keegan JJ, Holyoke EA (1962) Meralgia paresthetica. An anatomical and surgical study. J Neurosurg 19:341–345

9.

Khalil N, Nicotra A, Rakowicz W (2008) Treatment for meralgia paraesthetica. Cochrane Database Syst Rev 3:CD004159

10.

Kho KH, Blijham PJ, Zwarts MJ (2005) Meralgia paresthetica after strenuous exercise. Muscle Nerve 31:761–763

11.

Macnicol MF, Thompson WJ (1990) Idiopathic meralgia paresthetica. Clin Orthop Relat Res 254:270–274

12.

Nahabedian MY, Dellon AL (1995) Meralgia paresthetica: etiology, diagnosis, and outcome of surgical decompression. Ann Plast Surg 35:590–594

13.

Seror P, Seror R (2006) Meralgia paresthetica: clinical and electrophysiological diagnosis in 120 cases. Muscle Nerve 33:650–654

14.

Siu TL, Chandran KN (2005) Neurolysis for meralgia paresthetica: an operative series of 45 cases. Surg Neurol 63:19–23, discussion 23

15.

Stookey B (1928) Meralgia paresthetica. Etiology and surgical treatment. J Am Med Assoc 90:1705–1707

16.

Teng P (1972) Meralgia paresthetica. Bull Los Angeles Neurol Soc 37:75–83

17.

van Eerten PV, Polder TW, Broere CA (1995) Operative treatment of meralgia paresthetica: transection versus neurolysis. Neurosurgery 37:63–65

18.

van Slobbe AM, Bohnen AM, Bernsen RM, Koes BW, Bierma-Zeinstra SM (2004) Incidence rates and determinants in meralgia paresthetica in general practice. J Neurol 251:294–297

19.

Williams PH, Trzil KP (1991) Management of meralgia paresthetica. J Neurosurg 74:76–80
Acknowledgments
The authors thank the secretaries Sandra Annokkee and Jannie van Duijn for their help in gathering the medical records and sending out the questionnaires.
Conflicts of interest
None.
Appendix
Appendix
English translation of the follow-up questionnaire (adapted from [1]):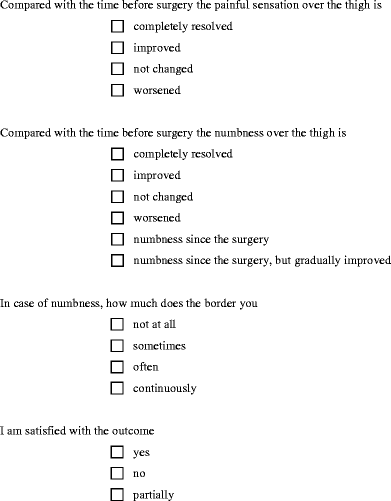 About this article
Cite this article
de Ruiter, G.C.W., Wurzer, J.A.L. & Kloet, A. Decision making in the surgical treatment of meralgia paresthetica: neurolysis versus neurectomy. Acta Neurochir 154, 1765–1772 (2012). https://doi.org/10.1007/s00701-012-1431-0
Received:

Accepted:

Published:

Issue Date:
Keywords
Meralgia paresthetica

Neurolysis

Decompression

Neurectomy

Neurexeresis