Abstract
Background
Brachial plexus injuries occur in up to 5% of polytrauma cases involving motorcycle accidents and in approximately 4% of severe winter sports injuries. One of the criteria for a successful operative therapy is the type of lesion. Upper plexus palsy has the best prognosis, whereas lower plexus palsy is surgically untreatable. The aim of this study was to evaluate a group of patients with brachial plexus injury caused by traffic accidents, categorize the injuries according to type of accident, and look for correlations between type of palsy (injury) and specific accidents.
Methods
A total of 441 brachial plexus reconstruction patients from our department were evaluated retrospectively (1993 to 2011). Sex, age, neurological status, and the type and cause of injury were recorded for each case. Patients with BPI caused by a traffic accident were assessed in detail.
Results
Traffic accidents were the cause of brachial plexus injury in most cases (80.7%). The most common type of injury was avulsion of upper root(s) (45.7%) followed by rupture (28.2%), complete avulsion (16.9%) and avulsion of lower root(s) (9.2%). Of the patients, 73.9% had an upper, 22.7% had a complete and only 3.4% had a lower brachial plexus palsy. The main cause was motorcycle accidents (63.2%) followed by car accidents (23.5%), bicycle accidents (10.7%) and pedestrian collisions (3.1%) (p < 0.001). Patients involved in car accidents had a higher percentage of lower avulsion (22.7%) and a lower percentage of upper avulsion (29.3%), whereas cyclists had a higher percentage of upper avulsion (68.6%) based on the data from the entire group of patients (p < 0.001). Lower plexus palsy was significantly increased in patients after car accidents (9.3%, p < 0.05). In the two main groups (car and motorcycle accidents), significantly more upper and fewer lower palsies were present. In the bicycle accident group, upper palsy was the most common (89%).
Conclusion
Study results indicate that the most common injury was an upper plexus palsy. It was characteristic of bicycle accidents, and significantly more common in car and motorcycle accidents. The results also indicate that it is important to consider the potential of a brachial plexus injury after serious traffic accidents and to examine both upper extremities in detail even if some motor function is preserved.
Access options
Buy single article
Instant access to the full article PDF.
US$ 39.95
Tax calculation will be finalised during checkout.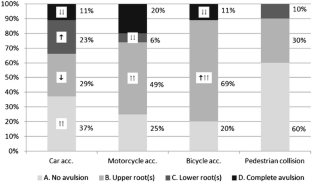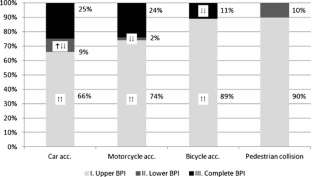 References
1.

Ahmed-Labib M, Golan JD, Jacques L (2007) Functional outcome of brachial plexus reconstruction after trauma. Neurosurgery 61(5):1016–1022

2.

Cirera E, Plasència A, Ferrando J, Seguí-Gómez M (2001) Factors associated with severity and hospital admission of motor-vehicle injury cases in a southern european urban area. Eur J Epidemiol 17(3):201–208

3.

Derham C, Varghese M, Deacon P, Spencer N, Curley P (2007) Brachial plexus palsy secondary to clavicular nonunion. J Trauma 63(4):E105–E107

4.

Gilbert A, Pivato G, Kheiralla T (2006) Long-term results of primary repair of brachial plexus lesions in children. Microsurgery 26(4):334–342

5.

Goldie BS, Coates CJ (1992) Brachial plexus injury: A survey of incidence and referral pattern. J Hand Surg 17 B 1:86–88

6.

Haninec P, Šámal F, Tomáš R, Houšťava L, Dubový P (2007) Direct repair (nerve grafting), neurotization, and end-to-side neurorrhaphy in the treatment of brachial plexus injury. J Neurosurg 106(3):391–399

7.

Kasantikul V, Ouellet JV, Smith TA (2003) Head and neck injuries in fatal motorcycle collisions as determined by detailed autopsy. Traffic Inj Prev 4(3):255–262

8.

Kim DH, Cho YJ, Tiel RL, Kline DG (2003) Outcomes of surgery in 1019 brachial plexus lesions treated at Louisiana State University Health Sciences Center. J Neurosurg 98(5):1005–1016

9.

Köstler W, Strohm PC, Hauschild O, Sudkamp NP (2006) Complex injuries of the shoulder—floating shoulder. Acta Chir Orthop Traumatol Cech 73(4):264–267

10.

Krishnan KG, Martin KD, Schackert G (2008) Traumatic lesions of the brachial plexus: An analysis of outcomes in primary brachial plexus reconstruction and secondary functional arm reanimation. Neurosurgery 62(4):873–885

11.

Lanaras TI, Schaller HE, Sinis N (2009) Brachial plexus lesions: 10 years of experience in a center for microsurgery in Germany. Microsurgery 29(2):87–94

12.

Lee J, Chang J, Cho S, Park H, Choi S, Bae H (2009) A morphometric aspect of the brachial plexus in the periclavicular region. J Korean Neurosurg Soc 46(2):130–135

13.

Midha R (1997) Epidemiology of brachial plexus injuries in a multitrauma population. Neurosurgery 40(6):1182–1189

14.

Midha R (2004) Nerve transfers for severe brachial plexus injuries: A review. Neurosurg Focus 16(5)

15.

Narakas AO (1985) The treatment of brachial plexus injuries. Int Orthop 9(1):29–36

16.

Rosson JW (1988) Closed traction lesions of the brachial plexus. an epidemic among young motorcyclists. Injury 19(1):4–6

17.

Samii M, Carvalho GA, Nikkhah G, Penkert G (1997) Surgical reconstruction of the musculocutaneous nerve in traumatic brachial plexus injuries. J Neurosurg 87(6):881–886

18.

Songcharoen P (2008) Management of brachial plexus injury in adults. Scand J Surg 97(4):317–323

19.

Stewart RL, Black GB (2004) Snowmobile trauma: 10 years, experience manitoba's tertiary trauma centre. Can J Surg 47(2):90–94
Acknowledgements
This study was supported by grants IGA NS 10496-3/2009 and MSM 0021620816.
Conflicts of interest
None.
About this article
Cite this article
Kaiser, R., Waldauf, P. & Haninec, P. Types and severity of operated supraclavicular brachial plexus injuries caused by traffic accidents. Acta Neurochir 154, 1293–1297 (2012). https://doi.org/10.1007/s00701-012-1291-7
Received:

Accepted:

Published:

Issue Date:
Keywords
Brachial plexus injury

Epidemiology

Motorcycle accident

Traffic accident