Abstract
Background
Anterior lumbar interbody fusion (ALIF) has gained widespread popularity for spinal disorders requiring fusion. The purpose of this study was to analyze ALIF failures.
Methods
The medical records of 223 patients treated with ALIF between January 2007 and June 2008 were retrospectively reviewed. Patients with unfavorable outcomes, including subsequent posterior decompression at the index level or poor outcomes after ALIF were identified based on clinical and radiological findings. The patients were divided into two groups: an unfavorable group and a favorable group. Preoperative clinical and radiological factors for each group were statistically analyzed.
Results
Two hundred of the 223 patients were enrolled in this study. Thirteen (6.5%) of 200 patients resulted in unfavorable outcome. Four patients (2%) of them underwent posterior decompressive surgery. The main cause of unfavorable outcomes was incomplete decompression of the foraminal stenosis. Unfavorable outcomes were obtained in patients with the level of L5-S1 (p = 0.036), higher body mass index (p = 0.048), higher percentage of slippage (p = 0.024), and severe facet arthropathy (p = 0.013). However, there was no difference in preoperative disc height, foraminal size, facet angle, facet tropism, or preoperative visual analog scale for back and leg pain, the Oswestry disability index, symptom duration, and fusion rate between the two groups.
Conclusion
Based on these results, posterior decompression and fusion may be considered for obese patients with the level of L5-S1, high-grade spondylolisthesis, or severe facet arthropathy. On the other hand, ALIF can be used an effective alternative treatment in many spinal disorders requiring fusion.
Access options
Buy single article
Instant access to the full article PDF.
USD 39.95
Price excludes VAT (USA)
Tax calculation will be finalised during checkout.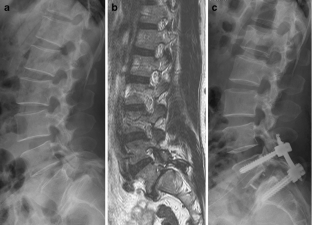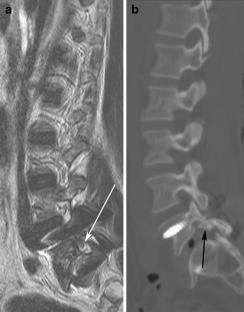 References
Chen D, Fay LA, Lok J, Yuan P, Edwards WT, Yuan HA (1995) Increasing neuroforaminal volume by anterior interbody distraction in degenerative lumbar spine. Spine (Phila Pa 1976) 95:74–79

Cheung KM, Zhang YG, Lu DS, Luk KD, Leong JC (2003) Reduction of disc space distraction after anterior lumbar interbody fusion with autologous iliac crest graft. Spine (Phila Pa 1976) 28:1385–1389

Dennis S, Watkins R, Landaker S, Dillin W, Springer D (1989) Comparison of disc space heights after anterior lumbar interbody fusion. Spine (Phila Pa 1976) 14:876–878

Ghogawala Z, Benzel EC, Amin-Hanjani S, Barker FG 2nd, Harrington JF, Magge SN, Strugar J, Coumans JV, Borges LF (2004) Prospective outcomes evaluation after decompression with or without instrumented fusion for lumbar stenosis and degenerative grade I spondylolisthesis. J Neurosurg Spine 1:267–272

Hasegawa T, An HS, Haughton VM, Nowicki BH (1995) Lumbar foraminal stenosis: critical heights of the intervertebral discs and foramina. A cryomicrotome study in cadavera. J Bone Joint Surg Am 77:32–38

Hsieh PC, Koski TR, O'Shaughnessy BA, Sugrue P, Salehi S, Ondra S, Liu JC (2007) Anterior lumbar interbody fusion in comparison with transforaminal lumbar interbody fusion: implications for the restoration of foraminal height, local disc angle, lumbar lordosis, and sagittal balance. J Neurosurg Spine 7:379–386

Jinkins JR, Matthes JC, Sener RN, Venkatappan S, Rauch R (1992) Spondylolysis, spondylolisthesis, and associated nerve root entrapment in the lumbosacral spine: MR evaluation. AJR Am J Roentgenol 159:799–803

Karacan I, Aydin T, Sahin Z, Cidem M, Koyuncu H, Aktas I, Uludag M (2004) Facet angles in lumbar disc herniation: their relation to anthropometric features. Spine (Phila Pa 1976) 29:1132–1136

Kim JS, Kang BU, Lee SH, Jung B, Choi YG, Jeon SH, Lee HY (2009) Mini-transforaminal lumbar interbody fusion versus anterior lumbar interbody fusion augmented by percutaneous pedicle screw fixation: a comparison of surgical outcomes in adult low-grade isthmic spondylolisthesis. J Spinal Disord Tech 22:114–121

Kim KW, Chung JW, Park JB, Song SW, Ha KY, An HS (2004) The course of the nerve root in the neural foramen and its relationship with foraminal entrapment or impingement in adult patients with lumbar isthmic spondylolisthesis and radicular pain. J Spinal Disord Tech 17:220–225

Kim SY, Maeng DH, Lee SH, Jang JS (2008) Anterior lumbar interbody fusion for lumbosacral junction in steep sacral slope. J Spinal Disord Tech 21:33–38

Laurent LE, Einola S (1961) Spondylolisthesis in children and adolescents. Acta Orthop Scand 31:45–64

Lee DY, Lee SH, KS K, Maeng DH, Jang JS (2007) A Morphometric analysis of neuroforamen in grade I isthmic spondylolisthesis by anterior lumbar interbody fusion with pedicle screw fixation. J Korean Neurosurg Soc 41:377–381

Lee SH, Choi WG, Lim SR, Kang HY, Shin SW (2004) Minimally invasive anterior lumbar interbody fusion followed by percutaneous pedicle screw fixation for isthmic spondylolisthesis. Spine J 4:644–649

Lee SH, Kang BU, Jeon SH, Park JD, Maeng DH, Choi YG, Choi WC (2006) Revision surgery of the lumbar spine: anterior lumbar interbody fusion followed by percutaneous pedicle screw fixation. J Neurosurg Spine 5:228–233

Min JH, Jang JS, Kim SK, Maeng DH, Lee SH (2009) The ligamentotactic effect on a herniated disc at the level adjacent to the anterior lumbar interbody fusion: report of two cases. Journal of Korean Neurosurgical Society 46:65–67

Min JH, Jang JS, Lee SH (2007) Comparison of anterior- and posterior-approach instrumented lumbar interbody fusion for spondylolisthesis. J Neurosurg Spine 7:21–26

Motosuneya T, Asazuma T, Nobuta M, Masuoka K, Ichimura S, Fujikawa K (2005) Anterior lumbar interbody fusion: changes in area of the dural tube, disc height, and prevalence of cauda equina adhesion in magnetic resonance images. J Spinal Disord Tech 18:18–22

Riou JP, Cohen JR, Johnson H Jr (1992) Factors influencing wound dehiscence. Am J Surg 163:324–330

Roberts JV, Bates T (1992) The use of the body mass index in studies of abdominal wound infection. J Hosp Infect 20:217–220

Schlegel JD, Champine J, Taylor MS, Watson JT, Champine M, Schleusener RL, Savory KM (1994) The role of distraction in improving the space available in the lumbar stenotic canal and foramen. Spine (Phila Pa 1976) 19:2041–2047

Waguespack A, Schofferman J, Slosar P, Reynolds J (2002) Etiology of long-term failures of lumbar spine surgery. Pain Med 3:18–22

Wang M, Dalal S, Bagaria VB, McGrady LM, Rao RD (2007) Changes in the lumbar foramen following anterior interbody fusion with tapered or cylindrical cages. Spine J 7:563–569

Weishaupt D, Zanetti M, Boos N, Hodler J (1999) MR imaging and CT in osteoarthritis of the lumbar facet joints. Skeletal Radiol 28:215–219
Acknowledgments
The authors thank Jung-In Park, Young-Jin Son, and Bu Hee Kim for their assistance in preparing this manuscript.
Disclosure
The authors report no conflict of interest concerning the materials or methods used in this study or the findings specified in this paper.
Conflicts of interest
None.
Additional information
Comment
This study reviews the clinical results following anterior lumbar interbody fusion (ALIF) in 223 patients who were treated over a 1-year period at a highly specialized spine institute in South Korea. The researchers were interested in modes of ALIF failure where patients did not achieve adequate pain relief, which was the primary goal of the surgery. They identified a total of 13 patients with suboptimal pain relief, and four (2% of the total population) of these underwent a subsequent posterior decompressive surgery. The authors identified obesity, greater degrees of spondylolisthesis, and severe facet arthopathy as predictors of an unfavorable outcome, which is not surprising.
This paper has particular relevance given the resurgence of lumbar interbody distraction techniques to restore interbody height. New minimally invasive procedures such as the XLIF, Axial-Lif, and even unilateral MIS TLIF pre-suppose that vertical distraction is a satisfactory method for addressing nerve root impingement. This issue of "indirect decompression" has now become a topic of great debate with many proponents claiming that the distraction techniques are "always effective." Common sense suggests that such claims are patently untrue, and that in some cases severe central canal or foraminal stenosis will require the direct removal of osteophytes, disc material, ligamentum, or facet material.
Choi et al. give us a quantitative analysis of what the most powerful interbody technique (i.e., ALIF) can achieve. The results were excellent overall and the benefits of ALIF or any other indirect method for decompression can stand on its own, leaving a small but finite risk of failure and need for direct nerve root decompression. The authors should be complemented on their results and honest reporting of their failures.
Michael Y Wang
Miami, Florida
Sources of support
This study was supported by a grant from the Wooridul Spine Foundation.
About this article
Cite this article
Choi, KC., Ahn, Y., Kang, BU. et al. Failed anterior lumbar interbody fusion due to incomplete foraminal decompression. Acta Neurochir 153, 567–574 (2011). https://doi.org/10.1007/s00701-010-0876-2
Received:

Accepted:

Published:

Issue Date:

DOI: https://doi.org/10.1007/s00701-010-0876-2
Keywords
Failed anterior lumbar interbody fusion

Foraminal stenosis

Incomplete decompression