Abstract
We report a patient with a right vertebral artery (VA) dissecting aneurysm who was treated by placing an Enterprise stent (Cordis Neurovascular, Miami Lakes, FL) from the proximal VA to the posterior inferior cerebellar artery (PICA) in order to save the patency of the PICA. A 47-year-old man was admitted with a ruptured right VA dissecting aneurysm that involved the origin of the PICA. A 4.5 × 37-mm Enterprise stent was then placed through the proximal VA to the PICA. The dissected segment of the VA was completely occluded by coil embolization. The 1-year follow-up angiography showed that the dissected segment was completely occluded and the diameter of the PICA was slightly increased, and the PICA's patency was good.
Access options
Buy single article
Instant access to the full article PDF.
US$ 39.95
Tax calculation will be finalised during checkout.
Subscribe to journal
Immediate online access to all issues from 2019. Subscription will auto renew annually.
US$ 119
Tax calculation will be finalised during checkout.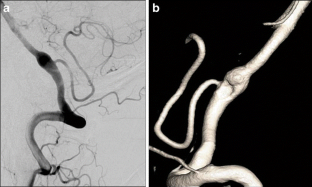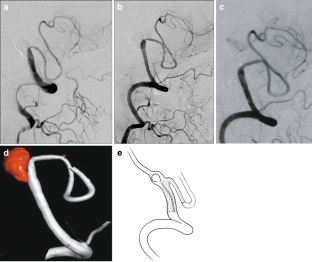 References
1.

Aoki N, Sakai T (1990) Rebleeding from intracranial dissecting aneurysm in the vertebral artery. Stroke 21:1628–1631

2.

Hara M, Yamamoto I (2000) Introduction to symposium: intracranial dissecting aneurysms. Neuropathology 20:83–84

3.

Iihara K, Sakai N, Murao K, Sakai H, Higashi T, Kogure S, Takahashi JC, Nagata I (2002) Dissecting aneurysms of the vertebral artery: a management strategy. J Neurosurg 97:259–267

4.

Mercier PH, Brassier G, Fournier H-D, Picquet J, Papon X, Lasjaunias P (2008) Vascular microanatomy of the pontomedullary junction, posterior inferior cerebellar arteries, and the lateral spinal arteries. Interv Neuroradiol 14:49–58

5.

Mizutani T, Aruga T, Kirino T, Miki Y, Saito I, Tsuchida T (1995) Recurrent subarachnoid hemorrhage from untreated ruptured vertebrobasilar dissecting aneurysms. Neurosurgery 36:905–913

6.

Naito I, Iwai T, Sasaki T (2002) Management of intracranial cerebral artery dissection initially presenting without subarachnoid hemorrhage. Neurosurgery 51:930–938

7.

Ogasawara K, Kubo Y, Tomitsuka N, Sasoh M, Otawara Y, Arai H, Ogawa A (2006) Treatment of vertebral artery aneurysms with transposition of the posterior inferior cerebellar artery to the vertebral artery combined with parent artery occlusion: Technical note. J Neurosurg 105:781–784

8.

Rabinov JD, Hellinger FR, Morris PP, Ogilvy CS, Putman CM (2003) Endovascular management of vertebrobasilar dissecting aneurysms. AJNR Am J Neuroradiol 24:1421–1428

9.

Sakata N, Takebayashi S, Kojima M, Masawa N, Suzuki K, Takatama M (2000) Pathology of a dissecting intracranial aneurysm. Neuropathology 20:104–108

10.

Shin YS, Kim HS, Kim SY (2007) Stenting for vertebrobasilar dissection: a possible treatment option for nonhemorrhagic vertebrobasilar dissection. Neuroradiology 49:149–156

11.

Siddiqui MA, Bhattacharya JJ, Lindsay KW, Jenkins S (2009) Horizontal stent-assisted coil embolization of wide-necked intracranial aneurysms with the Enterprise stent – a case series with early angiographic follow-up. Neuroradiology 51:411–418

12.

Takikawa S, Kamiyama H, Nomura M, Abe H, Saitoh H (1991) Vertebral dissecting aneurysm treated with trapping and bilateral PICA side-to-side anastomosis: a case report. No Shinkei Geka 19:571–576

13.

Turk AS, Niemann DB, Ahmed A, Aagaard-Kienitz B (2007) Use of self-expanding stents in distal small cerebral vessels. AJNR Am J Neuroradiol 28:533–536
Acknowledgements
We declare that we have no conflict of interest in relation to this article.
About this article
Cite this article
Chung, J., Kim, Bs., Lee, D. et al. Vertebral artery occlusion with vertebral artery-to-posterior inferior cerebellar artery stenting for preservation of the PICA in treating ruptured vertebral artery dissection. Acta Neurochir 152, 1489–1492 (2010). https://doi.org/10.1007/s00701-010-0725-3
Received:

Accepted:

Published:

Issue Date:
Keywords
Vertebral artery dissection

PICA stenting

Enterprise

Stent